You know that avocado ripening trick that involves placing unripe avocados in a brown paper bag with bananas? Yes? Well, I had heard of this hack many times, but I had never actually done it myself, until about 2 weeks ago when I purchased eight rock-hard avocados that needed a quick fix. I figured I had nothing to lose, so I slipped them into a big brown grocery bag with two bananas, folded over the top and waited. And HOLY SH*T IT TOTALLY WORKED! Within two days, I had the most perfectly ripe avocados ever. My excitement runneth over.
I must admit that I was skeptical about the efficacy of this ripening trick. But now that I've seen it in action for myself, I'm fully on board with this procedure. It's legit. If you're not doing this yet, you need to start ASAP. And that's my public service announcement for the week. You're welcome.
Anyways. So I quickly went from having zero ripe avocados to having waaaaay too many ripe avocados. Hence today's recipe for Jalapeño and Goat Cheese Guacamole with Baked Plantain Chips. And…I have another avocado recipe planned for next week. It's going to be an avocado party up in this place!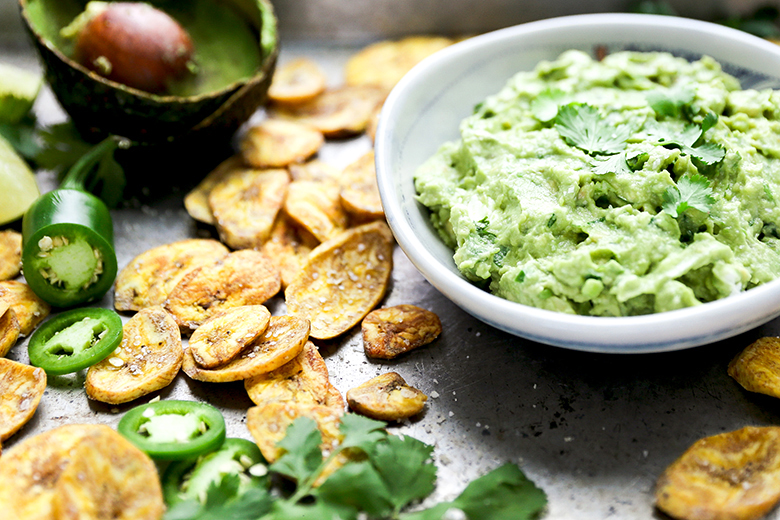 I don't think I've ever met a guacamole that I didn't like. I have a pretty standard recipe that I make all the time for myself. And I use it on everything from toast to tacos. But today, I decided to spice things up a bit by adding in a whole diced jalapeño pepper. Does that sound scary to you? If so, just start with half a jalapeño pepper, then you can add in more if you want to after you taste it. But I think you'll be pleasantly surprised by the level of spiciness. It's balanced really well by the coolness from the lime juice, cilantro and goat cheese. Your mouth won't be burning up. Trust me.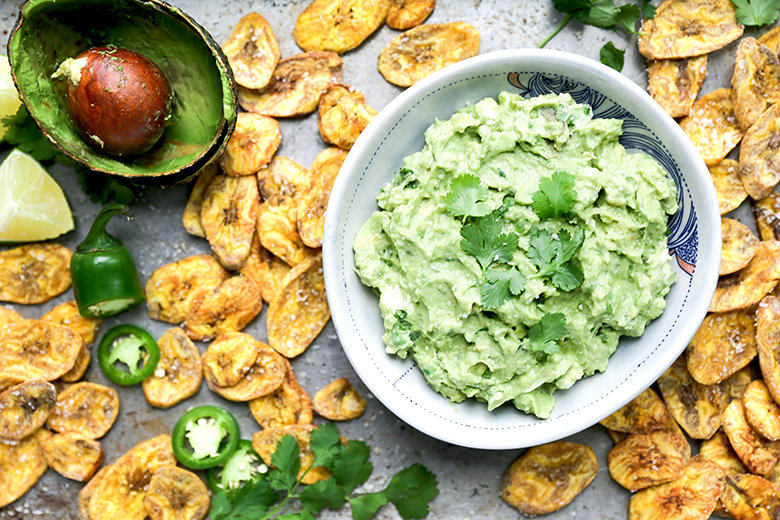 You can certainly serve this guacamole with regular tortilla chips. But I thought baked plantain chips sounded like a fun (and slightly healthier) option. Look for plantains that are still green, which are firmer and more starchy than those that are fully ripe. These are important characteristics for successfully making baked plantain chips.
If you've ever tried to peel a green plantain before, you know it's a labor of love. The peel is so stiff, that it can't be removed by hand the way you would typically remove a banana peel. Instead, you have to cut the peel off with a knife. Well, I suck at doing this. I usually end up making a total mess out of things, wasting a lot of the plantain flesh in the process. So this time, I decided to try my trusty vegetable peeler in lieu of a knife and that worked great! You'll have to go over each spot a couple of times to make sure you remove all of the peel and get down to the flesh. But I found it to be a much easier and more efficient method for me.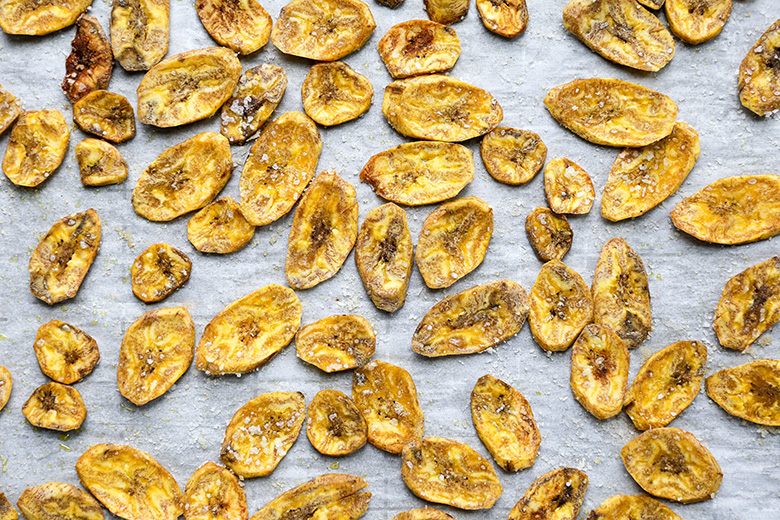 Both the plantain chips and the guacamole are really best when served within a couple hours of preparation. So make sure you plan to make and eat everything on the same day. And heck, you might even want to try out my Jalapeño and Goat Cheese Guacamole with Baked Plantain Chips at your Super Bowl party this year…if you're into that sort of thing. And if you want more plantain inspiration, try these vegetarian plantain tacos!
Cheers,
Liz
Jalapeño and Goat Cheese Guacamole with Baked Plantain Chips
Ingredients
For the Plantain Chips
4 green plantains
2 tablespoons melted coconut oil
3/4 tsp. salt
3/4 tsp. sugar

For the Guacamole
2 ripe avocados, halved and seeded
Juice from 1 lime
1/2 tsp. salt
1 jalapeño pepper, finely diced
2 tablespoons goat cheese, softened at room temperature
2 tablespoons fresh cilantro, roughly chopped
Instructions
Pre-heat your oven to 350 degrees. Line a large baking sheet with parchment paper and set it aside.
Slice the ends off the plantains. Then use a vegetable peeled to remove the peel. Thinly slice the peeled plantains on the diagonal. Add the plantain slices to a bowl and drizzle them with the melted coconut oil. Then use your hands to toss the plantain slices in the coconut oil, making sure they are evenly coated. Spread the plantain slices out onto your prepared baking sheet. Sprinkle with the salt and sugar.
Transfer the plantain slices to your pre-heated oven and bake for 20-25 minutes, until dry and crisp. They can burn easily, so start checking them around 18 minutes to make sure they aren't getting too dark. Remove from the oven and set aside to cool.
Meanwhile, make the guacamole. Scoop the flesh out of the avocados and add it to a medium bowl. Add the lime juice and salt, then mash lightly with a fork. Stir in the diced jalapeño pepper, goat cheese and cilantro.
Serve the guacamole immediately with the baked plantain chips. Enjoy.
http://www.floatingkitchen.net/jalapeno-and-goat-cheese-guacamole-with-baked-plantain-chips/
This post was originally published here on February 4, 2015. I've since updated the recipe slightly and added new (and better!) photos. Enjoy!
And just like that, we're right smack into the middle of January. Seriously, how does this time go by so fast? I feel like I say that as we approach the end of every day/month/year. But it just seems to be true. Time flies when you're having fun, right?
So how are you doing with your New Year's resolutions? It's a damn good thing that I didn't make any regarding food, because whoa nelly would I have broken them all this weekend. Shattered them, actually.
I don't know what got into me. Well, I know exactly what got into me: a couple of bags of Valentine's Day candy. Seriously, I don't know what it is about Valentine's Day candy, but it's my favorite and I can't ever seem to resist it. And with the stores pushing the Holiday's earlier and earlier each year, I'm doomed from the start of January until mid-February.
Side note: My friend Christina wrote a little Valentine's Day candy review this past week and it's a fun read, if you're into that sort of thing.
So it's back to soups and smoothies for me for the next couple of days. And this Kale and Apple Soup is one I'll be enjoying on the regular.
Now, don't go and immediately write this soup off as some weird dieter recipe. Sure, it's packed full of greens and it can certainly be labeled "healthy". But it also has a little bacon, which gives it a rich, luscious taste. And it's not at all thin, watery and one-dimensional. Those are not good characteristics for soup, or otherwise. Nope. This Kale and Apple Soup has body, a touch of sweetness from some maple syrup and a little bit of heat from a heavy sprinkling of red and black pepper flakes to finish it off. It's a recipe that I've been making for a couple years now. And it's one I always go back too when I feel the need to be a little bit kinder to my body.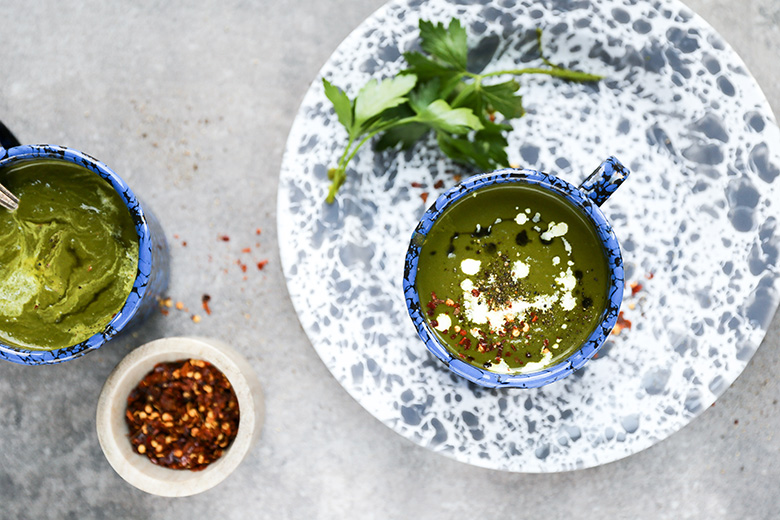 The soup recipe itself is dairy free. Although I do love adding a little drizzle of heavy cream on top. But you can certainly skip that part, if you prefer. No big deal!
Cheers,
Liz
Recipe adapted from The Kitchn
Ingredients
For the soup
1/4 cup chopped bacon
1 large bunch of kale (about 10-ounces), thick stems removed
1/4 cup fresh parsley
3 tablespoons extra-virgin olive oil, divided
4-6 cups chicken or vegetable broth, divided
1/2 yellow onion, peeled and chopped
1 Granny smith apple, cored and chopped
1/4 tsp. salt
1/4 tsp. black pepper
2 tsp. maple syrup

For Garnish
Red pepper flakes
Black pepper
Heavy cream
Maple syrup
Instructions
In a large heavy-bottom pot over medium-high heat, cook the bacon until it's just starting to brown, about 1-2 minutes. Add the kale, parsley and 1 tablespoon of the olive oil, stirring to coat the kale and parsley in the fat. Cook, stirring occasionally, until the kale is wilted, about 5 minutes. Add about 2 cups of the broth and bring the mixture to a simmer. Cook for 10 minutes. Remove the pot from the heat and set it aside to cool slightly.
Carefully transfer the kale mixture to your blender and blend on high until smooth. Be careful when transferring and blending hot liquids, and work in batches if necessary. Transfer the blended kale mixture to a clean bowl and set it aside.
Place the pot back over medium-high heat and warm the remaining 2 tablespoons of olive oil. Add the onion and sauté, stirring occasionally, for about 3 minutes or until softened. Stir in the chopped apple, salt and black pepper and cook for an additional 2 minutes. Add 2 cups of the broth and bring the mixture to a simmer. Cook for 5 minutes. Remove the pot from the heat and set it aside to cool slightly.
Carefully transfer the apple mixture to your blender and blend on high until smooth. Be careful when transferring and blending hot liquids, and work in batches if necessary. Add the blended apple mixture and the maple syrup to the blended kale mixture, stirring to combine.
Re-heat the soup as necessary, adding additional broth to thin it to your desired consistency. Lade the hot soup into bowls for serving. Top with a sprinkle of red pepper flakes, black pepper and a drizzle of heavy cream and/or maple syrup, if desired.
http://www.floatingkitchen.net/kale-and-apple-soup/