Disclosure: This post is sponsored on behalf of Maison Louis Jadot Wines via One2One Network. All opinions are my own. Thanks for supporting brands that support Floating Kitchen!
Elaborate, formal dinner parties tend to be one of two things: (1) stressful for those hosting or (2) boring for those attending.
I hesitate to write that, at the risk of sounding overly negative. But I think we can all agree that I'm mostly right.
So in recent years, I've ditched the notion of fancy get-togethers in favor of more casual, relaxed entertaining scenarios. With the exception of a few times a year ( i.e. = Thanksgiving), I tend to keep my gatherings low key, with a few simple food and drink options. And I let friends come and go as they please, free from the restrictions of a hard and fast time dictating when we all must sit down at the table together to dine. It just seems to work out better for everyone this way.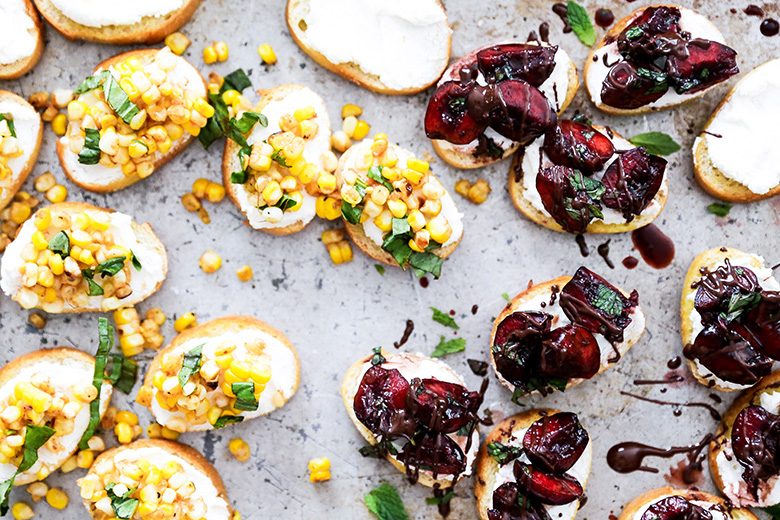 Bruschetta has always been one of my favorite foods to serve at casual gatherings. It's versatile, with a seemingly endless number of savory and sweet options. It's easy to make. And above all else, it's a total crowd pleaser. I don't know many people that will turn down a little toasty piece of bread piled high with fresh, seasonal ingredients. I would (and have on many occasions) happily make an entire meal out of bruschetta alone!
These two Summer Bruschetta recipes highlight everything that I'm obsessed with right now. I used a slightly sweetened whipped goat cheese as the base for both recipes. Then I went either savory, with a combination of corn, adobo sauce and basil. Or sweet, with a combination of fresh cherries, balsamic vinegar, mint and a drizzle of chocolate. I served both versions at a little outdoor garden party I had this past week, and they were a big hit with all my friends. In fact, people had a hard time choosing which one was their favorite!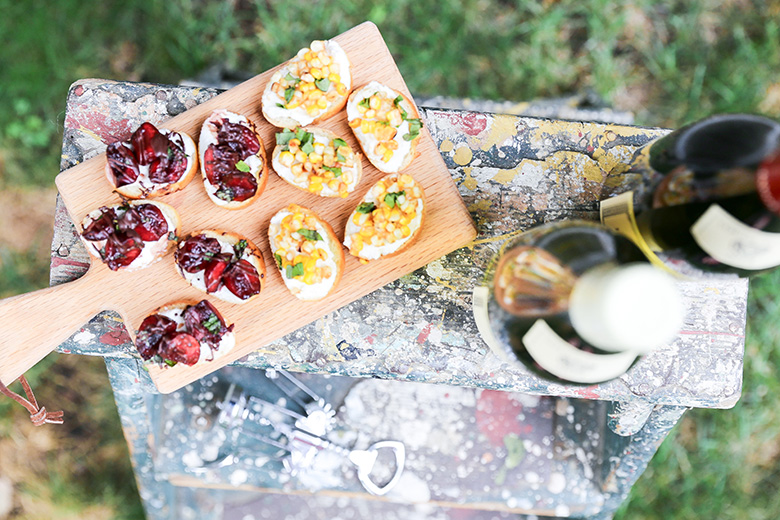 To complete my garden soiree, I paired my Summer Bruschetta with a couple of Maison Louis Jadot Wines. The clean, fresh flavors of their Mâcon-Villages Chardonnay went perfectly with the savory corn bruschetta that I created. While their plump, juicy Beaujolais-Villages nicely played up the flavors in my sweet cherry bruschetta.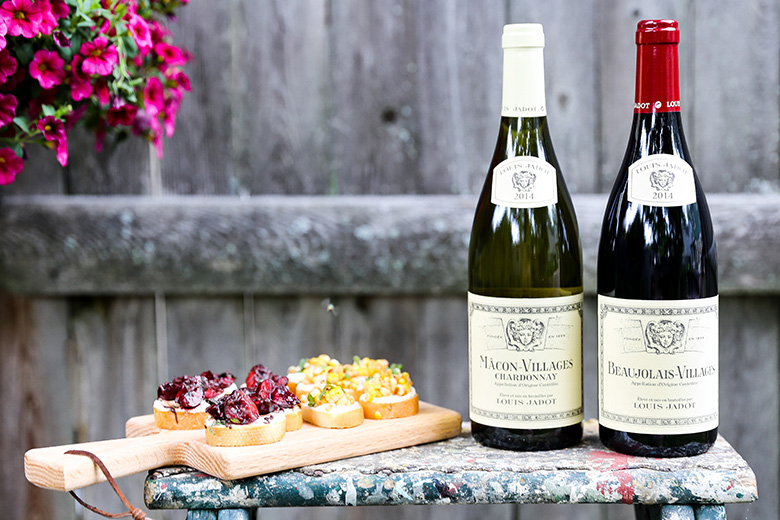 Maison Louis Jadot Wine is the #1 brand of French wine in the United States. Their wines are versatile, pairing well with so many of my favorite foods. And they are available at a great price point. It's a wine that I'm happy to have in my home and serve to my family and friends!
Cheers,
Liz
Summer Bruschetta: Two Ways
Ingredients
For the Bruschetta Base
1 rustic French baguette
About 2-3 tablespoons extra-virgin olive oil
8 ounces goat cheese, softened at room temperature
2 tablespoons heavy cream
1 tablespoon honey

For the Corn Topping
2 ears of corn, cooked and kernels sliced off
2 tablespoons fresh basil leaves, thinly sliced
1 tsp. adobo sauce (from a can of chipotle peppers in adobo)
1/4 tsp. salt
1/4 tsp. black pepper

For the Cherry Topping
1 cup pitted and quartered cherries
1 tablespoon balsamic vinegar
1 tablespoon fresh mint leaves, thinly sliced
1 ounce melted dark chocolate
Instructions
Make the bruschetta base. Pre-heat your oven to 400 degrees. Slice the French baguette into 1/2-inch slices. Brush both sides of the bread with a little olive oil. Then place the sliced bread on a rimmed baking sheet and bake in your pre-heated oven for 5 minutes. Remove from the oven and set aside. Meanwhile, with your stand or hand mixer, whip together the goat cheese, heavy cream and honey until smooth. Then spread a thin layer of this goat cheese mixture onto one side of the toasted bread. Set aside.
Make savory bruschetta. Combine all of the ingredients for the corn topping in a medium bowl. Top about half of the bread with this corn mixture.
Make the sweet bruschetta. Combine the cherries, balsamic vinegar and mint in a medium bowl. Top the remaining half of the bread with this cherry mixture. Then drizzle a small amount of melted dark chocolate on top.
Serve immediately.
http://www.floatingkitchen.net/summer-bruschetta-two-ways/
Disclosure: This post is sponsored by Blue Diamond Almonds. All opinions are my own. Thank you for supporting companies and brands that support Floating Kitchen.
Hi Friends! It's been a while since we've shared this space together. I've missed you all so much. And for my own self esteem, I'm going to tell myself that you've missed me too.
I guess I haven't been feeling particularly motivated to create new recipes lately. Part of that is due to the fact that it's as hot as Hades outside. All I want to do is sit down with a big spoon and half a watermelon in my lap. And I'm pretty sure nobody needs a recipe for that.
Also, I've just been feeling generally "blue" these past couple of weeks. And I find it hard to be creative when I've got a case of the "blahs". But I think I've finally started to turn the corner towards a happier mental state. Last weekend I traveled to Minnesota to spend some time with the most awesome boss ladies that I know, and that definitely helped to lift my spirits. I'll write more about our weekend together later on this month, but in the meantime, if you want to see what kinds of trouble we got ourselves into, you can take a peak at the hashtag #bossbabefestMSP on the Instagram machine.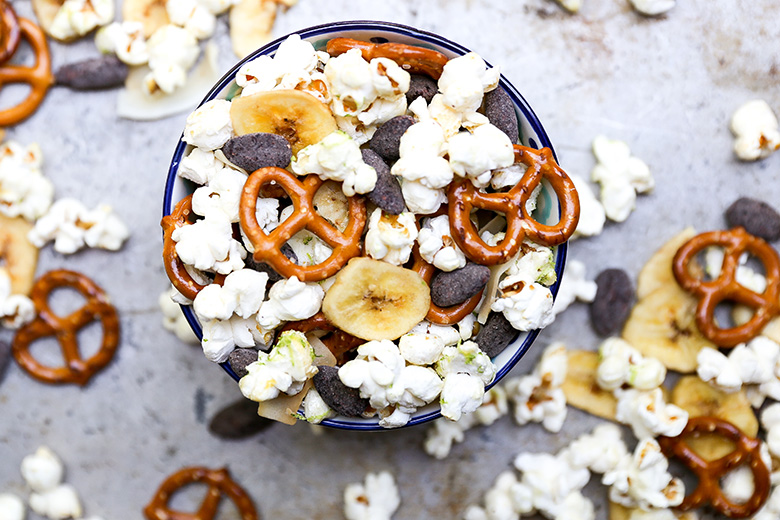 The day before I jetted off to the Midwest, I made up a big batch of this Tropical Popcorn Snack Mix to take along with me. Because traveling is hard and stressful enough as it is. I don't need to throw feelings of extreme hunger into the mix. And the stuff that's available to eat at most airports generally isn't the healthiest. My motto: never leave home without food and water.
Making your own snack mix at home is a serious must-do. Because not only do you have the power to control the overall levels of salt, fat and sugar in your recipe. But you also get to make sure you've got all your favorite ingredients represented. Personally, I find that store-bought snack mixes never have enough chocolate for my taste. So I made sure to throw in enough Blue Diamond Dark Chocolate Oven Roasted Almonds to satisfy my cravings. Oh and don't skip the lime zest here. It totally makes this Tropical Popcorn Snack Mix pop!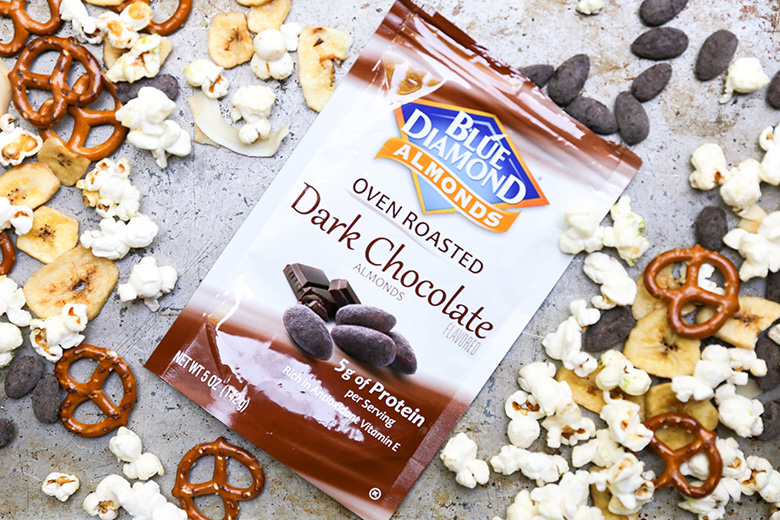 Blue Diamond Almonds is the Official Snack Nut of USA Swimming. And I'm guessing the USA Swimming Team would never leave home without healthy snacks. Because you can't be your best self when you're hangry!
Cheers,
Liz
Disclosure: This post is sponsored by Blue Diamond Almonds. Blue Diamond Almonds understands what it takes to be the best. That's why we're proud to be an official sponsor of USA Swimming. Visit www.LaneToGreatness.com for a chance to win $5,000 to fuel your dreams of greatness (whatever they may be), get Blue Diamond Almonds coupons and recipes, and more!
Tropical Popcorn Snack Mix
Ingredients
2 tablespoons coconut oil
1/2 cup yellow corn kernels
2 tablespoons granulated sugar
1/2 tsp. salt
Zest from 1 lime
2 cups pretzel twists
2 cups dried banana chips
1 cup baked coconut chips
1 (5 ounce) package Dark Chocolate Blue Diamond Almonds
Instructions
Heat the coconut oil in a large pot over medium-high heat. Add 3-4 corn kernels, cover the pot and listen for them to pop. Once they have popped, quickly and carefully add the remaining 1/2 cup of corn kernels to the pot and sprinkle the tops with the granulated sugar. Immediately cover the pot and reduce the heat to medium-low. Shake the pot back and forth over the heat, making sure to hold down the lid, continuing to do so until the popping has slowed down considerably. Remove the pot from the heat.
Carefully remove the lid from the pot and transfer the popcorn into a large bowl. Add the salt and the lime zest, tossing the popcorn as you sprinkle it in so it gets evenly distributed.
Once the popcorn has mostly cooled, stir in the pretzel twists, banana chips, coconut chips and almonds. Serve and enjoy.
This popcorn snack mix is best when enjoyed the day that it's made, but it can be stored in an airtight container at room temperature for up to two days.
http://www.floatingkitchen.net/tropical-popcorn-snack-mix/