This post was originally published here on August 29, 2014. It's a favorite recipe of mine, so I thought it was worth re-visiting with new and improved photos. I hope you try it out!
I have been in a MEGA salad mood these past couple of weeks. Like, I literally can't stop eating salads. They're all I want. All day. Every day.
I've always been a big salad eater. But you know how there are some days when you're just eating a salad because you feel like you're suppose too be. Like, maybe you're trying to erase some poor choices from the day before. Yeah. I've had my fair share of those moments (most recently, this past Saturday). I think we all have.
But lately, I don't feel like that at all. My appetite for salads has been insatiable. Luckily for me, there is an overwhelming amount of delectable Summer produce available right now. So feeding my salad desires has never been so easy. Or delicious.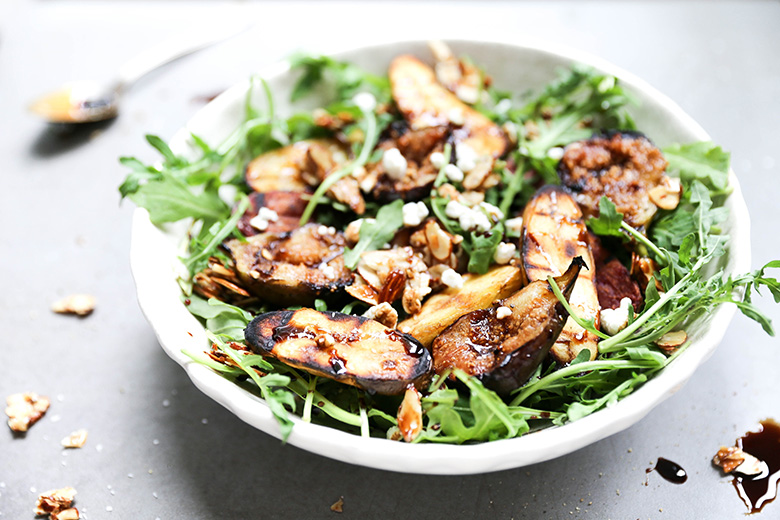 This Grilled Potato and Fig Salad with Maple-Almond Clusters has been a favorite recipe of mine for years now. And it's currently making it's way back into heavy rotation. I'm literally obsessed with this salad. And as long as I can reliably find fresh figs at the grocery story, that obsession will continue. Fig season is SO SHORT (which pains me greatly). So when they are around, you know damn straight I'm taking advantage of them in every way possible.
I'm also taking advantage of my grill while the weather allows, grilling both the potatoes and the figs for this recipe. The potatoes do require a little pre-cooking, which helps them to cook evenly on your grill without burning. But it's worth the extra step. Because everything tastes better from the grill. Even salads.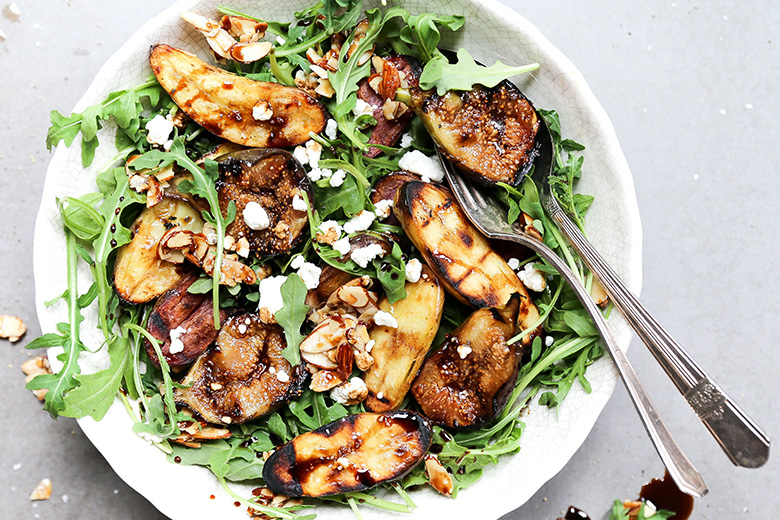 I find that I don't need much in the way of dressing for this salad. Just a drizzle of reduced balsamic vinegar is plenty for me. But you can add some extra-virgin olive oil, if desired.
Beware these maple-almond clusters. They are pretty much like crack. CRACK I tell you! It takes a lot of willpower not to eat (demolish?) the entire batch in one sitting. You might want to just go right ahead and double the recipe, so you have enough for nibbling on and for topping this salad. Trust me when I say they are highly addicting.
Cheers,
Liz
Grilled Potato and Fig Salad with Maple-Almond Clusters
Ingredients
1 cup sliced almonds
3 tablespoons maple syrup, divided
1/4 tsp. salt, plus more for finishing the salad
1.5 lbs fingerling potatoes
16 fresh figs, cut in half lengthwise
3 tablespoons extra-virgin olive oil, divided
1/2 cup balsamic vinegar
6-8 cups arugula
4 ounces crumbled goat cheese
Black pepper
Instructions
Make the maple-almond clusters. In a dry skillet over medium heat, toast the almonds until they become fragrant and have started to brown slightly, about 2 minutes. Watch them carefully and stir frequently so they don't burn. Add in 1 1/2 tablespoons of the maple syrup and 1/4 tsp. of salt, stirring until the almonds are well coated. Remove the skillet from the heat and spread the almonds out onto a parchment-paper lined baking sheet. Set aside to cool.
Cook the potatoes. Place the potatoes in a large saucepan and cover them with 1-2 inches of cold water. Place the saucepan over medium-high heat and bring the water to a boil. Then reduce the temperature to maintain a simmer and cook the potatoes, uncovered, until they are just fork tender, about 10-15 minutes. Be careful not to overcook the potatoes because you want them to maintain their shape for grilling. Drain the potatoes and set them aside to cool slightly. Once they are cool enough to handle, slice the potatoes in half lengthwise.
Pre-heat your grill to medium-high. In a large bowl, gently toss the potatoes in about 2 tablespoons of olive oil. In a separate bowl, gently toss the figs in about 1 tablespoon of olive oil. Grill the potatoes and the figs, placing them directly on the grill grates. The potatoes take about 2-3 minutes per side. The figs are more fragile and will only take about 1 minute per side. Remove the potatoes and figs from the grill and place them on a large plate or baking sheet.
To make the dressing, combine the balsamic vinegar and the remaining 1 1/2 tablespoons of maple syrup in a small heavy bottom saucepan over medium-high heat. Simmer until the balsamic vinegar is reduced to about 1/3 of a cup, about 5 minutes. Remove from the heat.
Assemble the salads. Divide the arugula evenly between 4 plates. Top with the grilled potatoes, grilled figs, goat cheese and the maple-almond clusters. Drizzle with the balsamic reduction and sprinkle with a pinch of salt and black pepper. Enjoy immediately.
http://www.floatingkitchen.net/grilled-potato-and-fig-salad-with-maple-almond-clusters/
Recipe inspiration comes to me in many forms. Random ideas often pop into my head when I'm out walking or taking a shower. I scrupulously study menus at restaurants in search of new-to-me flavor combinations. And a quick scroll through Instagram will have me jumping out of my chair and speeding off to grocery store for supplies in a heartbeat.
But nothing will get my creative juices flowing like a trip to the farm.
A few weeks ago, our chive fields were in full bloom. There was a seemingly endless sea of purple and green that stretched out from my feet for as far as the eye could see. And I was there for the taking (literally). Armed with my camera, a pair of scissors, a handful of small rubber bands and an empty shopping bag, this bumper crop was coming home with me. Well, at least a tiny portion of it was.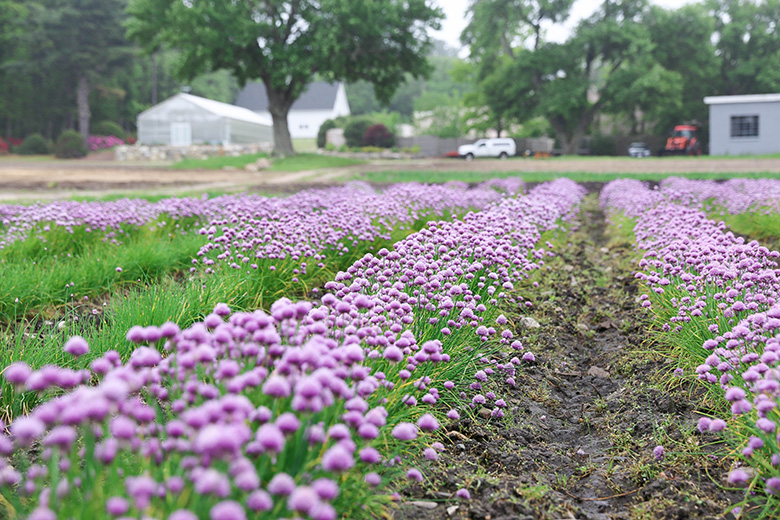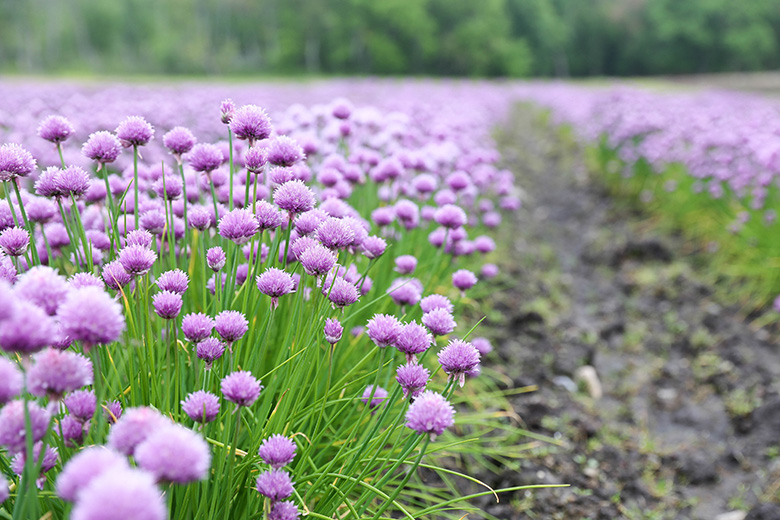 I snatched up several bunches of chives and once I found myself back in my own kitchen, I got to work experimenting with their blossoms. I made a chive blossom vinegar. I whipped some of the purple buds into a honey-sweetened goat cheese, which I then proceeded to slather on everything. And I started tossing them into salads, soups and side dishes. Chive blossoms have a delicate onion flavor and so far, I haven't found a single savory dish that they don't work well in. The possibilities appear limitless. Also, their cuteness factor is on point.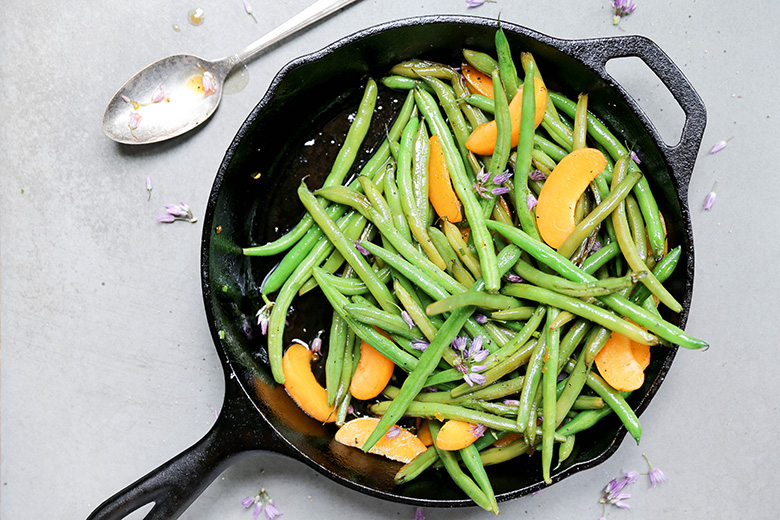 Today's recipe for Blistered Green Beans with Apricots and Chive Blossoms is a variation of this green bean and apple salad that I created last September. I also took some cues from Brooke's brilliant green bean and nectarine pairing, which you can find beautifully photographed and written up here. Her recipe is what really inspired me to give my previous version a facelift for Summer.
This is a dish that only takes a few minutes to prepare and uses a minimal number of ingredients. But it's anything but boring. There are several layers of flavors and textures, which makes eat bite something to write home about. From the slight char on the still crisp green beans (a cast iron skillet is your best option here for cooking the green beans), to the jam-sweetened dressing, to the fresh pops of purple and orange from the chive blossoms and apricots, respectively. It all just works in an effortless kind of way. Exactly how a Summer side dish should be.
This dish is great served either warm or chilled. And it's completely dairy free (= no immediately spoilage concerns). Which, in my humble opinion, makes it the perfect dish to serve at an outdoor gathering. Those 4th of July parties will be here before you know it. Time to start planning.
And playing. I encourage you to try swapping out the apricots for peaches, plums or even cherries. And try adding in a handful of toasted almonds or walnuts, if you want more crunch.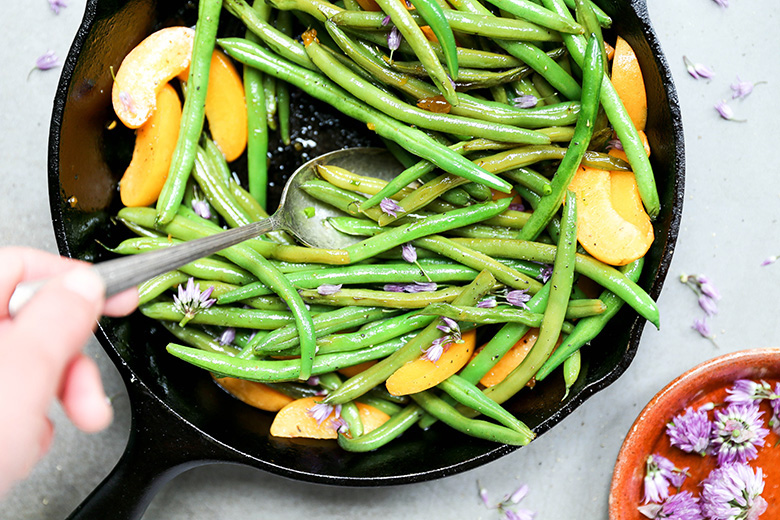 I'm sharing this recipe for Blistered Green Beans with Apricots and Chive Blossoms as part of a very special event that's taking place today on the internet today: the Virtual Midsummer Potluck for Peace organized by Saghar from Lab Noon.
This virtual event is a chance for myself and other like-minded bloggers to stand together and make our voices and opinions known. To deliver a positive message. To say "hey, I'd rather share a dish and a conversation with you, instead of fighting with you". Or "let's celebrate all the things we have in common, instead of battling over the things that make us different".
My voice may be small. But it's what I have. And I'm not afraid to use it. To say "NO" to terror, oppression and hate. And to say "YES" to peace, love and respect.
I hope you'll be inspired to make your voice heard as well.
You can find out who all the other bloggers are who are participating in our Virtual Midsummer Potluck for Peace by clicking on this link. Or check out the hashtag #VirtualMidsummerPotluck4Peace on social media. You'll discover a lot of uplifting messages and stories. As well as some wonderful Summer food and drink recipes that are perfect for sharing.
Cheers,
Liz
Blistered Green Beans with Apricots and Chive Blossoms
Ingredients
For the Dressing
2 tablespoons extra-virgin olive oil
1 tablespoon red wine vinegar
1 tablespoon apricot preserves
1 tablespoon minced chives
1/4 tsp. salt
1/4 tsp. black pepper

For the Green Beans
1-2 tablespoons extra-virgin olive oil
1 lb green beans, trimmed
2 apricots, pitted and sliced
3-5 chives blossoms, washed and separated
Instructions
In a small bowl, whisk together all the ingredients for the dressing until well combined. Set aside.
Heat a large skillet over medium-high heat. Add the olive oil and let it get hot. Then add the green beans and let them cook until crisp-tender, about 4-5 minutes, stirring occasionally. Some of the green beans should be blistered and charred in a few places. Stir in the dressing and cook for 1 minute more. Remove the skillet from the heat. Add the sliced apricots and toss gently.
Transfer the green beans and apricots to a serving dish. Top with chive blossoms. Season with additional salt and pepper, if desired.
This dish can be served immediately while still warm, enjoyed at room temperature or chilled before serving. Leftovers can be stored in an airtight container in your refrigerator for 1-2 days.
http://www.floatingkitchen.net/blistered-green-beans-with-apricots-and-chive-blossoms/