And POOF! Just like that, we have Summer.
One week ago, I was using my fireplace to keep warm at night. And then the next thing I knew, it was a balmy 90 degrees.
I guess the only thing that's ever been consistent about the weather here in New England, is that it's wildly inconsistent.
I think this current heat wave is just a flash in the pan, and we'll be returning to somewhat cooler temperatures this week. But oh my gosh, it's been SO glorious to revel in all my favorite Summer activities. I've been walking the beach and reading by the pool almost every single day. I've already managed to eat my weight in ice cream. And I've enjoyed several outdoor "patio beers" at sunset.
I finally feel re-charged after our long, cold Winter (and our nearly non-existent Spring). It's like all is right with the world once again.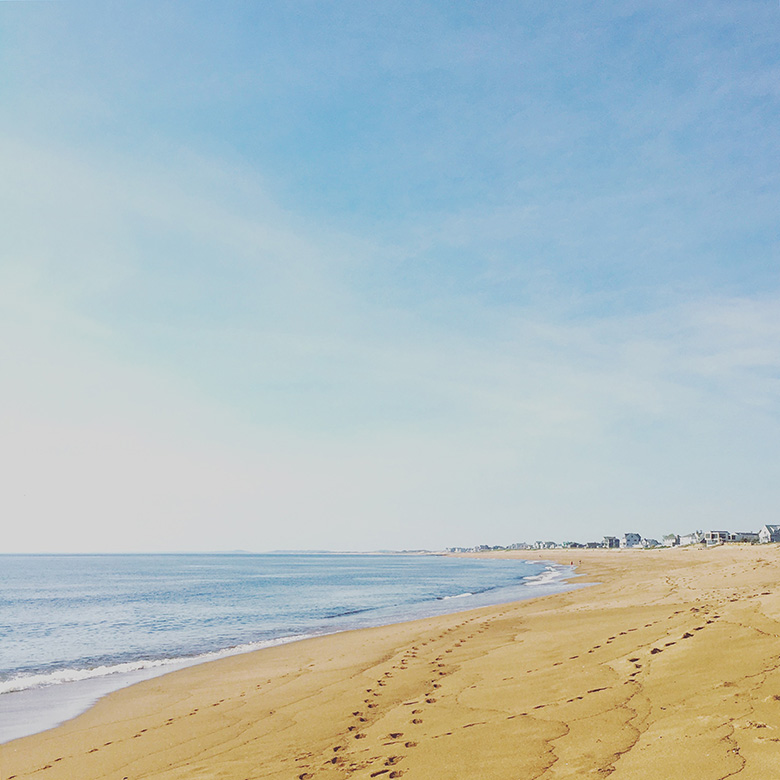 Needless to say, all this warm weather has got me dreaming wildly about Summer foods. Which is how I ended up creating this Tropical Summer Caprese Salad. It's amazing what you can invent when you refuse to turn your oven on for fear of sweating through your clothing.
On a hot day, there is nothing I crave more than a caprese salad. I could easily eat one every single day between the months of June and August. Sometimes, I like to bulk up my caprese salads with additional greens and baked almond-crusted chicken. And sometimes, I like to serve my caprese salad on skewers for easy eating at parties.
But today, we're going super tropical. I'm mixing fresh mozzarella and basil with kiwi, pineapple, cilantro, hazelnuts (hooray for crunch!) and a little bit of heat from a dash of cayenne pepper. It's a salad that I can just about guarantee you'll be making (and eating!) all Summer long.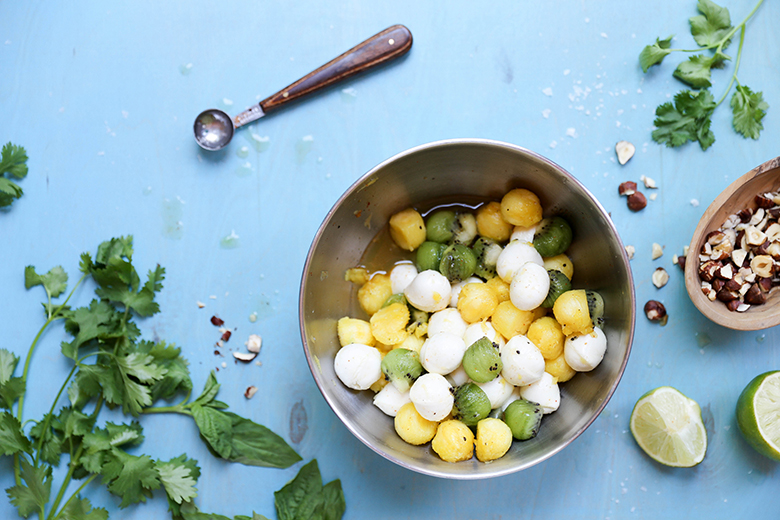 Inspired by the shape of the fresh ciliegine mozzarella, I decided to use my melon baller for the kiwi and pineapple. This, of course, isn't necessary. You could cut the fruit into small cubes. But I had fun doing it this way (and I think it looks cute!). And it was nice to dust off my poor melon baller, which is a utensil that only gets used two or three times a year at most.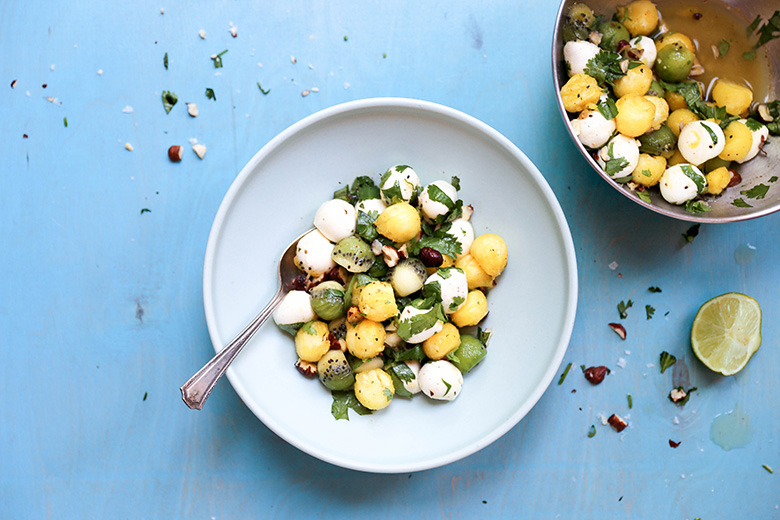 You don't need a lot of dressing for this Tropical Summer Caprese Salad, because the fruit will release a lot of juice once it's been cut. I might have added even a bit more cayenne pepper than the recipe calls for, because I like spice. But feel free to go as light or heavy as you dare with the cayenne. The heat provides a wonderful contrast to the cool, sweet fruit. So whatever you do, don't skip it entirely.
This salad is best when it's enjoyed immediately after making it. And it should be eaten cold. So make sure your pineapple and kiwi are chilled to start. Then just toss and enjoy!
Cheers,
Liz
Tropical Summer Caprese Salad
Ingredients
8 ounces fresh ciliegine mozzarella balls, drained
2 cups chopped (or balled) pineapple
4 kiwi, peeled and chopped (or balled)
1 tablespoon extra-virgin olive oil
1/2 tablespoon lime juice
1 tsp. agave nectar
1/2 tsp. salt
1/4 tsp. black pepper
1/8 tsp. cayenne pepper
1/2 cup hazelnuts, roughly chopped
1/4 cup fresh cilantro, roughly chopped
1/4 cup fresh basil, roughly chopped
Instructions
Add the mozzarella, pineapple and kiwi to a large bowl.
In a separate small bowl, stir together the olive oil, lime juice, agave, salt, black pepper and cayenne pepper. Pour this dressing over the mozzarella and fruit, tossing gently to combine.
Add the hazelnuts, cilantro and basil. Toss to combine. Serve immediately.
http://www.floatingkitchen.net/tropical-summer-caprese-salad/
This post was originally published here on August 7, 2013. I've updated the photos and text because trust me, they needed it! Enjoy!
Did you know that you can eat beets raw? This was something that I only discovered a couple of years ago. Until that point, I had always boiled or roasted them into submission. And in the years before that, I wouldn't even have touched a beet with a 10 foot pole.
It's funny how things change.
Now I love beets any way you cook them. And even in ways when you don't cook them.
This Raw Beet and Dill Salad is a favorite of mine. The raw beets are just so damn crunchy. It's irresistible. And they still have that characteristic earthy, sweet taste that I've grown to love. The dill makes this dish extra fresh. And the mustard-vinegar dressing provides the perfect level of tang.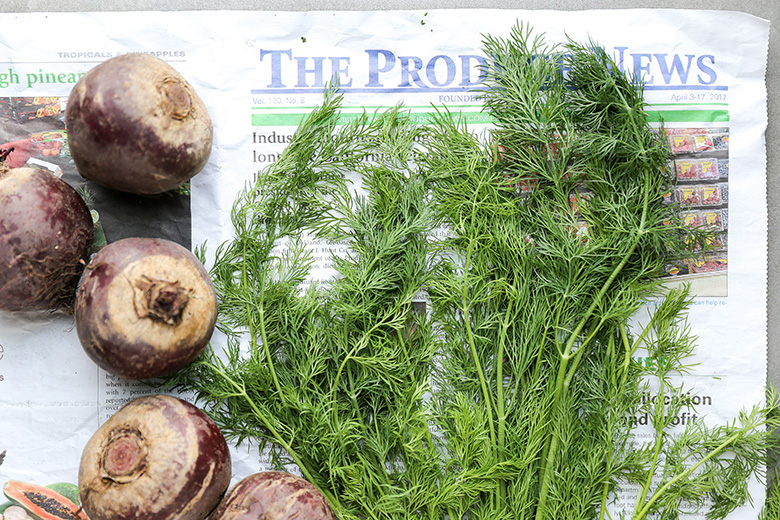 Also, see that photo above? That's how much dill my Mom gave me when I told her I need a couple of sprigs for a recipe. Classic Mom. Always going overboard!
The whole recipe uses only eight ingredients, most of which are pantry staples. And it's a great way to prepare beets in the Summer months when it's WAY to hot to turn on your oven. I typically enjoy this salad straight out of the bowl. But it would also be good as a slaw for topping tacos or sandwiches.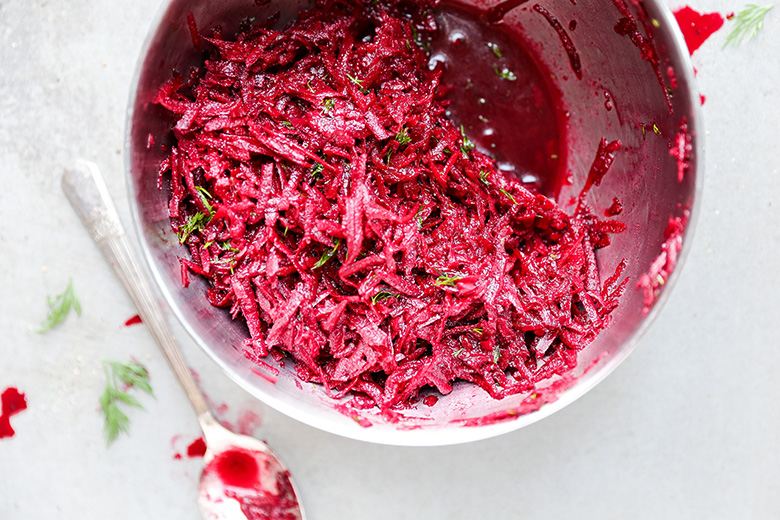 Grating beets is an inherently messy task. There isn't any way around it. You'll likely get splatters over your kitchen countertops and clothes. And you may even end up with pink hands, too. But here are some tips I've learned over the years to help minimize the damage. First and foremost, you could certainly use your food processor with the shredder attachment to grate the beets. That usually results in the least amount of mess. But honestly, I think the size and texture of the shreds is better when I use my trusty box grater. So to that end, I place my box grater on a big plate right in my kitchen sink. Most of the splatters will stay confined within the walls of the sink. And then you can easily just rinse them away with water. Wear gloves if you don't want pink hands. And lastly, try golden beets instead of red beets, which will eliminate the threat of red juices all together!
Cheers,
Liz
Ingredients
2-3 tablespoons dill, roughly chopped
1 tablespoon extra-virgin olive oil
1 tablespoon Dijon mustard
1 tablespoon champagne vinegar (can substitute red wine vinegar or apple cider vinegar)
1 tsp. sugar
1/4 tsp. salt
1/4 tsp. pepper
3 cups grated beets (from about 4 to 5 medium sized beets)
Instructions
In a small bowl, whisk together the dill and the next six ingredients until well combined.
Add this dressing to the grated beets, tossing until the beets are evenly coated.
You can serve this salad immediately. Or chill it in your refrigerator for several hours before serving. Leftovers can be stored in your refrigerator in an airtight container for up to 2 days.
http://www.floatingkitchen.net/raw-beet-and-dill-salad/