Roasted Portobello and Peach Sandwiches with Basil and Blue Cheese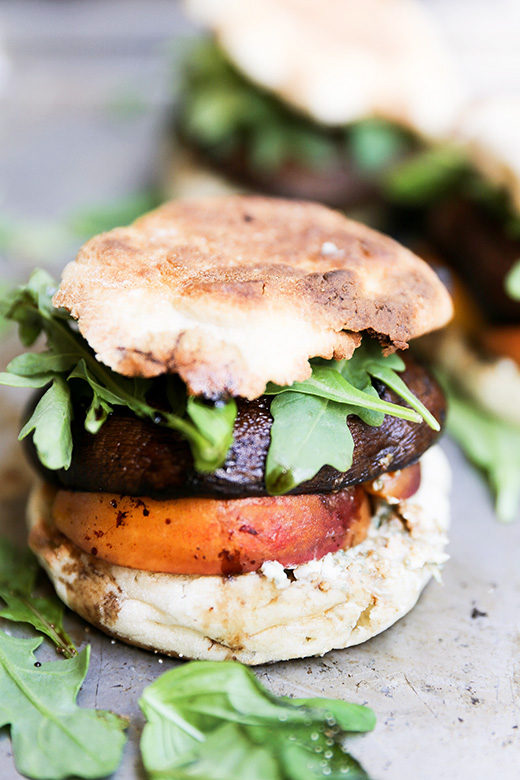 Do you guys want a sandwich that's filled with fresh ingredients and bursting with unique flavors? And how about a sandwich that is completely satisfying, yet won't cause you go into a food coma during the middle of the day?
If you said "YES!", then let me introduce you to this Roasted Portobello and Peach Sandwich with Basil and Blue Cheese. I think you'll get along fabulously.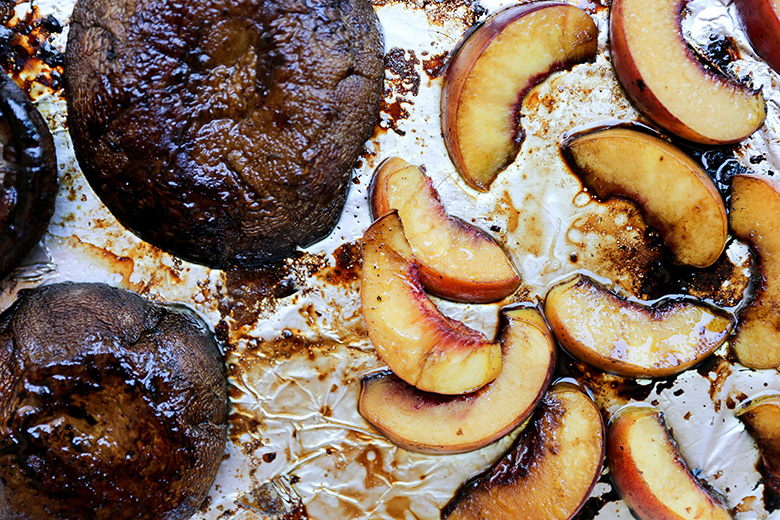 This sandwich is so easy to make and it's one of my go-to weeknight dinners during peach season.The only real work (if you can even call it that) is roasting the mushrooms and the sliced peaches. Then just assemble all the other ingredients and enjoy! I really like the contrast of the salty, tangy blue cheese with the slightly sweetened roasted peaches and earthy mushrooms. And the basil and arugula add the perfect touch of freshness.
Recently I've become obsessed with using English muffins as the buns for my sandwiches. While I do love a good bakery roll, I find they are often so oversized that all the other ingredients seem to get lost in the bread. And those flimsy buns from the grocery store are just subpar, in my humble opinion. The English muffin is a happy medium. Try it out. I think you'll get hooked too!
Cheers,
Liz
Roasted Portobello and Peach Sandwiches with Basil and Blue Cheese
Ingredients
2 portobello mushrooms
1 large peach
2 tablespoons balsamic vinegar
1 tablespoon extra-virgin olive oil
1/4 tsp. salt
2 English muffins, toasted
1/4 cup blue cheese crumbles
6-8 basil leaves
1/2 cup arugula
Instructions
Remove the stems from the mushrooms. Scrape out the gills with a small spoon and discard. Gently wipe the mushroom caps clean with a damp paper towel. Cut the peach into 1/2 inch slices.
Add the balsamic vinegar, olive oil and salt to a large seal-able bag. Place the mushrooms and peach slices into the bag and toss gently to coat. Let them marinate in the bag for approximately 10 minutes at room temperature.
Meanwhile, pre-heat your oven to 425 degrees. Get out a rimmed baking sheet and line it with aluminum foil for easier clean-up.
Transfer the marinated peach slices and mushrooms to your baking sheet, placing the mushrooms cap side up. Drizzle approximately 1 tablespoon of the leftover marinade over the mushroom caps. Transfer the baking sheet to your pre-heated oven and roast for 8 minutes. After 8 minutes, carefully remove the peaches and set them aside on a clean plate. Flip the mushrooms over so the gill side is now up and place them back in your oven to continue roasting for another 10-12 minutes, or until the mushrooms are soft. Remove front the oven and set aside to cool slightly.
Assemble the sandwiches. On one side of your English muffin, layer on the blue cheese, peach slices, mushroom, basil leaves and arugula, dividing all the ingredients evenly between the two sandwiches. Top with the remaining half of the English muffin and serve immediately.
Notes
1. You could certainly cook the portobello mushrooms and peaches on the grill.
2. Goat cheese or sharp cheddar would also be excellent here.
3. Make sure to choose peaches that are just barely ripe. If they are already over-ripe, they will just become too soft when you roast them.
http://www.floatingkitchen.net/roasted-portobello-and-peach-sandwiches-with-basil-and-blue-cheese/
7 Comments