This post was originally published here on June 18, 2014. I've since updated the photos and text to showcase just how delicious these avocados really are!
With Memorial Day lurking right around the corner, I figured it was a good time to refresh this old recipe from 2014. Because let's be honest, the previous photographs were pretty cringe-worthy. I certainly wouldn't have been motivated to make these Baked Avocados with Fresh Salsa based on how they looked before. So how could I have expected you guys to want to make them?
So I gave them a little facelift. And now they look all shiny and pretty. I hope you get the urge to run right out and try them. Because I think they are the perfect recipe to help kick off the unofficial start of Summer this Memorial Day weekend!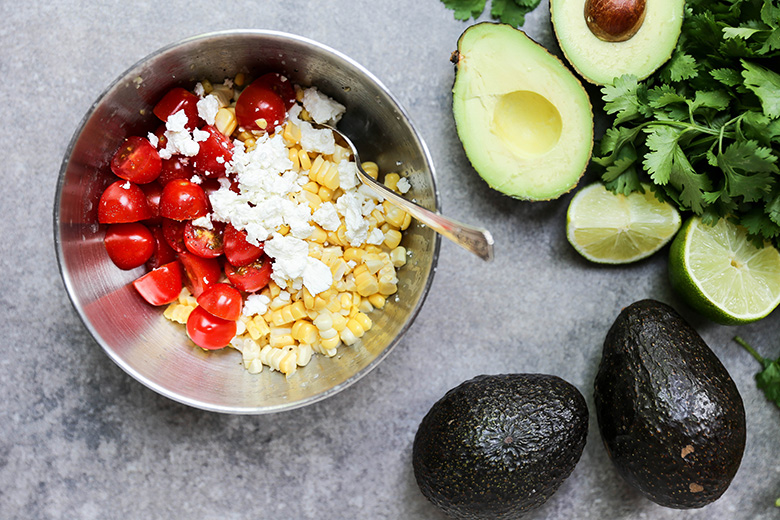 When I first read about the idea of baked avocados (it was this post from Food Faith Fitness), I was skeptical. Wouldn't they get all brown and weird? And who would ever want to eat a warm avocado? The whole concept seemed strange to me. But I was intrigued enough to try it out for myself. And since then, baked avocados have become a staple in my house (along with like every other recipe involving avocados = I'm obsessed).
Baking the avocados causes them to turn extra creamy and soft. And they provide the perfect little vessels for loading up with whatever fresh ingredients you have on hand (in this case, corn, tomatoes, crumbled cheese and cilantro). Any food that you can turn into an edible bowl is a major win in my book. Because boy, do I hate having extra dishes to wash!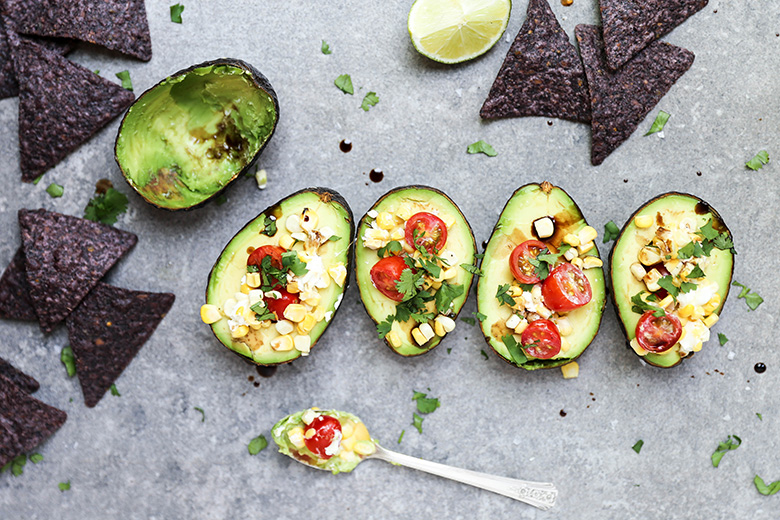 I like to use crumbled Queso Fresco in this recipe (which is what I've called for in the ingredient list below). But for whatever reason, it's an ingredient that I sometimes have a hard time finding in my grocery store. I've substituted crumbled goat cheese or feta cheese in the past, both with great success. So feel free to use whichever of the three cheeses you have/prefer.
These Baked Avocados with Fresh Salsa work as a party appetizer, side dish or mid-afternoon snack. Basically, they are good any time of day. Oh and don't forget to have a bag of tortilla chips nearby. I think you'll want them!
Cheers,
Liz
Baked Avocados with Fresh Salsa
Ingredients
1/2 cup cherry tomatoes, halved
1/2 cup corn kernels
1/2 cup Queso Fresco cheese, crumbled
1/2 tablespoon fresh squeezed lime juice
1/8 tsp. salt, plus more for seasoning the avocados
1/8 tsp. black pepper
4 avocados
1-2 tablespoons fresh cilantro, roughly chopped
1-2 tablespoons balsamic vinegar
Instructions
Pre-heat your oven to 400 degrees.
In a small bowl, combine the cherry tomatoes, corn, cheese, lime juice, salt and pepper. Set aside.
Cut the avocados in half and remove and discard the seeds. Then slice a small area (about the size of a postage stamp) off the back side (the skin side) of each avocado half. This will give them a flat surface to rest on, preventing them from toppling over during cooking. Be careful not to cut too deeply into the avocado.
Place the avocado halves in a baking dish, flesh side up. Sprinkle with a little salt. Then fill the cavities with a heaping spoonful of the salsa. Transfer the baking dish to your pre-heated oven and bake for 8-10 minutes. Remove from the oven. Top with some fresh cilantro and a drizzle of balsamic vinegar. Serve while still warm.
Notes
1. If you can't find Queso Fresco, some crumbled feta or goat cheese would be great.
http://www.floatingkitchen.net/baked-avocados-with-fresh-salsa/
I really like rhubarb. Like really. Like probably way more than is considered normal for a human being to like a vegetable (<— yes, that's true!).
As a kid, I would pick those tart, fibrous stalks straight from the warm soil and dip them into brown paper lunch bags filled with sugar. Instant gratification: farm style.
These days, my rhubarb preparation has gotten a little bit more sophisticated. I'm baking it into pies, mixing it into cocktails and freezing it into popsicles. You name it. I've probably tried it. Rhubarb knows no boundaries for me.
Unless of course, we're talking about savory rhubarb applications. Because there, I'm a total novice. Well, until now.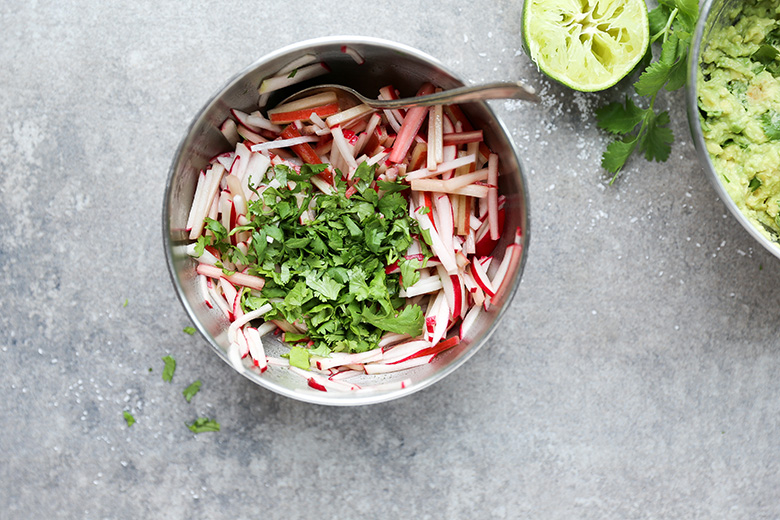 The idea of a savory rhubarb recipe hadn't even really crossed my mind until about a month ago. I've had a few rhubarb chutneys in the past (and maybe even made one myself at some point), but they were still much more on the sweet side of the equation. A full-fledged savory rhubarb recipe had escaped me. That is, of course, until I spotted this rhubarb and radish salad on Bon Appétit. I immediately started experimenting with a slightly modified version of that recipe. And it's been on constant rotation in my kitchen ever since.
This rhubarb-radish slaw is a wonderful side dish that celebrates Spring produce. I find it pairs particularly well with flavorful meats, like ribs or brisket. But I also love it as a topping for sandwiches, tacos and these vegan tostadas which I'm sharing here today.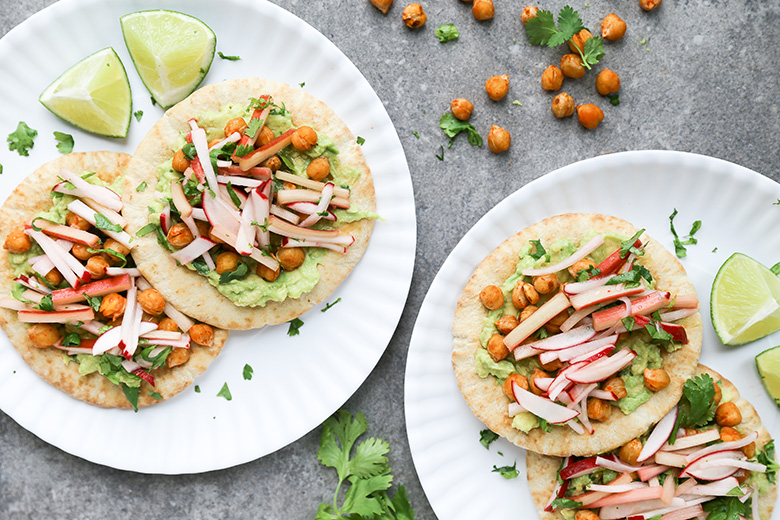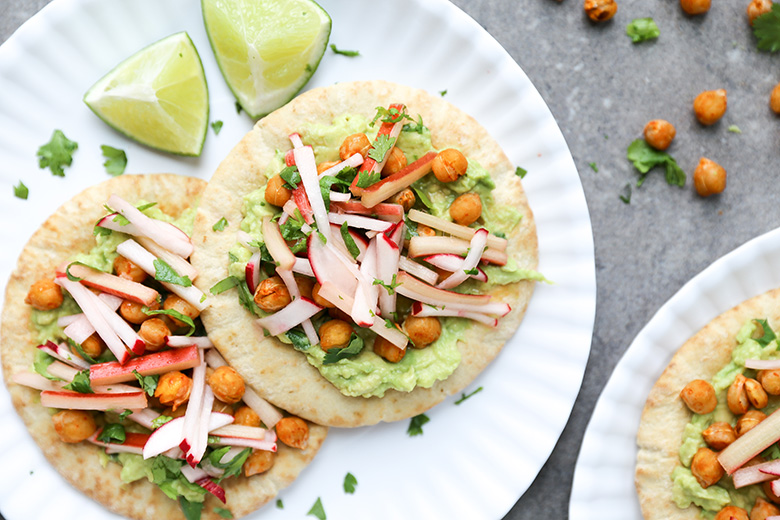 These Chickpea and Avocado Pita Tostadas with Rhubarb-Radish Slaw are such a breeze to prepare. Seriously. 20 minutes is all you need to make these perfect little pitas. Try them some night when you're in need of a low fuss vegetarian dinner. Or make them for Cinco de Mayo tomorrow! Which is like the best food holiday ever because it involves all of my favorite foods and beverages (hello tequila!).
Because these tostadas are so quick and easy, I'm sharing them as part of our monthly 30 Minute Thursday series. Just scroll down below to find links to other creative (and fast!) dinner recipes. As you might except, there are a couple of other Mexican-themed dishes in this months installment. I hope you find some inspiration for Cinco de Mayo. Or for any night when you need food in a hurry!
Cheers,
Liz
Recipe adapted from my Roasted Delicata Squash Pita Tostadas with Black Beans and Guacamole
Chickpea and Avocado Pita Tostadas with Rhubarb-Radish Slaw
Ingredients
For the Chickpeas
1 (15 ounce) can chickpeas, rinsed and drained
1 tablespoon chili sauce
1/4 tsp. salt

For the Tostadas
6 sandwich size pita bread (5- to 6-inches in diameter)

For the Rhubarb-Radish Slaw
3 medium radishes, trimmed
1 stalk rhubarb, trimmed
1/3 cup fresh cilantro, roughly chopped
1 tablespoon extra-virgin olive oil
Juice from 1/2 lime
1 tsp. agave nectar

For the Guacamole
2 avocados
1/4 cup fresh cilantro, roughly chopped
Juice from 1/2 lime
1/2 tsp. salt
Instructions
Pre-heat your oven to 400 degrees.
Pat the chickpeas dry with a paper towel. Then toss them in a medium bowl along with the chili sauce and salt, stirring until well coated. Spread the chickpeas out onto a rimmed baking sheet and roast in your pre-heated oven for 15 minutes, stirring once halfway through. Remove and set aside.
Meanwhile, place the pita breads on a second rimmed baking sheet and warm them in your pre-heated oven for about 10 minutes, or until the edges become slightly crispy. Remove and set aside.
To make the slaw, first cut the radishes and rhubarb into thin matchsticks. Place them to a medium bowl along with the cilantro. In a separate small bowl, whisk together the olive oil, lime juice and agave nectar. Then pour this dressing over the slaw, tossing to coat. Set aside.
To make the guacamole, slice the avocados in half and remove and discard the pits. Scoop out the flesh and add it to a bowl along with the other ingredients. Using the tines of a fork, mash everything together until well combined. Set aside.
To assemble the tostadas, spread some of the guacamole onto the warmed pita breads. Top with the roasted chickpeas and some of the rhubarb-radish slaw. Serve immediately.
http://www.floatingkitchen.net/chickpea-and-avocado-pita-tostadas-with-rhubarb-radish-slaw/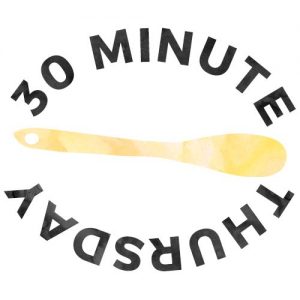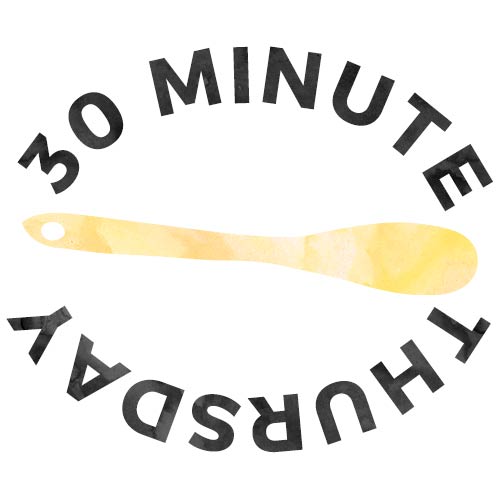 Easy Black Bean Soup by Pumpkin 'n Spice
Grilled Portobello Mushroom Asparagus Fajitas by Flavor the Moments
10 Minute BBQ Ham Sandwiches by The Recipe Rebel
One Pot Sausage and Asparagus Pesto Pasta by Bake.Eat.Repeat.
30 Minute Chicken Marsala by My Kitchen Craze
One Pot Teriyaki Beef Zoodles by Life Made Sweeter
One Pot Black Bean Enchilada Pasta by Savory Nothings