Avocado toast is a food that I just can't quit.
I know a lot of folks are feeling kind of "over it" lately. It's achieved Kardashian-level celebrity status, right up there with kimchi, smoothie bowls and those Starbucks Pink Drinks. But to me, avocado toast isn't just the latest trend. To me, avocado toast is pure comfort food. It's the food that I eat when I'm stressed and rushed and struggling to find the time to prepare a "real meal". And it's the food that I eat when I just don't feel like eating. Like this past week, when my heart felt heavy and my house seemed unbearably empty. Avocado toast was the only thing that actually tasted really good to me.
Today's version includes one of my favorite curious little fruits: kumquats. They are in season right now, so keep your eyes peeled for these sweet-sour gems that look just like miniature oranges.
And speaking of peels, you can eat them. Yup. Not need to peel kumquats (thank goodness because that would be a laborious task!). In fact, the peel is actually the sweeter part of the fruit. It's the center that packs a pucker-inducing punch!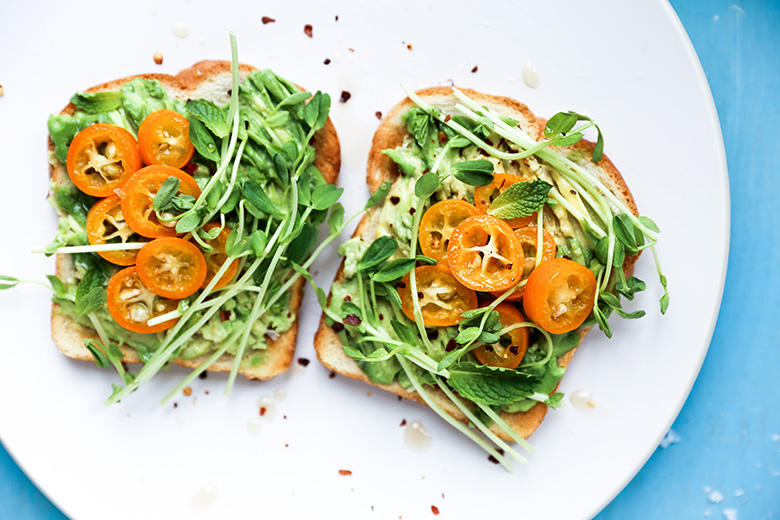 Last year, I made a Spicy Kumquat and Whipped Ricotta Crostini. And a couple of weeks ago, I spotted these gorgeous Kumquat Honeycomb Tartines from Alanna at The Bojon Gourmet. So it's been on my mind to create a new version of kumquats on toast.
To that end, I asked my Mom for a few kumquats for a recipe and, of course, she brought me an ENTIRE CASE. Not that I was particularly surprised by this. Because my Mom always goes above and beyond the call of duty (it's one of her most endearing qualities). But a case of kumquats is A LOT to try and get through. So I've been making plenty of dishes with kumquats this week (I might just have to share another one soon!), as well as making pickles, marmalades and chutneys.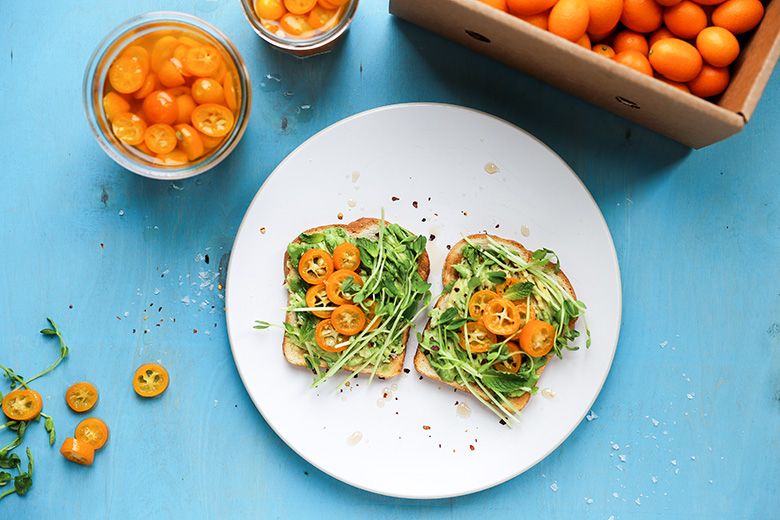 These quick-pickled kumquats are exactly as they are named: pickled kumquats that can be made very quickly. I start by slicing each kumquat into 3-4 slices. No need to discard the seeds, but I do remove and discard the tiny woody stem that is sometimes found on the end. Then I boil them briefly to soften the peel and take away some of the bitterness. Finally, I combine the kumquat slices with a easy rice vinegar brine and pop them in the refrigerator to chill. Within an hour, they are ready to consume!
If quick-pickles are known as "quickles", then are quick kumquat pickles known as "kuickles"?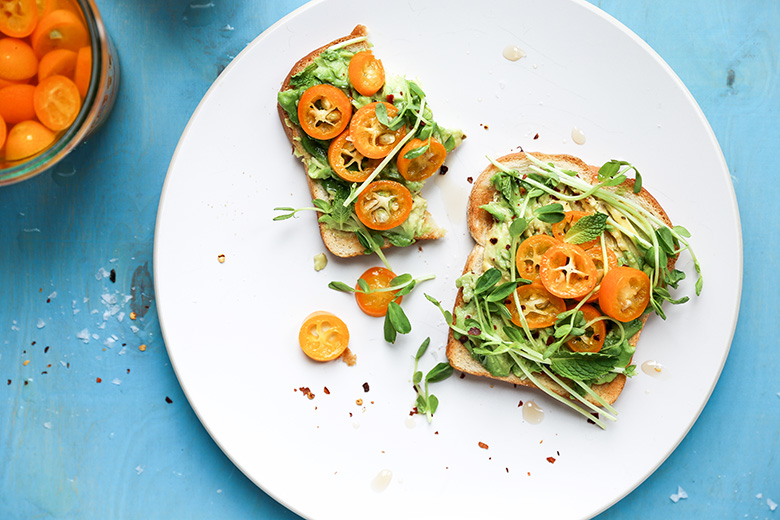 Because I have so many kumquats, I made myself a couple jars of these quick-pickled kumquats. But you can certainly scale the recipe down, if you prefer. The quick-pickled kumquats should last for a week, maybe more, in your refrigerator.
This Quick-Pickled Kumquat Avocado Toast is just one in which you can enjoy your "kuickles". Try them on sandwiches, with grilled chicken or fish, or add them to a cheese platter. Or simply eat them straight out of the jar!
Cheers,
Liz
Quick-Pickled Kumquat Avocado Toast
Ingredients
For the Kumquats
4 cups kumquat slices
1 cup warm water, plus more for boiling the kumquat slices
1 cup rice vinegar
2 tablespoons maple syrup
1/4 tsp. salt
1/4 tsp. black pepper

For the Toast
1 avocado
2 slices of bread, toasted
Salt
Red pepper flakes
10-14 slices pickled kumquats
1/2 cup pea shoots or sprouts
Fresh mint leaves
Maple syrup
Instructions
Add the kumquat slices to a medium pan and cover them with about 1-inch of water. Bring to a simmer and cook for 10 minutes. Drain the kumquat slices, discarding the cooking liquid. Divide the drained kumquat slices between two jars (or more or less, depending on what size jars you have) with re-sealable lids.
Stir together the warm water, rice vinegar, maple syrup, salt and black pepper. Pour this mixture into the jar(s) over the kumquat slices, filling the jar(s) to the top. You can discard any leftover liquid. Seal the jar(s) and transfer them to your refrigerator to chill for 1 hour. A longer refrigeration time is okay, too. The quick-pickled kumquats can be stored in your refrigerator for a week, if not longer.
To make the toast, cut the avocado in half. Remove and discard the seed. Scoop out the flesh and place it on the toasted bread. Mash the avocado flesh down with the tines of a fork. Sprinkle with a pinch of salt and red pepper flakes. Top with some pickled kumquat slices, pea shoots and a few fresh mint leaves. Drizzle with a little maple syrup, if desired. Enjoy immediately.
http://www.floatingkitchen.net/quick-pickled-kumquat-avocado-toast/
The avocado extravaganza that I eluded to last week continues today.
But here is the thing. These Sweet Potato and Broccoli Crostini with Avocado and Za'atar, in all their plant-based, carbolicious glory, seem rather trivial and trite at the moment. Because as you've probably noticed, things in this country are getting bad. Like real bad.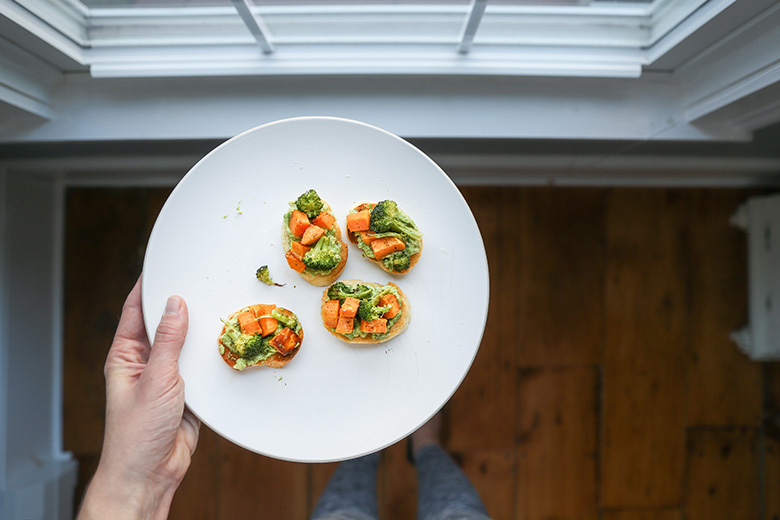 And yes, I know that this blog is a place for sharing recipes, photography and the occasional bad joke. I understand that those are the reasons why you've come here today, why you've visited in the past and why (hopefully) you'll be back in the future. I get it. Really I do. And that is precisely why I don't get overly personal in this space on a regular basis.
But to stand by and say nothing, seems wrong. Silence isn't an option anymore. Things aren't normal. And I can't (and won't) act like they are. I don't support the decisions being made by our President. And I'm fighting those decisions in ways that I know how to do – like by signing petitions, donating money to reputable organizations, contacting my elected officials and joining protests.
I hope that many of you are doing some of these very same things.
I'm also eating my feelings. And I'm not ashamed to admit that these Sweet Potato and Broccoli Crostini with Avocado and Za'atar have been getting me through some tough moments. As an extreme lover of avocado toast, the combination of bread and smashed avocado has basically evolved into my version of comfort food. It soothes me. Screw alcoholic beverages, bubble baths and massages. Just give me avocado toast.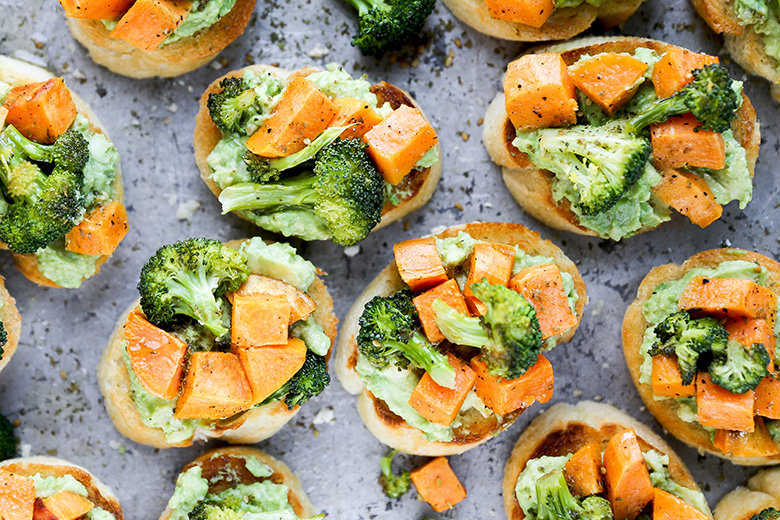 As with a lot of crostini recipes, this one is pretty customizable. Butternut squash would be great. You could try roasted cauliflower instead of the broccoli. And a drizzle of balsamic vinegar or agave nectar would be a nice addition, too. Oh and of course a little cheese never hurts. I left it out to keep these little appetizers vegan (just be sure to check the ingredient list on your bread). But goat cheese plus avocado is a favorite combination of mine, and I know it would work beautifully here in this recipe, if you're so inclined.
Peace, love and respect.
Cheers,
Liz
Roasted Sweet Potato and Broccoli Crostini with Avocado and Za'atar
Ingredients
2 small sweet potatoes, peeled and cubed
5 tablespoons extra-virgin olive oil, divided
1 tsp. salt, divided
1/2 tsp. black pepper
1 head broccoli, cut into florets
2 tablespoons fresh squeezed lemon juice, divided
1 (12-ounce) French baguette, sliced
2 ripe avocados, halved and seeded
About 1 tsp. za'atar seasoning
Instructions
Pre-heat your oven to 425 degrees.
Toss the cubed sweet potatoes with 2 tablespoons of the olive oil, 1/2 tsp. of the salt and the black pepper. Spread the sweet potatoes out onto a large rimmed baking sheet and roast in your pre-heated oven for 10 minutes. The remove the baking sheet from your oven and add the broccoli and an additional tablespoon of olive oil. Stir to combine. Return the baking sheet to your oven and roast the vegetables for an additional 10-12 minutes, or until they are soft and starting to brown in a few places. Remove from the oven and sprinkle with 1 tablespoon of the lemon juice. Set aside to cool slightly.
Pre-heat your broiler. Spread the baguette slices out onto a second rimmed baking sheet. Brush the tops lightly with the remaining olive oil. Then place the baguette slices under your broiler until they turn golden around the edges, about 1-2 minutes. Remove from the oven and set aside to cool slightly.
Meanwhile, scoop the flesh out of the avocados and add it to a medium bowl. Add the remaining tablespoon of lemon juice and the remaining 1/2 tsp. of salt. Then mash the avocados lightly with a fork.
To assemble the crostini, spread some of the mashed avocado on the toasted baguette slices. Top with some of the roasted squash and broccoli. Sprinkle with za'atar seasoning. Serve and enjoy.
http://www.floatingkitchen.net/roasted-sweet-potato-and-broccoli-crostini-with-avocado-and-zaatar/