Summer fruit seems to get all the attention. Each year, people go a little bit crazy in the head over farm stand peaches, juicy watermelons and just-picked blueberries.
And let's not even get started on fresh cherries. Those things could cause rioting in the streets.
Admittedly, I'm guilty of this behavior as well. I've certainly noticed that I tend to have a preference for Summer fruits over those that are available during other times of the year. And in the cooler months, my focus shifts more towards root vegetables and hearty greens. Some weeks, I think I could almost forgo fruits entirely.
But I've come to appreciate that there are so many delicious "fruity" offerings in the Winter. And this year, I'm determined to take advantage of them all. Luckily for me (and for you!), my Winter Fruit and Yogurt Breakfast Bowls with Gingerbread Granola are a great way to do just that. Loaded with persimmons, pomegranates and grapefruit segments, these bowls will have you falling in love with Winter fruits all over again.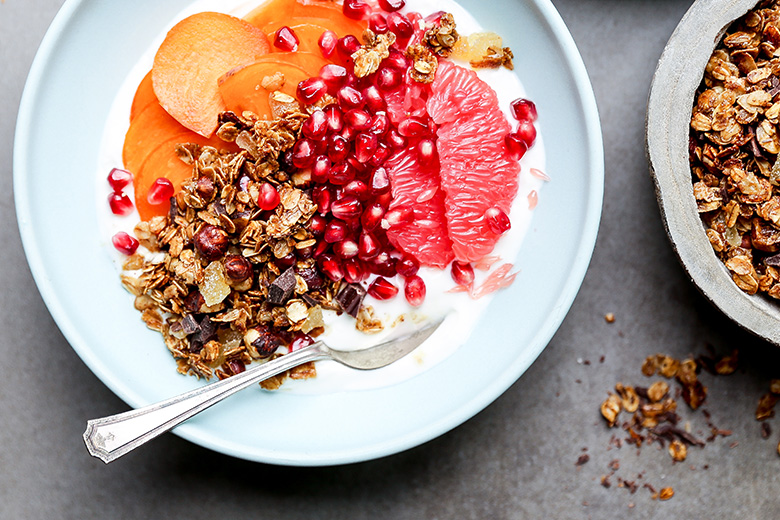 Granola is a food that I like. And I eat it often. But it's not something that I typically go crazy over. Until now, that is. I absolutely COULD NOT STOP eating this gingerbread granola. It's spiced just right. And the chunks of candied ginger and dark chocolate are to die for. I guarantee you're going to find yourself making it over and over again (even when it's not "gingerbread season" anymore). Oh and did I mention that it takes less than 10 minutes to prepare?!?! Seriously. Stovetop granola FOR THE WIN. Why have I been wasting so much time baking granola in the oven all these years. Not sure I'll ever go back to making it that way again.
I'm sharing these Winter Fruit and Yogurt Breakfast Bowls with Gingerbread Granola as part of our monthly #eatseasonal recipe round-up organized by Becky from Vintage Mixer. If you're finding yourself in a cooking rut, look no further than Becky's December Produce Guide, which has a ton of inspiring recipes that take advantage of this months fruits and vegetables. Oh and a bunch of my blogging friends have created new recipes as well, which you can find linked below. Go check 'em all out!
Cheers,
Liz
Winter Fruit and Yogurt Breakfast Bowls with Gingerbread Granola
Ingredients
For the Granola
1 1/2 cups old-fashioned oats
1/2 cup hazelnuts, roughly chopped
1/2 tsp. ground ginger
1/4 tsp. ground cinnamon
1/8 tsp. ground cloves
1/8 tsp. ground nutmeg
1/4. tsp. salt
2 tablespoons unsalted butter
2 tablespoons maple syrup
1 tablespoon molasses
1/2 cup roughly chopped candied ginger
1/2 cup roughly chopped dark chocolate

For the Yogurt Bowls
Non-fat Greek yogurt
Peeled and segmented pink grapefruit
Sliced Fuyu (non-astringent) persimmon
Pomegranate arils
Instructions
In a dry non-stick skillet over medium heat, combine the oats, hazelnuts, spices and salt. Cook, stirring constantly, until the mixture is fragrant and toasty, about 2-3 minutes. Add the butter, maple syrup and molasses and cook for about 2 minutes more, stirring constantly to make sure everything is evenly coated and doesn't burn. Remove the skillet from the heat. Transfer the granola to a parchment paper-lined baking sheet to cool. Once fully cooled, stir in the candied ginger and dark chocolate. The granola can be used immediately, or stored in an airtight container for up to 1 week.
To assemble the breakfast bowls, add the yogurt and fruit to your bowls. Top with some of the granola. Enjoy immediately.
http://www.floatingkitchen.net/winter-fruit-and-yogurt-breakfast-bowls-with-gingerbread-granola/
December Eat Seasonal Recipes
Roasted Persimmon Ice Cream by Cafe Johnsonia
Pomegranate Vinaigrette by Joy Food Sunshine
Potato Leek Soup with Italian Sausage by Completely Delicious
Winter Greens with Pomegranate Seeds and Olives by Letty's Kitchen
Asian Kale Power Salad by She Likes Food
Crunchy Apple-Pear Salad with Pomegranate, Pine Nuts & Yogurt by Simple Bites
Pesto Pasta with Crispy Brussels Sprouts and Bacon by Vintage Mixer
Mini Cranberry Orange Cheesecakes with Gingersnap Crust by Flavor the Moments
Beet and Root Vegetable Tian with Apple Cider Reduction by Food for my Family
Disclosure: This post is sponsored by Rodelle. All opinions are my own. Thank you for supporting brands and companies that help to support Floating Kitchen!
On Tuesday, I made bread. In the morning, my hands gently worked the dough. I kneaded it, rolled it, shaped it and braided it. I made it pretty. I watched as the heat from my fireplace helped it to rise to it's full potential. And I watched my social media feed fill up with announcements from friends who had voted. The hashtag #ImWithHer seemed to dominate the landscape.
That afternoon as my bread baked, my house filled with warm, comforting smells of vanilla and cinnamon. I audibly squealed as I removed the braided loaf from my oven, absolutely delighted over just how beautiful it looked. The swirl was somewhat hypnotic. While the blushing sweep of cranberries provided just the right pop of color. It was perfect.
I anxiously awaited for it to cool. I snapped my photos and took my first bites. I felt happy and accomplished.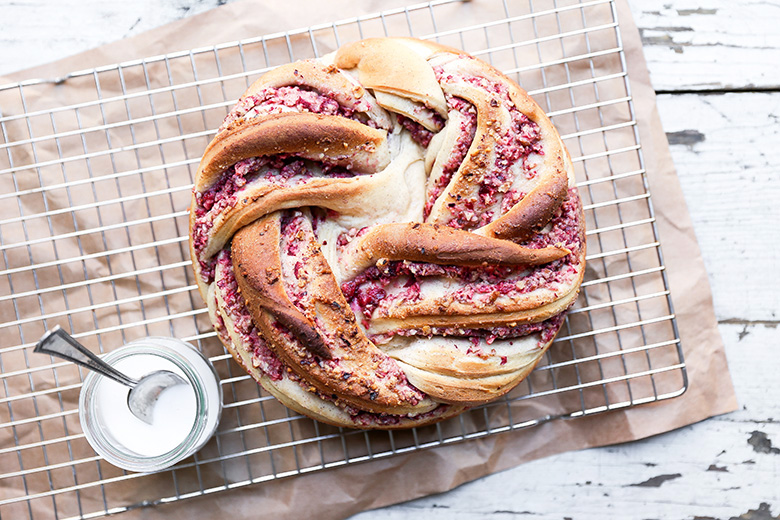 But as the day wore on, I struggled to hang onto those feelings. The election coverage that evening caused me to stress eat almost half the loaf, sending me into some kind of a carbohydrate-induced downward spiral. And eventually, I found myself too mentally and emotionally exhausted to even stay awake for the duration of the reporting. I went to bed not knowing the final outcome. In the morning when I checked my phone, I cried. And then I called my Mom and cried some more.
Pajama-clad, I re-warmed some bread and ate it reluctantly. Later, I shared a slice with my neighbor in his backyard. And we both tried to breath.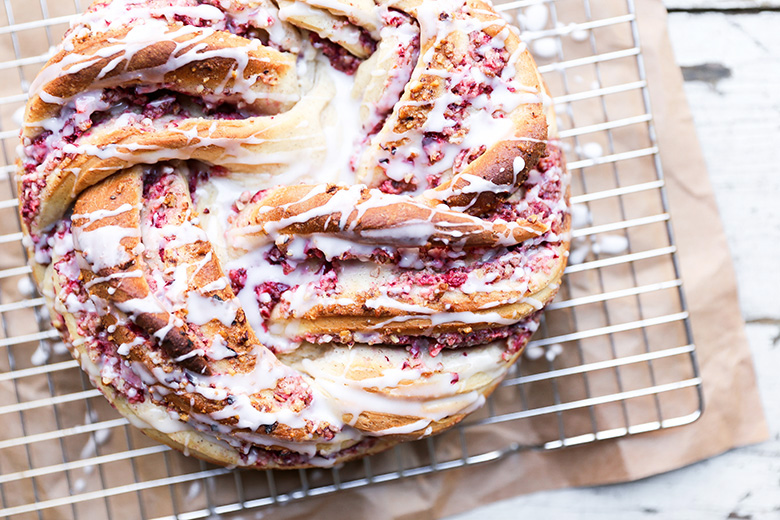 I think it's safe to say we've got some work to do. Although, I have to admit that I'm not 100% sure what that means or where to even start. But for now, I bake. And listen. And love. And vow to not grow weary.
This Cranberry Pecan Braided Bread certainly won't solve our problems. But maybe make yourself a loaf and find some comfort and solace in that action. Share a loaf with a friend (or perhaps an enemy). And take care of yourself and the people around you. It's the least we can do for one another.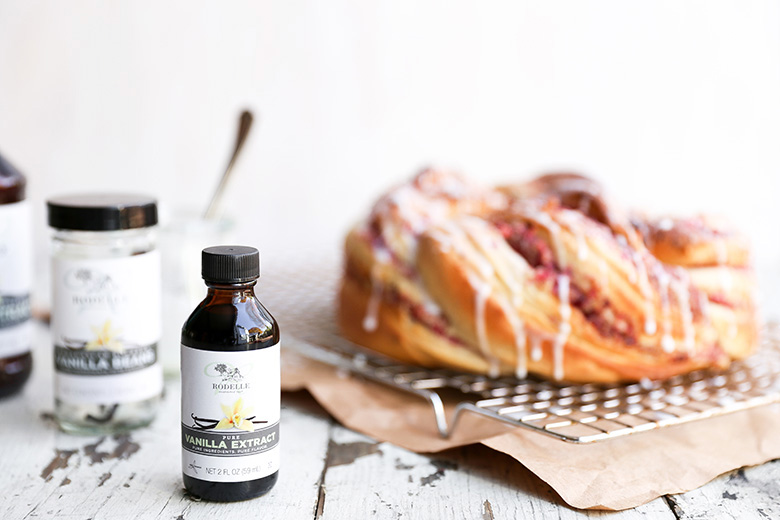 I've partnered with Rodelle to bring you today's recipe. Rodelle's vanilla extracts and other baking essentials are top notch, and I've been using them exclusively in my kitchen for years now (did you know they also have a line of savory products!). When I'm cooking and baking with Rodelle ingredients, I'm completely confident that my recipes will turn out to be total show stoppers. And that's an awesome feeling to have.
I'm also proud to work with a company that not only supports their farmers and growers abroad, but also derives 100% of their energy from wind power and other alternative sources. I hope that more companies will follow their lead.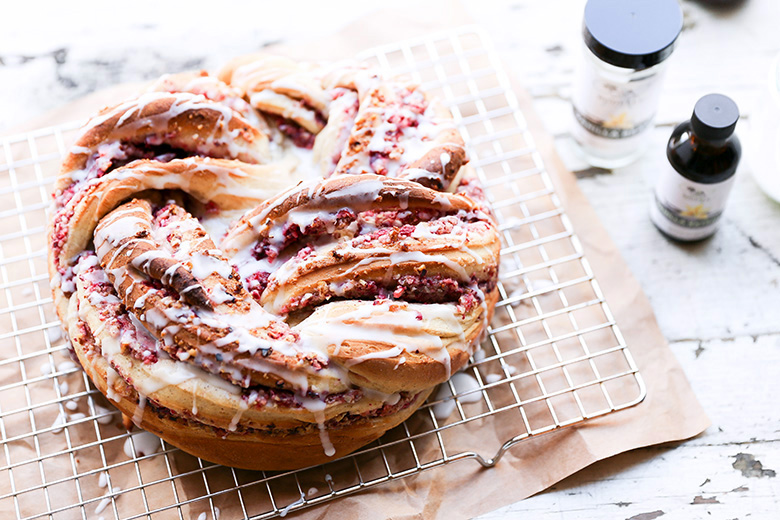 This Cranberry Pecan Braided Bread might just steal the spotlight at your next Holiday gathering. And as your guests "ooh and ahh" over it's festive presentation, you'll be secretly smiling on the inside knowing that it actually wasn't all that difficult to bake (I promise it's not nearly as intimidating as it looks!). So be sure to stock up on some essential Rodelle baking ingredients this season, and let's rock this whole Holiday entertaining thing!
Cheers,
Liz
Recipe adapted from my Braided Cinnamon, Apple and Pecan Bread
Cranberry Pecan Braided Bread
Ingredients
For the Dough
3 – 3 1/4 cups all-purpose flour, divided
1/3 cup sugar
1 tsp. salt
1 tsp. ground cinnamon
1 package (2 1/4 tsp.) active dry yeast
1 cup milk, warmed to 120-130 degrees Fahrenheit
1/4 cup (4 tablespoons) unsalted butter, softened
1 egg, lightly beaten
1 tsp. Rodelle Pure Vanilla Extract

For the Filling
1/4 cup (4 tablespoons) unsalted butter, softened
1 cup fresh cranberries
1 cup pecans
1/2 cup sugar
3 tablespoons corn starch
For the Glaze
1/2 cup confectioners sugar
1 tablespoon water
1/2 tsp. Rodelle Pure Vanilla Extract
Instructions
In the bowl of your stand mixer, whisk together 2 cups of flour, the sugar, salt, cinnamon and yeast. Add the warmed milk, butter, beaten egg and vanilla extract to the dry ingredients. Then using your dough hook attachment, beat the mixture on medium speed for 1-2 minutes, scraping down the sides of the bowl as necessary. Once well combined, slowly add in more flour (you'll need somewhere between 1 and 1 1/4 cups) until the dough is soft, easy to handle and easily leaves the side of the bowl.
Continue mixing the dough on low-medium speed for about 5 minutes, stopping to pull the dough down off the dough hook as needed. The dough should be smooth and elastic. Alternatively, you can knead the dough by hand on a lightly floured countertop for about 5 minutes.
Using your hands, shape the dough into a ball. Transfer it to a lightly oiled bowl, turning to coat the dough on all sides with a thin layer of the oil. Cover the bowl with a kitchen towel and let the dough rise in a warm place for 1 1/2 to 2 hours, or until the dough has roughly doubled in size.
Once the dough has risen, gently punch it down to deflate it. Remove the dough from the bowl and transfer it to a floured countertop. Shape it with your hands into a rectangle. Then using a rolling pin, roll the dough out into a 24 X 12-inch rectangle. This will take a little bit of time and effort because the dough is fairly elastic. If the dough is too "springy" let it rest for a few minutes and then try rolling it out again.
Spread the remaining 4 tablespoons of softened butter out into an even layer over the surface of the dough, leaving a 1/2-inch boarder around the edges. Add the cranberries, pecans, sugar and cornstarch to the bowl of your food processor with the blade attachment. Slice the vanilla bean in half lengthwise and scrape out the seeds. Add the scraped seeds to the other ingredients in your food processor. Then pulse everything together until a course meal has formed. Spread the cranberry-pecan mixture out in a thin layer over the buttered dough. Then beginning at one of the long edges, tightly roll up the dough into a log. Pinch the edges of the dough together to seal it as best you can.
Spray a baking sheet and the ring of a 9- to 10-inch spring form pan with non-stick cooking spray. Set aside.
Using a sharp knife, slice the roll lengthwise, creating two equal sized long halves, but leaving one end still attached by about 3/4-inch at the very end. Slightly rotate the halves outwards so the layers are facing upwards. Then starting from the end that is still attached, cross the two halves over each other. Continue doing this until you end up with a single twisted/braided rope. Pinch together the end of the rope.
Gently slide your rope onto to your greased baking sheet. Then starting with one end, spiral the rope into a closed circle. Place the ring of your greased spring form pan over/around the circle. Cover with a kitchen towel and let the dough rise in a warm place for 30 minutes.
Meanwhile, pre-heat your oven to 350 degrees. Position an oven rack in the middle position.
Remove the towel from the dough, but leave the spring form pan in place. Transfer the baking sheet to your pre-heated oven. Bake for about 30 minutes, or until the bread is golden brown and puffed. Remove the baking sheet from your oven and set it on wire rack to cool for about 10-15 minutes. Then gently slide the bread off the baking sheet and directly onto the wire rack to continue cooling.
In a small bowl, whisk together the confectioners sugar, water and vanilla extract until smooth. Then drizzle the glaze over the bread. You can slice and serve this bread while it's still slightly warm, or let it cool completely to room temperature before serving. Leftovers can be stored in an airtight container at room temperature for about 2 days.
Notes
1. The butter for the dough and filling needs to be very soft. I microwaved mine to the point of almost melting right before using it.
http://www.floatingkitchen.net/cranberry-pecan-braided-bread/