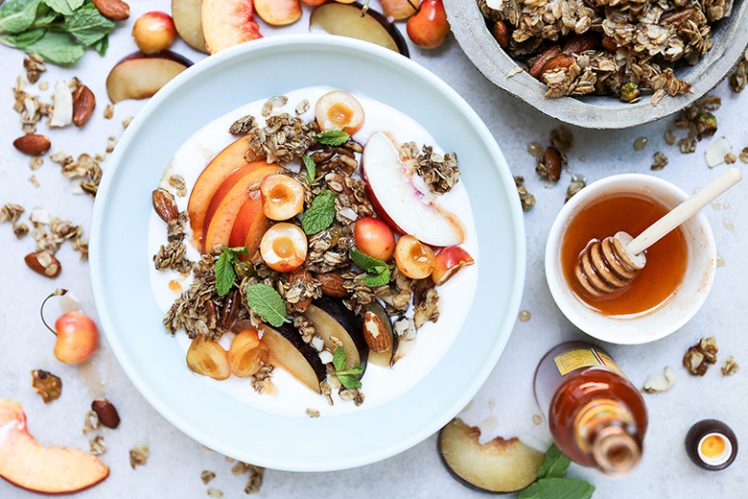 Guess what?
IT'S STILL SUMMER!
So just slooooow down with the pumpkin and (gasp!) peppermint.
Yup, totally saw peppermint products in the grocery store yesterday. Seriously. I died a little inside.
I know I sound like a broken record with this shit. And I'm trying very hard not to be too preachy about it. But can we please all just stop and enjoy Summer while it's still ACTUALLY SUMMER!?!?
OK. Thanks for listening. I'm done now.
In celebration of late Summer, I'm digging into these Summer Stone Fruit and Yogurt Breakfast Bowls with Hot Sauce-Honey and Nutty Granola on the regular. The markets are currently full to the brim with multiple varieties of plums, nectarines, peaches and cherries. And that makes for a very happy Liz. But I know this bounty won't last much longer, so I can't help but buy them all and put them to good use in recipes just like this one. Which might be overkill (you can stick to just one or two varieties of stone fruit!), but I'm like a kid in a candy store when it comes to sweet, juicy fruits.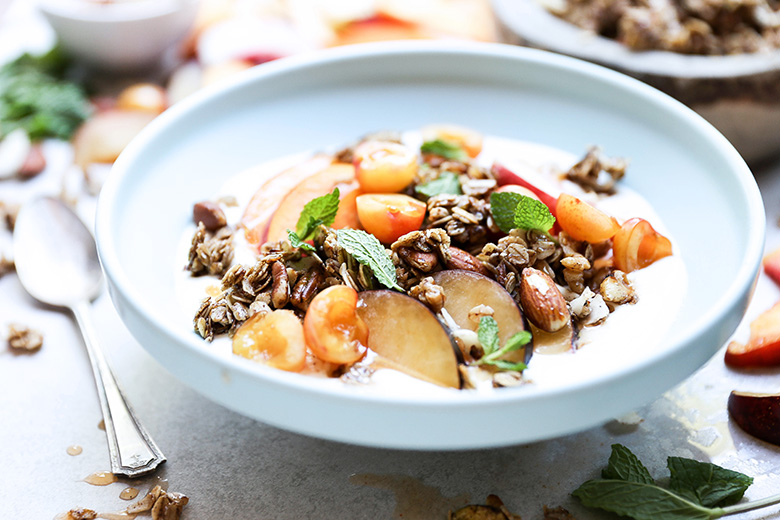 I love making my own granola at home when I have the time. And with stovetop versions, I pretty much ALWAYS have the time. Because they take only about 10 minutes to prepare. And they are easily customizable to whatever ingredients you happen to have on hand. This particular granola recipe was born out of one of my pre-vacation kitchen clean-out sessions. I love nuts. And at any given time, I have at least 8-10 different packages open and laying around. So in an effort to get rid of some of those, I dumped a bunch of nuts into my skillet with old-fashioned oats and a few other ingredients and VOILA – nutty granola was created! I typically buy unsalted nuts, so I've added salt to this recipe. But if you only have salted nuts, you might want to go easy on the additional salt.
But whatever you do, don't go easy on the hot sauce-honey. Seriously, this stuff is so good and it pairs beautifully with the sweet stone fruits and cool, creamy yogurt. Don't fear the heat!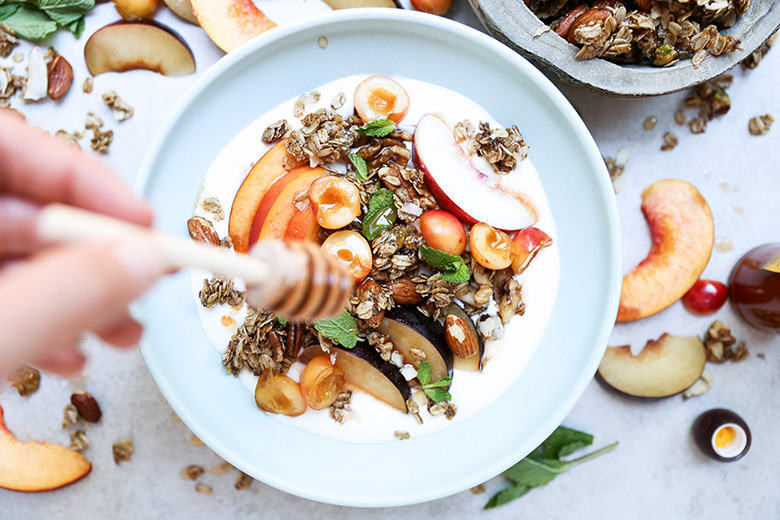 Since the actual breakfast bowls themselves require so few ingredients, I thought I'd give my recommendations on brands. This post isn't sponsored. I'm just sharing what I'm using and loving, in case you want to do the same. For the hot sauce-honey, I used Rigoni di Asiago Italian Mandarin Honey and Cholula Chipotle Hot Sauce (I love the smokiness from the chipotle!). And for yogurt, I used Chobani Honey Whole Milk Greek Yogurt.
If you try out this recipe, please let me know. I'd love to hear about it! And tell me what other ways you're savoring Summer this month!
Cheers,
Liz
Summer Stone Fruit and Yogurt Breakfast Bowls with Hot Sauce-Honey and Nutty Granola
Ingredients
For the Nutty Granola
1 1/2 cups old-fashioned oats
1/2 cup walnuts, roughly chopped
1/2 cup pecans, roughly chopped
1/2 cup almonds, roughly chopped
1/4 cup pistachios, roughly chopped
1/2 tsp. ground cinnamon
1/2 tsp. salt
1/4 cup melted coconut oil
1/4 cup raw honey
1/2 cup dried coconut flakes

For the Hot Sauce-Honey
1/4 cup raw honey
1 tsp. hot sauce

For the Breakfast Bowls
Greek yogurt
Stone fruit, pitted and sliced
Fresh mint leaves
Instructions
In a dry non-stick skillet over medium heat, combine the oats, nuts, cinnamon and salt. Cook, stirring constantly, until the mixture is fragrant and toasty, about 4-5 minutes. Add the coconut oil and honey to the skillet, stirring to make sure everything is evenly coated, and cook for about 2 minutes more. Remove the skillet from the heat. Stir in the coconut flakes. Then scrape the granola out onto a parchment paper-line baking sheet to cool. Once fully cooled, the granola can be used or transferred to an airtight container for storage.
Stir together the honey and the hot sauce. Set aside.
To assemble the breakfast bowls, add yogurt and sliced stone fruit to a bowl. Top with some of the granola, a drizzle of hot sauce-honey and a few fresh mint leaves. Enjoy immediately.
http://www.floatingkitchen.net/summer-stone-fruit-and-yogurt-breakfast-bowls-with-hot-sauce-honey-and-nutty-granola/
This post was originally published here on July 29, 2013. I've since updated the text and photographs. It's a quick and easy recipe that I know you'll love!
There are a lot of things I miss about living in Seattle, WA. The larger-than-life mountains. The availability of craft beer on virtually every street corner. And some of the most spectacular sunsets I've ever seen in my life. Just to name a few.
But this time of year, I mostly miss the free blackberries.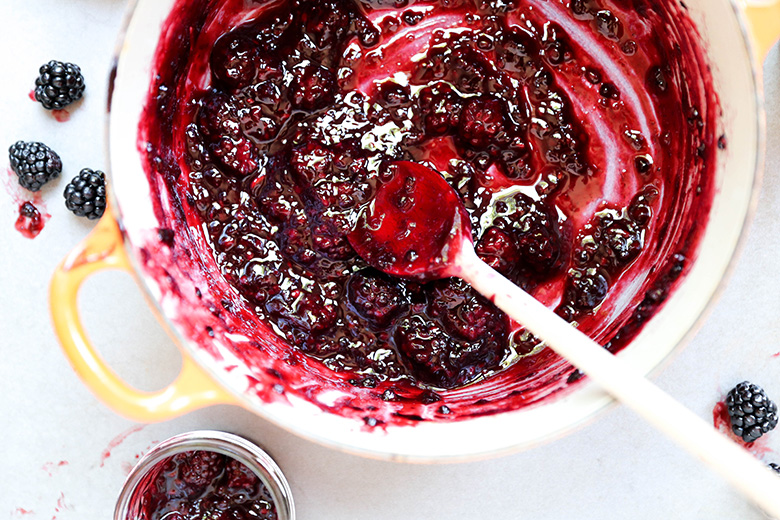 Blackberry bushes are an invasive species to the Pacific Northwest. And they are a thing that Seattleites just love to hate. Most of the year, they are considered a nuisance. Their dense, gnarly branches creep into every backyard, parking lot, alley way and hiking trail imaginable. And their thorns aren't afraid to bite back, leaving you with holes in your clothing and blood on your hands if you attempt to tame them.
BUT! Then late Summer happens and HELLO free blackberries. Ripe for the taking. In the most literal way possible.
I used to pick buckets of blackberries almost every morning (and I had the purple tongue to prove it!) when I was out walking my dog. Now, I'm forced to purchase most of my blackberries from the grocery store (oh the horror). But I still manage to eat (and drink!) more than my fair share each Summer.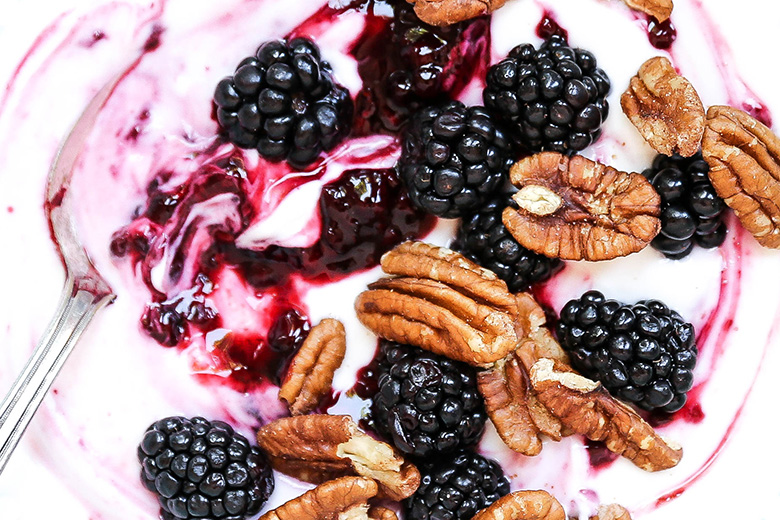 This Blackberry Sauce recipe is one I started making in Seattle, when I had more blackberries than I knew what to do with. And even though my availability of blackberries has reduced significantly, I still love making it today. It only requires 5 ingredients and 5 minutes of time. And it transitions flawlessly throughout the entire spectrum of mealtimes. Try it at breakfast with yogurt, oatmeal, pancakes or waffles. Use it as a topping for grilled chicken, pork or salmon. Or enjoy it with ice cream, cheesecake or pound cake. The possibilities are endless!
Cheers,
Liz
Ingredients
3 tablespoons fresh squeezed lemon juice
3 tsp. corn starch
3 cups fresh blackberries, washed
1/3 cup sugar
1 tsp. lemon zest
Instructions
In a small bowl, mix together the lemon juice and corn starch. Set aside.
In a non-reactive saucepan, cook the blackberries and sugar over medium-high heat, stirring frequently, for about 3 minutes, or until the blackberries are broken down and have released their juices. Then stir in the corn starch mixture and bring the sauce to a low boil until thickened, about 1-2 minutes.
Remove the saucepan from the heat and stir in the lemon zest. Set aside to cool.
Once cooled, transfer the blackberry sauce to a re-sealable container and refrigerate until you're ready to use it. The blackberry sauce can be stored in your refrigerator for 7-10 days.
http://www.floatingkitchen.net/blackberry-sauce/