In an effort to sell you on this milkshake, I was tempted to write something like "this milkshake would be a great way to use up leftover Halloween candy". But then I reconsidered that statement. Because who really has leftover Halloween candy. Not me. I just eat it right up. I don't need any tricky ways to try to consume it all. It somehow manages to disappear just fine all on it's own.
So instead, I want you to make this Chocolate Peanut Butter Cup Pumpkin Milkshake for one reason and one reason only: it's delicious.
I'm sure you know that peanut butter, chocolate and ice cream are already excellent friends. The pumpkin purée in here just kicks things up an extra notch. It makes you think "hey, what else is in this milkshake?", and then forces you to take another sip to try and figure it out. It's highly addicting. You've been warned.
In addition to slurping down a couple of these milkshakes (recipe testing = tough job!), I also indulged my sweet tooth this past weekend at the famous Chocolate Bar at The Langham in Boston. Abby and Sara came up to visit me, and we decided that an entire restaurant dedicated to chocolate was just the kind of place that three food-obsessed bloggers should dine at. It was a good decision. The photos of our table spread should be evidence enough.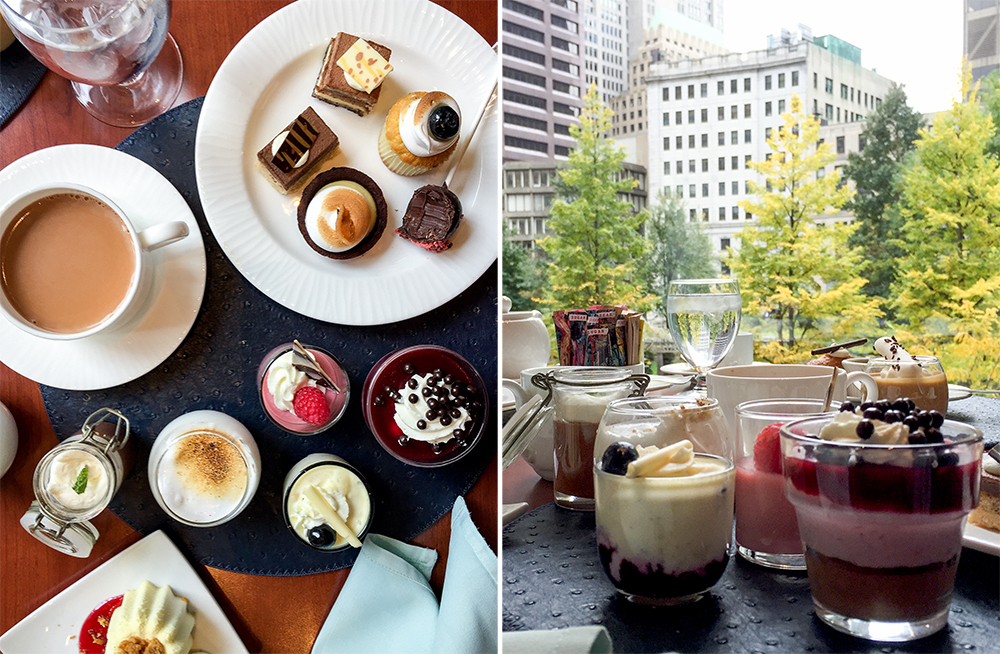 Definitely check it out if you're ever in the area. And in the meantime, DEFINITELY make yourself a Chocolate Peanut Butter Cup Pumpkin Milkshake. No leftovers required. In fact, you should probably go out and purchase extra peanut butter cups (hello day after Halloween candy sales!) just so that you are sure to have enough.
Cheers,
Liz
Chocolate Peanut Butter Cup Pumpkin Milkshake
Ingredients
1 cup vanilla ice cream
1/2 cup milk (I used 2%)
2 tablespoons pumpkin purée
1 tablespoon peanut butter
1 tablespoon chocolate syrup
5 peanut butter cups (the full sized ones, not the mini ones), divided
Instructions
Add the ice cream, milk, pumpkin purée, peanut butter, chocolate syrup and 4 of the peanut butter cups to your blender. Blend on high until smooth. Pour into a glass. Chop the remaining peanut butter cup for garnish, if desired. Enjoy immediately.
http://www.floatingkitchen.net/chocolate-peanut-butter-cup-pumpkin-milkshake/
Disclosure: Thank you Santé Nuts for helping to feed my nut obsession! I am grateful for opportunities like these, which allow me to continue to create and share unique recipes with you. As always, all opinions expressed are 100% my own.
If you've been hanging around here for a while, then you know I am pretty nuts about nuts.
And also that I'm really bad at making jokes…
I could die and come back to life reincarnated as a squirrel and I'd be a happy camper. I'm that obsessed. I could eat nuts all day, every day.
Around Thanksgiving and Christmas, I love nuts EVEN more. If that's possible. Nuts just make every dish, gathering and party that much more special. And they make great little hostess gifts and stocking stuffers. So that's why I'm super pumped to be bringing you guys an awesome giveaway AND promotion from Santé Nuts today. Because we all need more nuts in our lives. Don't miss the giveaway details and the coupon code below!
If you aren't familiar with Santé Nuts, you're going to want to get familiar with them real fast. Because they are the bomb diggity bomb. Santé Nuts produces all-natural, roasted, flavored nuts that are made by hand in small batches. They use a special roasting technique that minimizes oil absorption, resulting in a crunchier product. And they have AMAZING flavor combinations like Chipotle Almonds, Cinnamon Pecans and Cardamom Cashews, which I'm featuring here today. But even with all these awesome flavors, they never let the salt, sugar and spices overwhelm the nuts. Santé Nuts always wants you to be able to taste the nuts first and foremost. Pretty cool.
While I was gobbling up some Santé Cardamom Cashews last week, I realized I could use them to spice up a classic Holiday treat: cashew turtles. So I went to work creating these little bite sized clusters with caramel, dark chocolate and of course a sprinkling of sea salt. They are the perfect addition to your Holiday dessert tray. Or package them up for a homemade gift that everyone will go nuts over. See what I did there…
And guess what? You can make them too! That's right. Santé Nuts is giving away two 5-ounce bags of Cardamom Cashews to one lucky Floating Kitchen reader. To enter, just use the Rafflecopter widget below (sometimes it takes a minute to load between entries, so be patient). And make sure to enter by December 8, 2014 for your chance to win! Update: This giveaway has ended and a winner has been chosen. Thanks to all who participated. And thank you to Santé Nuts for sponsoring this giveaway!
But wait! There is more! The awesome folks at Santé Nuts are also offering Floating Kitchen readers FREE shipping on ALL online orders placed between now and 01/01/15. Simply enter the code free!2014 at checkout. So head on over and get shopping!
Cheers,
Liz
Caramel-Chocolate Clusters with Cardamom Cashews
Ingredients
5 ounces Santé Cardamom Cashews
7 ounces soft caramels
1 tablespoon heavy cream
5.5 ounces dark chocolate, roughly chopped
1 tsp. coconut oil
Sea salt for sprinkling
Instructions
Line a mini-muffin tin with liners. Spray the liners with non-stick cooking spray. Don't skip this part!
Roughly chop the cashews and distribute them evenly among the wells of the mini-muffin tin.
Unwrap the caramels and place them in a microwave safe bowl along with 1 tablespoon of heavy cream. Microwave in 30 second intervals, stirring in between, until the caramels are melted and the mixture is smooth. Spoon the melted caramel into the wells of the mini-muffin tin over the cashews, diving the mixture evenly among the wells. Place the mini-muffin tin in your freezer while you melt the chocolate.
In a small heavy-bottom sauce pan over low-medium heat, melt the chocolate and the coconut oil, stirring frequently until the chocolate is smooth. Remove the mini-muffin tin from your freezer. Spoon the melted chocolate into the wells of the mini-muffin tin over the caramel, diving the mixture evenly among the wells. Sprinkle the tops with a small pinch of sea salt.
Place the mini-muffin tin in your freezer for about 10-15 minutes, or until the chocolate is set and the clusters are firm. Once firm, remove the clusters from the wells of the muffin-tin. Serve or store in your refrigerator in an airtight container for up to 2 weeks.
http://www.floatingkitchen.net/caramel-chocolate-clusters-with-cardamom-cashews-a-giveaway/