And POOF! Just like that, we have Summer.
One week ago, I was using my fireplace to keep warm at night. And then the next thing I knew, it was a balmy 90 degrees.
I guess the only thing that's ever been consistent about the weather here in New England, is that it's wildly inconsistent.
I think this current heat wave is just a flash in the pan, and we'll be returning to somewhat cooler temperatures this week. But oh my gosh, it's been SO glorious to revel in all my favorite Summer activities. I've been walking the beach and reading by the pool almost every single day. I've already managed to eat my weight in ice cream. And I've enjoyed several outdoor "patio beers" at sunset.
I finally feel re-charged after our long, cold Winter (and our nearly non-existent Spring). It's like all is right with the world once again.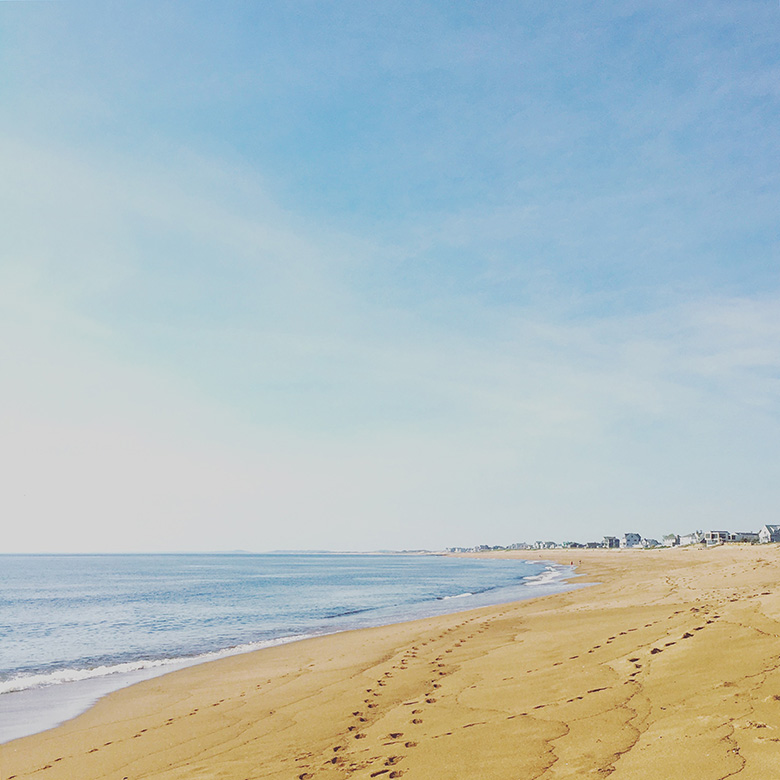 Needless to say, all this warm weather has got me dreaming wildly about Summer foods. Which is how I ended up creating this Tropical Summer Caprese Salad. It's amazing what you can invent when you refuse to turn your oven on for fear of sweating through your clothing.
On a hot day, there is nothing I crave more than a caprese salad. I could easily eat one every single day between the months of June and August. Sometimes, I like to bulk up my caprese salads with additional greens and baked almond-crusted chicken. And sometimes, I like to serve my caprese salad on skewers for easy eating at parties.
But today, we're going super tropical. I'm mixing fresh mozzarella and basil with kiwi, pineapple, cilantro, hazelnuts (hooray for crunch!) and a little bit of heat from a dash of cayenne pepper. It's a salad that I can just about guarantee you'll be making (and eating!) all Summer long.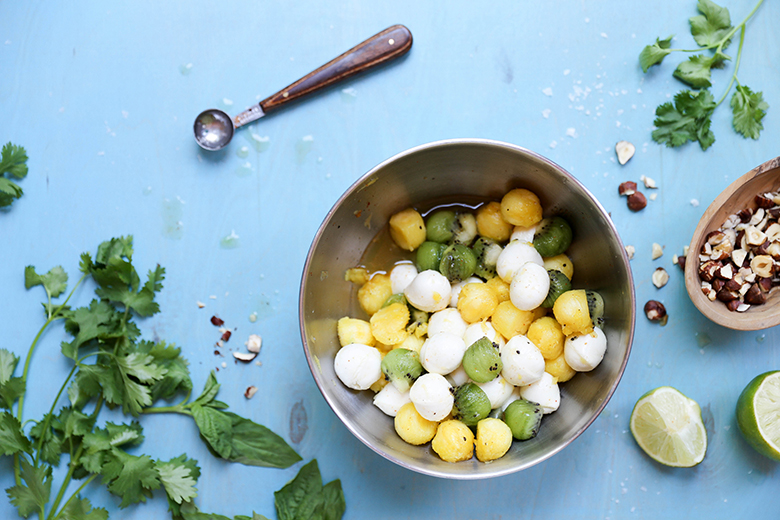 Inspired by the shape of the fresh ciliegine mozzarella, I decided to use my melon baller for the kiwi and pineapple. This, of course, isn't necessary. You could cut the fruit into small cubes. But I had fun doing it this way (and I think it looks cute!). And it was nice to dust off my poor melon baller, which is a utensil that only gets used two or three times a year at most.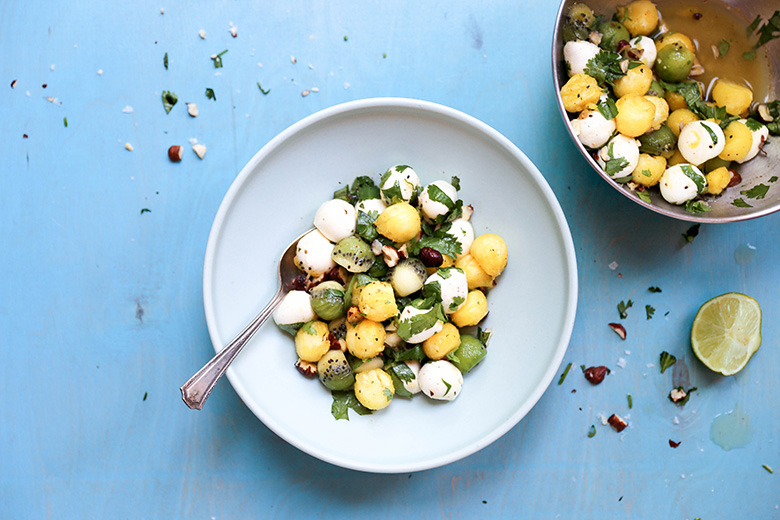 You don't need a lot of dressing for this Tropical Summer Caprese Salad, because the fruit will release a lot of juice once it's been cut. I might have added even a bit more cayenne pepper than the recipe calls for, because I like spice. But feel free to go as light or heavy as you dare with the cayenne. The heat provides a wonderful contrast to the cool, sweet fruit. So whatever you do, don't skip it entirely.
This salad is best when it's enjoyed immediately after making it. And it should be eaten cold. So make sure your pineapple and kiwi are chilled to start. Then just toss and enjoy!
Cheers,
Liz
Tropical Summer Caprese Salad
Ingredients
8 ounces fresh ciliegine mozzarella balls, drained
2 cups chopped (or balled) pineapple
4 kiwi, peeled and chopped (or balled)
1 tablespoon extra-virgin olive oil
1/2 tablespoon lime juice
1 tsp. agave nectar
1/2 tsp. salt
1/4 tsp. black pepper
1/8 tsp. cayenne pepper
1/2 cup hazelnuts, roughly chopped
1/4 cup fresh cilantro, roughly chopped
1/4 cup fresh basil, roughly chopped
Instructions
Add the mozzarella, pineapple and kiwi to a large bowl.
In a separate small bowl, stir together the olive oil, lime juice, agave, salt, black pepper and cayenne pepper. Pour this dressing over the mozzarella and fruit, tossing gently to combine.
Add the hazelnuts, cilantro and basil. Toss to combine. Serve immediately.
http://www.floatingkitchen.net/tropical-summer-caprese-salad/
I am SO excited about today's savory waffle recipe. In my eyes, it's a real winner for brinner!
That was a terrible rhyme. I'm sorry.
But more importantly, I want to know if you're excited about it. Because when I put a teaser photo up on Facebook last week, a lot of people were like "what have you done to waffles?" or "waffles are vehicles for maple syrup, not vegetables.", etc.
This was not the response I was expecting to get. I definitely thought savory waffles were kind of a thing now. Am I wrong?
So tell me. Are you into the idea of  savory waffles? Or not? Be honest (but polite, please!). Your input will help me to plan out my future cooking endeavors. Thanks in advance!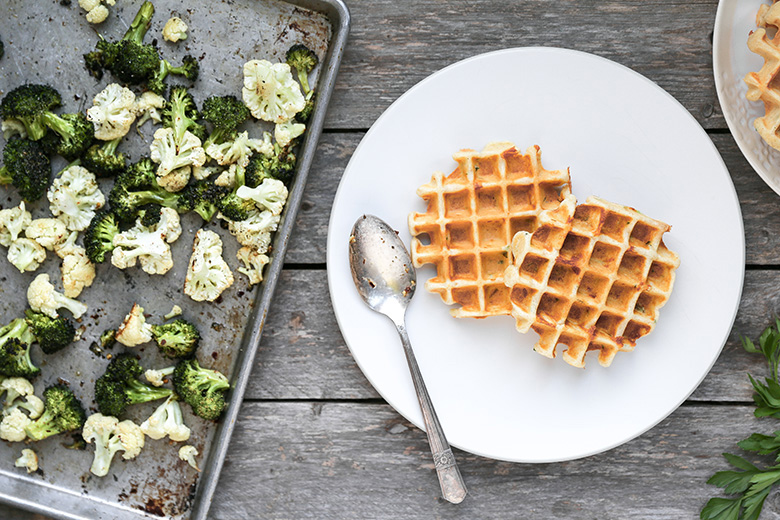 For now, we're going to proceed with today's recipe for Savory Waffles with Roasted Broccoli and Cauliflower as initially planned. So if you're grossed out by the idea of a savory waffle, then I guess just look away for the time being. Sorry about that.
I don't do breakfast for dinner (= brinner) very often, but when I do I typically go savory (I like to reserve my sweet tooth for things like ice cream and chocolate mousse!). And these savory sour cream waffles with cheddar cheese, scallions and fresh parsley really hit the spot. I topped mine with a mixture of roasted broccoli and cauliflower (both in season right now), but asparagus would also be an excellent choice. And if you wanted to add an egg, a dollop of ricotta cheese or a few shakes of hot sauce, those would all be good options as well. The waffle is really just a blank canvas for your favorite toppings!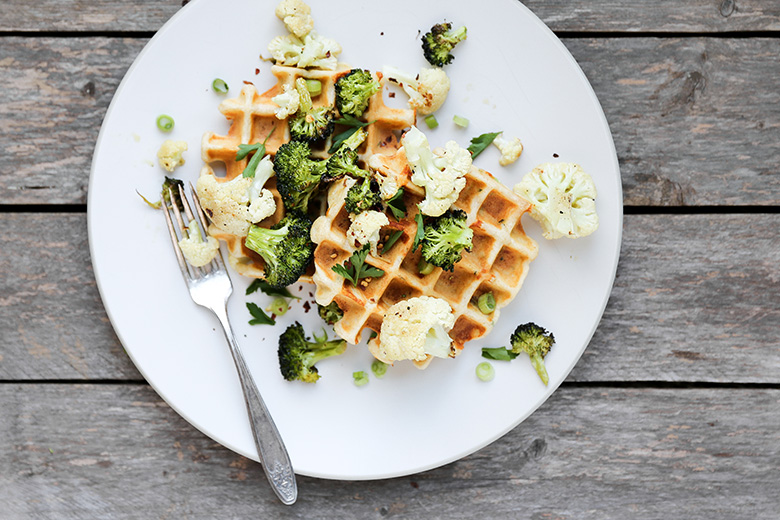 For me, two waffles topped with about 1 1/2 cups of the roasted vegetables is a perfect serving size for dinner. But you could certainly add a side salad (or additional vegetables) if you're feeling extra hungry. Since I'm a single lady, I inevitably end up with leftover waffles. But lucky for me, they freeze beautifully. All you have to do is place them in a single layer on a baking sheet in your freezer to freeze. Once the waffles are frozen, transfer them to a zip-closure bag for longer storage. Then when a craving strikes, just pop one in the toaster or your oven to thaw. Easy peasy!
This whole meal comes together in under 30 minutes, which makes it perfect for this months addition of 30 Minute Thursday. Hooray! For more quick and easy dinner ideas, scroll down below and check out the recipes that some of my blogging friends whipped up this month. I know you'll find lots of inspiration for those busy weeknights!
Cheers,
Liz
Recipe adapted from my Peaches and Cream Waffles
Savory Waffles with Roasted Broccoli and Cauliflower
Ingredients
For the Vegetables
3 cups broccoli florets
3 cups cauliflower florets
2 tablespoons extra-virgin olive oil
1/2 tsp. salt
1/2 tsp. black pepper
1/4 tsp. red pepper flakes
1 tablespoon fresh squeezed lemon juice

For the Waffles
1 cup all-purpose flour
1/4 cup whole wheat flour
2 tsp. baking powder
1/4 tsp. salt
2 eggs
1/2 cup sour cream
1/2 cup plus 1 tablespoon whole milk
6 tablespoons melted butter, cooled to room temperature
1/4 cup shredded cheddar cheese
2 scallions, white and light green parts thinly sliced
2 tablespoons fresh parsley, chopped
Instructions
Pre-heat your oven to 400 degrees. Toss the broccoli and cauliflower florets together on a large rimmed baking sheet with the olive oil, salt, black pepper and red pepper flakes. Transfer to your pre-heated oven and roast for 20 minutes, stirring once halfway through. Remove the baking sheet from the oven and sprinkle the lemon juice over the roasted vegetables. Cover to keep warm and set aside.
Meanwhile, pre-heat your waffle iron on the medium-high setting. Spray the cooking surfaces with non-stick cooking spray.
In a large bowl, whisk together the flours, baking powder and salt. Then add in the eggs, sour cream and milk, whisking until mostly incorporated. Next drizzle in the melted butter, whisking until all the ingredients are fully combined. Fold in the cheddar cheese, scallions and parsley. Scoop the batter into your pre-heated waffle iron (I used 1/3 cup of batter in each 4-inch well of my waffle maker) and close the lid. Cook for 3-4 minutes, until the waffles are crisp and golden browned. You may have to adjust the amount of batter and the cooking time, depending on the size of your waffle iron. Carefully remove the waffles and set them on a wire rack. Cover to keep warm.
To serve, top waffles with some of the roasted broccoli and cauliflower mixture. Sprinkle with additional sliced scallions and chopped parsley, if desired. Enjoy immediately.
Notes
1. If you don't have whole wheat flour on hand, you can use all-purpose flour.
http://www.floatingkitchen.net/savory-waffles-with-roasted-broccoli-and-cauliflower/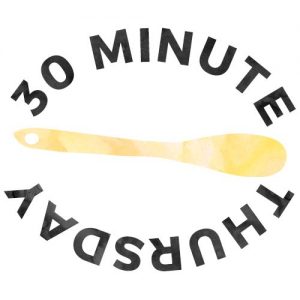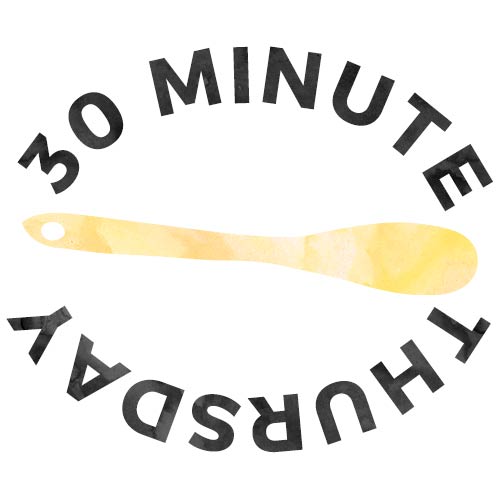 One Pot Teriyaki Chicken and Rice from The Recipe Rebel
30 Minute Pad Thai from Bake.Eat.Repeat.
Arugula and Prosciutto Puff Pastry Pizza from Pumpkin 'N Spice
30 Minute Shrimp Scampi from My Kitchen Craze
Crispy Black Bean and Sweet Potato Tacos from She Likes Food
20 Minute Healthy Taco Salad from Kristine's Kitchen
30 Minute Skillet Pasta Primavera from Flavor the Moments