Disclosure: I'm so happy to be able to give you all a peek into The First Mess Cookbook by Laura Wright. Thanks for letting me share this beautiful cookbook with you!
This past week I had to say goodbye to my beautiful, smart and sweet dog, Sheri.
I found Sheri (or "Dingo" as I liked to call her) at the Oakland Animal Shelter in 2010. Her previous owner had committed suicide and she was abandoned there by the other members of his family. She was melancholy, skittish and a little aggressive when I first met her, but I knew instantly that we were right for each other. Over the years, she developed into a happy, more relaxed dog. And because of her, I developed into a happy, more relaxed human.
Sheri was my trusty companion for almost seven years. We traveled across the country together three times. We walked over 10,000 miles. And we ate all the things.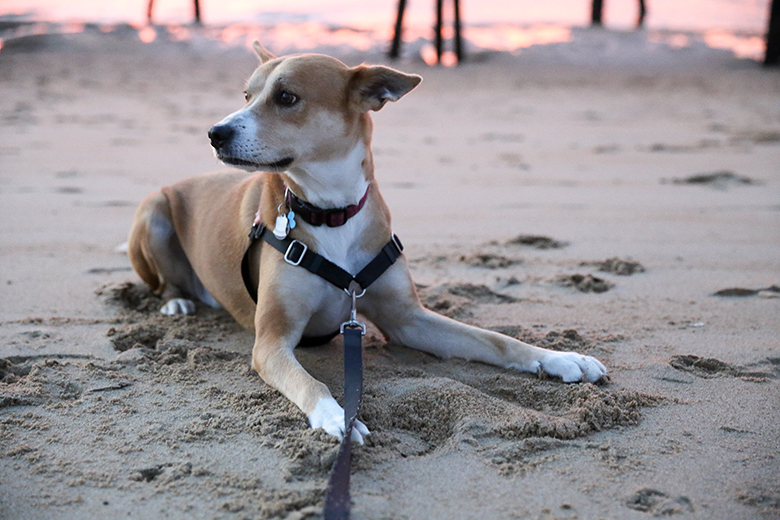 She also healed my heart after countless breakups. And she gave me strength in more ways than I ever could have imagined. I knew that adopting Sheri from the animal shelter would improve (and ultimately save) her life. But I couldn't have predicted how much she would improve mine.
I never treated Sheri like a person. And to claim her to be a domesticated dog even seemed like a stretch at times. She was wild to the core. And she was happiest when she was outside, running full speed and hunting anything that moved. She wasn't keen on snuggling. And she preferred dog treats over peanut butter. But still, she was MY PERSON. And the sadness that I feel without her is profound. There is a crushing silence in my house and a void my heart.
The next few weeks are going to be all about being kind to myself (something I usually suck at) and getting into a new routine. There are no more walks to go on. No specific times that I need to be home. And no happy face to greet me at the door. It all feels very strange.
So right now I'm focusing on doing the one thing that I know how to do: cook.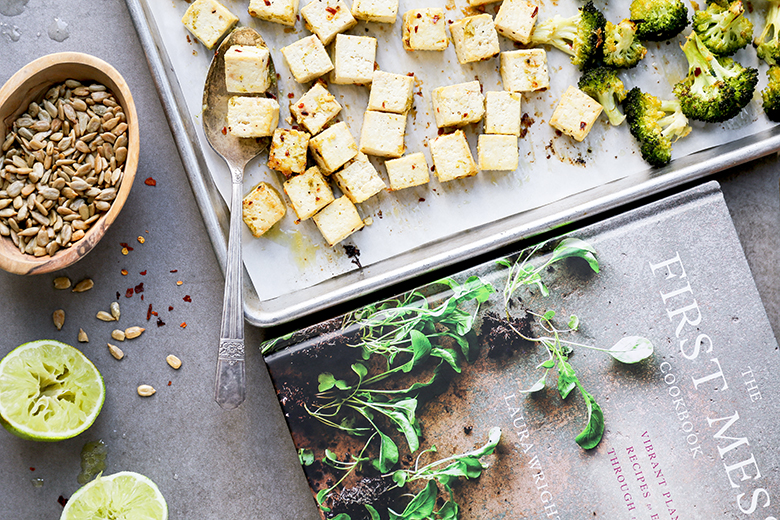 Laura Wright's cookbook, The First Mess Cookbook: Vibrant Plant-Based Recipes to Eat Well Through the Seasons, arrived at my doorstep back in February. As I opened the box and flipped through it's pages for the first time, I audibly swooned. Because the photographs are THE MOST gorgeous and the recipes are THE MOST delicious.
I'm giving away one copy of The First Mess Cookbook. Scroll down to enter!
I also enjoyed a heightened sense of giddy-ness as I held the book in my hands. I've admired Laura's blog for many years now, so it kind of felt surreal to be deemed cool enough to receive an advanced copy of her first cookbook. It was like I had achieved some level of food blogging greatness.
Laura has a magical touch in the kitchen. Her recipes are both luxurious and approachable. And she has a way of creating complex flavor profiles without the need for a long ingredient list or complicated cooking techniques. It's nourishing, wholesome food that you can make and eat everyday. The fact that everything also happens to be vegan seems like a footnote. It's not vegan food that's trying to be something else. It's just good food being good. And frankly, I can't think of anything better than that.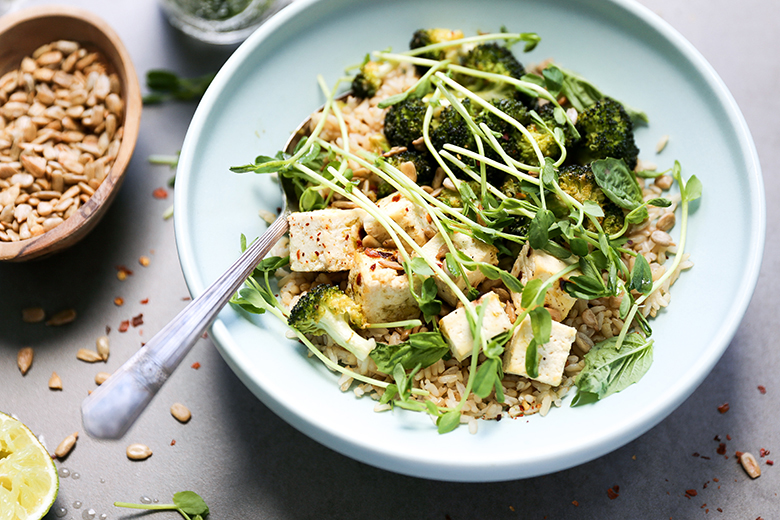 I've made several recipes from Laura's book so far (all winners!). And I even had a different one photographed and ready to share with you today. But then I made these Roasted Chili Basil Lime Tofu Bowls over the weekend and they provided me with so much comfort after the loss of my Dingo, that I knew this was the recipe that I should share instead.
I eat tofu fairly frequently when I'm out at restaurants. I always order it in my pho. And no vegetarian stir fry is complete without it. But as I prepared to make these Roasted Chili Basil Lime Tofu Bowls, I suddenly realized that I had NEVER actually cooked tofu at home. Shocking, right? But now I feel like a total tofu VIP, because with Laura's recipe I nailed it on the first time (hooray for crispy edges!). And I didn't even have to do any messy pan frying. That is a major win as far as I'm concerned.
The lime and oil mixture has three jobs in this recipe: it coats the tofu, it coats the broccoli and then you use the leftovers to drizzle over the final dish. I ended up making slightly more than the original recipe called for, because it was so tasty that I knew I wanted to make sure I had an extra dose for the end. If you're a "sauce person", I suggest you do the same.
Laura finishes this dish with sunflower sprouts, but I couldn't find any in my grocery store so I used pea shoots instead. Any small, fresh sprouts or shoots that you can get your hands on would be lovely here. Grain bowls are usually pretty forgiving in that way. Which is why I love them so.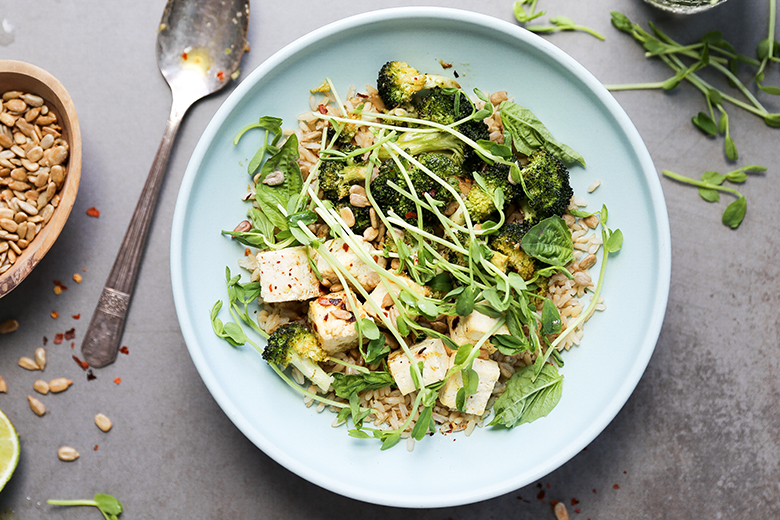 I'm thrilled to have The First Mess Cookbook in my kitchen. I feels like it could be the last cookbook I ever own and I'd be happy. So of course, I'd love for one of you to have a copy as well! So I'm giving away a copy of The First Mess Cookbook to one lucky reader. All you have to do is leave me a comment below, telling me your favorite Spring vegetable. The giveaway will be open until April 3, 2017. After which I will randomly select a winner and notify them by email. The winner will have 48 hours to respond to me with their shipping address (United States and Canadian residents only, please) or I will select an alternate winner. Good luck! Update: This giveaway had ended and a winner has been selected. Thank you to everyone who participated!
Cheers,
Liz
Reprinted with minor adaptations from The First Mess Cookbook by arrangement with Avery Books, a member of Penguin Group (USA) LLC, A Penguin Random House Company. Copyright © 2017, Laura Wright.
Roasted Chili Basil Lime Tofu Bowls
Ingredients
1 block (14 ounces) extra-firm tofu
3 tablespoons grapeseed or other neutral-flavored oil
3 tablespoons fresh squeezed lime juice
2 tsp. lime zest
1/2 tsp. garlic powder
1/2 tsp. red pepper flakes
1/8 tsp. salt
1/8 tsp. black pepper
2 cups broccoli florets
1/4 cup fresh basil, roughly chopped
2 cups cooked brown rice
1/2 cup fresh sprouts or pea shoots
1/4 cup toasted sunflower seeds
Instructions
Pre-heat your oven to 400 degrees. Line a large rimmed baking sheet with parchment paper and set it aside.
Drain the tofu of it's packing liquid and pat it dry with a kitchen towel. Cut the tofu into 1-inch cubes.
In a medium bowl, whisk together the oil, lime juice, lime zest, garlic power, red pepper flakes, salt and black pepper. Gently toss the tofu cubes in the lime and oil mixture. Then using your hands, remove the tofu cubes from the bowl and place them on your parchment-paper lined baking sheet. Try to reserve as much of the lime and oil mixture as possible. Transfer the baking sheet to your pre-heated oven and roast the tofu for 15 minutes.
Remove the baking sheet from your oven and carefully flip the tofu cubes over. Toss the broccoli florets in the reserved lime and oil mixture and then transfer them to the same baking sheet. Return the baking sheet to your oven and roast the tofu and broccoli for 20 minutes. Remove from your oven and set aside.
Whisk the basil into the remaining lime and oil mixture.
Divide the brown rice evenly between your serving bowls. Top with the roasted tofu and broccoli. Add some sprouts/pea shoots, sunflower seeds and a drizzle of the basil-flecked lime and oil mixture. Enjoy immediately.
http://www.floatingkitchen.net/roasted-chili-basil-lime-tofu-bowls/
Sweet potatoes are my jam. Mashed, grilled and even for breakfast, I'll take them anyway I can get them. They are a welcome addition to any meal. And as I've transitioned into more of a plant-focused diet this past year, sweet potatoes have become an even more integral part of my kitchen.
So it only made sense that I would combine sweet potatoes with two of my other favorite ingredients: crispy baked chickpeas (seriously, these things are like crack) and the seasons first asparagus spears.
Oh asparagus. Nothing screams Spring like asparagus. And right now, I am definitely screaming for Spring. Because we just came off of one of the coldest weekends we've had all Winter. And it's freaking MARCH you guys! I definitely thought we were out of the woods (I even folded and put away my snow pants!), but apparently we're not. Jack Frost has extended his stay a little while longer.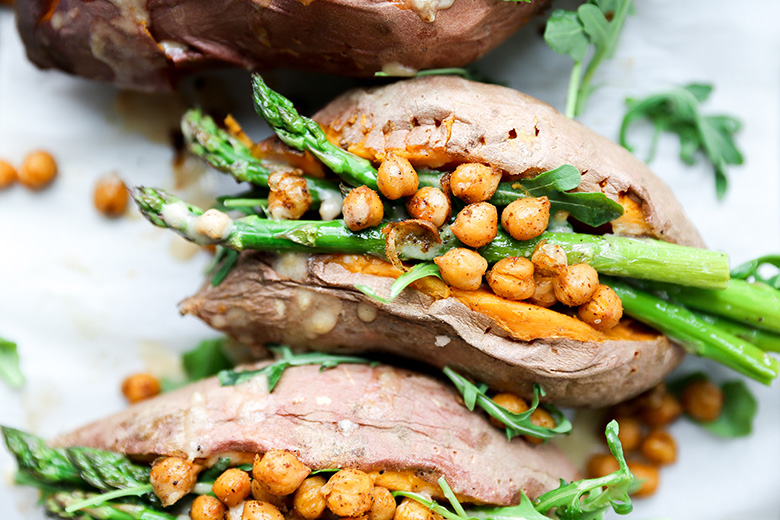 So I'm mixing hearty, belly filling baked sweet potatoes with tender greens. And smothering them with a creamy vegan dressing and some spicy roasted chickpeas. The seasons are colliding – inside my kitchen and out. I think that's what March is all about.
The sweet potatoes can take up to an hour to bake, depending on their size. But it's a completely hands off process. So while this might not be the quickest dinner to prepare, I'd still dare to categorize it as "easy". I also think this would be delicious with some roasted broccolini in lieu of the asparagus, if you happen to have that on hand.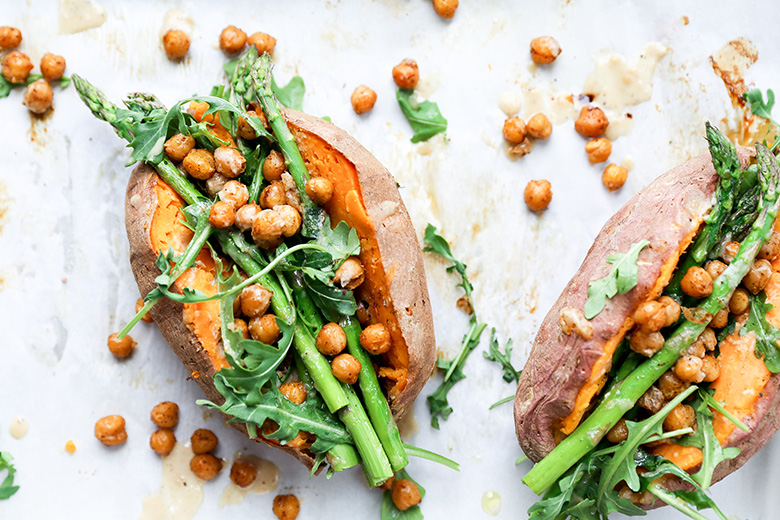 I'm sharing the recipe for these Stuffed Sweet Potatoes with Chickpeas, Asparagus and Arugula as part of our monthly round-up organized by Becky from Vintage Mixer. March can be a tricky month if you're like me and live somewhere where you're still stuck in a mix of seasons. So I hope you can find some cooking inspiration from Becky's March Produce Guide, as well as from the recipes that some of my blogging friends have created (links below!) that highlight this month's fruits and vegetables. And be sure to let us know ways in which you're using March produce by using the hashtag #eatseasonal on social media!
Cheers,
Liz
Recipe inspired by How Sweet It Is
Stuffed Sweet Potatoes with Chickpeas, Asparagus and Arugula
Ingredients
For the Sweet Potatoes
4 medium-large sweet potatoes, washed and scrubbed
1 cup loosely packed arugula

For the Chickpeas
1 (16 ounce) can chickpeas, rinsed and drained
1 tsp. extra-virgin olive oil
1/2 tsp. salt
1/2 tsp. cumin
1/2 tsp. chili powder

For the Asparagus
1/2 lb asparagus spears, trimmed
1 tablespoon extra-virgin olive oil
1/2 tsp. salt
1/2 tsp. black pepper

For the Dressing
2 tablespoons tahini paste
2 tablespoons lemon juice
2 tablespoons water
2 tsp. maple syrup
1/4 tsp. salt
1/4 tsp. black pepper
Instructions
Pre-heat your oven to 400 degrees.
Line a large rimmed baking sheet with parchment paper. Prick the sweet potatoes all over with a fork and then place them on your baking sheet. Transfer them to your pre-heated oven to bake for 50-60 minutes, or until the sweet potatoes are soft enough to be easily pierced with a small pairing knife. Remove from the oven and set aside, covering to keep warm.
Meanwhile, spread the chickpeas out onto a paper towel. Then use a second piece of paper towel to pat the tops dry. Transfer the dried chickpeas to a rimmed baking sheet. Drizzle with the olive oil, tossing to coat. Then sprinkle with the salt, cumin and chili powder. Transfer the baking sheet to your pre-heated oven and roast the chickpeas for 20 minutes, stirring them once half way through cooking time. Remove from the oven and set aside.
Meanwhile, toss the asparagus on a rimmed baking sheet with the olive oil, salt and black pepper. Transfer to your pre-heated oven and roast for 10 minutes. Remove from the oven and set aside.
To make the dressing, add all of the ingredients in a small bowl or jar. Mix until well combined and smooth.
To serve, slice the sweet potatoes open, being careful not to cut them completely in half (you want the bottom to remain intact), and gently pry them apart to create space in the center. Drizzle about 1 tablespoon of the dressing inside each of the sweet potatoes. Then stuff with the arugula, asparagus and chickpeas, diving the ingredients evenly between the sweet potatoes. Drizzle with the remaining dressing. Serve immediately.
http://www.floatingkitchen.net/stuffed-sweet-potatoes-with-chickpeas-asparagus-and-arugula/
March Eat Seasonal Recipes
Creamy Vegan Kiwi Lime Avocado Pie by Letty's Kitchen
Chana Aloo Gobi Masala: Chickpea, Potato, and Cauliflower Curry by Food for My Family
Spicy Lemon-Ginger Tonic Tea by Suitcase Foodist
Broccoli Rabe and Chicken Pizza with Basil Cream Sauce by Vintage Mixer
Hot Chili Blistered Asparagus with Sriracha Aioli by Kitchen Confidante
Glazed Meyer Lemon Bundt Cake with Candied Lemons by Simple Bites
Frozen Chocolate-Dipped Kiwi with Sea Salt by Project Domestication
Tempura Cauliflower with Spiced Yogurt Dipping Sauce by Completely Delicious
Easy Lemon Thyme Roasted Artichokes by Flavor the Moments
Healthy Shamrock Shake by Joy Food Sunshine
Curry Roasted Cauliflower by Healthy Seasonal Recipes
Roasted Cauliflower Pasta with Lemon Chimichurri by She Likes Food
Thai Curry Cauliflower Soup by Mountain Mama Cooks