This post was originally published here on January 26, 2015. I've since updated the photographs and text. Because let's be honest, the photographs weren't that great before!
This is the kind of salad I want to eat every damn day. Forever and ever. Until I'm old and cranky (crankier?) and my teeth are falling out. And then at that point, I'll just toss the entire thing into my blender and turn it into a smoothie bowl.
But seriously, I've been eating this Roasted Vegetable Power Bowl (or some very similar version of it) everyday for lunch for the past couple of weeks. It's one of those salads that doesn't really feel like a salad. It's substantial and hearty. And it won't leave you feeling deprived. In fact, the only reason you'll be left wanting more is because it's so gosh darn delicious. Second helpings are highly encouraged.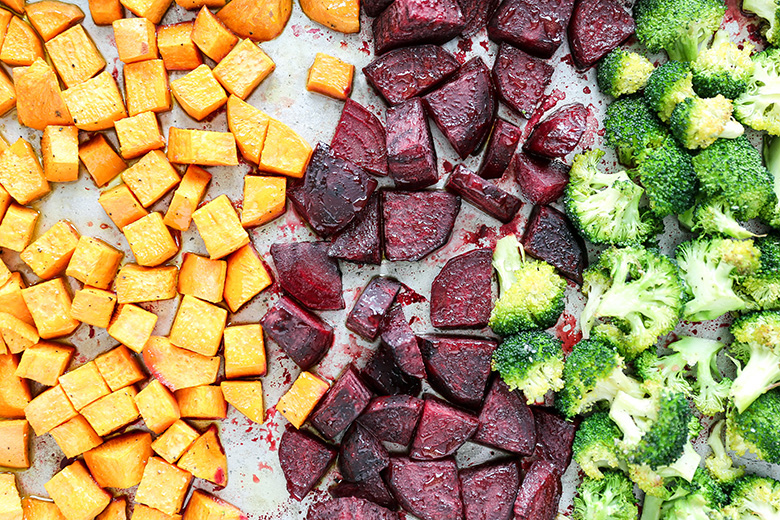 I've written the recipe out below so it makes two servings. But what I actually do in real life is roast up a whole mess of vegetables at the beginning of the week, cook up a big pot of quinoa and make a big jar of the tahini dressing. Then I can assemble one of these bowls at a moments notice anytime throughout the week. Because when hunger strikes, you want to be ready and willing to strike back.
Sometimes I switch out the sweet potatoes for butternut squash. Or substitute cauliflower for the broccoli. You can also use brown rice as a base instead of the quinoa. Oh and a few slices of avocado never hurt anyone. Basically, it's a choose your own adventure kind of situation. You can build these bowl in any which way to suit your tastes preferences (and to accommodate whatever you might have lingering in your crisper drawer!).
I try to keep the vegetables somewhat separated on the baking sheet so the color of the beets doesn't bleed into everything. But it's not really necessary. Unless of course you want to snap a dope photo and Instagram that shit. Then by all means, be a little fussy with those vegetables.
Cheers,
Liz
Roasted Vegetable Power Bowl
Ingredients
For the Salad
1 medium sweet potato, peeled and cut into 1-inch cubes
2 small beets, trimmed, peeled and cut into 1-inch cubes
2 cups broccoli florets
Extra-virgin olive oil
Salt
Black pepper
2 cups mixed greens
1 cup cooked quinoa
1/4 cup almonds
1 tablespoon fresh cilantro

For the Dressing
2 tablespoons extra-virgin olive oil
1 tablespoon fresh squeezed lemon juice
1 tablespoon tahini paste
1 tsp. maple syrup
Instructions
Pre-heat your oven to 400 degrees.
In a medium bowl, toss the cubed sweet potato with 1-2 tsp. of olive oil and a pinch of salt and pepper. Transfer to one side of a large rimmed baking sheet. In the same bowl, now season the cubed beets with olive oil, salt and pepper. Add these to the same rimmed baking sheet, but keep them separate from the sweet potatoes so the color of the beets doesn't bleed into the sweet potatoes. Transfer the baking sheet to your pre-heated over and roast for 10 minutes.
Add the broccoli florets to the same bowl and season with olive oil, salt and pepper in the same manner as you did for the sweet potatoes and beets. After 10 minutes, add the broccoli florets to the baking sheet with the sweet potatoes and beets (keeping them spaced away from the beets) and then return your baking sheet to your oven for another 10 minutes. Remove the vegetables from the oven and set aside.
While the vegetables are roasting, make the dressing. In a small bowl stir together all of the ingredients until smooth. You can add a tablespoon of water to thin the dressing, if you prefer.
To assemble the bowls, divide the lettuce evenly between two bowls. Then top with the roasted vegetables, cooked quinoa, almonds and cilantro, dividing all the ingredients evenly between the two bowls. Drizzle with the dressing. Serve immediately.
http://www.floatingkitchen.net/roasted-vegetable-power-bowl/
I feel like we're all collectively screaming for comfort food right now. The weather is cold, dark and generally kind of shitty. The political landscape in America is bleak, at best. And Valentine's Day, which I've found to be a rather dreaded day for both singles and couples alike, is looming on the horizon.
All of these things are reason enough to dig into some good old fashioned Italian comfort food. Which is why I decided to make us some Baked Chicken Parmesan Meatballs with Creamy Polenta for today. AND I made it all in just about 30 minutes. Because sometimes when you need comfort food, you need it FAST.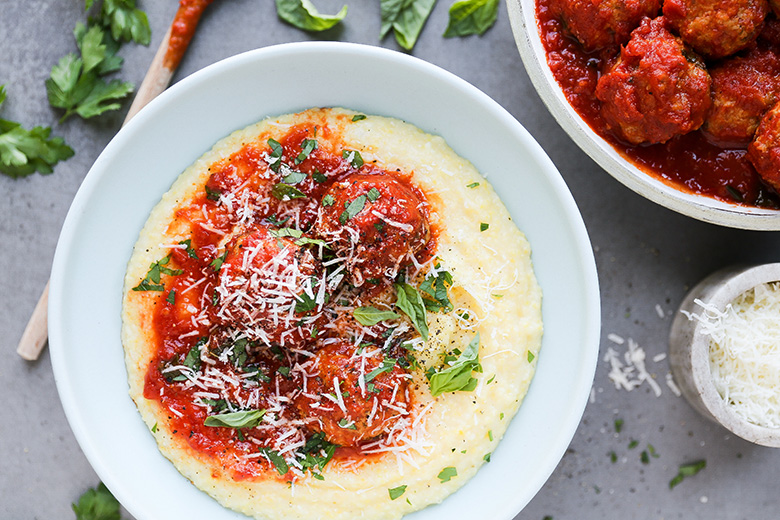 Something you may have noticed over the past year or so on this site is a shift towards almost exclusively plant-based recipes. And while I'm not claiming to be a vegetarian (I still enjoy non-vegetarian recipes on occasion), I'd estimate that about 90% of my meals consumed at home are strictly plant-based.
I don't really have one glaring reason for this shift in my diet. All I can really say is that eating plants makes me feel good. It's as simple as that. So I'm going to continue down that path for now. And throw in a few non-vegetarian recipes every once in a while when a craving hits.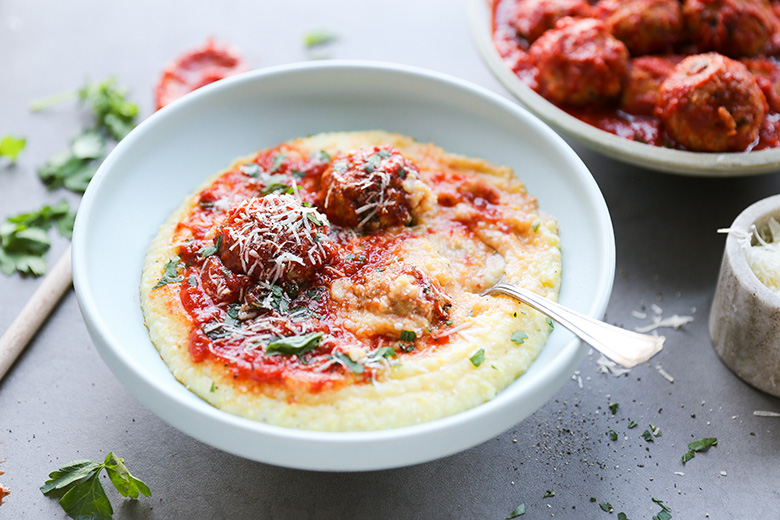 Meatballs are one of the few foods that I remember really liking as a child. I was a picky eater, so most things were off limits at meal times. But meatballs were almost always welcome.
I like to make my meatballs from ground chicken (although you could certainly use ground turkey). And I always bake them in my oven. Which I suppose isn't very traditional. But I appreciate that they are a little bit leaner. And not to mention, less messy and more hands off to prepare. Once you get the meatballs in the oven, you can concentrate your efforts elsewhere in the kitchen – like tackling a batch of this homemade tomato sauce and whisking up the creamiest mascarpone cheese polenta EVER.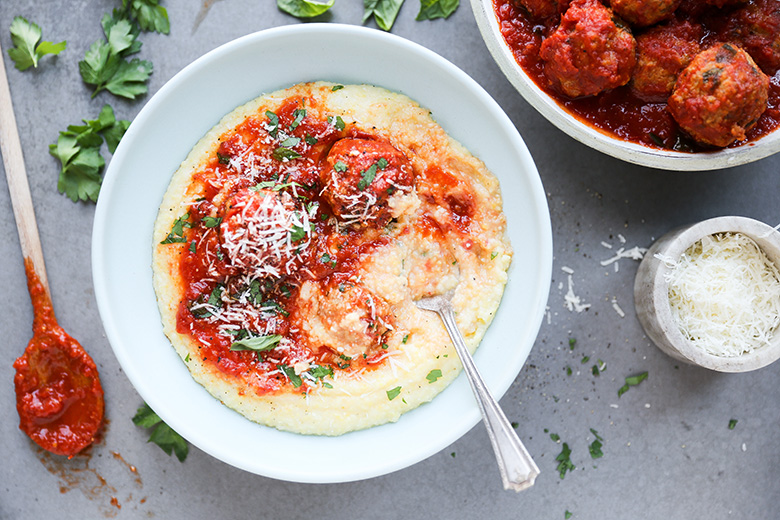 This recipe can undoubtedly be made from start to finish in 30 minutes. I've done it successfully many times. There is very little chopping. And each component requires less than 20 minutes of actual cooking time. BUT I have to be honest and say that there is some coordination/multi-tasking required to get it done within a 30 minute time frame. You'll have to manage the tomato sauce and the polenta at the same time. Which isn't that big of a deal, but it can feel kind of rushed the first time you try it. If all that sounds unpleasant to you, feel free to warm up a big jar of your favorite store-bought tomato sauce on the stovetop in lieu of making your own. That will save you a few minutes.
Polenta is kind of a new-ish ingredient for me. I didn't grow up eating polenta, so it tends to fall off my radar periodically. But I'm trying to incorporate it more into my life. It's a great base for everything from these chicken meatballs to barbecue pulled pork to roasted vegetables. How do you usually use polenta? I'd love to hear some additional suggestions!
Are you craving even more meals that you can prepare in 30 minutes or less? Of course you are! Well, lucky for you it's 30 Minute Thursday. If you scroll down past the recipe below, you'll find links to other quick and easy recipes from some of my blogging friends. Make sure to check them all out!
Cheers,
Liz
Baked Chicken Parmesan Meatballs with Creamy Polenta
Ingredients
For the Meatballs
1 lb ground chicken (you can substitute ground turkey)
1 egg
1/2 cup bread crumbs
1/2 cup grated Parmesan cheese
1/4 cup fresh parsley, roughly chopped
1 tablespoon extra-virgin olive oil
1 tsp. salt
1/2 tsp. black pepper
1/2 tsp. fennel seeds
1/2 tsp. dried oregano
1/8 tsp. ground nutmeg

For the Tomato Sauce
1 tablespoon extra-virgin olive oil
2 garlic cloves, peeled and minced
1/4 tsp. red pepper flakes
1 (28 ounce) can crushed tomatoes
2/3 cups chicken stock
1/4 cup fresh basil, roughly chopped
1/4 tsp. salt
1/4 tsp. black pepper

For the Polenta
4 cups water
1 cup polenta
1/4 cup mascarpone cheese
1 tsp. salt
About 1/2 cup milk

For Serving
Fresh parsley, chopped
Fresh basil, chopped
Parmesan cheese, shredded
Instructions
Pre-heat your oven to 425 degrees. Spray a large rimmed baking sheet with non-stick spray and set aside. To make the meatballs, add all of the ingredients to a large bowl and mix until everything is just combined (your hands are the best tool for this job!). Shape the chicken mixture into balls, using about 2 tablespoons of the mixture for each meatball. You should end up with 16-18 meatballs. Place the meatballs on your prepared baking sheet. Transfer to your pre-heated oven and bake for 15 minutes.
Meanwhile, make the sauce. Heat the olive oil in a large stock pot over medium-high heat. Add the garlic and red pepper flakes and cook, stirring frequently, for 1-2 minutes, or until the garlic is fragrant. Add the crushed tomatoes, chicken stock (use it to rinse out the can of crushed tomatoes), basil, salt and black pepper. Bring to a simmer. Once the meatballs have finished baking, gently add them to the simmering sauce and let them cook in the sauce for an additional 5 minutes. Remove the stock pot from the heat. Cover to keep warm.
Meanwhile, make the polenta. Bring the water in a boil in a heavy bottom saucepan. Slowly whisk in the polenta and turn down the heat to maintain a simmer. Cook the polenta for 15-17 minutes, whisking frequently so it doesn't burn on the bottom and adjusting the heat to prevent it from aggressively splattering and bubbling. Once the polenta has thickened and the liquid is absorbed, remove the saucepan from the heat. Whisk in the mascarpone cheese and the salt. Then whisk in enough milk to thin it to your desired consistency. Cover to keep warm.
To serve, spoon the warm polenta into bowls. Top with the meatballs and some of the sauce. Garnish with fresh herbs and shredded Parmesan cheese, if desired. Serve immediately.
Leftovers can be stored in an airtight container in your refrigerator for 2-3 days.
http://www.floatingkitchen.net/baked-chicken-parmesan-meatballs-with-creamy-polenta/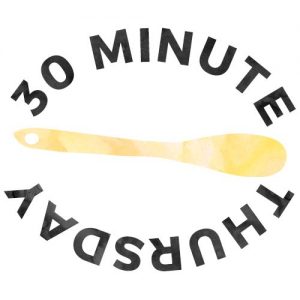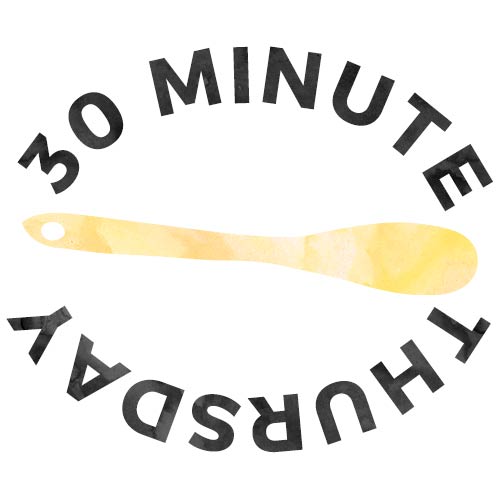 One Pot 30-Minute Pasta e Fagioli from Flavor the Moments
Tuna Casserole from My Kitchen Craze
Easy Chicken Pad Thai from Life Made Sweeter
One Pot Black Bean Fajita Pasta (Make Ahead) from Sweet Peas & Saffron
Italian Chicken Tortellini Skillet from The Recipe Rebel
Lightened Up Baked Chicken Parmesan from Kristine's Kitchen
Healthy Taco Chickpea Lettuce Wraps from She Likes Food
30 Minute Chicken Stew from Bake.Eat.Repeat
Garlic Parmesan Gnocchi with Mushrooms from Pumpkin 'N Spice