Disclosure: I'm honored to have received an advanced copy of Lily Diamond's debut cookbook, KALE & CARAMEL: Recipes for Body, Heart and Table. I hope you all enjoy this little sneak peak!
Today's recipe is a little bit different from what you might typically find here. That's because today's recipe isn't specifically intended for eating (although I'd be lying if I said I didn't eat some of it!). Instead, today's recipe is meant to help soothe and nourish your skin. It's an effortlessly fabulous three ingredient Blackberry Basil Healing Mask that will help you "get your glow on". And it's a concoction straight from Lily Diamond's debut cookbook, KALE & CARAMEL: Recipes for Body, Heart and Table.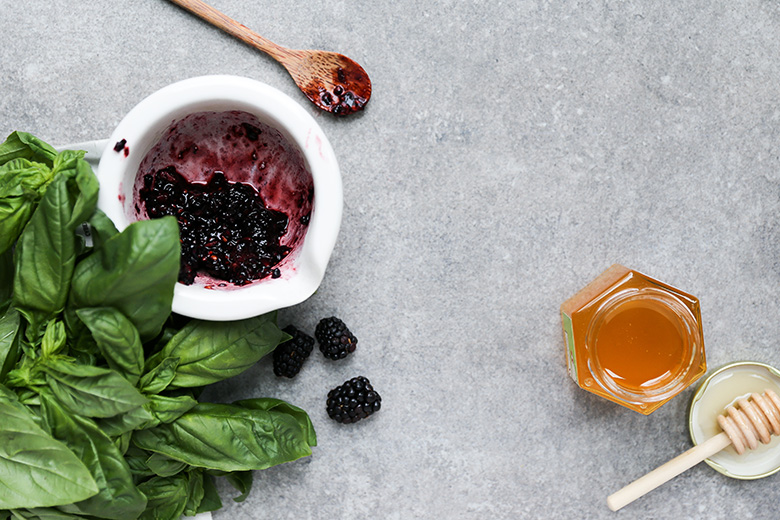 It's truly an honor to have a copy of Lily's cookbook in my possession. And I'm thrilled to be able to give you all a little sneak peak into it's pages here today. Although, I worry that my words won't be able to do it justice. My writing feels clunky and awkward in all the places where Lily's writing excels. Admittedly, I am no poet. Whereas Lily Diamond, most certainly is.
Lily is real and authentic in a way that the majority of people don't dare allow themselves to be for a public audience. Each week she pours her whole self into the virtual pages of her blog. And now, that journey has transcended onto the actual pages of her cookbook. From her childhood in Maui, to her Mother's death, to navigating the sometimes hilarious world of online dating, Lily's storytelling will make you feel all the things. Joy, heartbreak, frustration and every emotion in between. It's all there in a deeply personal way that I find mildly addicting to read.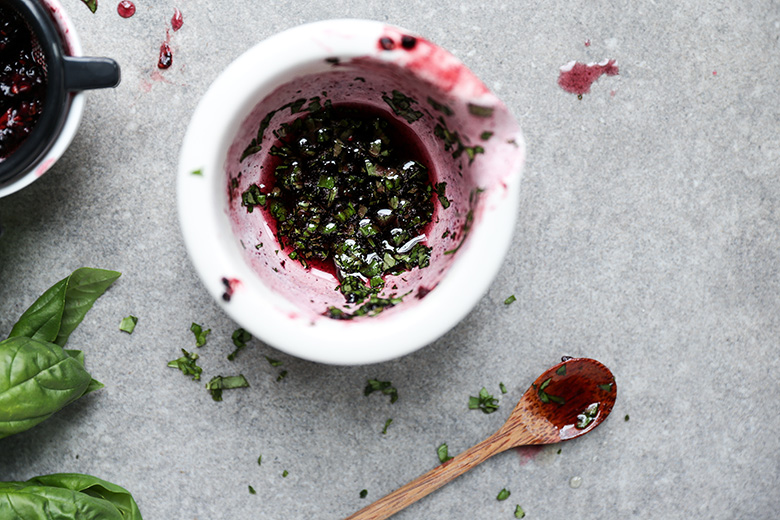 KALE & CARAMEL: Recipes for Body, Heart and Table is unique from the other cookbooks in my collection. The recipes are designed to engage and awaken all five of your senses. And they are meant to be nourishing in a way that goes way beyond basic calorie consumption. This isn't just eating. This is living.
The chapters in this book are organized by either one of two things: herbs or flowers. And friends, I simply cannot overstate just how lovely I think that is. Fresh herbs and edible flowers have been a staple in my kitchen for years now. And I'm so excited to finally have a cookbook dedicated to showcasing those ingredients. Herbs and flowers are often treated (or mistreated) solely as a garnish. But I think they deserve to be in the spotlight. And Lily proudly gives them all the attention they deserve.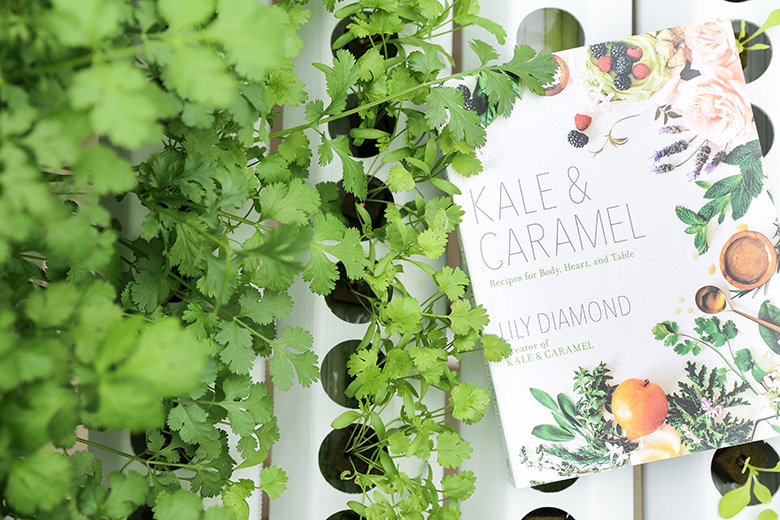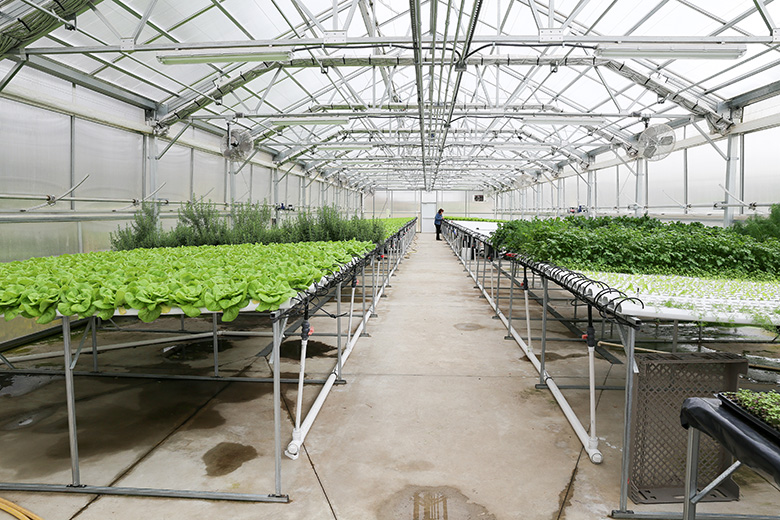 There are eight chapters which focus on herbs, ALL of which we have in abundance on our family farm (pictures from our hydroponic greenhouse above). Which means this cookbook is going to be my Summer project. I can't wait to cook my way through those chapters. And I'm really looking forward to learning to use some of those herbs in ways which I hadn't really considered before, like in this Blackberry Basil Healing Mask. Admittedly, I haven't always been kind to my skin over the years. But as I age, I realize more and more everyday that needs to change.
I'm giving away one copy of KALE & CARAMEL: Recipes for Body, Heart and Table over on Instagram right now. Just click this link and go enter! You have until April 26, 2017. Good luck!
Cheers,
Liz
This recipe has been reprinted with permission. Copyright © 2017 by Lily Diamond from KALE & CARAMEL: Recipes for Body, Heart, and Table published by Atria Books, a division of Simon & Schuster, Inc.
Blackberry Basil Healing Mask
Ingredients
5-6 blackberries
3 tablespoons raw, unfiltered honey
5 basil leaves, minced
Instructions
In a small bowl, crush the blackberries until they release their juices. Strain through a fine mesh strainer, pushing down on the solids with the back of a spoon to help get out as much of the juice as possible, collecting it into a clean bowl. Discard the solids.
Add the honey and basil to the blackberry juice, stirring until fully incorporated. The mixture can be stored in an airtight container in your refrigerator for up to 1 week.
To use, spread about 1 1/2 teaspoons onto clean skin and let sit for 5-10 minutes. Then wash off completely.
http://www.floatingkitchen.net/blackberry-basil-healing-mask/
This post was originally published here on May 8, 2015. I've updated the photos and text to showcase just how delicious these miniature scones really are! Enjoy!
I have a mega soft spot in my heart for fresh rhubarb. I can't resist those slender stalks and crimson hues. In fact, just take a peak inside my refrigerator at any point between the months of April and June, and you'll consistently find rhubarb lining the shelves.
I'm hoping to get into some more savory applications for rhubarb this Spring, but in the meantime, I'm happy to be incorporating it into all sorts of baked goods. It's tart bite makes it ideal for everything from cakes to pies to scones. And rhubarb is even good in cocktails, as I happily discovered last year.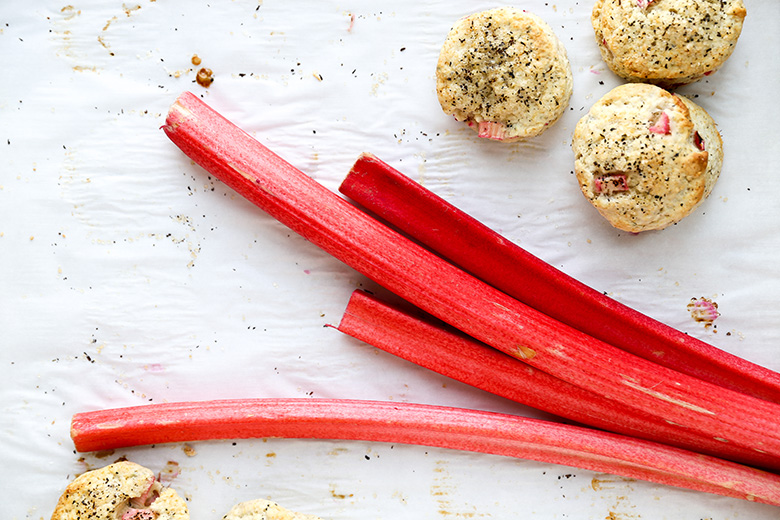 Also, anyone else totally digging Springtime baking right now? It seems so light and easy. Pretty much the exact opposite of how I feel about Christmas baking, which usually leaves me in a sweaty puddle of anxiety and self loathing (how many Santa cookies did I really just eat?). I can't fully explain it. All I know is that I want to fit in as much baking as possible before it becomes way too hot to use my oven.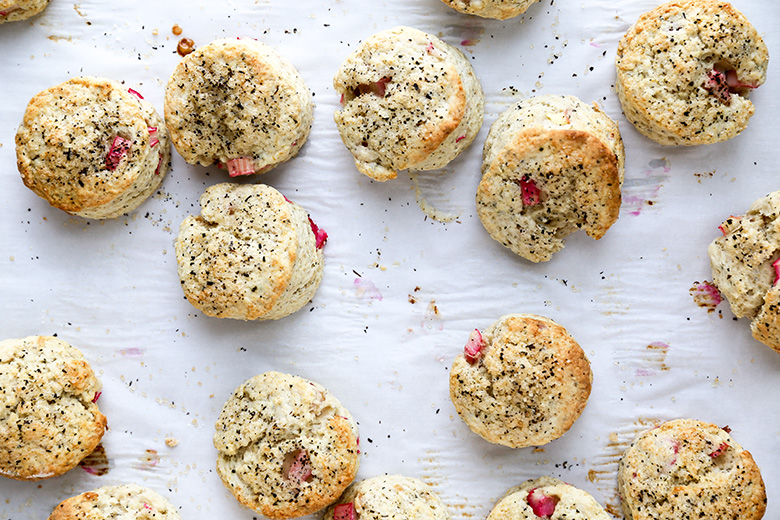 These Mini Rhubarb and Jasmine Tea Cream Scones have brunch written all over them. They would be perfect for Easter or Mother's Day. I love that they are miniature, because that means either (a) eating one won't fill you up so you can comfortably enjoy the rest of your meal, or (b) you can eat three of them! Both scenarios have happened to me. And both are likely to occur again in the future. This is real life.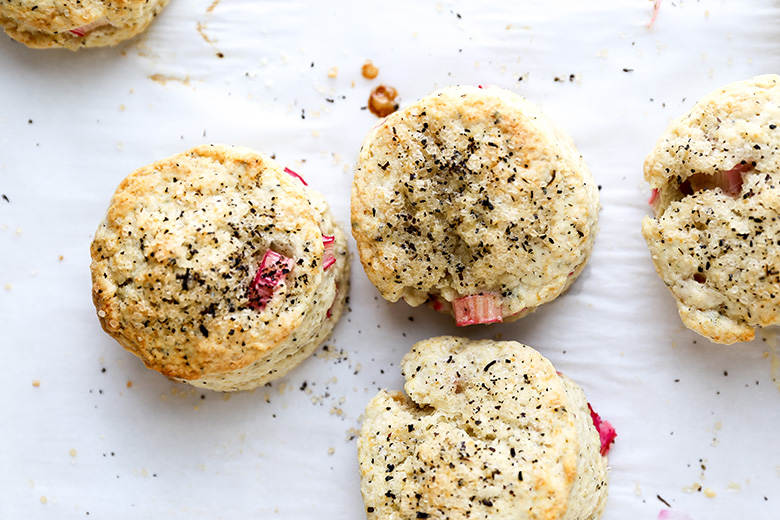 The tea is a fun addition that makes these scones feel extra "Springy" to me. I stir some into the dough. Then sprinkle the rest on top before baking. I used jasmine tea for this recipe, but chamomile or other varieties would work equally well. Loose leaf tea is probably your best option. But if you can't find it, you can purchase tea bags and simply tear them open to access the tea leaves inside.
Make sure to keep the rhubarb pieces small-ish for this recipe. Because these scones are miniature, they cook up relatively fast. And you don't want to be left with any overly firm pieces of rhubarb. I try to keep the pieces about a 1/2-inch in size (like the size of an almond).
Cheers,
Liz
Recipe adapted from Joy the Baker
Mini Rhubarb and Jasmine Tea Cream Scones
Ingredients
3 cups all-purpose flour
1/3 cup granulated sugar
1 tablespoon plus 1/2 tsp. jasmine tea leaves, divided
1 tablespoon baking powder
1 tsp. salt
About 1 1/2 cups heavy cream, plus more for brushing the tops
1 tsp. vanilla extract
1 cup chopped rhubarb (keep the pieces about 1/2-inch in size)
1/4 cup turbinado sugar
Instructions
Pre-heat your oven to 425 degrees. Line a baking sheet with parchment paper and set it aside.
In a large bowl, whisk together the flour, granulated sugar, baking powder, salt and 1 tablespoon of the jasmine tea leaves.
Measure out 1 1/3 cups of heavy cream. Mix in the vanilla extract. Slowly add the cream mixture to the dry ingredients, stirring with a wooden spoon as you pour in the cream. Gently stir in the rhubarb. Add more cream if necessary, one tablespoon at a time, so the dough is moist and holds together loosely (it will be a bit shaggy).
Dump the dough out onto a lightly floured surface and use your hands to form it into a disk about 3/4-inches thick. Using a small round biscuit or cookie cutter (I used a 2-inch cookie cutter), cut out small circles from the dough disk. Transfer the circles to your baking sheet, placing them about 1-inch apart. Gently re-shape the scraps and continue cutting out circles until all the dough has been used.
Brush the top of each circle with heavy cream. In a small bowl, mix together the turbinado sugar with the remaining 1/2 tsp. of jasmine tea leaves. Sprinkle the sugar mixture over top of the circles.
Transfer to your pre-heated oven and bake for 15-18 minutes, or until golden brown on top. Remove from the oven and set aside to cool slightly.
Scones are best when served while still slightly warm. Once fully cooled, they can be stored in an airtight container for 1-2 days at room temperature.
http://www.floatingkitchen.net/mini-rhubarb-and-jasmine-tea-cream-scones/