This post was originally published here on July 24, 2014. I've updated the photographs and text to better showcase this delicious (and easy!) Summer dinner.
Eeeek! You guys! I'm starting to have anxiety about the end of Summer.
I know, I know. It's only mid-July. But last week my grocery store put out their Halloween candy and that kind of sent me into a feverish downward spiral. I literally just stood in the aisle staring at the rows of pumpkins and ghosts and felt an equal mix of extreme sadness and intense rage.
Cue anxiety attack.
Also, can we seriously talk about Halloween candy at the grocery store in July. WTF is wrong with everyone. Just NO! No, no, no, no, no, no, no…!!!
Ugh.
Anyways. Since eating always improves my mood, I went home and decided to whip up the ultimate Summer dinner: Spicy Grilled Shrimp with Coconut Lime Rice and Peach Salsa.
Fall: stand down. You've been warned.
This recipe has a couple separate parts that you need to prepare. But it's so worth it. And all the steps are super easy. I promise.
The shrimp are spicy and crazy flavorful. And they take only a few minutes to cook up on the grill. And the fresh peach salsa is the perfect blend of savory and sweet notes. It's great not only in this dish, but also on just about anything grilled: chicken, pork, salmon, etc. You can also put it on tacos. Or just scoop it straight onto some tortilla chips. You get the idea. Find a way to get this peach salsa into your body in any way possible.
But the coconut-lime rice might just be my favorite part about this whole recipe. Seriously. Making rice with canned coconut milk instead of water is a total game changer. It feels tropical and luxurious, but still easy. Just like how Summer should feel.
So tell me, how are YOU celebrating Summer these days? Give me some more ideas for my Summer bucket list. Because it's not over yet, and I tend to make the most of it!
Cheers,
Liz
Spicy Grilled Shrimp with Coconut-Lime Rice and Peach Salsa
Ingredients
For the Peach Salsa
2 peaches, pitted and diced
1/2 small red onion, diced
1/2 jalapeño pepper, finely diced
1/4 cup cilantro, roughly chopped
1 tsp. sugar
Zest and juice of 1 lime

For the Coconut-Lime Rice
1 (14 ounce) can light coconut milk
1/4 cup water
1/8 tsp. salt
1 tablespoon coconut oil or extra-virgin olive oil
1 cup basmati or jasmine rice
Zest and juice of 1 lime

For the Spicy Shrimp
24 large raw shrimp, peeled and deveined (I like the "tail-on" variety)
4 tablespoons extra-virgin olive oil, divided
Zest and juice of 2 limes
1/2 jalapeño pepper, finely diced
1/4 cup cilantro, roughly chopped
1/2 tsp. salt
Instructions
Combine all of the ingredients for the peach salsa in a small bowl. Cover and refrigerate until you're ready to use it.
In a medium saucepan bring the coconut milk, water, salt and oil to a low boil. Stir in the rice and turn the heat down to low. Cover and simmer for 15 minutes. The coconut milk has a greater tendency to over boil or scorch on the bottom, so keep the heat lower than you typically would for cooking rice in water/broth. After 15 minutes, turn off the heat and keep the lid on your saucepan and let the rice sit for 5-7 minutes. Then remove the lid and fluff the rice with a fork. Gently stir in the lime juice and zest. Cover to keep warm while you prepare the shrimp.
Pre-heat your grill to medium-high. Rinse the shrimp under cold water and then toss them in a bowl with 2 tablespoons of the olive oil. In a separate bowl, combine the remaining olive oil, lime zest and juice, diced jalapeño, cilantro and salt. Place the shrimp on your pre-heated grill and grill for about 2-3 minutes, flipping once during this time. The shrimp are cooked when they turn from translucent to white and their tails curl in slightly. Remove the shrimp from the grill and toss them gently in the lime/jalapeño/cilantro mixture.
To serve, divide the coconut-lime rice between bowls. Top with the grilled shrimp and a spoonful of the peach salsa. Enjoy immediately.
http://www.floatingkitchen.net/spicy-grilled-shrimp-with-coconut-lime-rice-and-peach-salsa/
This post was originally published here on August 29, 2014. It's a favorite recipe of mine, so I thought it was worth re-visiting with new and improved photos. I hope you try it out!
I have been in a MEGA salad mood these past couple of weeks. Like, I literally can't stop eating salads. They're all I want. All day. Every day.
I've always been a big salad eater. But you know how there are some days when you're just eating a salad because you feel like you're suppose too be. Like, maybe you're trying to erase some poor choices from the day before. Yeah. I've had my fair share of those moments (most recently, this past Saturday). I think we all have.
But lately, I don't feel like that at all. My appetite for salads has been insatiable. Luckily for me, there is an overwhelming amount of delectable Summer produce available right now. So feeding my salad desires has never been so easy. Or delicious.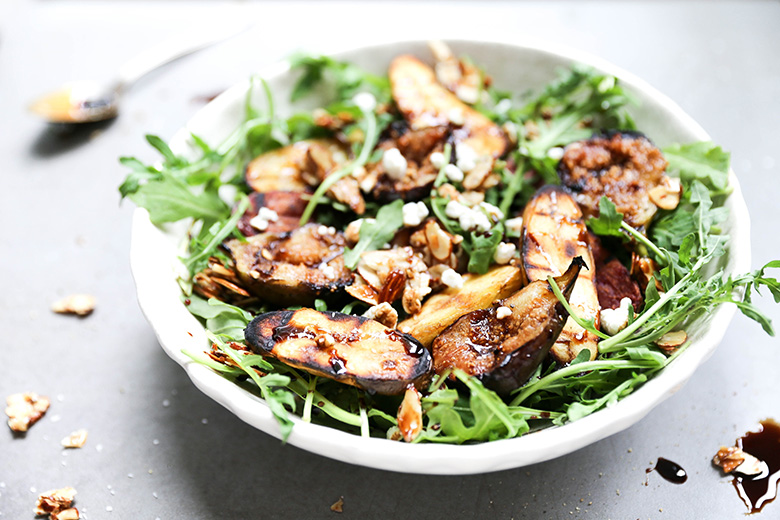 This Grilled Potato and Fig Salad with Maple-Almond Clusters has been a favorite recipe of mine for years now. And it's currently making it's way back into heavy rotation. I'm literally obsessed with this salad. And as long as I can reliably find fresh figs at the grocery story, that obsession will continue. Fig season is SO SHORT (which pains me greatly). So when they are around, you know damn straight I'm taking advantage of them in every way possible.
I'm also taking advantage of my grill while the weather allows, grilling both the potatoes and the figs for this recipe. The potatoes do require a little pre-cooking, which helps them to cook evenly on your grill without burning. But it's worth the extra step. Because everything tastes better from the grill. Even salads.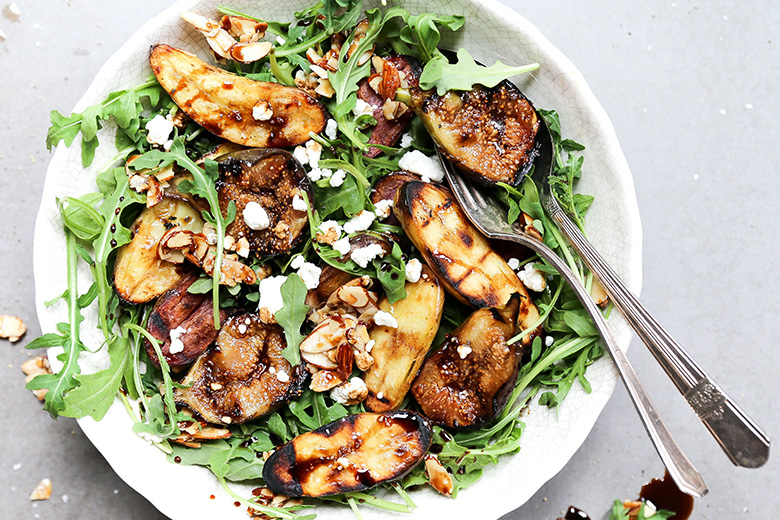 I find that I don't need much in the way of dressing for this salad. Just a drizzle of reduced balsamic vinegar is plenty for me. But you can add some extra-virgin olive oil, if desired.
Beware these maple-almond clusters. They are pretty much like crack. CRACK I tell you! It takes a lot of willpower not to eat (demolish?) the entire batch in one sitting. You might want to just go right ahead and double the recipe, so you have enough for nibbling on and for topping this salad. Trust me when I say they are highly addicting.
Cheers,
Liz
Grilled Potato and Fig Salad with Maple-Almond Clusters
Ingredients
1 cup sliced almonds
3 tablespoons maple syrup, divided
1/4 tsp. salt, plus more for finishing the salad
1.5 lbs fingerling potatoes
16 fresh figs, cut in half lengthwise
3 tablespoons extra-virgin olive oil, divided
1/2 cup balsamic vinegar
6-8 cups arugula
4 ounces crumbled goat cheese
Black pepper
Instructions
Make the maple-almond clusters. In a dry skillet over medium heat, toast the almonds until they become fragrant and have started to brown slightly, about 2 minutes. Watch them carefully and stir frequently so they don't burn. Add in 1 1/2 tablespoons of the maple syrup and 1/4 tsp. of salt, stirring until the almonds are well coated. Remove the skillet from the heat and spread the almonds out onto a parchment-paper lined baking sheet. Set aside to cool.
Cook the potatoes. Place the potatoes in a large saucepan and cover them with 1-2 inches of cold water. Place the saucepan over medium-high heat and bring the water to a boil. Then reduce the temperature to maintain a simmer and cook the potatoes, uncovered, until they are just fork tender, about 10-15 minutes. Be careful not to overcook the potatoes because you want them to maintain their shape for grilling. Drain the potatoes and set them aside to cool slightly. Once they are cool enough to handle, slice the potatoes in half lengthwise.
Pre-heat your grill to medium-high. In a large bowl, gently toss the potatoes in about 2 tablespoons of olive oil. In a separate bowl, gently toss the figs in about 1 tablespoon of olive oil. Grill the potatoes and the figs, placing them directly on the grill grates. The potatoes take about 2-3 minutes per side. The figs are more fragile and will only take about 1 minute per side. Remove the potatoes and figs from the grill and place them on a large plate or baking sheet.
To make the dressing, combine the balsamic vinegar and the remaining 1 1/2 tablespoons of maple syrup in a small heavy bottom saucepan over medium-high heat. Simmer until the balsamic vinegar is reduced to about 1/3 of a cup, about 5 minutes. Remove from the heat.
Assemble the salads. Divide the arugula evenly between 4 plates. Top with the grilled potatoes, grilled figs, goat cheese and the maple-almond clusters. Drizzle with the balsamic reduction and sprinkle with a pinch of salt and black pepper. Enjoy immediately.
http://www.floatingkitchen.net/grilled-potato-and-fig-salad-with-maple-almond-clusters/