Disclosure: I'm so happy to be able to give you all a peek into The First Mess Cookbook by Laura Wright. Thanks for letting me share this beautiful cookbook with you!
This past week I had to say goodbye to my beautiful, smart and sweet dog, Sheri.
I found Sheri (or "Dingo" as I liked to call her) at the Oakland Animal Shelter in 2010. Her previous owner had committed suicide and she was abandoned there by the other members of his family. She was melancholy, skittish and a little aggressive when I first met her, but I knew instantly that we were right for each other. Over the years, she developed into a happy, more relaxed dog. And because of her, I developed into a happy, more relaxed human.
Sheri was my trusty companion for almost seven years. We traveled across the country together three times. We walked over 10,000 miles. And we ate all the things.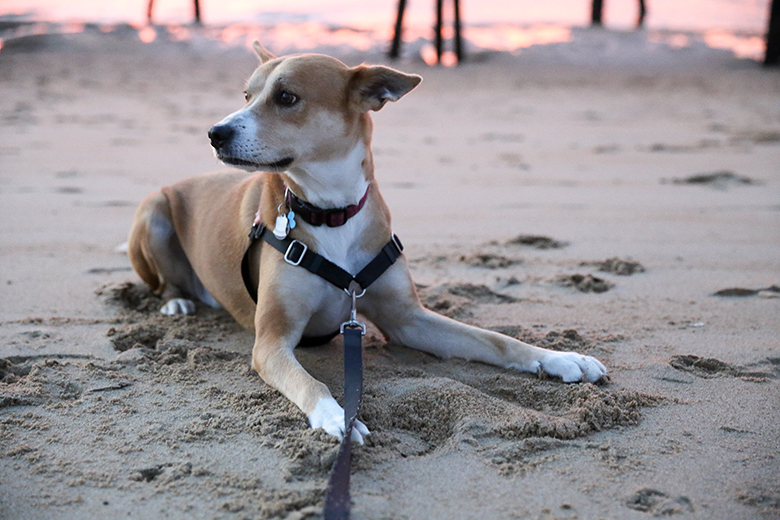 She also healed my heart after countless breakups. And she gave me strength in more ways than I ever could have imagined. I knew that adopting Sheri from the animal shelter would improve (and ultimately save) her life. But I couldn't have predicted how much she would improve mine.
I never treated Sheri like a person. And to claim her to be a domesticated dog even seemed like a stretch at times. She was wild to the core. And she was happiest when she was outside, running full speed and hunting anything that moved. She wasn't keen on snuggling. And she preferred dog treats over peanut butter. But still, she was MY PERSON. And the sadness that I feel without her is profound. There is a crushing silence in my house and a void my heart.
The next few weeks are going to be all about being kind to myself (something I usually suck at) and getting into a new routine. There are no more walks to go on. No specific times that I need to be home. And no happy face to greet me at the door. It all feels very strange.
So right now I'm focusing on doing the one thing that I know how to do: cook.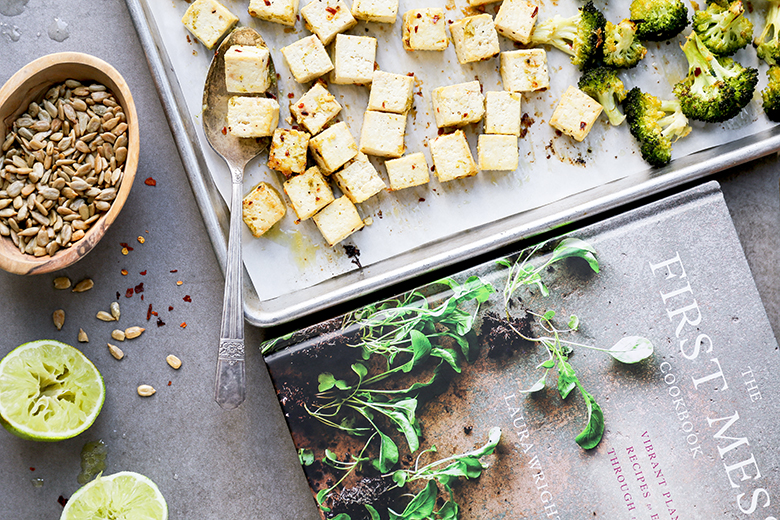 Laura Wright's cookbook, The First Mess Cookbook: Vibrant Plant-Based Recipes to Eat Well Through the Seasons, arrived at my doorstep back in February. As I opened the box and flipped through it's pages for the first time, I audibly swooned. Because the photographs are THE MOST gorgeous and the recipes are THE MOST delicious.
I'm giving away one copy of The First Mess Cookbook. Scroll down to enter!
I also enjoyed a heightened sense of giddy-ness as I held the book in my hands. I've admired Laura's blog for many years now, so it kind of felt surreal to be deemed cool enough to receive an advanced copy of her first cookbook. It was like I had achieved some level of food blogging greatness.
Laura has a magical touch in the kitchen. Her recipes are both luxurious and approachable. And she has a way of creating complex flavor profiles without the need for a long ingredient list or complicated cooking techniques. It's nourishing, wholesome food that you can make and eat everyday. The fact that everything also happens to be vegan seems like a footnote. It's not vegan food that's trying to be something else. It's just good food being good. And frankly, I can't think of anything better than that.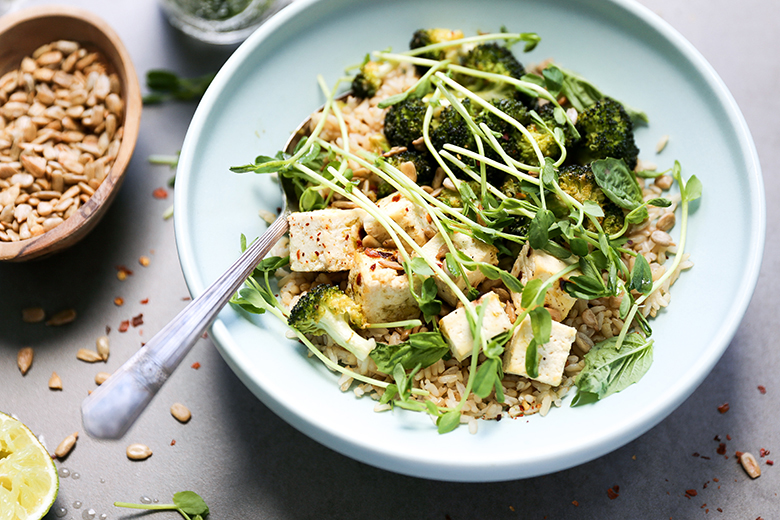 I've made several recipes from Laura's book so far (all winners!). And I even had a different one photographed and ready to share with you today. But then I made these Roasted Chili Basil Lime Tofu Bowls over the weekend and they provided me with so much comfort after the loss of my Dingo, that I knew this was the recipe that I should share instead.
I eat tofu fairly frequently when I'm out at restaurants. I always order it in my pho. And no vegetarian stir fry is complete without it. But as I prepared to make these Roasted Chili Basil Lime Tofu Bowls, I suddenly realized that I had NEVER actually cooked tofu at home. Shocking, right? But now I feel like a total tofu VIP, because with Laura's recipe I nailed it on the first time (hooray for crispy edges!). And I didn't even have to do any messy pan frying. That is a major win as far as I'm concerned.
The lime and oil mixture has three jobs in this recipe: it coats the tofu, it coats the broccoli and then you use the leftovers to drizzle over the final dish. I ended up making slightly more than the original recipe called for, because it was so tasty that I knew I wanted to make sure I had an extra dose for the end. If you're a "sauce person", I suggest you do the same.
Laura finishes this dish with sunflower sprouts, but I couldn't find any in my grocery store so I used pea shoots instead. Any small, fresh sprouts or shoots that you can get your hands on would be lovely here. Grain bowls are usually pretty forgiving in that way. Which is why I love them so.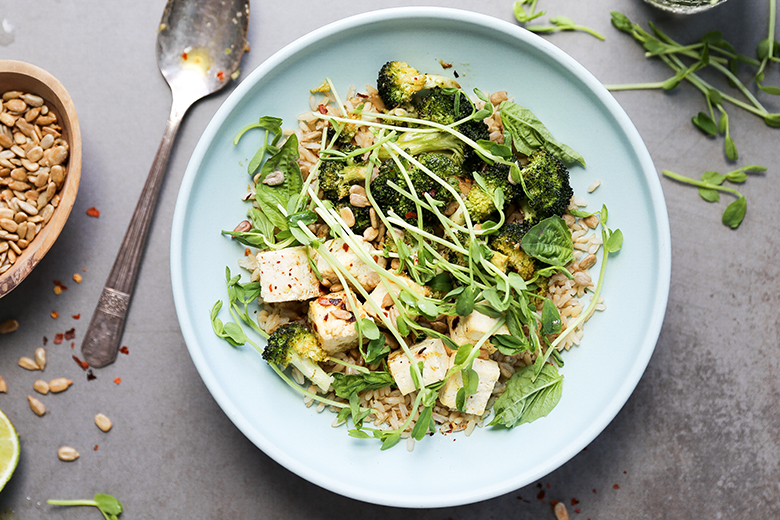 I'm thrilled to have The First Mess Cookbook in my kitchen. I feels like it could be the last cookbook I ever own and I'd be happy. So of course, I'd love for one of you to have a copy as well! So I'm giving away a copy of The First Mess Cookbook to one lucky reader. All you have to do is leave me a comment below, telling me your favorite Spring vegetable. The giveaway will be open until April 3, 2017. After which I will randomly select a winner and notify them by email. The winner will have 48 hours to respond to me with their shipping address (United States and Canadian residents only, please) or I will select an alternate winner. Good luck! Update: This giveaway had ended and a winner has been selected. Thank you to everyone who participated!
Cheers,
Liz
Reprinted with minor adaptations from The First Mess Cookbook by arrangement with Avery Books, a member of Penguin Group (USA) LLC, A Penguin Random House Company. Copyright © 2017, Laura Wright.
Roasted Chili Basil Lime Tofu Bowls
Ingredients
1 block (14 ounces) extra-firm tofu
3 tablespoons grapeseed or other neutral-flavored oil
3 tablespoons fresh squeezed lime juice
2 tsp. lime zest
1/2 tsp. garlic powder
1/2 tsp. red pepper flakes
1/8 tsp. salt
1/8 tsp. black pepper
2 cups broccoli florets
1/4 cup fresh basil, roughly chopped
2 cups cooked brown rice
1/2 cup fresh sprouts or pea shoots
1/4 cup toasted sunflower seeds
Instructions
Pre-heat your oven to 400 degrees. Line a large rimmed baking sheet with parchment paper and set it aside.
Drain the tofu of it's packing liquid and pat it dry with a kitchen towel. Cut the tofu into 1-inch cubes.
In a medium bowl, whisk together the oil, lime juice, lime zest, garlic power, red pepper flakes, salt and black pepper. Gently toss the tofu cubes in the lime and oil mixture. Then using your hands, remove the tofu cubes from the bowl and place them on your parchment-paper lined baking sheet. Try to reserve as much of the lime and oil mixture as possible. Transfer the baking sheet to your pre-heated oven and roast the tofu for 15 minutes.
Remove the baking sheet from your oven and carefully flip the tofu cubes over. Toss the broccoli florets in the reserved lime and oil mixture and then transfer them to the same baking sheet. Return the baking sheet to your oven and roast the tofu and broccoli for 20 minutes. Remove from your oven and set aside.
Whisk the basil into the remaining lime and oil mixture.
Divide the brown rice evenly between your serving bowls. Top with the roasted tofu and broccoli. Add some sprouts/pea shoots, sunflower seeds and a drizzle of the basil-flecked lime and oil mixture. Enjoy immediately.
http://www.floatingkitchen.net/roasted-chili-basil-lime-tofu-bowls/
This post was originally published here on March 6, 2015. I've since updated the photos and text to better showcase how deliciously decadent these little desserts really are!
St. Patrick's Day is just around the corner. And even though I'm not Irish, I like to celebrate this very special day in the best way that I know how. By using an ungodly amount of Irish cream, Irish whiskey and/or stout beer in my kitchen.
Go big or go home. Right?
I sure do hope that you're on board with this plan. Because today I want to talk about this supremely decadent Baileys Chocolate Mousse with Whiskey Caramel Sauce and Whipped Cream. I'm feeling all the feels over these babies. And I have an inkling that you're going to love them, too!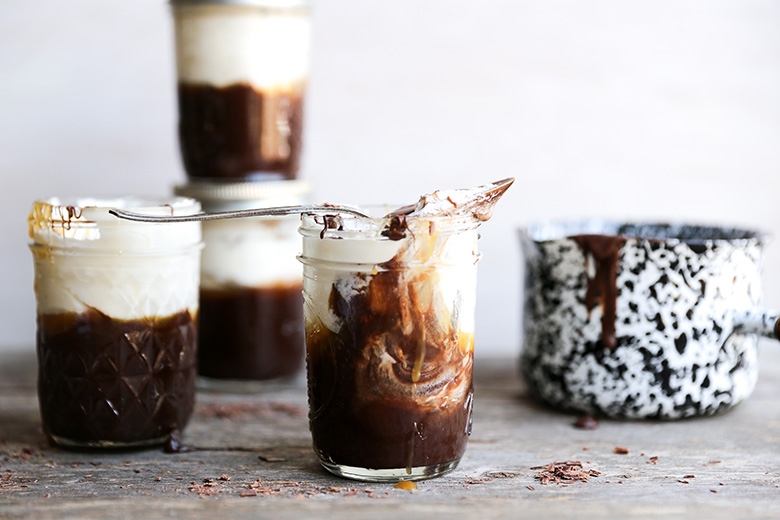 So let me just mention right away that these little triple-layer desserts are no-bake. Yes. It's true. Absolutely no ovens are required to make these babies. Which is pretty darn awesome. And kind of a safety requirement, too. Because we probably shouldn't operate our ovens while using (= drinking) all of the above alcohols. It's just common sense.
The base for these desserts is an adaptation on this blender chocolate mousse recipe from Food52 that I've been making for a couple of years now. All you have to do is toss the ingredients into your blender and whiz everything together into creamy, dreamy oblivion. Seriously, it couldn't be any easier. The addition of the Irish cream just takes it even more over the top.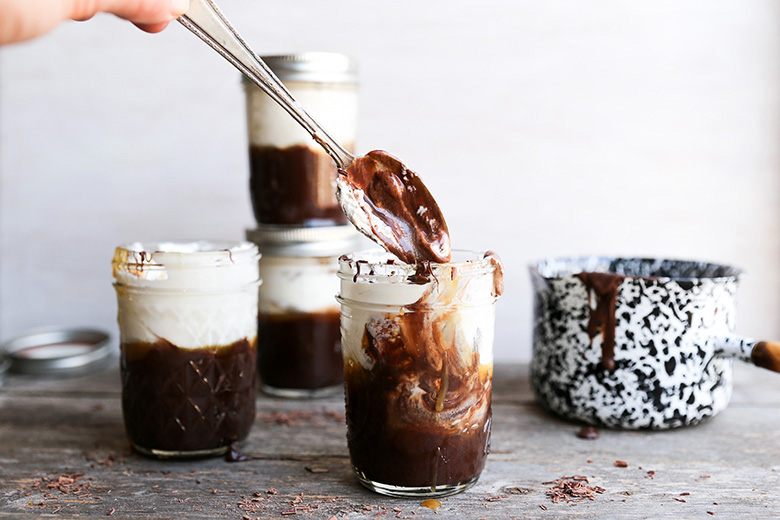 The mousse takes a couple of hours to set up. But during that time you can get to work preparing the homemade caramel sauce and whipped cream. Both of which contain a little splash of Irish whiskey. A very good idea, if I do say so myself.
So even though I'm not Irish, I certainly feel like it when I'm eating this Baileys Chocolate Mousse with Whiskey Caramel Sauce and Whipped Cream. And I think that's a pretty good compromise.
Do you want more boozy St. Patrick's Day themed desserts? Then check out my Guinness Popsicles with Irish Cream Soaked Brownies!
Cheers,
Liz
Baileys Chocolate Mousse with Whiskey Caramel Sauce and Whipped Cream
Ingredients
For the Baileys Chocolate Mousse
6 ounces dark chocolate, chopped
1 tsp. vanilla extract
1/3 cup water
3 tablespoons Baileys Irish Cream
4 tsp. sugar
2 egg whites

For the Whiskey Caramel Sauce
1/2 cup sugar
1/4 cup water
3 tablespoons room temperature butter, cubed
2 tablespoons heavy whipping cream
2 tablespoons Irish whiskey
Sea salt

For the Whiskey Whipped Cream
1/2 cup heavy whipping cream
1 tablespoon sugar (granulated or powdered will both work)
1 tablespoon Irish whiskey
Instructions
Make the mousse. Add the chopped chocolate and vanilla extract to your blender. Bring the water to a boil. Add the Baileys and sugar to the hot water, stirring until the sugar is dissolved. Pour this hot liquid mixture over the chocolate in your blender and let it sit for about 30-60 seconds, partially melting the chocolate. Cover and blend on high for 30 seconds. Add the egg whites and blend again on high for about 60 seconds. Divide the mousse into four small serving containers, making sure the containers are big enough that there is room at the top for the caramel sauce and the whipped cream. Cover and refrigerate until the mousse set up, at least 2 hours or up to overnight.
While the mousse is setting, make the caramel sauce. Spread the sugar in the bottom of a heavy-bottom saucepan. Pour the water over the sugar and swirl the pan gently to moisten the sugar evenly with the water. Heat over medium-high heat. Allow the mixture to cook without stirring. It will bubble quite vigorously. If it's not cooking evenly, you can gently swirl the pan, but avoid stirring if possible. After 5-8 minutes, the mixture will turn a deep caramel color. Once it gets to this stage, quickly but carefully remove it from the heat. Whisk in the cubed butter. Then gradually whisk in the heavy whipping cream and whiskey until smooth. Stir in the sea salt, starting with just a pinch, adding in more as necessary to suit your taste preferences. Once the sauce has cooled slightly, it can be transferred to a small container and stored in your refrigerator for 2-3 weeks.
Make the whipped cream. Place the bowl of your mixer and the whisk attachment in your freezer for about 5 minutes to chill. Remove them from the freezer, immediately add the heavy whipping cream and start whisking on high. Once the cream starts to thicken, add the sugar. Continue whisking until soft peaks form. Add the whiskey and whisk until combined. Whipped cream is best when it's used immediately, but it can be stored in the refrigerator for a couple hours if necessary.
Finish assembling the desserts. Spread about 1-2 tablespoons of the whiskey caramel sauce (if the sauce has been refrigerated, you can microwave it briefly to soften it) on top of the set mousse. If you don't use all the caramel sauce, you can refrigerate it and save it for another use. Then divide the whipped cream evenly over top of the caramel sauce layer. Serve and enjoy!
http://www.floatingkitchen.net/baileys-chocolate-mousse-with-whiskey-caramel-sauce-and-whipped-cream/