This post was originally published here on May 29, 2013. I've since updated the photos and text. 
It's my Birthday!
I'm 37 years old today. And apparently, I'm celebrating my most recent successful trip around the sun by re-visiting this recipe for Panzanella Salad with Roasted Garlic. It's a dish that first appeared here on the blog over 4 year ago. And it's one that I still love to make and enjoy all Summer long.
So…is this what 37 looks like? Is my choosing to post a sensible salad recipe on my Birthday, instead of a towering three-tiered cake covered with chocolate frosting and sprinkles, indicative of old age? Or maturity? Or senility?
Honestly, I'm not sure. But whatever the reason, I'm OK with it. Because I'm pleased to report that 37 actually feels pretty gosh darn good.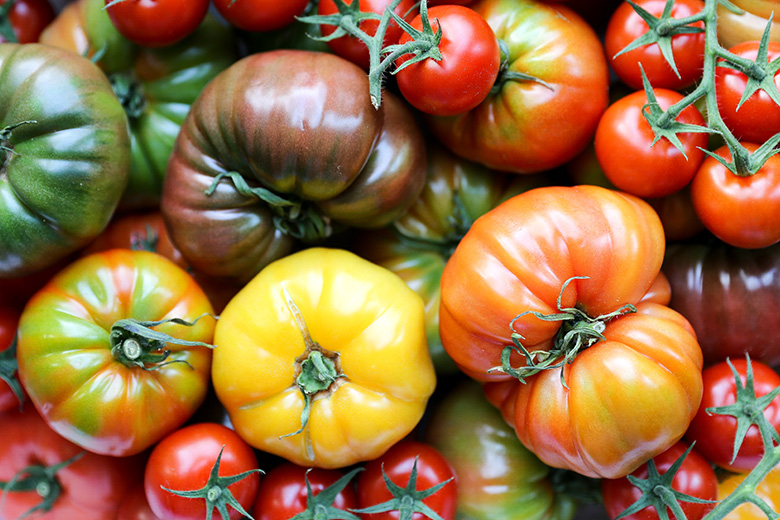 So, let's chat about this salad. It's a recreation of a dish that I enjoyed (i.e. devoured) at a tiny Italian restaurant on Orcas Island several years ago, back when I was living in the state Washington. And while I can't remember everything about that exact dish, their use of whole roasted garlic cloves in the salad is what stood out most in my mind. It's what made their panzanella salad different from those I had eaten in the past. And it's a trick that I've now adopted at home to help take my panzanella salads over the top.
The rest of this salad is composed of your typical Summer staples: juicy tomatoes (get heirlooms if you can!), fresh basil and tender mixed greens. And of course, we can't forget about the toasted bread cubes. I mean, it wouldn't really be a panzanella salad without the bread. I usually buy a loaf of whatever happens to catch my eye at the bakery that week. An Italian Pugliese or French Boule are always sensible choices. But don't be afraid to play with different types of bread. I've learned from past experiments that rye bread can really add an extra punch of flavor. Or try cornbread if you need to make a gluten-free version.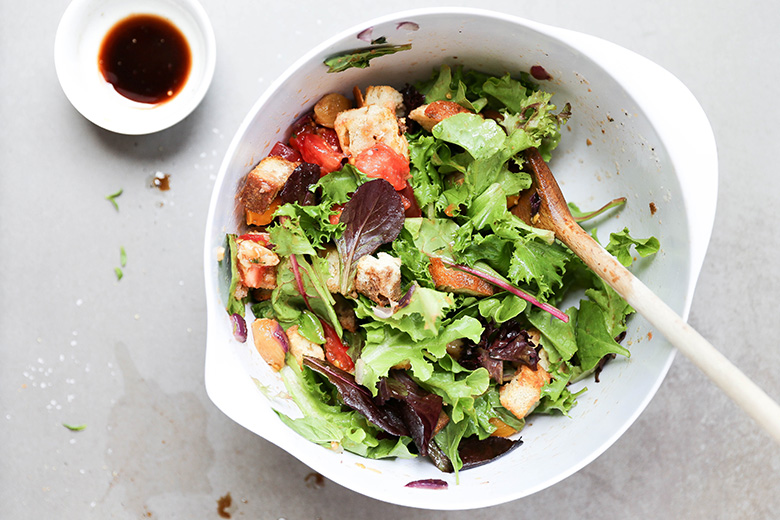 This isn't one of those salads that you can just toss together in a few minutes. It takes time to roast the garlic and prepare the other ingredients. But it's totally worth it for those nights when you have a little bit of extra wiggle room in your schedule. Because the layers of flavors here are seriously on point.
The original version of this recipe included some buffalo mozzarella, but I've since started enjoying it sans cheese. Skipping the mozzarella makes this recipe vegan (just be sure to check the ingredient label on your bread), which means I get to save my "dairy points" for things like ice cream or strawberry shortcake with fancy whipped cream. Because at 37 years of age, I'm learning that life is all about balance.
Cheers,
Liz
Panzanella Salad with Roasted Garlic
Ingredients
For the Salad
2 heads of garlic
About 1/4 cup extra-virgin olive oil, divided
4 cups cubed bread
1/2 red onion, peeled and roughly chopped
1 tsp. fresh thyme leaves
1/2 tsp. salt, divided
1/4 tsp. black pepper
4-5 medium sized tomatoes
2 cups mixed greens
1/4 cup fresh basil leaves, torn

For the Dressing
2 tablespoons extra-virgin olive oil
2 tablespoons balsamic vinegar
Reserved tomato juices
1/4 tsp. salt
1/4 tsp. black pepper
Instructions
Using a sharp knife, remove the top portion of the garlic heads, exposing the individual cloves. Place the garlic heads cut-side up on a piece of aluminum foil. Drizzle each garlic head with 1 teaspoon of olive oil and then fold over the aluminum foil to cover the tops.
Place the garlic heads in your oven, then turn it on to 300 degrees. After 30 minutes, carefully uncover the garlic heads, drizzle the tops with another teaspoon of olive oil and place them back in your oven to roast for an additional 45 minutes. Remove the garlic from the oven and let it cool slightly. Once it's cool enough to handle, carefully remove the individual garlic cloves from their skins and place them in a small bowl. Set aside.
Turn your oven up to 400 degrees. In a large bowl, toss the bread cubes and chopped red onion with the thyme leaves, 1/4 tsp. salt, the black pepper and about 2 tablespoons of the olive oil. Transfer to a large rimmed baking sheet and roast in your pre-heated oven for 15 minutes, stirring once halfway through. The bread should be crisp and lightly golden brown. Remove from the oven and set aside to cool slightly.
Meanwhile, chop the tomatoes into large chunks. Place the chopped tomatoes in a strainer placed over a bowl so you can collect the juices (you will use the juices for the dressing). Sprinkle the chopped tomatoes with 1/4 tsp. salt, tossing gently. Let the tomatoes sit for 5-10 minutes.
To make the dressing, whisk all the ingredients together, including the reserved tomato juices.
To assemble the salad, place the roasted bread cubes and red onion in a large bowl. Add all of the dressing and toss to combine. Then add the roasted garlic cloves, chopped tomatoes, mixed greens and basil leaves. Toss gently to combine. Serve immediately.
http://www.floatingkitchen.net/panzanella/
I'm super excited about today's recipe. Because PIZZA!!!
It's probably one of my most loved foods. I could eat pizza almost every night and not complain. And I'll take any version you want to throw at me. Deep dish, thin crust, wood-fired, plain or fully loaded. It's all good.
We have something here in coastal New England that we affectionately call "beach pizza". I'm sure others have this too. But it's basically the thinnest crust ever, sauce and cheese. No frills. Served on a paper plate. A bit greasy. And cheap as all get out.
I love it. I crave it. And when I moved back here from the West Coast, it was one of the first things I ate.
This Grilled Balsamic Chicken Salad Pizza with Fresh Strawberry Salsa is WAY fancier than my beloved beach pizza. But it's pizza nonetheless. And I'm obsessed with it.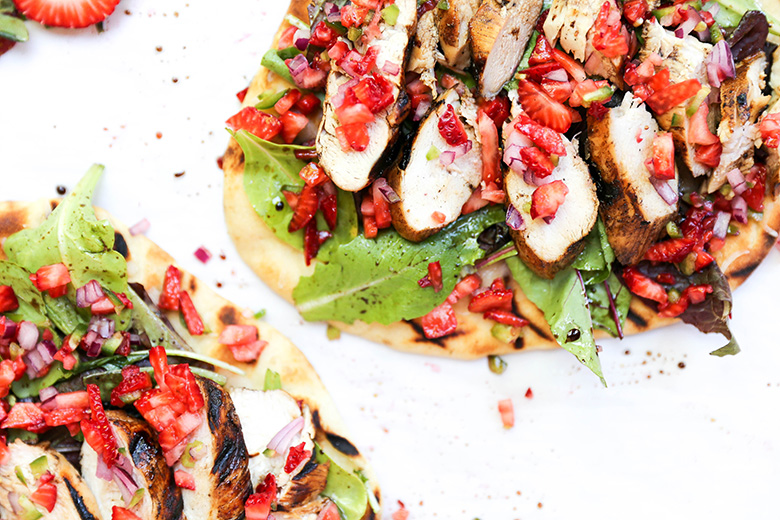 The other thing I'm obsessed with lately is store-bought naan (I typically buy the Stonefire Tandoori Naan). I got hooked on this stuff a couple months ago and there has been no turning back. Because it makes life really easy. I warm it up either in my oven or on my grill. And then I go to town with all the toppings.
Today's version has some marinated grilled chicken breast, mozzarella cheese, mixed salad greens and a sweet and spicy strawberry- jalapeño salsa. It's everything you need for a complete meal all in one neat little package. And it's ready in just about 30 minutes. I guarantee you'll be making this one all Summer long!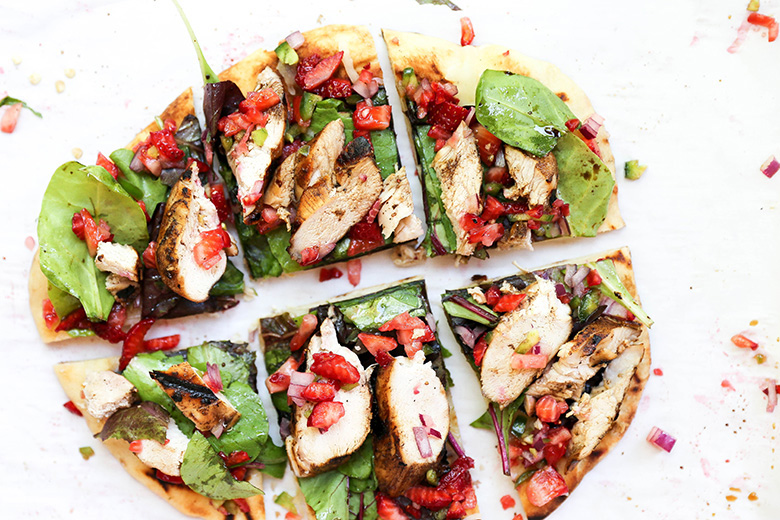 Be sure to look for the thin cut chicken breasts in your grocery store. They cook up much quicker, helping to get this meal on the table FAST!
It's also the first Thursday of the month, which makes today 30 Minute Thursday! Check out the links below to see what some of my blogging friends have cooked up for June. I hope you find some inspiration for your next dinner!
Cheers,
Liz
Grilled Balsamic Chicken Salad Pizza with Fresh Strawberry Salsa
Ingredients
For the Pizza
2 tablespoons extra-virgin olive oil
2 tablespoons balsamic vinegar
1/4 tsp. salt
1/4 tsp. black pepper
2 thin cut boneless, skinless chicken breasts
3 cups mixed salad greens
2 pieces naan
1 cup shredded mozzarella cheese

For the Salsa
1 cup diced strawberries
1/4 cup diced red onion
1/2 jalapeño pepper, diced
Instructions
In a small bowl, whisk together the olive oil, balsamic vinegar, salt and black pepper. Transfer 3 tablespoons of the dressing to a large zip-closure bag. Then add the chicken breasts to the bag and seal it closed, making sure to push out as much of the air as possible so that the dressing coats the chicken breasts on all sides. Let this sit for 10 minutes at room temperature.
Meanwhile, pre-heat your grill to medium-high.
Toss the mixed greens with the remaining dressing. Set aside.
Combine all the ingredients for the salsa in a small bowl. Set aside.
Remove the chicken breasts from the zip-closure bag and place them directly on your grill, discarding any leftover dressing. Cook the chicken breasts until they are no longer pink on the inside and the juices run clear, about 5-7 minutes per side. Remove and transfer the grilled chicken breasts to a clean plate. Tent with aluminum foil to keep warm. Allow the chicken breasts to rest for 3-5 minutes before slicing them into strips.
Meanwhile, warm the naan on your grill for 1 minute per side. When you flip the naan to the second side, sprinkle the tops with the mozzarella cheese, dividing it evenly between the two pieces of naan. Remove the naan from the grill and place each piece on clean plate with the cheese-side facing up.
Top each piece of naan with half of the dressed salad greens, half of the sliced chicken breasts and a couple spoonfuls of the fresh strawberry salsa. Slice and serve immediately.
http://www.floatingkitchen.net/grilled-balsamic-chicken-salad-pizza-with-fresh-strawberry-salsa/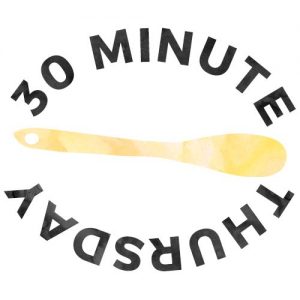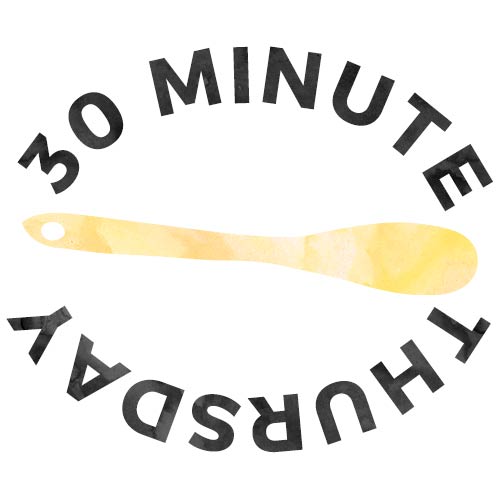 Creamy Sausage and Mushroom Rigatoni by Pumpkin 'N Spice
Chicken Caesar Pasta Salad by Life Made Sweeter
Blackened Fish Taco Bowls with Corn Salsa by Bake Eat Repeat
One Pot Creamy Vegan Caprese Pasta by She Likes Food
Vegetarian Portobello Mushroom Fajitas by Kristine's Kitchen
One Pot BBQ Chicken Pasta by The Recipe Rebel