Someone mentioned something about pumpkin last week and I nearly cried.
Really? I can't even deal.
July is the heart of Summer. It's the main event. The prime time slot, if you will. It's what I wait for all year long. And I won't have it overshadowed with thoughts of pumpkin.
If you're on board with these sentiments, keep reading. And if not, check back mid-September. I'll probably have something for you then.
In the meantime, let's enjoy copious amounts of fresh Summer produce, grillables, ice cream and a few poolside cocktails.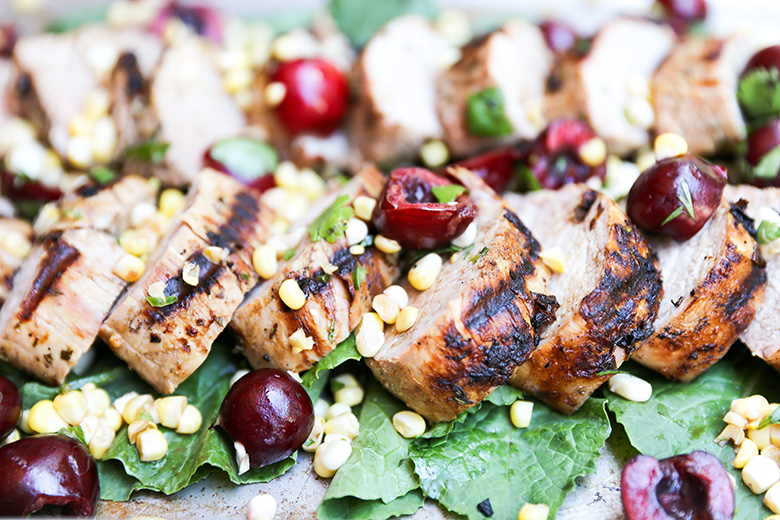 A couple of years ago I stumbled upon a grilling method for pork tenderloin called the "7-6-5 method". And it has seriously changed my life for the better. Because even as a confident and experienced cook, I've had my fair share of poorly executed meat dishes. Especially when it comes to grilling. It's all to easy to end up with a charred exterior and an undercooked interior. But the 7-6-5 method has proved it's worthiness time and time again. And it's turned pork tenderloin into one of my most favorite (and most foolproof!) cuts of meat to grill during the Summer months.
Also, nothing pairs better with so many of my beloved Summer staples than grilled pork tenderloin. It's a versatile canvas for a variety of savory-sweet salsas, chutneys and relishes. In fact, I don't think I've found any combination that doesn't work. Today I've topped mine with a mixture of raw corn, cherries, cilantro and diced jalapeño pepper. Who knows what combination I'll try out next!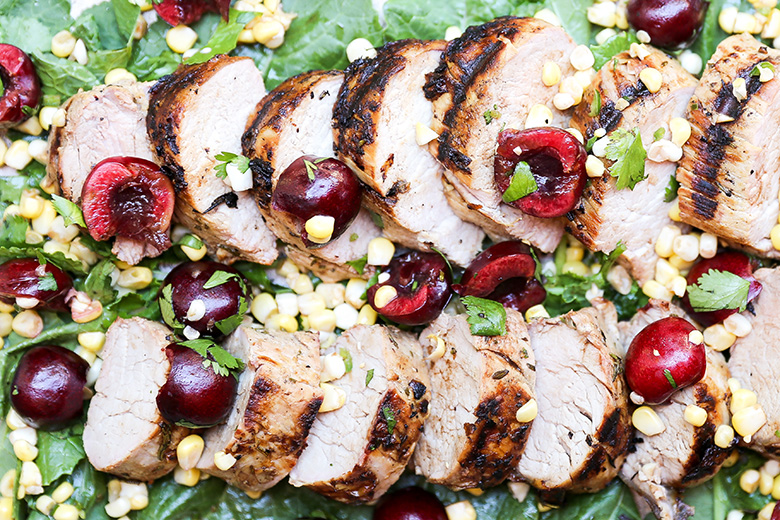 I'm sharing my recipe for this Grilled Pork Tenderloin with Spicy Corn-Cherry Salsa as part of our monthly #eatseaonal round-up organized by Becky from Vintage Mixer. Be sure to have a peak at Becky's July guide for dozens of recipe ideas that take full advantage of this month's fruits and vegetables. And check out the links below for even more seasonal recipes created by some of my talented blogging friends.
And back away from the pumpkin, people. Just back away.
Cheers,
Liz
Grilled Pork Tenderloin with Spicy Corn-Cherry Salsa
Ingredients
For the Pork Tenderloin
1/4 cup extra-virgin olive oil
1/4 cup lemon juice
3 garlic cloves, peeled and minced
1 tablespoon fresh thyme leaves, chopped
1 tablespoon fresh rosemary, chopped
1 tsp. salt
1 tsp. black pepper
2 pork tenderloins (about 2.5 lbs total), trimmed of excess fat

For the Cherry-Corn Salsa
2 ears fresh corn, husks and silks removed
1 1/4 cup cherries, stemmed, pitted and halved
1/2 – 1 jalapeño pepper, finely diced
2 tablespoon fresh cilantro leaves, chopped
2 tablespoons lemon juice
1 tablespoon balsamic vinegar
1 tsp. sugar
Instructions
Marinate the pork tenderloin. In a small bowl whisk together the olive oil and the next 6 ingredients. Place both of the pork tenderloins in a large re-sealable plastic bag, Then add the marinade to the bag. Seal the bag, pushing out as much air as possible so the marinade makes good contact with the pork. Transfer to your refrigerator and let the pork tenderloins marinate for at least 1 hour, or up to 4 hours.
Make the salsa. Using a sharp knife, cut the corn kernels from the cob. Add the corn kernels and all the other ingredients for the salsa to a medium bowl, tossing to combine. Cover and refrigerate the until you're ready to use it.
Cook the pork tenderloins. Remove the pork tenderloins from your refrigerator and let them sit at room temperature for a few minutes to take off some of the chill. Pre-heat your grill to high and lightly oil your grill racks. Remove the pork tenderloins from the bag and place them on your grill. Discard the leftover marinade. Grill for 7 minutes with the lid closed. Flip the tenderloins over and grill for 6 minutes on the second side, also with the lid closed. Then turn off your grill without opening the lid and allow the tenderloins to cook for an additional 5 minutes, or until a thermometer inserted into the thickest part of the tenderloin reads 145-150 degrees Fahrenheit.
Remove the pork tenderloins from the grill and transfer them to a plate. Tent with foil and allow the meat to rest for 5-10 minutes. Cut into 1-inch thick slices and arrange on a serving platter. Top with the salsa. Serve immediately.
Leftovers can be stored in an airtight container in your refrigerator for 1-2 days.
http://www.floatingkitchen.net/grilled-pork-tenderloin-with-spicy-corn-cherry-salsa/
July Eat Seasonal Recipes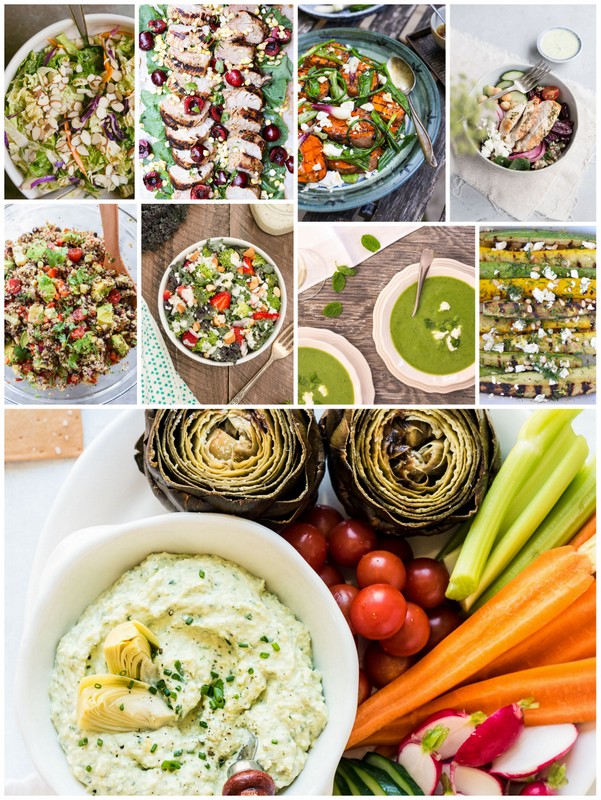 Chinese Napa Cabbage Salad by Food for My Family
Grilled Green Onion & Sweet Potato Salad with Warm Chèvre by Simple Bites
Chicken Gyro Bowls with Summer Veggies by Vintage Mixer
Latin Chipotle Quinoa Salad with Avocado by Foodie Crush
Broccoli Kale Salad with Greek Yogurt Poppyseed Dressing by Flavor the Moments
Peasy Easy Sweet Pea Mint Soup by Letty's Kitchen
Grilled Summer Squash with Feta, Lemon & Fresh Herbs by Mountain Mama Cooks
Artichoke and Avocado Dip by Kitchen Confidante
Grilled Squash, Corn and Kale Salad by Completely Delicious (not pictured)
I've said this before, but it's worth repeating again: food served in bowls > food served on plates.
I have no scientific evidence to support this phenomenon. But it seems undeniably and universally true. So I'm going to motion that we consider this a fact and move on.
Anyone want to second that motion?
Winter is the prime time to enjoy some bowl foods. From savory breakfasts to cozy soups, there is just something totally comforting about being able to wrap your hands around a complete, wholesome and nourishing meal. I made these Barbecue Pork Polenta Bowls with Pineapple and Guacamole on a recent snowy day and let me tell you, they absolutely hit the spot (and those beers that I had didn't hurt either!). It was everything savory, sweet, creamy and refreshing that I was craving at that exact moment.
Question: how do you feel about these photographs (um…not the silly one of the pineapple in the snow, but the ones of the polenta bowls)? They definitely aren't my usual style. I'm trying to play around more with darker, moodier shots. But I'm unsure. HALP!
Oh I should mention that I used this homemade barbecue sauce recipe and this guacamole recipe. But feel free to substitute those for your favorites! It's all good!
Cheers,
Liz
Barbecue Pork Polenta Bowls with Pineapple and Guacamole
Ingredients
For the Pork
1 pork tenderloin (about 1 1/4 to 1 1/2 lbs)
1 1/2 cups barbecue sauce

For the Bowls
4 cups water
1 cup polenta
1/4 cup mascarpone cheese
1 tablespoon butter
1/2 tsp. salt
About 1 1/2 cups cubed pineapple
About 1 cup guacamole
2 tablespoons fresh cilantro, roughly chopped
Lime wedges
Instructions
Make the barbecue pork. Place the pork tenderloin in your slow cooker. Cover with the barbecue sauce. Place the lid on your slow cooker and turn it on. Cook the pork tenderloin until it's extremely tender and falls apart easily, about 4 hours on the high setting or 8 hours on the low setting. Using two forks, shred the pork into smaller pieces. Set aside and keep warm.
Make the polenta. In a heavy bottom saucepan, bring the water to a boil. Slowly whisk in the polenta and turn down the heat to maintain a simmer. Cook the polenta for about 15-18 minutes, whisking frequently during this time. As the polenta cooks and thickens, you'll have to further turn down the heat to prevent it from bubbling and splattering. Once the polenta has thickened and the liquid is mostly absorbed, remove the saucepan from the heat and whisk in the mascarpone cheese, butter and salt. Set aside and keep warm.
Assemble the bowls. Divide the polenta evenly between four bowls. Top with some of the shredded pork, pineapple and guacamole. Top with cilantro and a squeeze of fresh lime juice, if desired. Serve immediately.
Leftovers cans be stored in an airtight container in your refrigerator for 2-3 days. The polenta will become firm once it's cooled. Whisk in some warm water or milk to help loosen it.
http://www.floatingkitchen.net/barbecue-pork-polenta-bowls-with-pineapple-and-guacamole/