You guys! I've been eating so much squash lately, that I'm kind of afraid I might start to turn some bizarre shade of orange.
But as my friend Sherrie said to me earlier in the week "some people pay good money to be that color". So I guess that is the upside to my dilemma.
I blame my obscene levels of squash consumption on my Mother. Because I asked her to bring me a couple delicata squash from the farm the other day, and she brought me twelve. So I've been on a steady diet of squash ever since.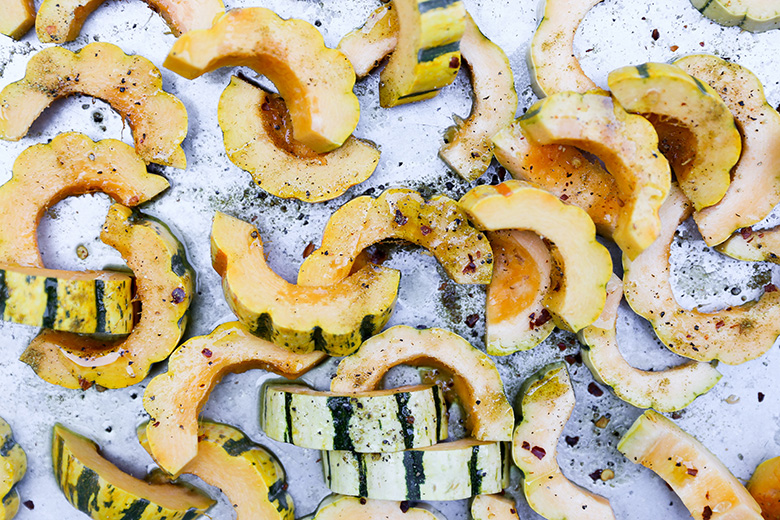 Delicata squash has been a favorite of mine for a while now. It has a mild nutty, sweet flavor. It cooks up relatively quickly (at least compared to some other squashes). And you can eat the skin once it's been cooked. Which is awesome because I'm lazy and I don't like to peel things. So there you go.
I've used roasted delicata squash "half-moons" as a sandwich topping before, and I wanted to re-visit that idea here. But this time, focusing on a purely vegetarian option. So I slathered warmed sandwich-sized pita breads with fresh guacamole. Then topped them with black beans, pumpkin seeds, roasted squash and a few sprigs of fresh cilantro. Then I proceeded to shove three in my face. They were that good.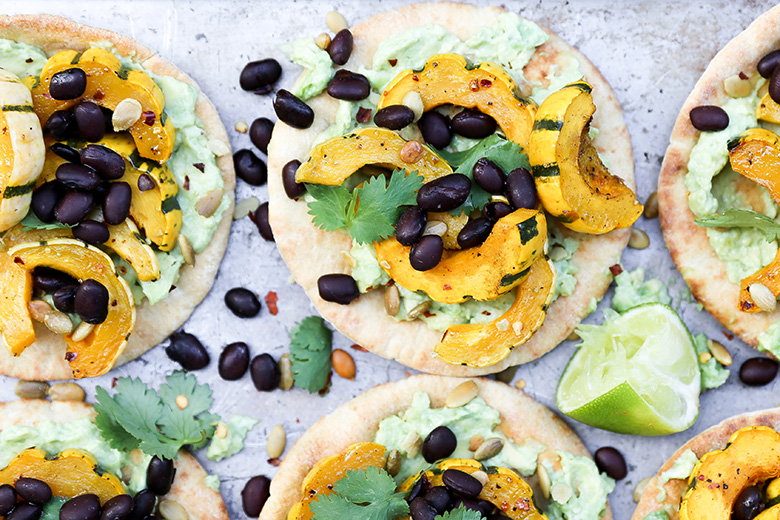 These Roasted Delicata Squash Pita Tostadas with Black Beans and Guacamole come together very quickly, which makes them a great choice for lunch or an easy weeknight dinner. Try them out and then come back here and tell me about how much you loved them!
Oh and do you want to know what my secret ingredient is for making the guacamole so incredibly yummy? It's goat cheese. I simply mix a couple tablespoons of softened goat cheese in with the avocado to give my guacamole a wonderful creamy texture. Here I used a honey-flavored goat cheese from Laura Chenel's that I'm currently obsessed with. But you could certainly used any plain or herbed goat cheese that you love.
If you wanted to make this recipe gluten free, swap out the pita bread for corn tortillas and have yourself a little Fall taco situation. Sounds delightful to me.
Cheers,
Liz
Roasted Delicata Squash Pita Tostadas with Black Beans and Guacamole
Ingredients
For the Delicata Squash
2 delicata squash
1 tablespoon extra-virgin olive oil
1/2 tsp. salt
1/2 tsp. black pepper
1/4 tsp. cumin
1/4 tsp. red pepper flakes

For the Guacamole
1 avocado
2 tablespoons goat cheese, softened at room temperature
Juice from 1/2 lime
1/4 tsp. salt

For the Tostadas
6 sandwich size pita breads (5- to 6-inches in diameter)
About 1/2 cup black beans, rinsed and drained
About 1/4 cup shelled pumpkin seeds
2 tablespoons fresh cilantro, roughly chopped
Instructions
Pre-heat your oven to 400 degrees.
Trim the ends off the delicate squash and then slice them in half lengthwise. Scoop out and discard the seeds. Then slice the squash into 1/2-inch thick "half-moon" slices. Add the squash to a large rimmed baking sheet and drizzle with the olive oil, tossing gently to coat. Then sprinkle with the salt, black pepper, cumin and red pepper flakes. Transfer the baking sheet to your pre-heated oven and roast the squash for 18-20 minutes, gently stirring once halfway through cooking time. Remove from the oven and cover to keep warm.
Meanwhile, place the pita breads on a second rimmed baking sheet and warm them in your oven for about 10 minutes, or until the edges turn slightly crispy.
To make the guacamole, slice the avocado in half and remove and discard the pit. Scoop out the flesh into a clean bowl. Add the goat cheese, lime juice and salt. Then mash everything together with a fork until well combined.
To assemble the tostadas, spread the guacamole in a thin layer over the warmed pita breads. Top with 4-5 slices of the roasted delicata squash, a heaping tablespoon of black beans, a sprinkling of pumpkin seeds and some fresh cilantro. Serve immediately.
http://www.floatingkitchen.net/roasted-delicata-squash-pita-tostadas-with-black-beans-and-guacamole/
Disclosure: I'm so happy to be able to give you all a peek into Pure Delicious by Heather Christo. Thanks for letting me share this beautiful cookbook with you!
I'm not usually someone who gets super excited about Holidays. But I'm feeling rather giddy over the upcoming Memorial Day weekend.
What are your plans? Are you grilling? Boating? Shopping? Tell me! I want to know!
Whatever you end up doing, make sure you set aside some time to whip up a batch of this Fresh Corn and Mango Salad. It's going to be the absolute star of your Memorial Day weekend festivities. And here's why: because this salad does it all. No joke.
Serve it with tortilla chips for snacking. Make it a potluck side dish. Or use it to top grilled chicken and fish. Seriously. You won't run out of ways to use this flavorful, fully loaded, savory-sweet salad!
The recipe for this Fresh Corn and Mango Salad comes from Heather Christo's new cookbook, Pure Delicious. Filled with over 150 recipes that are free from gluten, dairy, eggs, soy, peanuts, tree nuts, shellfish and cane sugar, Pure Delicious is a cookbook that anyone with food allergies or sensitivities needs to own. But beyond that, if you simply enjoy beautiful, fresh, tasty food, Pure Delicious is for you!
The inspiration behind Pure Delicious comes straight from Heather's own family. After Heather and her two daughters were diagnosed with a sobering list of food allergies and intolerances, Heather made it her mission to create recipes that would heal and nourish them all. Heather talks about their journey, both pre- and post-diagnosis, and outlines exactly what they did to overcome all the challenges they faced along the way. It's an inspiring story. One rooted deep in a Mother's love for her daughters.
I've been a huge fan of Heather's blog for many years now (umm…the women has some mad cocktail making skills!) and I'm so happy to have her beautiful cookbook on my shelf. Definitely pick up a copy for yourself. I know you'll absolutely love it!
Cheers,
Liz
Reprinted from Pure Delicious by arrangement with Pam Krauss Books, a member of Penguin Group (USA) LLC, A Penguin Random House Company. Copyright © 2016, Heather Christo LLC.
Fresh Corn and Mango Salad
Ingredients
2 ears fresh corn, husks and silks removed
2 mangos, peeled, pitted and diced
1/2 yellow bell pepper, diced
1/2 orange bell pepper, diced
1/2 red onion, diced
1 cup cherry tomatoes, halved
1 red chile, minced
1/2 cup chopped fresh cilantro
2 tablespoons rice vinegar
2 tablespoons fresh lime juice
Grated zest from 2 limes
1 tablespoon extra-virgin olive oil
Kosher salt, to taste
Instructions
Using a sharp knife, cut the corn kernels from the cobs. Place in a large bowl.
Add the remaining ingredients to the bowl and toss to combine.
Serve immediately. Or cover and refrigerate until ready to serve, up to 2 days.
http://www.floatingkitchen.net/fresh-corn-and-mango-salad/