Because it's Monday, I think we deserve a slice of homemade pie.
But, ideally, without all the actual work of having to make a pie.
So here I am today, proposing to you that we indulge our sweet tooth with these Cherry-Rhubarb Pie Bars instead. I hope you say "yes".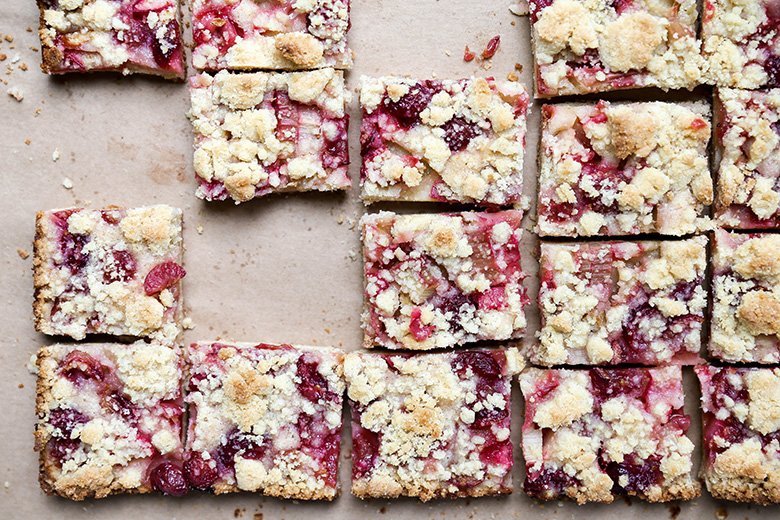 Kind of like a cross between a fruit pie and a shortbread tart, these Cherry-Rhubarb Pie Bars might just be my new favorite Summer dessert (at least until I find my next favorite dessert). Sweet. But not overly so. With a good mix of textures to keep each bite interesting. AND they turned out to be the most perfect shade of pink (#millenialpink). Obviously, I'm feeling all the feels over these babies.
I also can't stress enough how easy these are to prepare. No rolling, chilling or crimping required. And the fact that this recipe feeds a crowd (you get a whole 9 X 13-inch pan), makes these treats ideal for backyard gatherings and poolside parties. Or toss a couple in your picnic basket and get your butt to the beach. You'll be glad you did!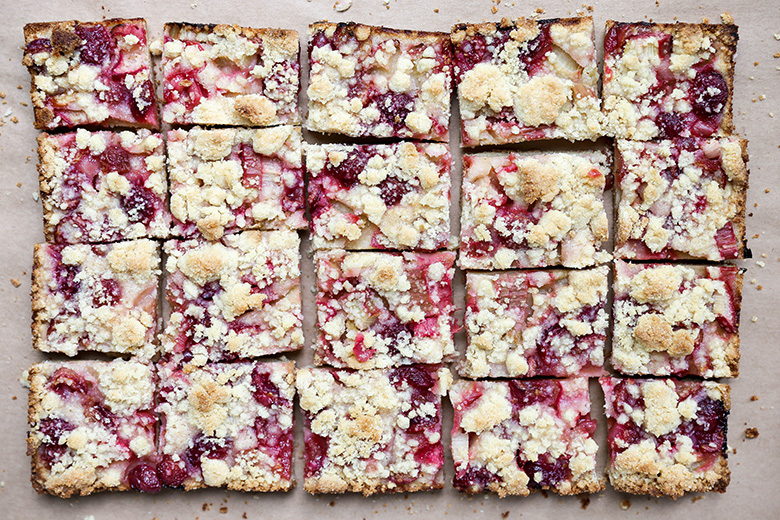 As it turns out, rhubarb and cherries are a pretty good pairing. I've done the classic rhubarb + strawberries many times. And last year I played with rhubarb + raspberries. But this was my first time adding cherries to the equation. I'm not sure why I never thought to do that before. It seems kind of obvious to me now. But there is no sense in lamenting about the past. Instead, I'm excited to move forward and explore this combination in other recipes. And with cherry season on the horizon, now is the perfect time to do just that.
I also tried using pistachio meal for the first time (which I just made myself by finely grinding shelled pistachios in my food processor) instead of almond or hazelnut meal, which I typically reach for when baking. The pistachio meal compliments the rhubarb and cherries nicely. And I encourage you to give it a try. But if you're not feeling it, you can substitute it with something else. These pie bars are very forgiving.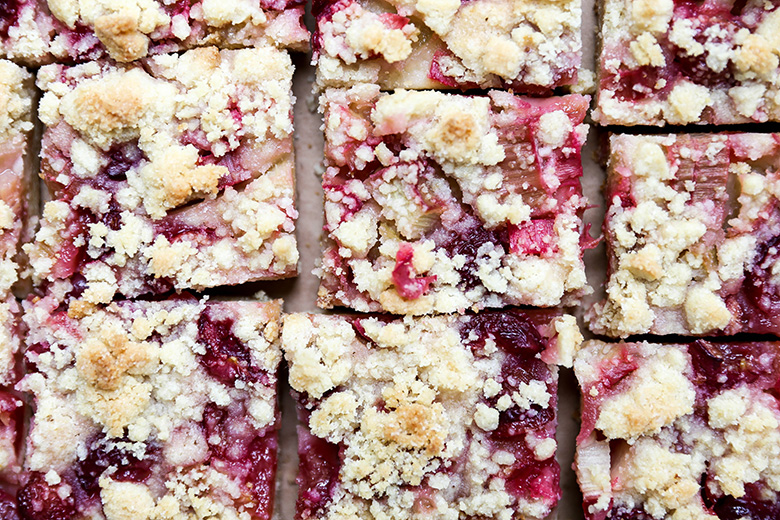 I'm sharing these Cherry-Rhubarb Pie Bars as part of our monthly Eat Seasonal round-up organized by Becky from Vintage Mixer. At the start of each month, myself and some of my blogging friends create new recipes (links below!) highlighting all the wonderful fruits and vegetables that are currently in season. Additionally, Becky posts an extensive list of recipe suggestions over on her monthly seasonal eating guide. I hope you check them all out and find some inspiration for the month of June. As you can see from the image below, we were all in a bit of a "pink" mood!
Cheers,
Liz
Recipe adapted from my Blueberry-Thyme Pie Bars
Ingredients
For the Crust and Topping
2 1/2 cups all-purpose flour
1/2 cup finely ground pistachios
1 cup sugar
1 tsp. baking powder
1/4 tsp. salt
Zest from 1 lemon
1 cup (16 tablespoons) unsalted butter, cubed and chilled
1 egg
2 tsp. vanilla extract

For the Filling
2 cups sliced rhubarb
2 cups cherry halves (stemmed and pitted)
1 tablespoon corn starch
Juice from 1/2 lemon
Instructions
Pre-heat your oven to 375 degrees. Spray a 9 X 13-inch baking pan with non-stick cooking spray. Set aside.
In your food processor with the blade attachment, pulse together the flours, sugar, baking powder, salt and lemon zest. Add the butter, egg and vanilla extract. Pulse until the dough resembles a course meal. Set aside.
In a large bowl, toss together the rhubarb, cherries, corn starch and lemon juice. Set aside.
Transfer about two-thirds of the dough into your prepared baking pan. Using your hands, press it down firmly into an even layer. Then spread the fruit mixture in a single layer over top. Sprinkle the remaining dough over the fruit.
Transfer the baking pan to your pre-heated oven and bake for 40-45 minutes, or until the top is lightly browned. Remove from the oven and set aside to cool completely before slicing and serving.
Leftovers can be stored in an airtight container in your refrigerator for 2-3 days.
http://www.floatingkitchen.net/cherry-rhubarb-pie-bars/
June Eat Seasonal Recipes
Rhubarb & Orange Frangipane Galette by Simple Bites
Roasted Strawberry Yogurt Pops by Completely Delicious
Greek Three Bean Salad by Flavor the Moments
Chunky Citrus Guacamole by Foodie Crush
Strawberry Lime Chopped Salad by Vintage Mixer
Minty Sweet Pea Hummus by She Likes Food
Simply Strawberry Pie by Joy Food Sunshine
French Green Lentil and Quinoa Salad by Letty's Kitchen
Cherry Rolls by Kitchen Confidante
Pimento Cheese Spread w/ Pickled Green Garlic, Radishes and Rhubarb by Food for My Family
And POOF! Just like that, we have Summer.
One week ago, I was using my fireplace to keep warm at night. And then the next thing I knew, it was a balmy 90 degrees.
I guess the only thing that's ever been consistent about the weather here in New England, is that it's wildly inconsistent.
I think this current heat wave is just a flash in the pan, and we'll be returning to somewhat cooler temperatures this week. But oh my gosh, it's been SO glorious to revel in all my favorite Summer activities. I've been walking the beach and reading by the pool almost every single day. I've already managed to eat my weight in ice cream. And I've enjoyed several outdoor "patio beers" at sunset.
I finally feel re-charged after our long, cold Winter (and our nearly non-existent Spring). It's like all is right with the world once again.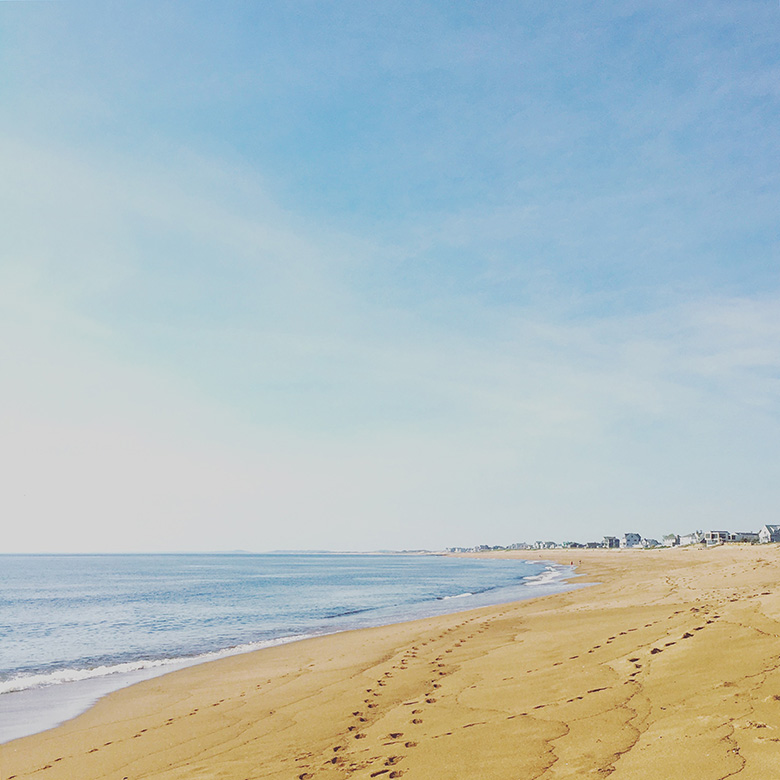 Needless to say, all this warm weather has got me dreaming wildly about Summer foods. Which is how I ended up creating this Tropical Summer Caprese Salad. It's amazing what you can invent when you refuse to turn your oven on for fear of sweating through your clothing.
On a hot day, there is nothing I crave more than a caprese salad. I could easily eat one every single day between the months of June and August. Sometimes, I like to bulk up my caprese salads with additional greens and baked almond-crusted chicken. And sometimes, I like to serve my caprese salad on skewers for easy eating at parties.
But today, we're going super tropical. I'm mixing fresh mozzarella and basil with kiwi, pineapple, cilantro, hazelnuts (hooray for crunch!) and a little bit of heat from a dash of cayenne pepper. It's a salad that I can just about guarantee you'll be making (and eating!) all Summer long.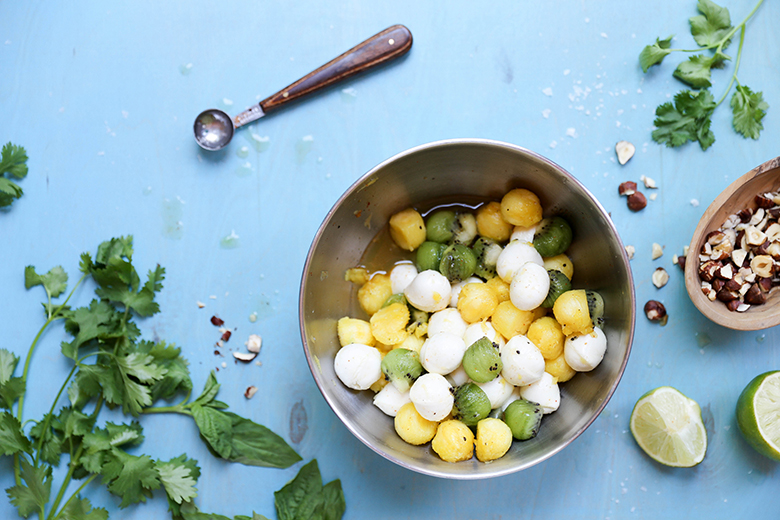 Inspired by the shape of the fresh ciliegine mozzarella, I decided to use my melon baller for the kiwi and pineapple. This, of course, isn't necessary. You could cut the fruit into small cubes. But I had fun doing it this way (and I think it looks cute!). And it was nice to dust off my poor melon baller, which is a utensil that only gets used two or three times a year at most.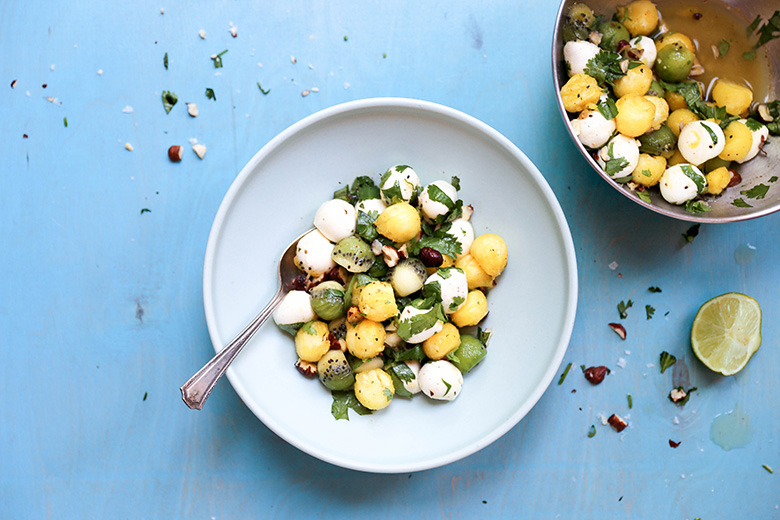 You don't need a lot of dressing for this Tropical Summer Caprese Salad, because the fruit will release a lot of juice once it's been cut. I might have added even a bit more cayenne pepper than the recipe calls for, because I like spice. But feel free to go as light or heavy as you dare with the cayenne. The heat provides a wonderful contrast to the cool, sweet fruit. So whatever you do, don't skip it entirely.
This salad is best when it's enjoyed immediately after making it. And it should be eaten cold. So make sure your pineapple and kiwi are chilled to start. Then just toss and enjoy!
Cheers,
Liz
Tropical Summer Caprese Salad
Ingredients
8 ounces fresh ciliegine mozzarella balls, drained
2 cups chopped (or balled) pineapple
4 kiwi, peeled and chopped (or balled)
1 tablespoon extra-virgin olive oil
1/2 tablespoon lime juice
1 tsp. agave nectar
1/2 tsp. salt
1/4 tsp. black pepper
1/8 tsp. cayenne pepper
1/2 cup hazelnuts, roughly chopped
1/4 cup fresh cilantro, roughly chopped
1/4 cup fresh basil, roughly chopped
Instructions
Add the mozzarella, pineapple and kiwi to a large bowl.
In a separate small bowl, stir together the olive oil, lime juice, agave, salt, black pepper and cayenne pepper. Pour this dressing over the mozzarella and fruit, tossing gently to combine.
Add the hazelnuts, cilantro and basil. Toss to combine. Serve immediately.
http://www.floatingkitchen.net/tropical-summer-caprese-salad/