Disclosure: Thank you Stonewall Kitchen for sponsoring this post! I am grateful for opportunities like these, which allow me to continue to bring you great content. And I'm so honored to be able to work with companies and brands that I love and trust. As always, all opinions are my own.
On Sunday, I helped a friend harvest the last apples dangling from the trees in his orchard (read: I mostly lounged in the sun and drank rye whiskey). On Tuesday, I raked up what remained of the fallen leaves in my yard. And last night, I lit the inaugural fire in the fireplace of my new home. These are all seemingly small events. But collectively they signal that Fall is beginning to slip through my fingers.
As the air temperature continues to drop and the available daylight hours fade away, my cravings for comfort foods rich with bold flavors goes into overdrive. But what I don't crave are endless hours spent standing in front of the stove. Or a mile high pile of dishes left in my sink at the end of the day. Nope. I'll definitely pass on doing the dishes.
If you have similar notions, than this recipe for Apple Cranberry Chutney, Spinach and Mozzarella Stuffed Chicken Breasts is for you. It's a dish that is impressive enough for entertaining guests, but easy enough for casual weeknight dinners at home. The whole recipe can be made in a single pan with only a handful of ingredients. And the flavors have a familiar, cozy quality that will remind you of the Holidays. I think it's the epitome of the phrase "rustic elegance".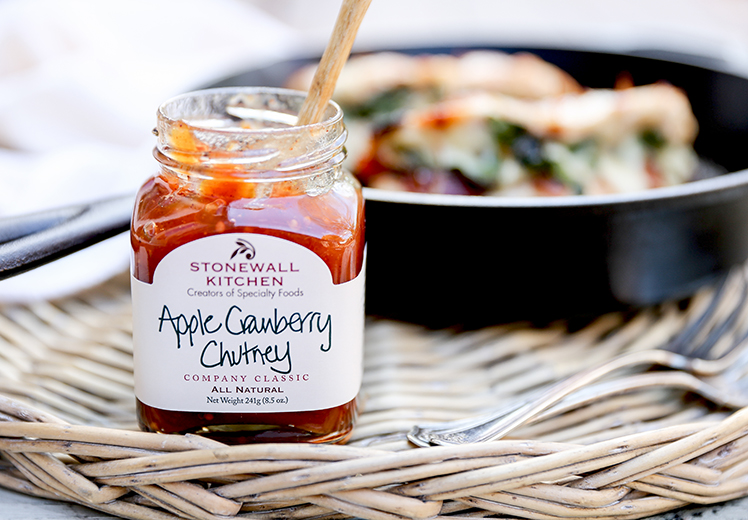 The star of this dish is definitely the Apple Cranberry Chutney. Both sweet and tart, this savory chutney from Stonewall Kitchen packs a real punch. It's the perfect condiment to pair with roast chicken, turkey or pork. It's a great addition to a cheese platter. And it also makes an awesome sandwich spread as well. You won't run out of ways to use this versatile chutney! Which is why I suggest keeping a couple bottles on hand at all times. Especially with Holiday entertaining season fast approaching.
Stonewall Kitchen is a New England based company that I'm extremely proud to be able to work with. I've been using their high quality, specialty food products in my kitchen for years (some of my other favorites are here, here and here). And I often give their jams out as gifts around the Holidays (hint: hostess gifts ideas!).
I'm lucky to have one of Stonewall Kitchen's retail stores within walking distance of my house. I frequent it often and I always make sure to arrive hungry because FREE SAMPLES! Seriously. Everything they make is so delectable. I have a hard time stopping myself.
You can check out the entire Stonewall Kitchen product line on their website. Make sure you bookmark it. You won't be sorry.
Cheers,
Liz
Apple Cranberry Chutney, Spinach and Mozzarella Stuffed Chicken Breasts
Ingredients
2 large boneless, skinless chicken breasts
Salt
Black pepper
2-3 tablespoons Stonewall Kitchen Apple Cranberry Chutney
About 1/2 cup fresh spinach, roughly torn
About 1/4 cup shredded mozzarella cheese
1 tablespoon extra-virgin olive oil
Instructions
Pre-heat your oven to 375 degrees. Get out a medium cast iron skillet and set it aside.
With a large sharp knife, carefully cut each chicken breast horizontally to create a pocket, being careful not to slice all the way through the breasts. Open the chicken breasts and season the insides with salt and pepper.
Spread about 1 – 1 1/2 tablespoons of the chutney onto one side of each of the open chicken breasts. Then top with the spinach and mozzarella cheese, dividing them evenly between the two breasts. Fold the top half of the chicken breasts oven to close the pockets. Thread a couple toothpicks through the chicken breasts near the openings to help secure them. If some of the filling has spilled out, just tuck it back in. Season the outside of the chicken breasts with salt and pepper.
Heat your cast iron skillet over medium-high heat and warm the olive oil. Add the chicken breasts and cook for 4 minutes, or until well browned on one side. Then using a pair of tongs, carefully flip the chicken breasts and cook for an additional 4 minutes on the second side. Transfer the cast iron skillet to your pre-heated oven and bake the chicken breasts for about 20 minutes, or until the internal temperature reaches 165 degrees Fahrenheit, flipping the breasts once during this time. Remove from the oven.
Transfer the chicken breasts to serving plates. Carefully remove and discard the toothpicks. Serve immediately.
Notes
1. Make sure to buy large chicken breast and not ones that have already been thinly sliced. Some large chicken breasts will still have the tenderloin attached. Cut off and remove the tenderloin piece (you can cook it/freeze it for later) before stuffing the chicken breasts.
http://www.floatingkitchen.net/apple-cranberry-chutney-spinach-and-mozzarella-stuffed-chicken-breasts/
This is the kind of salad that I want to eat everyday for the rest of my life.
With a plate of cookies on the side. #balance.
But seriously, I've been eating this Roasted Vegetable Power Bowl almost everyday for lunch for the past couple of weeks. It falls into the category of salads that don't really feel like salads. It's substantial. And hearty. And won't leave you feeling deprived. The only reason you'll be left wanting more is because it's so gosh darn delicious.
The recipe below is written for two servings. But what I actually do is roast up a whole mess of vegetables at the beginning of the week while I'm cooking up a big batch of quinoa. Then I can assemble one of these Power Bowls at a moments notice. Because when hunger strikes, you want to be at the ready.
Sometimes I switch out the sweet potato for butternut squash, or the broccoli for cauliflower. It just depends on what kind of mood I'm in and what I have on hand. Chickpeas are also great, as well as some chopped avocado for added creaminess. Whatever combination you choose, I guarantee you'll feel like a million bucks after eating one of these!
Cheers,
Liz
Roasted Vegetable Power Bowl
Ingredients
For the Salad
1 medium sweet potato, peeled and cut into 1-inch cubes
2 small beets, trimmed, peeled and cut into 1-inch cubes
2 cups broccoli florets
Extra-virgin olive oil
Salt
Black pepper
2 cups mixed greens
1 cup cooked quinoa
1/4 cup almonds
1 tablespoon fresh cilantro

For the Dressing
1 tablespoon fresh squeezed lemon juice
1 tablespoon tahini paste
2 tablespoons extra-virgin olive oil
1 tsp. maple syrup
Instructions
Pre-heat your oven to 400 degrees.
In a medium bowl, toss the cubed sweet potato with 1-2 tsp. of olive oil and a pinch of salt and pepper. Transfer to one side of a large rimmed baking sheet. In the same bowl, now season the cubed beets with olive oil, salt and pepper. Add these to the same rimmed baking sheet, but keep them separate from the sweet potatoes so the color of the beets doesn't bleed into the sweet potatoes. Roast in your oven for 10 minutes.
Add the broccoli florets to the same bowl and season with olive oil, salt and pepper in the same manner as you did for the sweet potatoes and beets. After 10 minutes, add the broccoli florets to the baking sheet with the sweet potatoes and beets, keeping them spaced away from the beets, and roast everything for an additional 10 minutes. Remove the vegetables from the oven and set aside.
While the vegetables are roasting, make the dressing. In a small bowl stir together all of the ingredients until smooth.
Assemble the salad. Divide the lettuce evenly between two bowls. Then top with the roasted vegetables, quinoa, almonds and cilantro, dividing all the ingredients evenly between the two bowls. Drizzle with the dressing. Serve immediately.
http://www.floatingkitchen.net/roasted-vegetable-power-bowl/