Whether you're a baker, math nerd or just a straight up hungry person, today is a day worthy of celebration. It's Pi Day. The annual observance of the mathematical constant π (pi), who's first three digits are 3.14 ( = March 14).
So of course, the best way to celebrate Pi Day is by making, eating and sharing actual pies. Right?
Did you know that I basically spent all of my 20's in either a research laboratory or a classroom? Yup, it's true. I was busy getting my PhD in Biochemistry, and then later completing a post-doctoral fellowship in Cancer Biology. And I was blinding men with my scientific prowess left and right (not really, but a girl can dream). Full on goggles and lab coat and all that good stuff. So as a bona fide science dork turned food blogger, Pi Day hits home for me on so many levels. Thus, it's a day that I couldn't let pass without some recognition.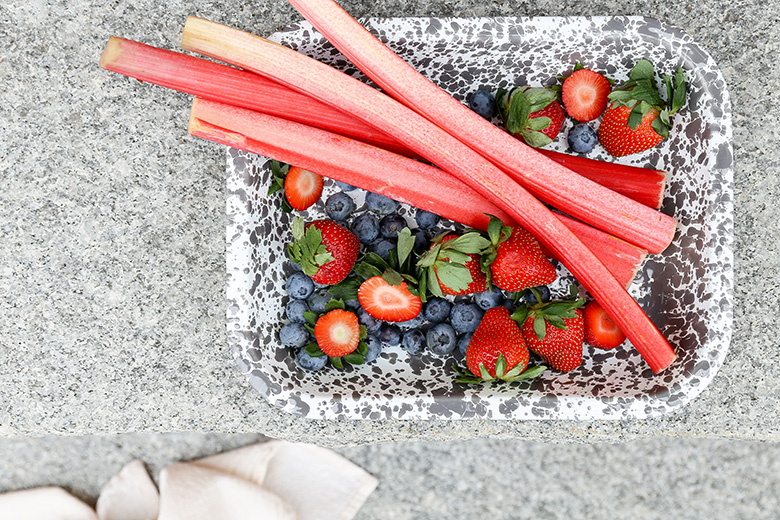 As much as I love desserts, I must admit that pie is never really my go-to. I'm much more of a cake and ice cream kind of gal. So for my Pi Day inspiration, I asked my Mom for some help. She sent me a rhubarb and berry pie recipe that she had torn out from the pages of a 2001 issue of Better Homes and Gardens. It's a recipe that she's made successfully dozens of times over the years. And with some early season rhubarb in hand, I decided it would be a good one to adapt for today's post.
The original recipe is for a full pie. But I flipped the script and turn it into individual hand pies instead. Because who doesn't love cute little hand pies?!?!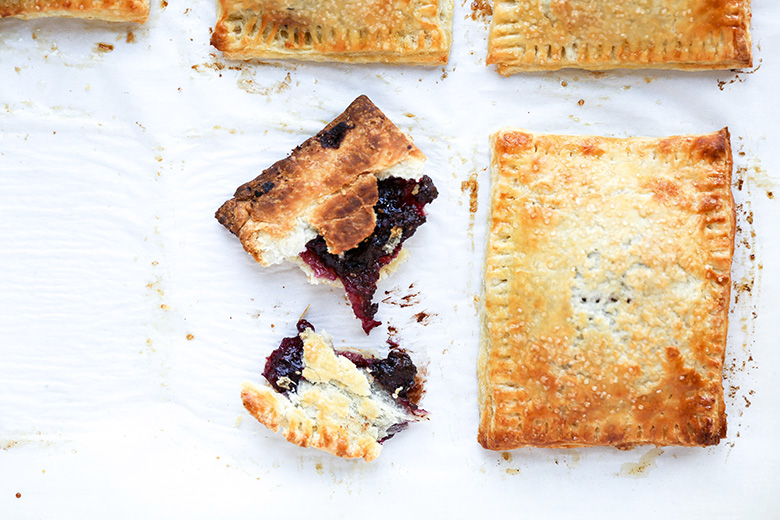 Because these hand pies don't take as long to bake as a full sized pie, I pre-cooked the filling ingredients on the stove top for a few minutes. This also helps to get rid of some of the excess juices from the fruits, so the hand pies come out with a wonderfully flakey crust that isn't mushy at all. The filling is almost jam-like, and these Rhubarb-Berry Hand Pies with Chocolate kind of remind me of a Pop-Tart, which were a childhood favorite of mine.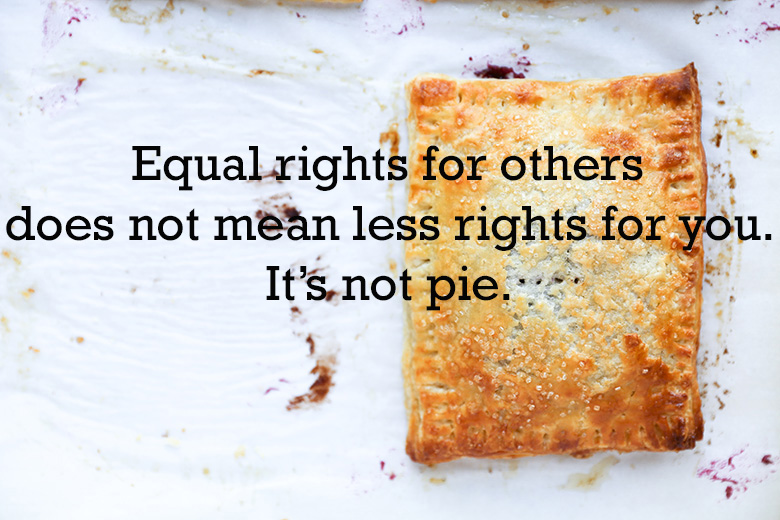 The buttermilk pie crust recipe is from Joy the Baker. It's hands down my favorite pie crust recipe ever. I can't imagine ever needing another one. If you've ever made pie dough before, I'm sure you're familiar with the phrase "pea-sized pieces of butter". This is the size of butter that most recipes will tell you to aim for as you work the butter into the dry ingredients. I actually find this to be misleading. You want the butter to be pea-sized by the END of making/shaping the dough. Not during the middle of the process. Because as you work the dough, the butter pieces will just keep getting smaller and smaller. So I aim for kidney bean-sized pieces of butter, which by the end will be reduced in size closer to that of a pea. Does that make sense?
To make sure all my hand pies were the same size, I actually created a template with a piece of paper and used that as a guide to cut out the rectangles of dough. You certainly don't have to be that fussy, but I wouldn't be my overly obsessive scientific self if I didn't go the extra mile to make them all evenly sized. Using a 4 X 5-inch template, I was able to cut out 14 rectangles, giving me a total of seven hand pies. If you need more pies, just make and use a smaller template.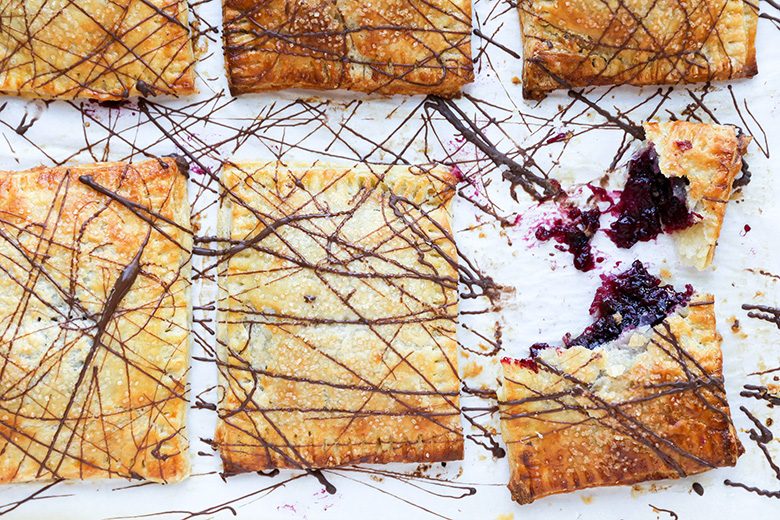 The final ingredient worth mentioning here is the chocolate. I added chopped dark chocolate to the filling, which melts into deliciously decadent little pockets of goodness during baking. And for the finishing touch, I channeled Jackson Pollock and drizzled some melted chocolate over top. Personally, I LOVE chocolate paired with fruit. But if you're a purest either way, you can leave it out.
Happy Pi Day! I hope you all get the chance to celebrate!
Cheers,
Liz
Rhubarb-Berry Hand Pies with Chocolate
Ingredients
For the Pie Crust
2 1/2 cups all-purpose flour
2 tablespoons granulated sugar
3/4 tsp. salt
1 cup (16 tablespoons) unsalted butter, cubed and chilled
About 1 cup buttermilk
1 egg
1 tablespoon water
2 tablespoons turbinado sugar
Melted dark chocolate for drizzling, if desired

For the Filling
1 1/2 cups sliced fresh rhubarb
1 1/2 cups trimmed and sliced fresh strawberries
1 cup fresh blueberries
1/2 cup granulated sugar
1 tablespoon lemon juice
1 1/2 tablespoons quick-cooking tapioca
1 tsp. vanilla extract
1/2 cup chopped dark chocolate
Instructions
To make the pie crust, combine the flour, granulated sugar and salt in a large bowl. Add the cubed butter and toss to coat the butter in the dry ingredients. Then, using your hands, work the butter into the dry ingredients by squeezing it between your fingers. Try to work quickly so the butter doesn't get too warm. Once the butter pieces are about kidney bean-sized, make a well in the center of the flour mixture. Add about 1/2 cup of the buttermilk and use a fork to incorporate the flour mixture into the buttermilk. Add more buttermilk as necessary to make sure all the flour is moistened. The dough will be a bit shaggy at this point. Dump the dough out onto a floured work surface and using your hands, knead and shape the dough together into a ball. Divide the dough ball in half and shape each half into a disk. Wrap the disks with plastic wrap and chill them in your refrigerator for 1 hour.
Meanwhile, make the filling. Add the rhubarb, strawberries, blueberries, sugar and lemon juice to a medium saucepan. Bring the filling to a simmer over medium heat and cook, stirring frequently, for 10 minutes. Remove the saucepan from the heat and allow the filling to cool for 10 minutes. Then stir in the tapioca and vanilla extract. Allow to filling to cool completely before stirring in the chopped chocolate.
Pre-heat your oven to 425 degrees. Line two baking sheets with parchment paper and set aside.
In a small bowl, whisk together the egg and 1 tablespoon of water. Set aside.
Remove the dough disks from your refrigerator and unwrap them. Working with one dough disk at a time, roll it out onto a well floured work surface until it's about 1/8-inch thick. As you're rolling the dough, occasionally rotate it a quarter of a turn to ensure it's not sticking to your work surface. Once the dough is rolled out, cut out rectangles 4 X 5-inches in size. Place the dough rectangles on one of your parchment paper lined baking sheets. Re-shape and re-roll the scrapes, continuing to cut out as many rectangles as possible. Repeat the same process with the second dough disk.
Add 2 rounded tablespoons of filling to the center of half of the dough rectangles. Brush the edges of the rectangles with some of the egg wash. Then top with the other half of the dough rectangles. Press the edges together gently with your fingers. Then use the tines of a fork to press more firmly and seal the edges. Transfer the baking sheets to your refrigerator to chill the pies for 10-15 minutes.
Remove the baking sheets from your refrigerator. Use the tines of a fork to poke a vent in the top of each pie. Then brush the tops of the pies with some of the remaining egg wash. Sprinkle with a little turbinado sugar.
Transfer the baking sheets to your pre-heated oven and bake for 25-30 minutes, or until golden brown. Remove from the oven and allow the pies to cool slightly before serving. If desired, you can drizzle melted chocolate on top before serving.
http://www.floatingkitchen.net/rhubarb-berry-hand-pies-with-chocolate/
The original title for this post was "Sheet Pan Salmon Dinner for Two". But as you can clearly see, this isn't a recipe for salmon.
Why? Well, because sometimes things just don't work out the way you had planned them. But I'm not complaining. Because that failed attempt at a salmon recipe is what eventually lead me down the path to creating this Grilled Romaine Salad with Roasted Chickpeas and Tomatoes. Which, as it turns out, is one of the best things to come off my grill this Summer.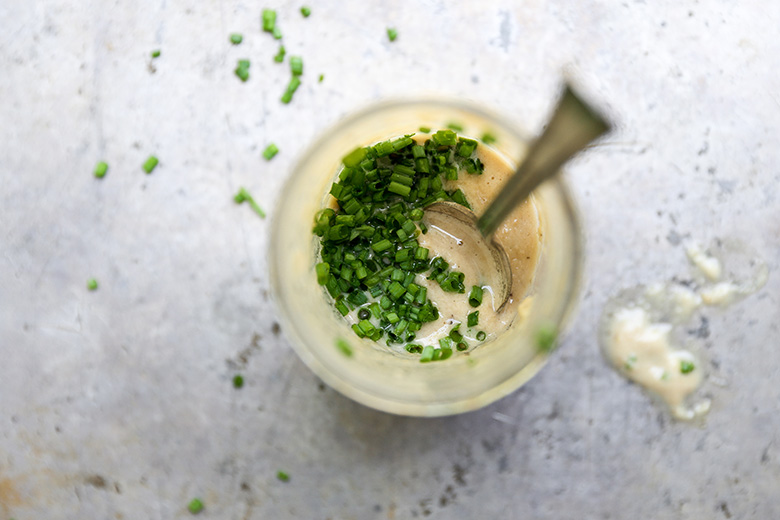 One of my favorite recipes here on Floating Kitchen is a grilled romaine salad recipe from 2015. But it seems to have suffered a fate that many of my recipes do – I forgot about it. And I basically went almost the entire grilling season without making it. Massive fail.
However, Amanda's recent tutorial reminded me of all the deliciousness that grilled romaine has to offer. And that was just the push that I needed to quickly get myself back on the wagon. I've made my original recipe a couple of times since then. And I've been experimenting with new and different versions as well, like the one I'm bringing you today.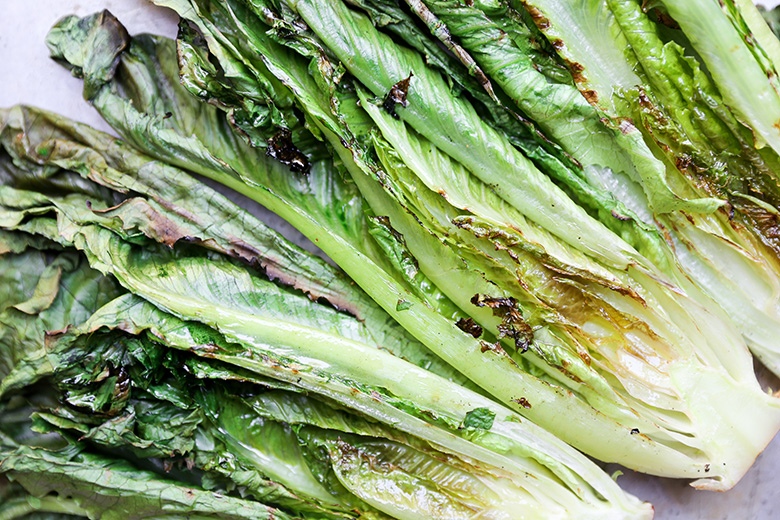 This recipe is pretty straightforward. Once you get your seasoned chickpeas and tomatoes in the oven, you'll spend a few minutes making a homemade vegan tahini-chive dressing and preparing the romaine lettuce. To cook the romaine on the grill, you only need a couple minutes of time. And I find it tastes best when it's served almost immediately after being removed from the grill. So save this step until the very end.
Two romaine halves plus the toppings makes for a hearty enough salad to pass as a main meal. But you can easily serve this as a side dish as well, portioning out a single half per person. This recipe would totally make a great addition to your Labor Day Weekend festivities!
And um…holy crap Labor Day Weekend is THIS WEEKEND! How is that possible?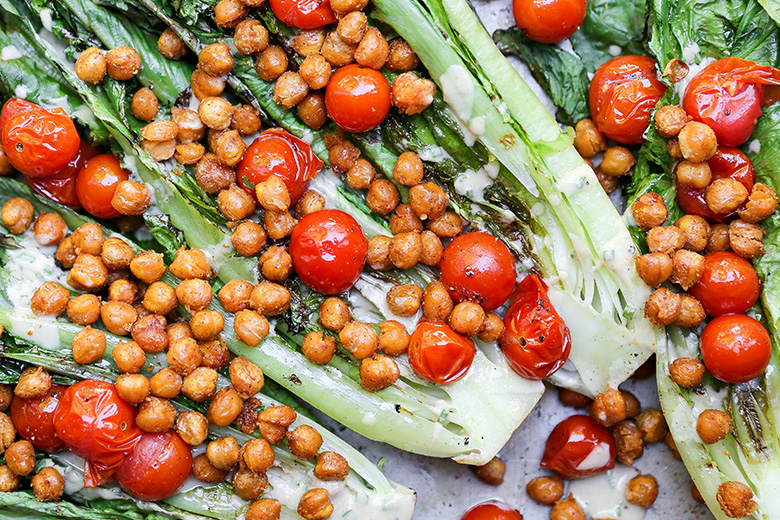 For more quick and easy dishes like my Grilled Romaine Salad with Roasted Chickpeas and Tomatoes, scroll down to the bottom of the post and have a peak at the other #30MinuteThursday recipes created by some of my blogging friends as part of our monthly series!
Cheers,
Liz
Grilled Romaine Salad with Roasted Chickpeas and Tomatoes
Ingredients
For the Chickpeas
1 (16-ounce) can chickpeas, rinsed and drained
1 tablespoon extra-virgin olive oil
1/2 tsp. salt
1/2 tsp. cumin
1/2 tsp. paprika

For the Tomatoes
1 pint cherry or grape tomatoes
1 tablespoon extra-virgin olive oil
1/4 tsp. salt
1/4 tsp. black pepper

For the Dressing
1/4 cup water
2 tablespoons tahini paste
2 tablespoons lemon juice
1 tsp. maple syrup
1 tablespoon fresh chives, minced
1/4 tsp. salt
1/4 tsp. black pepper

For the Romaine
2 heads romaine lettuce, cut in half lengthwise
1 tablespoon extra-virgin olive oil
Instructions
Pre-heat your oven to 400 degrees. Spread the chickpeas out onto a paper towel. Then use a second paper towel to pat the tops dry. Transfer the dried chickpeas to a large rimmed baking sheet. Drizzle with the olive oil, tossing to coat. Then sprinkle evenly with the salt, cumin and paprika. Transfer the baking sheet to your pre-heated oven and roast for 20 minutes, shaking the pan once halfway through the cooking time. Remove the roasted chickpeas from the oven and set aside to cool slightly.
Meanwhile, add the tomatoes to a second baking sheet and toss with the olive oil, salt and pepper. Roast in your pre-heated oven for 10 minutes. Remove from the oven and set aside to cool slightly.
While the chickpeas and tomatoes are roasting, make the dressing. Combine all of the ingredients in a small mason jar. Seal the jar and then shake it well to combine. Set aside.
Pre-heat your grill to high. Drizzle the cut sides of the romaine lettuce with olive oil. Then add the romaine to your grill, cut side down, and grill for about 1-2 minutes, or just until grill marks start to appear. Flip the romaine over and grill for an additional 1-2 minutes on the second side. Remove from the grill and set aside.
Transfer the grilled romaine to serving plates, cut side up. Drizzle with some of the dressing and top with the roasted chickpeas and tomatoes. Serve immediately.
http://www.floatingkitchen.net/grilled-romaine-salad-with-roasted-chickpeas-and-tomatoes/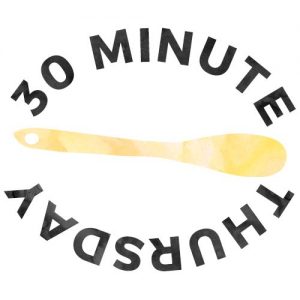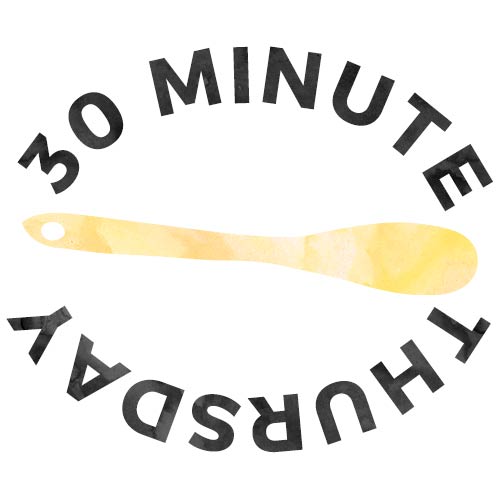 Honey Garlic Salmon Quinoa Bowl from Pumpkin 'N Spice
Maple Ginger Beef from The Recipe Rebel
Pesto Gnocchi with Sausage, Mushrooms, and Asparagus from Flavor the Moments
One Pot Pea and Corn Pasta from Savory Nothings
Baked Pork Chops with a Cinnamon Glaze from Bake.Eat.Repeat.