This post was originally published here on December 19, 2013. I've since updated the photos and text. Enjoy!
I spent the majority of this past week testing out new Christmas cookie recipes. And while I'm happy to report that my efforts have resulted in two blog-worthy recipes that I'll be sharing here next week (hooray!), I kind of just want a damn salad at this point. Even I have my limits when it comes to sweets.
This Cranberry Apple Salad is my go-to salad recipe this time of year. It's refreshing, with both tart and sweet flavors to tickle your taste buds. AND it's a all dressed up in vibrant red and green colors, which makes it the perfect addition to your Holiday table. You can layer it on a large platter (laying down the romaine first, then the apple-walnut mixture and finally the cranberries) for a really beautiful presentation if you're having a fancy party. Or simply toss everything together in a big bowl. I don't think you can really go wrong either way.
There is a little bit of advanced preparation required for this recipe. So make sure to read through the whole recipe first and plan to get started on it a couple hours in advance of when you're going to serve it. And while this might be considered by some to be a huge pain in the ass, I, for one, think it's a plus. Because it means you can get the salad course ready to go earlier in the day, then spend those last few precious minutes of "crunch time" right before the meal performing other more pressing tasks.
This was one of the first salads that I really feel in love with. Because believe it or not, there was a time in my life when I hated eating salads (and really any vegetable, if I'm being completely honest with myself). But this Cranberry Apple Salad helped me turn the corner into a bona fide veggie lover. And I know you'll totally dig it too!
Cheers,
Liz
Recipe from Creme De Colorado Cookbook
Ingredients
1 1/2 cups fresh cranberries, thawed if frozen
3 tablespoons sugar
2 tablespoons fresh lime juice
2 tsp. Dijon mustard
1/2 cup extra-virgin olive oil
2 Granny Smith apples, cored and chopped
1 cup walnuts, roughly chopped
1/4 cup sliced scallions, white and light green parts only
2 hearts of romaine lettuce, roughly chopped
Instructions
In your food processor with the blade attachment, pulse the cranberries until they are coarsely chopped. Transfer them to a small bowl and stir in the sugar. Cover and refrigerate the cranberries for at least 2 hours, or up to overnight.
In a medium bowl, combine the lime juice and mustard. Then slowly whisk in the olive oil. Add the apples, walnuts and scallions, tossing to coat everything in the dressing. Cover and refrigerate the apple-walnut mixture for at least 1 hour, or up to overnight.
To serve with a layered presentation, first line a large plate or platter with the chopped romaine lettuce. Then spoon the apple-walnut mixture over the romaine. And finally top with the chopped cranberries. Enjoy!
http://www.floatingkitchen.net/cranberry-apple-salad/
This post was originally published here on November 17, 2014. I've given the photos and text a bit of a refresh. Enjoy!
Are you guys all familiar with that traditional green bean casserole that's usually served at Thanksgiving? Yes? Well, I'm not. Because I've never eaten it in my life.
I'll pause for reaction.
Yes, it's true. Most people are shocked to find out that I've never had it. I think it makes me un-American or something. I don't know. I guess when your family is made up of a bunch of farmers, dumping an entire can of condensed soup onto crisp, fresh vegetables is kind of a sin.
But I'd be down to try it. So maybe someone wants to invite me over for a Friends-giving someday. Hint, hint.
Casserole or no casserole, I still think Thanksgiving should have green beans. I usually do a simple side dish of sautéed green beans with slivered almonds. But this year, I'm changing things up and going spicy with these Harissa Green Beans with Spiced Chickpeas and Feta Cheese. I hope my family doesn't revolt against me.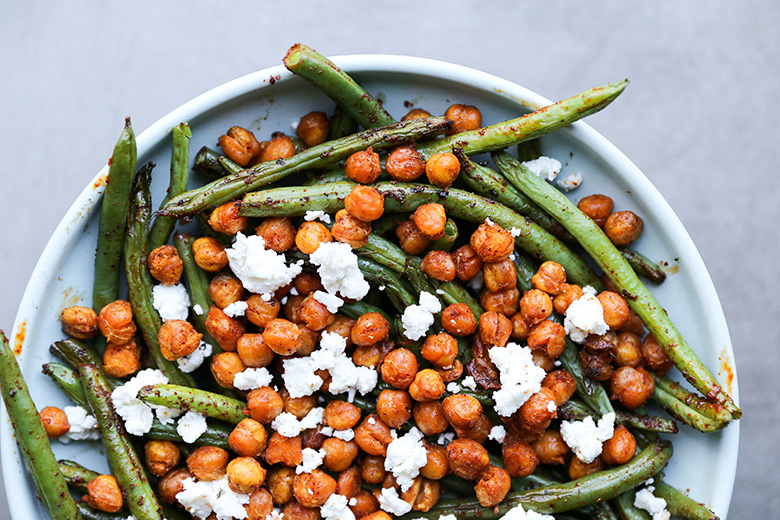 I used harissa paste, which you can buy in the grocery store or make at home (I've got a recipe here), to flavor the green beans. And a short list of spices to season the chickpeas. I roast the green beans and chickpeas separately to ensure they both end up perfectly cooked (just say "NO" to soggy green beans!). And only once they're done do I combine them with a few crumbles of creamy feta cheese before serving. The end results is a healthy, well balanced dish that's definitely worthy of your Holiday table. And a bit of an upgrade from the traditional casserole, if I do say so myself (not that I have any actual proof of that because I've never eaten it before).
Oh hey, want to know another weird Thanksgiving-related secret about me? My family doesn't serve mashed potatoes on Thanksgiving.
I think that statement requires a second pause.
And now since many of your have probably fainted from the trauma of reading that, I propose that this is a good place to end this post.
Cheers,
Liz
Harissa Green Beans with Spiced Chickpeas and Feta Cheese
Ingredients
For the Chickpeas
1 (16 ounce) can chickpeas, drained and rinsed
1 tsp. extra-virgin olive oil
1/2 tsp. salt
1/2 tsp. cumin
1/2 tsp. paprika

For the Green Beans
1 tablespoon harissa paste
1 tsp. extra-virgin olive oil
12 ounces green beans, trimmed
1/4 cup feta cheese, crumbled
Instructions
Pre-heat your oven to 400 degrees.
Spread the chickpeas out on a paper towel. Then use another paper towel to pat them completely dry. In a medium bowl, combine the olive oil, salt, cumin and paprika. Add the dried chickpeas and toss until they are well coated. Spread the chickpeas out onto a rimmed baking sheet. Then transfer them to your pre-heated oven to roast for 25 minutes, stirring once halfway through cooking time. Remove the chickpeas from the oven and set them aside.
Meanwhile, prepare the green beans. In a large bowl, combine the harissa paste and the olive oil. Add the green beans and toss them to coat. Spread the green beans out onto a second rimmed baking sheet and transfer them to your pre-heated oven. Roast for 10 minutes. Then remove them from the oven and set aside.
To serve, arrange the green beans on a serving plate. Top with the chickpeas and the feta cheese crumbles. Serve immediately.
Leftovers can be stored in an airtight container for 1-2 days, although the chickpeas will loose their crispness over time.
http://www.floatingkitchen.net/harissa-green-beans-with-spiced-chickpeas-and-feta/