Happy New Year! I hope 2017 is off to a wonderful start for everyone.
I must say, this first week of January has been pretty good to me. I'm feeling more rested and relaxed than usual. And I may have even detected a small "spring in my step" the other day when I was out walking my dog. I guess I was anxious (and long overdue) for a bit of a reset.
In general, I always love this time of year. Christmas is safely behind us (remember that I'm a big Scrooge!). And everything seems sparkly and fresh. And while I'm not one for making New Year's resolutions (I find they cause me unnecessary stress and anxiety), I was prompted by a friend to set three words of intention for 2017, and I decided to give that a go. It's a seemingly simple task, but it did force me to pause and think about what I would like to achieve going forward into the New Year.
So my three words for 2017 are: create, peace, present.
What are your intentions for 2017? If you have three words you'd like to set, I'd love to hear them in the comments below!
So…let's talk about this Winter Vegetable Minestrone Soup. YOU GUYS it's so freaking good. I made a giant pot last week and I didn't share it with anyone. I greedily ate it all by myself. And I reveled in the fact that I didn't have to cook for several nights. I was in heaven.
This soup is full to the brim with delicious seasonal vegetables, nourishing ingredients and all the feel good vibes you can handle. It's a great way to kick off the New Year. And trust me, you won't feel deprived one bit. I'm totally digging it. And I know you will be too.
To make this minestrone soup recipe all cozy for winter, I used butternut squash and fennel in place of the usual carrots and celery. Then I added in a couple big handfuls of dark, leafy kale and lots of fresh herbs to keep things bright. I stuck with the more traditional ditalini and white beans, but you could certainly use any small-ish pasta and/or beans that you like. It's all good in my book.
This recipe calls for a large jar of tomato Passata, which is an uncooked tomato purée that has been strained of the seeds and skins. Look for tomato Passata in your grocery store, located next to the other jarred/canned tomato products. Canned tomato purée is cooked and usually not strained, so it's not an exact substitute. But you could probably use it in a pinch, if necessary. The other option would be to purchase canned whole tomatoes, then run them through your food processor or blender and strain them to achieve a smooth consistency.
This soup recipe itself is dairy free. I do like to shred some Parmesan cheese on top to finish the dish for serving. However, if you're going dairy free, just leave that part out. Easy peasy!
I'm sharing this Winter Vegetable Minestrone Soup recipe today as part of our monthly 30 Minute Thursday series. That's right! You can make this gorgeous, satisfying soup in only 30 minutes! Just be sure to use a big pot for increased surface area and faster cooking. And keep the vegetables small and uniform so they cook up quickly and evenly. And before you go, check out the links below to see the other #30MinuteThursday recipes created by some of my blogging buddies!
Cheers,
Liz
Winter Vegetable Minestrone Soup
Ingredients
2 tablespoons extra-virgin olive oil
2 cups peeled and cubed butternut squash
1 cup diced yellow onion
1 cup diced fennel
3 garlic cloves, peeled and minced
1 tablespoon fresh rosemary, minced
1 tablespoon fresh thyme, minced
1 tsp. salt
1/2 tsp. black pepper
4 cups vegetable broth
1 (24.5 ounce) jar tomato Passata (about 3 cups)
1 cup water
1 cup uncooked ditalini pasta
1 (15.5 ounce) can cannellini beans, rinsed and drained
2 cups thinly sliced kale leaves, loosely packed
1 cup fresh parsley leaves, chopped and divided
1 tablespoon lemon juice
Shredded Parmesan cheese for serving, if desired
Instructions
Warm the olive oil in a large stock pot over medium heat. Add the butternut squash, onion and fennel and cook, stirring occasionally, for 8 minutes. If the pot is getting dry, you can add an additional tablespoon of olive oil. Stir in the garlic, rosemary, thyme, salt and black pepper and cook for 2 minutes more.
Add the vegetable broth and Passata. Use the water to rinse out the Passata jar and add it to the pot. Bring the soup to a simmer and cook, stirring occasionally, for 10 minutes.
Meanwhile, bring a pot of water to a boil and cook the ditalini according to the package instructions until it's al dente, about 8 minutes. Drain and set aside.
Add the cannellini beans, sliced kale and 3/4 cups of the chopped parsley to the soup and cook for 2 minutes. Stir in the cooked ditalini and lemon juice. Taste and adjust the soup for salt and black pepper.
Ladle the hot soup into bowls. Top with some of the reserved parsley and a sprinkle of shredded Parmesan cheese, if desired. Serve immediately.
Leftovers can be stored in an airtight container in your refrigerator for 2-3 days. The soup will thicken oven time. You can add additional vegetable broth to thin the soup when re-heating it, if desired.
http://www.floatingkitchen.net/winter-vegetable-minestrone-soup/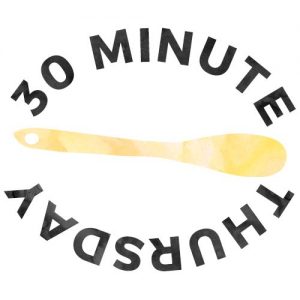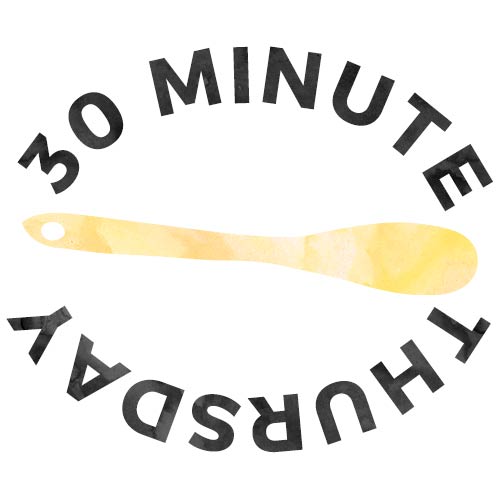 Fajita Gnocchi Skillet with Avocado Salsa from She Likes Food
Chicken Bacon Ranch Panini from Pumpkin N' Spice
30-Minute Chicken with Greek Avgolemono Sauce from Flavor The Moments
One Pot BBQ Chicken Chili Mac from The Recipe Rebel
30-Minute Sausage and Shrimp Gumbo from My Kitchen Craze
Spiralized Veggie Thai Noodle Bowls from Sweet Peas and Saffron
The original title for this post was "Sheet Pan Salmon Dinner for Two". But as you can clearly see, this isn't a recipe for salmon.
Why? Well, because sometimes things just don't work out the way you had planned them. But I'm not complaining. Because that failed attempt at a salmon recipe is what eventually lead me down the path to creating this Grilled Romaine Salad with Roasted Chickpeas and Tomatoes. Which, as it turns out, is one of the best things to come off my grill this Summer.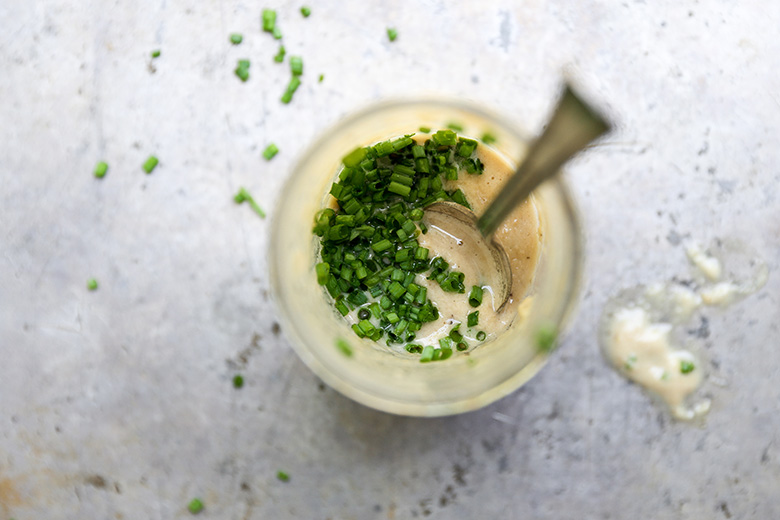 One of my favorite recipes here on Floating Kitchen is a grilled romaine salad recipe from 2015. But it seems to have suffered a fate that many of my recipes do – I forgot about it. And I basically went almost the entire grilling season without making it. Massive fail.
However, Amanda's recent tutorial reminded me of all the deliciousness that grilled romaine has to offer. And that was just the push that I needed to quickly get myself back on the wagon. I've made my original recipe a couple of times since then. And I've been experimenting with new and different versions as well, like the one I'm bringing you today.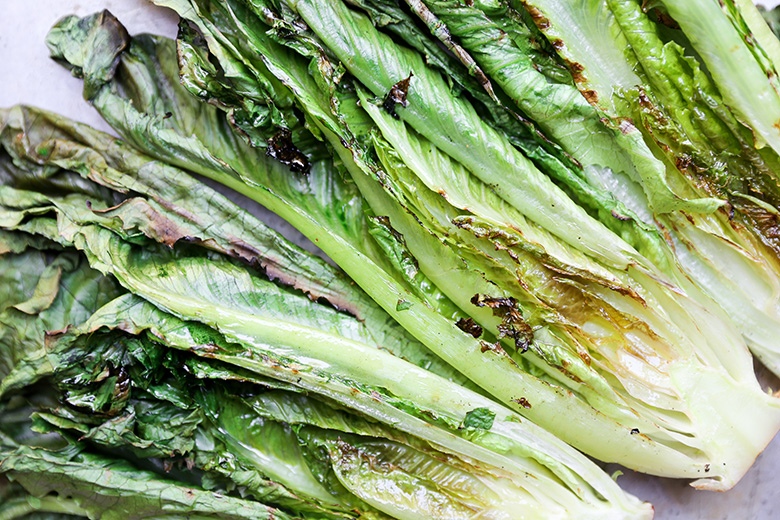 This recipe is pretty straightforward. Once you get your seasoned chickpeas and tomatoes in the oven, you'll spend a few minutes making a homemade vegan tahini-chive dressing and preparing the romaine lettuce. To cook the romaine on the grill, you only need a couple minutes of time. And I find it tastes best when it's served almost immediately after being removed from the grill. So save this step until the very end.
Two romaine halves plus the toppings makes for a hearty enough salad to pass as a main meal. But you can easily serve this as a side dish as well, portioning out a single half per person. This recipe would totally make a great addition to your Labor Day Weekend festivities!
And um…holy crap Labor Day Weekend is THIS WEEKEND! How is that possible?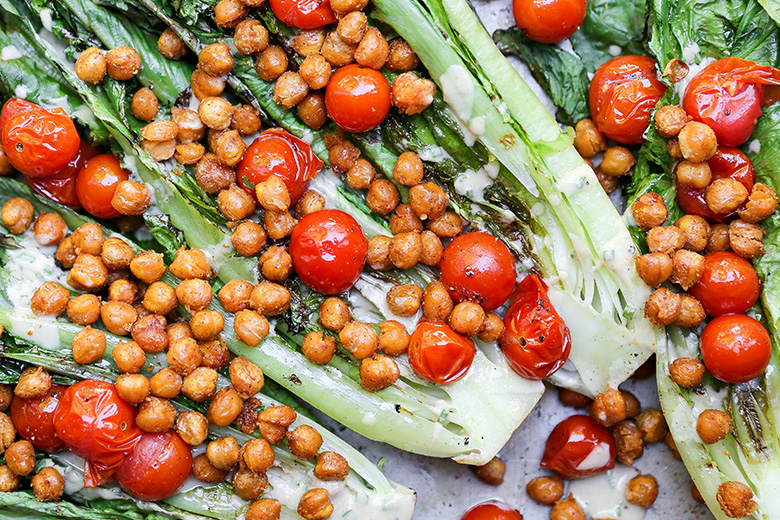 For more quick and easy dishes like my Grilled Romaine Salad with Roasted Chickpeas and Tomatoes, scroll down to the bottom of the post and have a peak at the other #30MinuteThursday recipes created by some of my blogging friends as part of our monthly series!
Cheers,
Liz
Grilled Romaine Salad with Roasted Chickpeas and Tomatoes
Ingredients
For the Chickpeas
1 (16-ounce) can chickpeas, rinsed and drained
1 tablespoon extra-virgin olive oil
1/2 tsp. salt
1/2 tsp. cumin
1/2 tsp. paprika

For the Tomatoes
1 pint cherry or grape tomatoes
1 tablespoon extra-virgin olive oil
1/4 tsp. salt
1/4 tsp. black pepper

For the Dressing
1/4 cup water
2 tablespoons tahini paste
2 tablespoons lemon juice
1 tsp. maple syrup
1 tablespoon fresh chives, minced
1/4 tsp. salt
1/4 tsp. black pepper

For the Romaine
2 heads romaine lettuce, cut in half lengthwise
1 tablespoon extra-virgin olive oil
Instructions
Pre-heat your oven to 400 degrees. Spread the chickpeas out onto a paper towel. Then use a second paper towel to pat the tops dry. Transfer the dried chickpeas to a large rimmed baking sheet. Drizzle with the olive oil, tossing to coat. Then sprinkle evenly with the salt, cumin and paprika. Transfer the baking sheet to your pre-heated oven and roast for 20 minutes, shaking the pan once halfway through the cooking time. Remove the roasted chickpeas from the oven and set aside to cool slightly.
Meanwhile, add the tomatoes to a second baking sheet and toss with the olive oil, salt and pepper. Roast in your pre-heated oven for 10 minutes. Remove from the oven and set aside to cool slightly.
While the chickpeas and tomatoes are roasting, make the dressing. Combine all of the ingredients in a small mason jar. Seal the jar and then shake it well to combine. Set aside.
Pre-heat your grill to high. Drizzle the cut sides of the romaine lettuce with olive oil. Then add the romaine to your grill, cut side down, and grill for about 1-2 minutes, or just until grill marks start to appear. Flip the romaine over and grill for an additional 1-2 minutes on the second side. Remove from the grill and set aside.
Transfer the grilled romaine to serving plates, cut side up. Drizzle with some of the dressing and top with the roasted chickpeas and tomatoes. Serve immediately.
http://www.floatingkitchen.net/grilled-romaine-salad-with-roasted-chickpeas-and-tomatoes/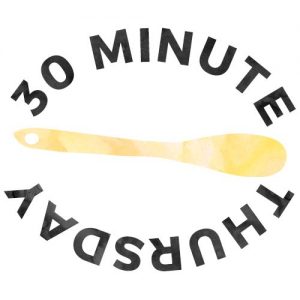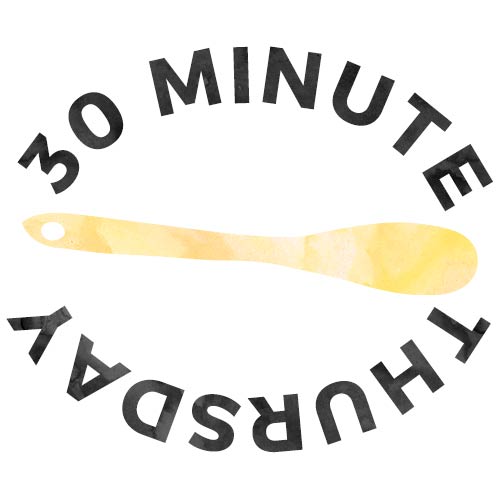 Honey Garlic Salmon Quinoa Bowl from Pumpkin 'N Spice
Maple Ginger Beef from The Recipe Rebel
Pesto Gnocchi with Sausage, Mushrooms, and Asparagus from Flavor the Moments
One Pot Pea and Corn Pasta from Savory Nothings
Baked Pork Chops with a Cinnamon Glaze from Bake.Eat.Repeat.