This post was originally published here on January 14, 2015. I've since updated the photos and text to showcase just how delicious these scones really are! Enjoy!
I've discovered a socially acceptable way to enjoy cake for breakfast. It's called "Blood Orange Scones with Hazelnuts, Thyme and White Chocolate Drizzle".
Are you with me? I'm guessing you are. Because we're all friends here. And friends encourage friends to eat cake disguised as sophisticated scones before noontime. Right?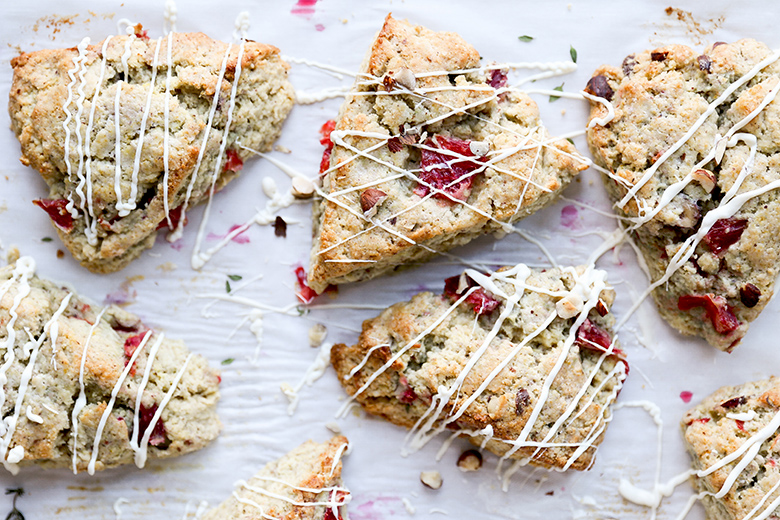 I'm still on a big Winter citrus kick right now. And I'm particularly crushing on blood oranges. I mean, their color alone is enough to make any girl swoon. If they weren't so delicious, I could probably just stare at them all day long.
So I decided to try and incorporate them into this cream scone recipe that I've been using for a while now. I was a little worried that I would just end up with a gummy, shaggy mess because of all the juices from the blood oranges. But (thankfully!) that didn't happen. Instead, I found myself in possession of the most moist (had to say it!), cake-like scones I've ever eaten. There isn't anything dry and crumbly about these babies!
Can we talk about segmenting oranges for a second? I hate it. Probably because I'm not very good at it. And I don't like doing things that I'm not very good at. Sorry. I'm a brat.
If you're a master at segmenting oranges, then I applaud you (also teach me your ways!). But you really don't have to be for this recipe. Because you actually want to break down the segments even further so they are about 1/2-inch in size or smaller before attempting to fold them into the dough. This helps the orange pieces spread out more evenly throughout the dough, while preventing too many juices from accumulating in one place.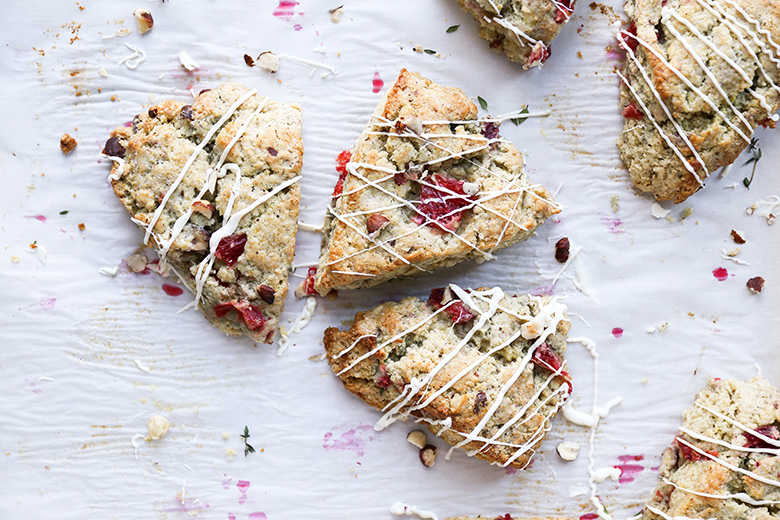 Blood oranges can typically be found until March (although sometimes longer if you're lucky!). So don't delay too long on picking some up from your grocery store. Because I know you're not going to want to wait until next year to try baking up these scones!
Cheers,
Liz
Blood Orange Scones with Hazelnuts, Thyme and White Chocolate Drizzle
Ingredients
For the Scones
2 cups all-purpose flour
1/2 cup hazelnut flour
1/2 cup sugar
1 tsp. baking powder
1/2 tsp. baking soda
1/2 tsp. salt
1/2 cup (8 tablespoons) cold butter, cut into pieces
2/3 cusp, plus 1 tablespoon, heavy whipping cream, divided
1/4 tsp. vanilla extract
1 egg
1 tablespoon fresh thyme leaves
1 tablespoon blood orange zest
1/2 cup blood orange segments, broken down into 1/2-inch pieces
1/3 cup hazelnuts, chopped

For the White Chocolate Drizzle
4 ounces white chocolate, chopped
1 tsp. coconut oil
Instructions
Pre-heat your oven to 425 degrees. Line a large baking sheet with parchment paper and set it aside.
In the bowl of your food processor with the blade attachment, combine the flours, sugar, baking powder, baking soda and salt. Add the cold butter and pulse until you have a coarse crumb.
In a small bowl, beat together 2/3 cups of the heavy cream with the vanilla extract and egg. Add this liquid mixture to your food processor along with the thyme and blood orange zest. Pulse until the dough has just come together.
Turn the dough out onto a well floured counter top and use your hands (flouring them will make the dough easier to handle) to fold in the blood orange segments and the hazelnuts, being careful not to over work the dough. The dough will be slightly wet.
Continue using your hands to shape the dough into a round disk. Then cut the disk it into eight wedges. Transfer the wedges to your prepared baking sheet, leaving 1-2 inches between them. Brush the tops of the wedges with the remaining tablespoon of heavy cream. Transfer the baking sheet to your pre-heated oven and bake the scones for 13-15 minutes. They should be golden brown around the edges. Remove the scones from the oven and allow them to cool on their baking sheet for 10-15 minutes before transferring them to a wire rack to continue cooling.
Once the scones have cooled, make the white chocolate drizzle. In a small heavy bottom saucepan (or in a double boiler) set over medium heat, melt the white chocolate with the coconut oil, stirring frequently. Once smooth, drizzle the melted white chocolate over the scones.
These scones are best when eaten the day they are made, but they will keep for 1-2 days in an airtight container at room temperature. Allow the white chocolate to set before transferring them to a storage container.
Notes
1. You can make your own hazelnut flour by grinding hazelnuts to a course meal in your food processor. You could also substitute almond flour for the hazelnut flour.
http://www.floatingkitchen.net/blood-orange-scones-with-hazelnuts-thyme-and-white-chocolate-drizzle/
If you follow me over on Instagram, then you know I'm a daily consumer of smoothies and smoothie bowls. So imagine my surprise when I looked at my posting history from the past several months and realized that I hadn't shared a smoothie/smoothie bowl recipe here since this Apple Pie Smoothie Bowl during first week of October.
Shocking, right? So I'm here today with this Orange and Arugula Smoothie Bowl to appease the food blogging Gods.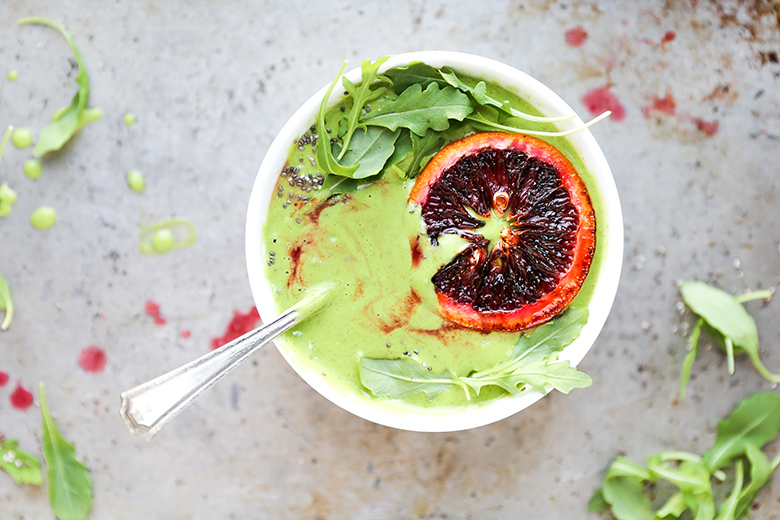 Now, I certainly never want to discourage someone from making one of my recipes, but I feel like I should be up front and say that if you're a person who isn't into savory smoothie bowls, this one might not be the best fit for you. Because this smoothie bowl has got some kick!
In this bowl you'll find a hefty doze of arugula and that classic peppery taste that goes along with it. I've also added in some parsley and…wait for it…cauliflower!
Yes, there is cauliflower in here! But let me tell you that you can't taste it one bit. For real. I would not lie to you about this. Don't fear the cauliflower!
I got the idea about the cauliflower from a recipe created by Laura that was published on The Kitchn earlier this year. It's a great way to add more vegetable fiber to your smoothies and smoothie bowls. Admittedly, sometimes my sweet tooth takes over and I tend to fall a little too far on the sweet side of things. It's easy for my creations to turn into something more closely resembling a milkshake (not that I've ever complained about that!). So adding in a handful of cauliflower is a great way to bring the balance back to the vegetable side of things. And if you're anything like me, you always have some pesky cauliflower florets (or stems that you're going to toss anyway) in your crisper drawer that need using up.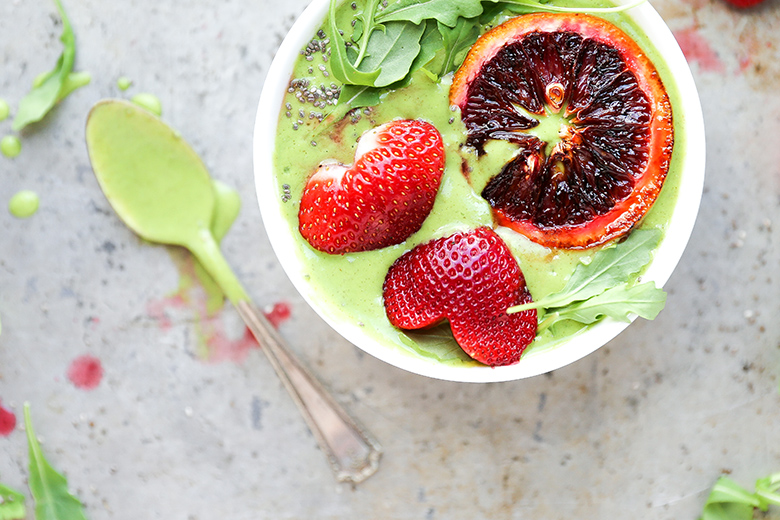 I'm still crushing hard on Winter citrus, so I've got a whole orange in this recipe. And for fun, I made a couple brûléed orange slices for decoration (and I practiced making some strawberry hearts for one of the photographs, since it's almost Valentine's Day and I'm a hopeless romantic!). You can use whatever kind of oranges you like, but I'm partial to blood oranges and Cara cara oranges right now, since they won't be available as readily once Spring rolls around.
To balance the savory ingredients, I used a super ripe banana and some vanilla-flavored yogurt. I didn't want this smoothie bowl to be TOO savory. Even I have limits.
I'm sharing the recipe for this Orange and Arugula Smoothie Bowl as part of our monthly #eatseasonal recipe round-up organized by Becky from Vintage Mixer. If you're finding yourself in a cooking rut this month (the internet is basically just a sea of red velvet desserts at this point), then check out Becky's February Produce Guide for some inspiration. And don't forget to see what new recipes some of my blogging friends have created this month, too. Just click the links below!
Cheers,
Liz
Orange and Arugula Smoothie Bowl
Ingredients
For the Brûléed Orange
1-2 orange slices
1/4 tsp. sugar

For the Smoothie Bowl
1 cup loosely packed arugula
1 orange, peeled
1 peeled banana, chopped and frozen
1/2 cup Greek yogurt (I like vanilla flavored)
1/2 cup cauliflower florets
2 tablespoons fresh parsley
1 tablespoon lemon juice
1/2 tablespoon chia seeds
1/4 cup water
Instructions
To make the brûléed orange slice(s), sprinkle one side of the orange slice(s) with sugar. Heat a dry skillet over medium-high heat. Once the skillet is hot, add the orange slice(s) sugar-side down and cook until lightly caramelized, about 1-2 minutes. Remove the orange slice(s) from the skillet and place on a plate with the brûléed-side facing up. Set aside.
To make the smoothie bowl, add all of the ingredients to your blender. Blend on high until smooth. Pour into a bowl. Top with a brûléed orange slice(s) and additional chia seeds, if desired. Enjoy immediately.
http://www.floatingkitchen.net/orange-and-arugula-smoothie-bowl/
February Eat Seasonal Recipes

Beet Buckwheat Pancakes by Simple Bites
Citrus and Yogurt Fruit Pizza with Granola Crust by Completely Delicious
Spicy Cashew Spring Greens Soup by Letty's Kitchen
Cauliflower Chickpea and Crispy Kale Tacos with Orange Tahini Sauce by Vintage Mixer
Lemon Poppy Seed Meringue Cookies by Project Domestication
Meyer Lemon & Thyme Semifreddo by Suitcase Foodist
Paleo Lemon Poppy Seed Bread by Joy Food Sunshine
Broccoli Cheese and Potato Soup by Foodie Crush
Tilapia with Tangerine Salsa by Healthy Seasonal Recipes
Shredded Brussels Sprouts and Kale Salad with Orange and Avocado by Mountain Mama Cooks
Beet and Apple Salad with Citrus Honey Yogurt by Flavor the Moments
Meyer Lemon and Honey Lassi by Kitchen Confidante
Roasted Veggie Buddha Bowls with Pesto by She Likes Food
Coconut Quinoa Bowls with Roasted Broccoli and Tahini Sauce by Cafe Johnsonia
Cilantro-Lime Chicken Soup by Food for My Family