I feel like we're all collectively screaming for comfort food right now. The weather is cold, dark and generally kind of shitty. The political landscape in America is bleak, at best. And Valentine's Day, which I've found to be a rather dreaded day for both singles and couples alike, is looming on the horizon.
All of these things are reason enough to dig into some good old fashioned Italian comfort food. Which is why I decided to make us some Baked Chicken Parmesan Meatballs with Creamy Polenta for today. AND I made it all in just about 30 minutes. Because sometimes when you need comfort food, you need it FAST.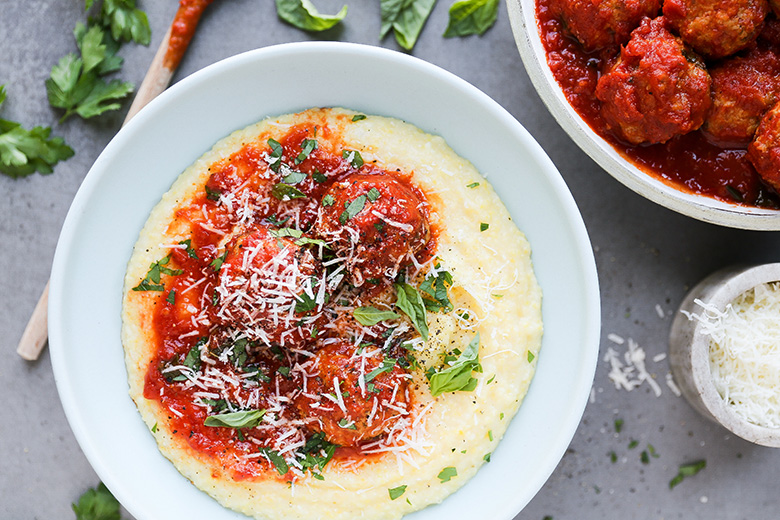 Something you may have noticed over the past year or so on this site is a shift towards almost exclusively plant-based recipes. And while I'm not claiming to be a vegetarian (I still enjoy non-vegetarian recipes on occasion), I'd estimate that about 90% of my meals consumed at home are strictly plant-based.
I don't really have one glaring reason for this shift in my diet. All I can really say is that eating plants makes me feel good. It's as simple as that. So I'm going to continue down that path for now. And throw in a few non-vegetarian recipes every once in a while when a craving hits.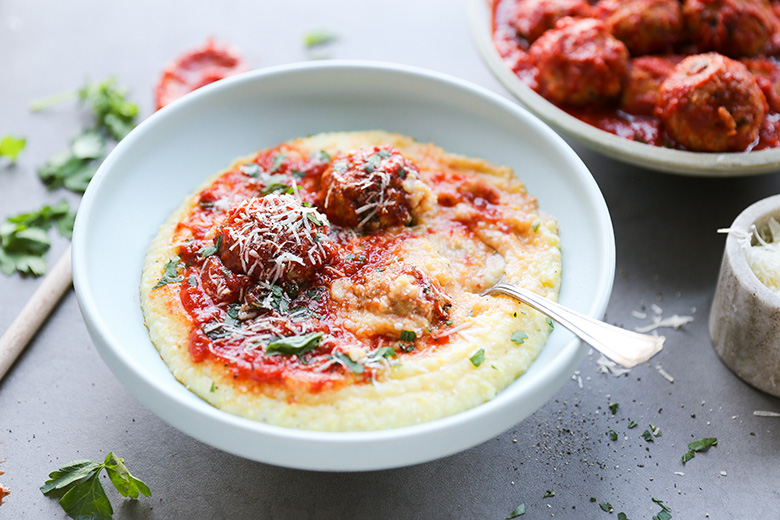 Meatballs are one of the few foods that I remember really liking as a child. I was a picky eater, so most things were off limits at meal times. But meatballs were almost always welcome.
I like to make my meatballs from ground chicken (although you could certainly use ground turkey). And I always bake them in my oven. Which I suppose isn't very traditional. But I appreciate that they are a little bit leaner. And not to mention, less messy and more hands off to prepare. Once you get the meatballs in the oven, you can concentrate your efforts elsewhere in the kitchen – like tackling a batch of this homemade tomato sauce and whisking up the creamiest mascarpone cheese polenta EVER.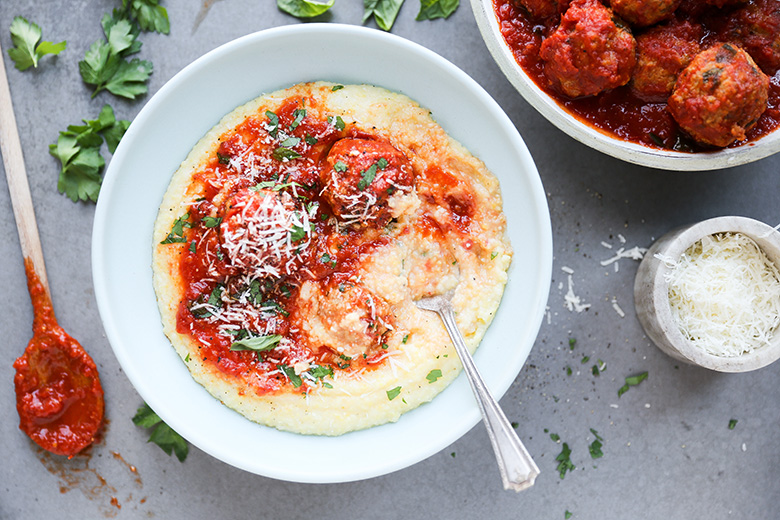 This recipe can undoubtedly be made from start to finish in 30 minutes. I've done it successfully many times. There is very little chopping. And each component requires less than 20 minutes of actual cooking time. BUT I have to be honest and say that there is some coordination/multi-tasking required to get it done within a 30 minute time frame. You'll have to manage the tomato sauce and the polenta at the same time. Which isn't that big of a deal, but it can feel kind of rushed the first time you try it. If all that sounds unpleasant to you, feel free to warm up a big jar of your favorite store-bought tomato sauce on the stovetop in lieu of making your own. That will save you a few minutes.
Polenta is kind of a new-ish ingredient for me. I didn't grow up eating polenta, so it tends to fall off my radar periodically. But I'm trying to incorporate it more into my life. It's a great base for everything from these chicken meatballs to barbecue pulled pork to roasted vegetables. How do you usually use polenta? I'd love to hear some additional suggestions!
Are you craving even more meals that you can prepare in 30 minutes or less? Of course you are! Well, lucky for you it's 30 Minute Thursday. If you scroll down past the recipe below, you'll find links to other quick and easy recipes from some of my blogging friends. Make sure to check them all out!
Cheers,
Liz
Baked Chicken Parmesan Meatballs with Creamy Polenta
Ingredients
For the Meatballs
1 lb ground chicken (you can substitute ground turkey)
1 egg
1/2 cup bread crumbs
1/2 cup grated Parmesan cheese
1/4 cup fresh parsley, roughly chopped
1 tablespoon extra-virgin olive oil
1 tsp. salt
1/2 tsp. black pepper
1/2 tsp. fennel seeds
1/2 tsp. dried oregano
1/8 tsp. ground nutmeg

For the Tomato Sauce
1 tablespoon extra-virgin olive oil
2 garlic cloves, peeled and minced
1/4 tsp. red pepper flakes
1 (28 ounce) can crushed tomatoes
2/3 cups chicken stock
1/4 cup fresh basil, roughly chopped
1/4 tsp. salt
1/4 tsp. black pepper

For the Polenta
4 cups water
1 cup polenta
1/4 cup mascarpone cheese
1 tsp. salt
About 1/2 cup milk

For Serving
Fresh parsley, chopped
Fresh basil, chopped
Parmesan cheese, shredded
Instructions
Pre-heat your oven to 425 degrees. Spray a large rimmed baking sheet with non-stick spray and set aside. To make the meatballs, add all of the ingredients to a large bowl and mix until everything is just combined (your hands are the best tool for this job!). Shape the chicken mixture into balls, using about 2 tablespoons of the mixture for each meatball. You should end up with 16-18 meatballs. Place the meatballs on your prepared baking sheet. Transfer to your pre-heated oven and bake for 15 minutes.
Meanwhile, make the sauce. Heat the olive oil in a large stock pot over medium-high heat. Add the garlic and red pepper flakes and cook, stirring frequently, for 1-2 minutes, or until the garlic is fragrant. Add the crushed tomatoes, chicken stock (use it to rinse out the can of crushed tomatoes), basil, salt and black pepper. Bring to a simmer. Once the meatballs have finished baking, gently add them to the simmering sauce and let them cook in the sauce for an additional 5 minutes. Remove the stock pot from the heat. Cover to keep warm.
Meanwhile, make the polenta. Bring the water in a boil in a heavy bottom saucepan. Slowly whisk in the polenta and turn down the heat to maintain a simmer. Cook the polenta for 15-17 minutes, whisking frequently so it doesn't burn on the bottom and adjusting the heat to prevent it from aggressively splattering and bubbling. Once the polenta has thickened and the liquid is absorbed, remove the saucepan from the heat. Whisk in the mascarpone cheese and the salt. Then whisk in enough milk to thin it to your desired consistency. Cover to keep warm.
To serve, spoon the warm polenta into bowls. Top with the meatballs and some of the sauce. Garnish with fresh herbs and shredded Parmesan cheese, if desired. Serve immediately.
Leftovers can be stored in an airtight container in your refrigerator for 2-3 days.
http://www.floatingkitchen.net/baked-chicken-parmesan-meatballs-with-creamy-polenta/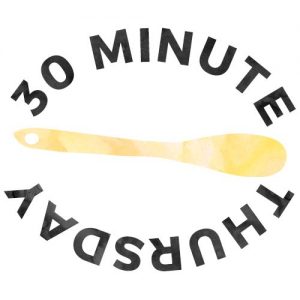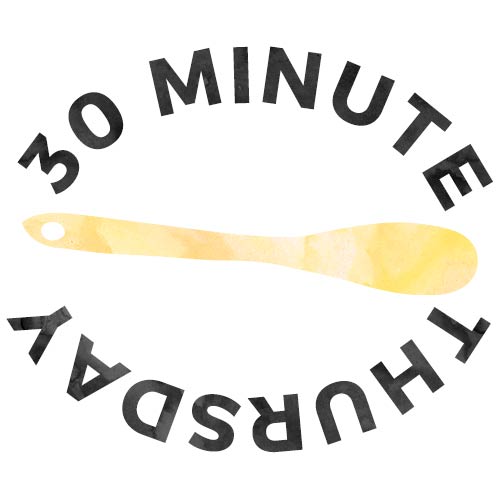 One Pot 30-Minute Pasta e Fagioli from Flavor the Moments
Tuna Casserole from My Kitchen Craze
Easy Chicken Pad Thai from Life Made Sweeter
One Pot Black Bean Fajita Pasta (Make Ahead) from Sweet Peas & Saffron
Italian Chicken Tortellini Skillet from The Recipe Rebel
Lightened Up Baked Chicken Parmesan from Kristine's Kitchen
Healthy Taco Chickpea Lettuce Wraps from She Likes Food
30 Minute Chicken Stew from Bake.Eat.Repeat
Garlic Parmesan Gnocchi with Mushrooms from Pumpkin 'N Spice
The avocado extravaganza that I eluded to last week continues today.
But here is the thing. These Sweet Potato and Broccoli Crostini with Avocado and Za'atar, in all their plant-based, carbolicious glory, seem rather trivial and trite at the moment. Because as you've probably noticed, things in this country are getting bad. Like real bad.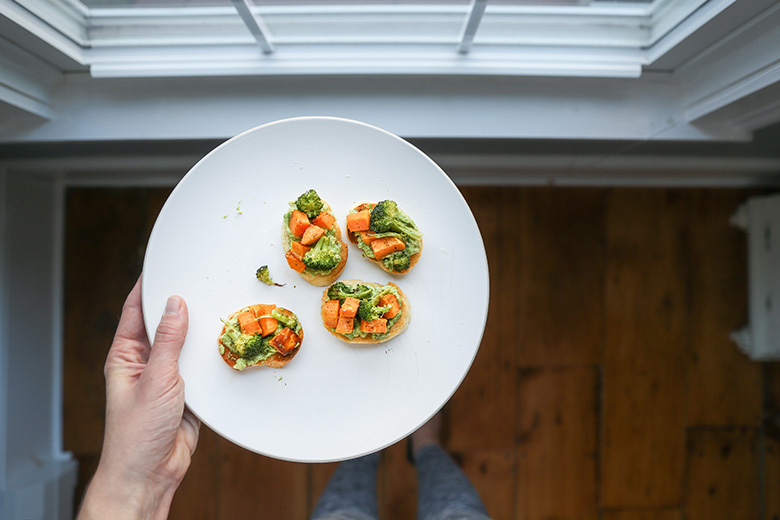 And yes, I know that this blog is a place for sharing recipes, photography and the occasional bad joke. I understand that those are the reasons why you've come here today, why you've visited in the past and why (hopefully) you'll be back in the future. I get it. Really I do. And that is precisely why I don't get overly personal in this space on a regular basis.
But to stand by and say nothing, seems wrong. Silence isn't an option anymore. Things aren't normal. And I can't (and won't) act like they are. I don't support the decisions being made by our President. And I'm fighting those decisions in ways that I know how to do – like by signing petitions, donating money to reputable organizations, contacting my elected officials and joining protests.
I hope that many of you are doing some of these very same things.
I'm also eating my feelings. And I'm not ashamed to admit that these Sweet Potato and Broccoli Crostini with Avocado and Za'atar have been getting me through some tough moments. As an extreme lover of avocado toast, the combination of bread and smashed avocado has basically evolved into my version of comfort food. It soothes me. Screw alcoholic beverages, bubble baths and massages. Just give me avocado toast.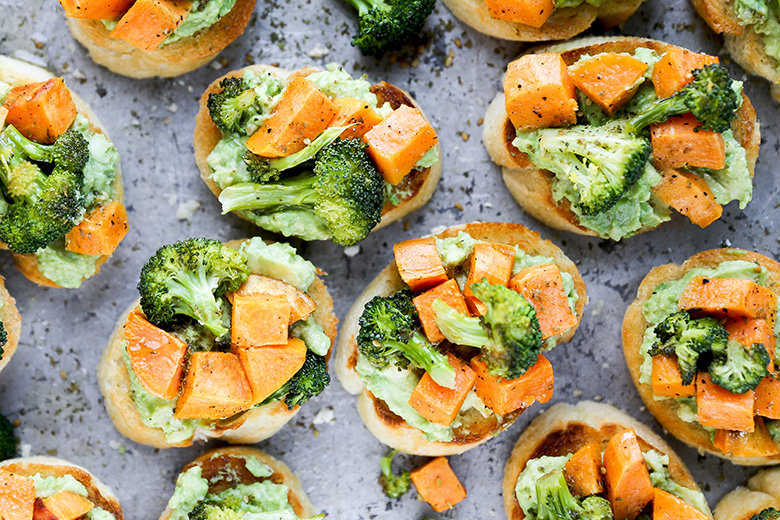 As with a lot of crostini recipes, this one is pretty customizable. Butternut squash would be great. You could try roasted cauliflower instead of the broccoli. And a drizzle of balsamic vinegar or agave nectar would be a nice addition, too. Oh and of course a little cheese never hurts. I left it out to keep these little appetizers vegan (just be sure to check the ingredient list on your bread). But goat cheese plus avocado is a favorite combination of mine, and I know it would work beautifully here in this recipe, if you're so inclined.
Peace, love and respect.
Cheers,
Liz
Roasted Sweet Potato and Broccoli Crostini with Avocado and Za'atar
Ingredients
2 small sweet potatoes, peeled and cubed
5 tablespoons extra-virgin olive oil, divided
1 tsp. salt, divided
1/2 tsp. black pepper
1 head broccoli, cut into florets
2 tablespoons fresh squeezed lemon juice, divided
1 (12-ounce) French baguette, sliced
2 ripe avocados, halved and seeded
About 1 tsp. za'atar seasoning
Instructions
Pre-heat your oven to 425 degrees.
Toss the cubed sweet potatoes with 2 tablespoons of the olive oil, 1/2 tsp. of the salt and the black pepper. Spread the sweet potatoes out onto a large rimmed baking sheet and roast in your pre-heated oven for 10 minutes. The remove the baking sheet from your oven and add the broccoli and an additional tablespoon of olive oil. Stir to combine. Return the baking sheet to your oven and roast the vegetables for an additional 10-12 minutes, or until they are soft and starting to brown in a few places. Remove from the oven and sprinkle with 1 tablespoon of the lemon juice. Set aside to cool slightly.
Pre-heat your broiler. Spread the baguette slices out onto a second rimmed baking sheet. Brush the tops lightly with the remaining olive oil. Then place the baguette slices under your broiler until they turn golden around the edges, about 1-2 minutes. Remove from the oven and set aside to cool slightly.
Meanwhile, scoop the flesh out of the avocados and add it to a medium bowl. Add the remaining tablespoon of lemon juice and the remaining 1/2 tsp. of salt. Then mash the avocados lightly with a fork.
To assemble the crostini, spread some of the mashed avocado on the toasted baguette slices. Top with some of the roasted squash and broccoli. Sprinkle with za'atar seasoning. Serve and enjoy.
http://www.floatingkitchen.net/roasted-sweet-potato-and-broccoli-crostini-with-avocado-and-zaatar/