For me, summer is all about being carefree and flying by the seat of my pants. I don't like too much advanced planning. Whether it's a walk down to the park to take in an outdoor movie, or a multi-day road trip, I prefer to just play it by ear. Summer is all about embracing a more casual lifestyle.
And that includes in the kitchen too. Which is why I'm a fan of recipes like my Orzo Salad with Roasted Corn and Zucchini. It's easy to make. And even easier to eat!
Pasta salad in general is always a crowd pleaser, which makes it a great go-to dish for any party or event. But I like to do mine a little differently. No store-bought Italian dressings here. And definitely no mayonnaise (I have strong personal feelings against mayonnaise). Instead, I make up my own lemony-balsamic dressing. And I load up the bowl with all kinds of summer vegetables, including corn, zucchini, tomatoes and arugula.
Any home gardeners out there? If so, I know you are up to your ears in zucchini right now. So this salad is for you!
This Orzo Salad with Roasted Corn and Zucchini is light and fresh, and most importantly, it's ideal for taking along on any type of adventure. Now get out there and tackle summer!
Cheers,
Liz
Ingredients
For the Salad
2 1/2 cups zucchini, roughly chopped
1 tablespoon extra-virgin olive oil
1/2 tsp. salt
1/2 tsp. black pepper
4 ears of corn, kernels removed
1 lb orzo
2 tsp. fresh thyme leaves
1 pint cherry or grape tomatoes, halved
2 1/2 cups arugula, loosely packed
8 ounces feta cheese, crumbled

For the Dressing
3/4 cup extra-virgin olive oil
1/2 cup balsamic vinegar
1/4 cup fresh lemon juice
3 tsp. honey
1 tsp. salt
1 tsp. black pepper
Instructions
Pre-heat your oven to 425 degrees. Toss the zucchini with the olive oil, salt and pepper. Spread it out onto a large rimmed baking sheet and roast in your pre-heated oven for 10 minutes. Remove the baking sheet from the oven and stir in the corn kernels. Return the baking sheet to your oven and roast for an additional 20 minutes, stirring once halfway through. The zucchini and corn should be softened and starting to brown in a few places. Remove from the oven and set aside.
Meanwhile, bring a large pot of water to a boil. Add the orzo and cook according to the package directions. Drain and set aside to cool slightly.
Make the dressing by whisking together all of the ingredients in a medium bowl.
Assemble the salad. While the orzo is still slightly warm, toss it in a large bowl with the roasted zucchini, corn, thyme leaves and approximately two-thirds of the dressing. Once the orzo has cooled to room temperature, stir in the tomatoes, arugula and feta cheese. Add more dressing, if desired.
Serve immediately. Or chill in the refrigerator for an hour or two before serving.
Leftovers can be stored in an airtight container in the refrigerator for 1-2 days.
https://www.floatingkitchen.net/orzo-salad-with-roasted-corn-and-zucchini/
My parents were visiting me here in Seattle this week, so the past couple of days I've gotten to play tourist in my own town. The weather cooperated and we enjoyed sunny, warm days filled with spectacular mountain and cityscape views, ferry rides, shopping, trips to the beach and of course, lots of eating and drinking at some of Seattle's best restaurants.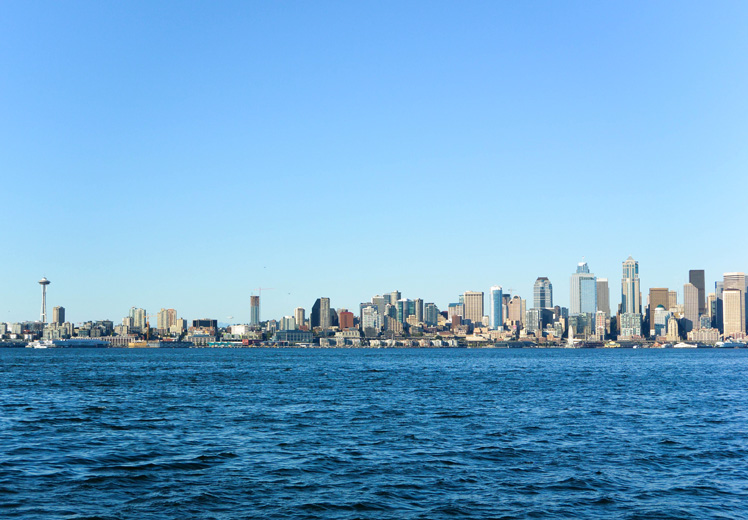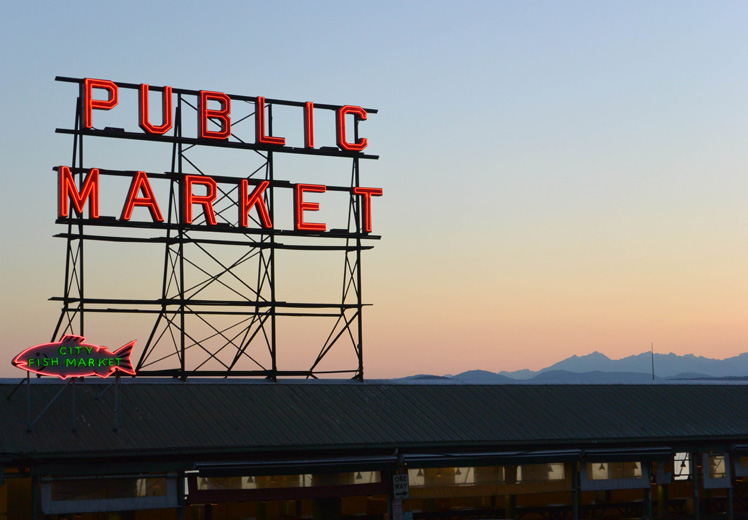 Overall, it was a wonderful visit. And I was sad to see them leave. But I'm also ready to get back into my routine. Which includes cooking and eating some lighter, healthier foods. All those restaurant meals really do a number on me!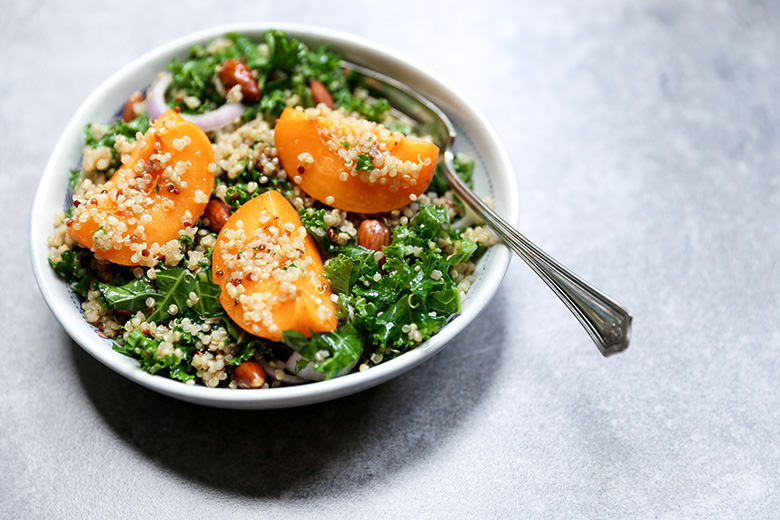 I whipped up this Kale, Apricot and Quinoa Salad, and it's been helping me get back on track. It's hearty enough to be enjoyed as a main meal, which is a life saver on these hot nights when I don't dare turn on my oven. And it's full of good-for-you ingredients, too. Oh and because it's vegan, you don't have to be overly concerned about food spoilage if you decided to take this salad along with you on a picnic. In fact, I highly recommend doing that.
Cheers,
Liz
Recipe barely adapted from Get Off Your Tush and Cook
Ingredients
1 cup quinoa
1 3/4 cups water
3 tablespoons extra-virgin olive oil
3 tablespoons balsamic vinegar
2 tablespoons apricot preserves
1 tablespoon course-grain Dijon mustard
2 garlic cloves, minced
1/4 tsp. salt
1/4 tsp. black pepper
4 cups kale, washed and thinly sliced
6 fresh apricots, pitted and quartered
1/4 cup thinly sliced red onion
1/3 cup almonds
Instructions
Cook the quinoa. Combine the quinoa and water in a medium saucepan over medium-high heat. Bring to a boil and then reduce the temperature to maintain a simmer. Simmer for 15-18 minutes, covered, until the water is absorbed. Remove the saucepan from the heat and let it stand covered for 5 minutes. Then fluff the quinoa with a fork and set aside to cool.
In a large bowl, whisk together the olive oil, vinegar, apricot preserves, mustard, garlic, salt and pepper. Add the kale, apricots, red onion and cooked quinoa. Toss to combine. Fold in the almonds.
This salad can be served immediately. Or covered and stored in your refrigerator for 1-2 days.
Notes
1. Other stone fruits (nectarines, peaches or plums) would be great in place of the apricots in this salad.
https://www.floatingkitchen.net/kale-apricot-and-quinoa-salad/