I swear this salad is really good. I'd even go so far as to say that it's probably one of my most favorite salads EVER!
I know it doesn't look that exciting. There are no bright colors or exotic ingredients. Nothing in particular jumps out at you and begs to be consumed. But it's crunchy (SO CRUNCHY!) and satisfying. And equally appealing on a hot day as it is in the dead of winter. You'll just have to trust me on this one.
This Fennel and Apple Salad is one of those recipes you can throw together when you only have a few minutes of time. But if you're a planner (yeah you!), then this is a great make ahead item as well. Everything stays crisp and fresh, even after a day in the refrigerator. And it's not at all fragile, so it can handle being transported to a potluck or taken on a picnic.
Cheers,
Liz
Recipe adapted from Gluten Free Girl and The Chef
Ingredients
2 tablespoons apple cider vinegar
1 tablespoon extra-virgin olive oil
Juice from half a lemon
1 tsp. Dijon mustard
1/2 tsp. sugar
1/4 tsp. salt
1/4 tsp. black pepper
1 Granny Smith apple, cored and thinly sliced
1 medium fennel bulb, trimmed and thinly sliced (reserve a few fronds)
2/3 cups walnuts, chopped
1/3 cup golden raisins
Instructions
In a large bowl, whisk together the apple cider vinegar and the next 6 ingredients (through the black pepper). Add the sliced apple, fennel, a couple tablespoons of the fennel fronds, walnuts and raisins. Toss to coat.
You can serve this salad immediately. Or cover and chill it in your refrigerator for up to 1 day.
https://www.floatingkitchen.net/fennel-and-apple-salad/
This was my first time making a savory jam and all I have to say is it's a TOTAL GAME CHANGER.
Like, why the heck have I only been making jams from blueberries and strawberries and peaches? I feel like I've been seriously missing out on some major deliciousness in my life.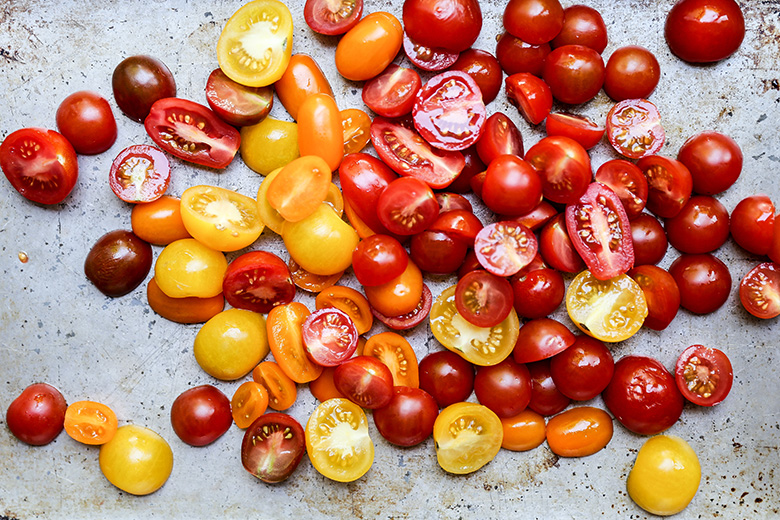 But while I can't go back in time, I can make up for lost time by stuffing this savory Tomato-Shallot Jam in my face like the boss lady that I am. I plan on putting it on every type of sandwich ever made (burgers, turkey sandwiches, grilled cheeses, etc.). And I want to snack on it all day long (with cheese and crackers, as a dip for pretzels, etc.). This Tomato-Shallot Jam is extremely versatile and it instantly elevates the flavor of anything and everything it's paired with.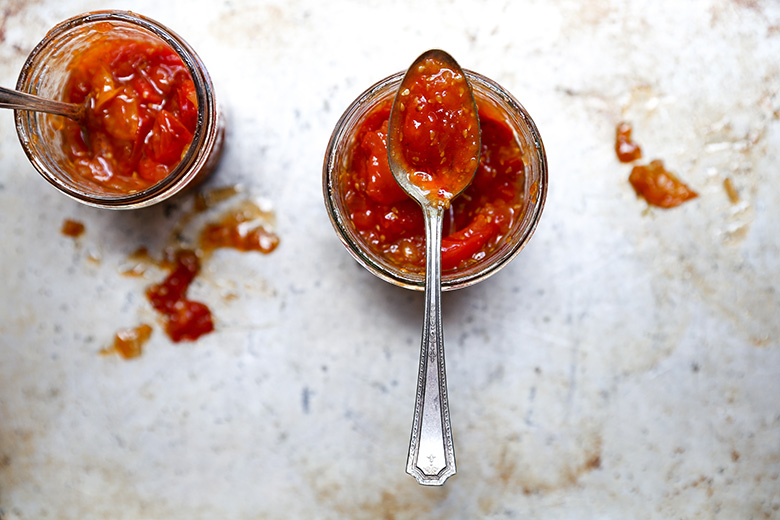 This Tomato-Shallot Jam is a breeze to make, requiring only a handful of ingredients and about 15 minutes of active prep time. Feel free to use it however you would use sliced tomatoes, ketchup or any other spread. It also makes a great hostess gift, or a special treat for the condiment lover in your life.
Have you already jumped on the savory jam bandwagon yet? If so, tell me your favorites!
Cheers,
Liz
Recipe barely adapted from Table Matters
Ingredients
1 pint cherry tomatoes
1/3 cup sugar
1/3 cup shallots, diced
Juice and zest of 1 lime
1/2 tsp. salt
1/8 tsp. cayenne pepper
Instructions
Cut the cherry tomatoes in half and place them in a medium bowl with the sugar. Stir to coat the tomatoes and then let them sit at room temperature for about 1 hour.
Heat a large non-stick skillet over medium heat. Add the tomatoes, plus all the juices that have been released, to the skillet along with the minced shallot. Cook, stirring frequently, for about 12-15 minutes or until the jam is thick and glossy and the tomatoes are almost completely broken down. Stir in the remaining ingredients and cook for an additional 1-2 minutes. Remove from the heat.
Allow the jam to cool to room temperature before storing or serving. The jam can be kept in an airtight container in your refrigerator for 7-10 days.
https://www.floatingkitchen.net/tomato-shallot-jam/