Memorial Day is just around the corner. And do you know what that means? SUMMER! Hooray! I can't wait for sunshine, swimming, barbecues, bike rides, ice cream, tomatoes, sangria and everything else that comes with the season. My excitement runneth over.
Although here in Seattle, we say that summer doesn't officially start until after the 4th of July. But I'm just going to ignore that sentiment right now and pretend that summer starts in a few days. Are you with me?
I have a really fun appetizer-dessert hybrid that would be just perfect for any Memorial Day festivities that you might have planned. It's a Strawberry-Nutella Dessert Bruschetta. And it's soooo delicious and easy to put together! I know you're going to be hooked after your first bite!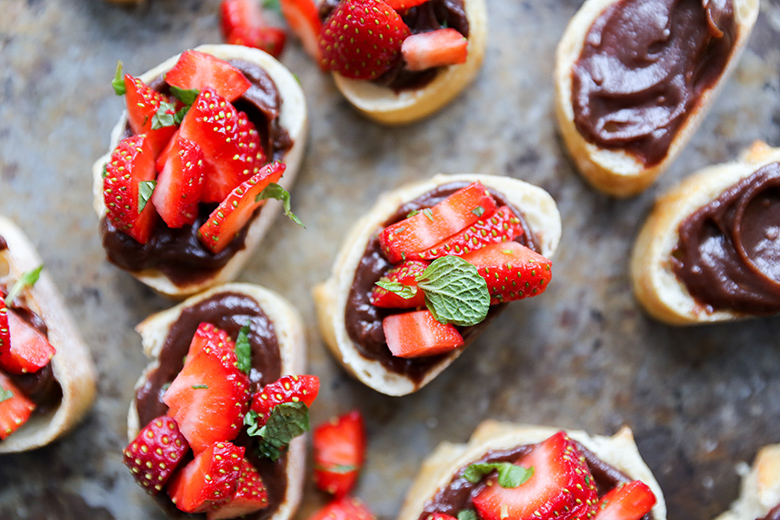 You've probably noticed that I've been on a bit of a strawberry kick lately. I've been adding them to salads, popsicles and of course, pairing them with my favorite chocolate-hazelnut spread. I love dipping strawberries in Nutella, which is how I came up with the idea to make these little toasts. Which by the way, also have a secret savory component: mascarpone cheese. It reduces the sweetness just a little bit and gives them an extra creamy mouth feel that is totally irresistible!
Try 'em out this weekend. You won't be disappointed!
Cheers,
Liz
Ingredients
1 loaf French bread, sliced
1 tablespoon butter, melted
4 ounces mascarpone cheese, softened at room temperature
6 ounces Nutella (or other chocolate-hazelnut spread)
2 cups strawberries, stems removed and diced
2 tsp. fresh mint, roughly chopped
Instructions
Pre-heat your oven to 400 degrees. Brush one side of the bread slices with the melted butter and place on a baking sheet, buttered side up. Transfer to your pre-heated oven and toast for 4-5 minutes. Remove from the oven and set aside.
In a medium bowl, combine the mascarpone cheese and the Nutella, mixing until no more white streaks remain. In a second bowl, toss together the diced strawberries and the fresh mint.
Assemble the bruschetta. Spread the Nutella/mascarpone mixture onto the toasted bread slices. Top with some of the strawberry/mint mixture. This part isn't an exact science. The amounts you use will depend on the size of your bread slices. Just do what feels and looks right to you. Have fun and enjoy!
https://www.floatingkitchen.net/strawberry-nutella-dessert-bruschetta/
I have a new friend. I call her Stretch. How do I know she is a "she", you ask. Technically I don't. But just look at how beautiful and elegant she is. No guy has ever been that fabulous and poised.
Stretch comes and visits me a couple times a week. I watch her out my kitchen window while I'm preparing dinner (or you know, standing over my sink licking Nutella off a spoon). Mostly she just walks up and down the dock and wades in the shallows. But this week I just so happened to be watching as she swooped down into the water, snagged a fish and ate it. It was so cool. And not a single feather was ruffled or out of place (unfortunately, I lack the grace that seems to come so naturally to Stretch). And guess what else? At that very moment, I was preparing these scallops. So it seemed that everyone in the neighborhood was having fresh seafood for dinner that night.
I've been blogging for just over a year now so it's kind of hard to believe that this is my first seafood recipe post. I guess it's just not something I make very often at home. Partly because I didn't really develop a taste for seafood until later in life, so I don't have as much experience cooking it as I do other things. And also I've always been lucky to live in places with fantastic seafood (New England to the Bay Area to Seattle), making it easy to get incredible seafood out at local restaurants.
But even if you are a seafood novice like me, you can master these Pan-Seared Scallops with White Wine-Shallot Reduction on the first try. Seriously. I would not lie to you.
The most important part of this recipe is developing a nice brown crust on the scallops. So make sure your scallops are very dry before placing them in your hot skillet (you'll get the best results from a stainless steel or cast iron pan). And once they're in the pan, don't mess around with them. Let the caramelization process happen undisturbed for about 1-2 minutes per side.
Everything happens very quickly once you start, so make sure to have all your ingredients prepped and at the ready.
Cheers,
Liz
Recipe slightly adapted from Key Ingredient
Ingredients
8-10 sea scallops
Salt and black pepper
1 tablespoon vegetable oil
1 1/2 tablespoons shallots, minced
1/4 cup white wine
1/2 tsp. Dijon mustard
1/2 tablespoon butter
Instructions
Using a paper towel, pat the scallops dry on all sides. Season with salt and pepper.
Heat the vegetable oil in a skillet over medium-high heat. Once the is oil hot (it should be shimmering with a few wisps of smoke coming off the surface), carefully add the scallops. Cook until the scallops are nicely browned on one side, about 1-2 minutes. Turn them over and cook until the second side is well browned, another 1-2 minutes. Remove the pan from the heat and transfer the scallops to a plate.
Place the pan back over low heat and add the minced shallots. Cook the shallots, stirring frequently, until they have softened slightly and started to brown, about 1 minute. Add the white wine and cook for 1-2 minutes more, scraping up any browned bits from the surface of the pan. Add the Dijon mustard and butter, stirring until well incorporated and smooth. Remove the pan from the heat and add back the scallops, turning them in the sauce to coat. Serve immediately.
https://www.floatingkitchen.net/pan-seared-scallops-with-white-wine-shallot-reduction/