I'm tossing back-to-back watermelon recipes in your face. I hope you don't mind!
But honestly, they couldn't be more different from one another. On Friday we had these super refreshing and hydrating Watermelon Cucumber Coolers. And today I'm bringing you some sticky, sweet, smoky Baked Watermelon Barbecue Chicken Drumsticks. Amen to that. Get ready to bust out the extra napkins!
So yes, I used watermelon to make a barbecue sauce. Are you skeptical? I hope not. I think we've developed enough of a trust here over the past couple of years that you probably know I wouldn't let you guys eat anything too weird.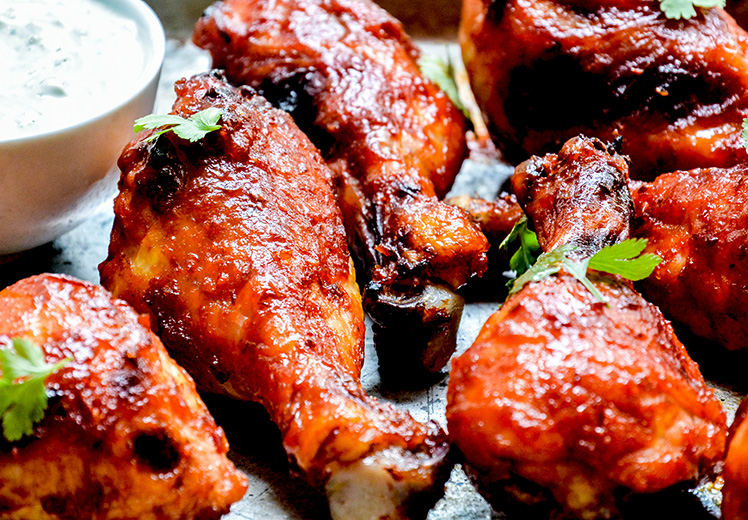 The watermelon adds a little sweetness and freshness to an otherwise simple, homemade marinade made entirely from pantry staples. And it's summer and we're approaching 4th of July weekend, so we should just put watermelon in ALL THE THINGS. Am I right?
And since you can't have chicken drumsticks without a dipping sauce, I made a blue cheese and cilantro sauce using Greek yogurt as the base. Which makes it totally healthy! Um…OK healthier. So go ahead and double dip these suckers! You have my full permission!
Cheers,
Liz
Ingredients
For the Chicken
2 cups cubed watermelon
1 cup ketchup
1/4 cup honey
1/4 cup chipotle peppers in adobo sauce
1/2 tsp. salt
4 lbs chicken drumsticks

For the Dipping Sauce
1 cup low-fat Greek yogurt
1 cup blue cheese crumbles
1/2 cup fresh cilantro
Juice from 1 lime
1/4 tsp. salt
Instructions
Make the watermelon barbecue sauce. Add the watermelon, ketchup, honey, chipotle peppers and salt to your blender. Blend on high until smooth.
Marinate the chicken. Add the chicken to a large re-sealable bag. Pour the marinade over the chicken. Transfer the chicken to your refrigerator and let it marinate for 1-2 hours. Give the bag a shake once or twice during this time to make sure all the chicken is coated.
Meanwhile, make the blue cheese dipping sauce. Add all of the ingredients to the bowl of your food processor with the blade attachment. Process until well combined. Transfer the dipping sauce to a small bowl and refrigerate it until you're ready to use it.
Pre-heat your oven to 425 degrees. Line two baking sheets with aluminum foil and place wire racks on top of the foil. Remove the chicken from the marinade and place on the wire racks, making sure the pieces are about 1-inch apart. Transfer to your pre-heated oven and bake for 40-45 minutes, flipping the chicken drumsticks over with a pair of tongs once half way through baking.
Meanwhile, bring about 1 cup of the marinade to a boil in a small saucepan. Then turn down the heat to maintain a simmer and cook for about 10 minutes, stirring frequently. Remove from the heat and set aside.
After the chicken has finished baking, remove it from the oven and pre-heat your broiler. Brush the chicken with the cooked marinade. Place the chicken under your broiler for 1-2 minutes, or until the marinade bubbles and has started to darken in some places. Remove the chicken from the oven.
Serve the chicken drumsticks with the blue cheese dipping sauce.
https://www.floatingkitchen.net/baked-watermelon-barbecue-chicken-drumsticks/
Disclosure: This post is sponsored by Almond Breeze Almondmilk. Thank you for supporting brands and companies that help keep my kitchen afloat. It's opportunities like these that allow me to continue to create and share unique content with you. All opinions are entirely my own.
We are coming off a streak of seriously hot and humid weather. Or what the weather forecasters like to call "oppressive". And what I like to call "frizzy hair and shiny, sweaty skin for everyone".
You're totally jealous, right?
Needless to say, staying cool and hydrated has been a major priority for me these past couple of days. So I've been sipping on these Watermelon Cucumber Coolers like it's my job. Um…which it kind of is I guess.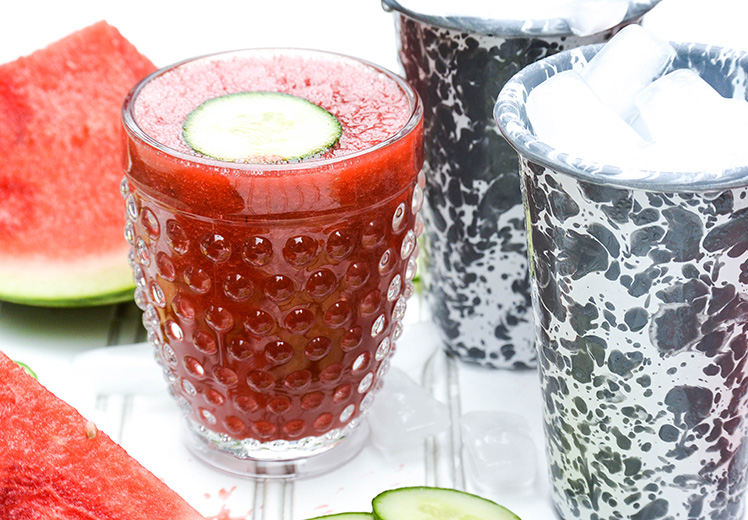 People. Listen up. This drink has only four ingredients. FOUR! It doesn't get much easier than that. All you need is some juicy watermelon (which I like to toss in my freezer for at least 30 minutes before blending it up to help keep this drink as cold as possible), cucumber, fresh ginger and Almond Breeze Almondmilk Original.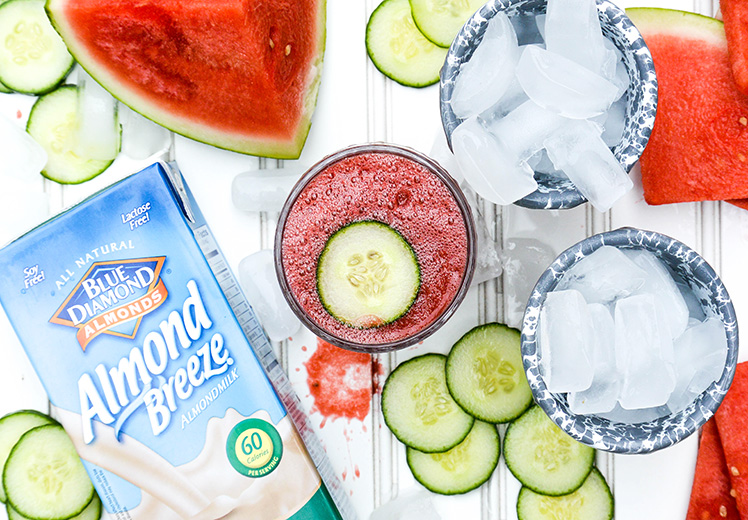 This Watermelon Cucumber Cooler is a serious thirst quencher, even on the hottest of days. And thanks to the Almond Breeze Almondmilk Original, it doesn't feel all watered down. It has just enough body to it. Kind of like me. Ha!
OK, sorry. I'm really lame. So this is probably a good place to stop, before I get too carried away with my own silliness.
Stay cool, friends! And have a great weekend!
Cheers,
Liz
Ingredients
2 cups cubed watermelon
1 cup roughly chopped cucumber
1/2 cup Almond Breeze Almondmilk Original
1-inch piece fresh ginger, peeled and roughly chopped
Instructions
Place the cubed watermelon in your freezer for at least 30 minutes to chill.
Add the chilled watermelon and the remaining ingredients to your blender. Blend on high until smooth. Pour into glasses and serve immediately.
Notes
1. In addition to chilling the watermelon in the freezer, make sure all your other ingredients are cold to help keep this drink super refreshing!
https://www.floatingkitchen.net/watermelon-cucumber-cooler/