PIZZA!!!
Seriously. Is there anything better than pizza? I consider it to be one of those "perfectly engineered foods". Kind of like tacos and brownies. It's always good. And always welcome at my table. No matter what time of day.
This Grilled Lobster and Corn Pizza with Goat Cheese and Fresh Tomatoes is my ode to summer. Fresh corn, tomatoes and basil are in abundance at the farmers markets right now. So I piled them all high up on top of this pizza. And of course, I cooked everything on the grill. Because you know I love my grill. Also, it's way to hot to be turning on our ovens.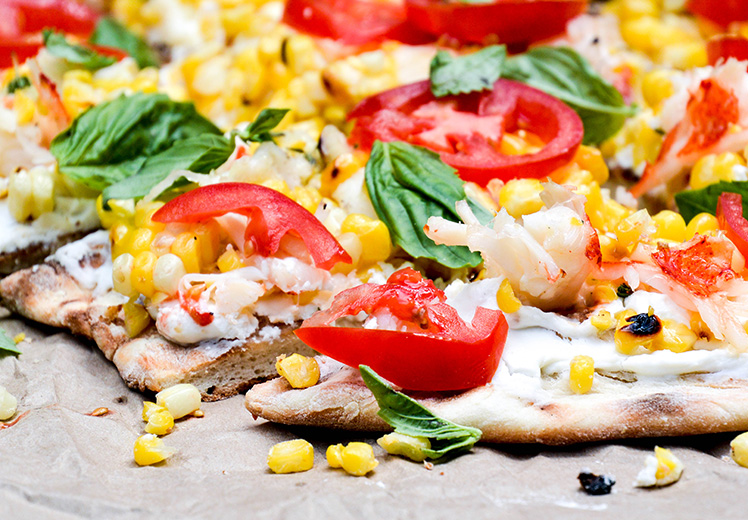 But the real dose of summer comes from the lobster. Living in a seaside New England town means lobster is just about everywhere during the summer months. We even serve lobster at the McDonalds here (I don't actually recommend you go out and buy this, just pointing it out for general interest). So it only made sense for me to put lobster on a pizza. And lobster pizza is kind of a sneaky way to enjoy lobster without completely assaulting your wallet. That's some real talk for you.
Like I said, I grilled the heck out of the pizza. The corn and lobster that I used for toppings were both cooked on the grill, keeping my house cool AND preventing my house from smelling like a lobster shack (I have weird issues with fishy smells). But if you prefer to cook the corn and lobster in a more traditional way, go right ahead. I won't stop you. Just get this pizza done and in your belly!
Cheers,
Liz
Recipe for the pizza dough barely adapted from Foodess
Ingredients
For the Toppings
6 fresh lobster tails
4 ears corn, husks and silks removed
2 tablespoons butter
2 tsp. fresh thyme leaves
1 garlic clove, peeled and minced
8 ounces goat cheese, softened to room temperature
2-4 small tomatoes, thinly sliced
Fresh basil leaves, torn if large

For the Pizza Dough
3 cups all-purpose flour
1 package (2 1/4 tsp.) active dry yeast
1 tablespoon sugar
1 tsp. salt
1 cup water
4 tablespoons extra-virgin olive oil, divided
Instructions
Make the toppings. Pre-heat your grill to medium-high. Add the lobster tails, belly side down. Cook for about 5 minutes and then flip the tails over and cook for an additional 4-5 minutes. The shells may begin to burn in a few spots, which is OK. As the lobster cooks, the shells will turn bright red/orange and the tails will curl. The lobster flesh will change from opaque to white. Remove the tails from the grill and set aside to cool. Once the tails are cool enough to handle, remove the meat. Working with one at a time, place the lobster tails belly side down onto a cutting board, trying to flatten them as much as possible. Use a sharp knife to split the tails in half lengthwise. Then using your fingers, remove the meat form the shells. Continue until all the shells have been cleaned. Discard the shells and roughly chop or tear any larger pieces of meat so they are about bite sized. Place the lobster meat in a large bowl.
While the lobster is cooking, you can also grill the corn. Add the corn to the grill and cook it on all sides until some of the kernels have started to blacken, about 5-8 minutes. Remove the corn from the grill and set it aside to cool. Once the corn is cool enough to handle, cut the kernels off the cob and place them in the bowl with the lobster meat.
In a microwave-safe bowl, melt the butter with the thyme and garlic. Pour this over the lobster-corn mixture, tossing to combine.
Add the goat cheese to a bowl and stir it vigorously to loosen and smooth it out. If it still seems too thick, you can add a couple tablespoons of milk or cream to help thin it out.
Make the pizza dough (and if you turned your grill off, pre-heat it again to medium-high). In a large bowl, mix together 1 cup of the flour, the yeast, sugar and salt. In a microwave-safe measuring cup, warm the water and 2 tablespoons of the olive oil until the liquid reaches 100-110 degrees Fahrenheit. Then pour this over the dry ingredients, stirring with a wooden spoon until the mixture is smooth. Add the remaining 2 cups of flour and stir until the flour is almost fully incorporated. The dough will be a little shaggy at this point. Use your hands to knead the dough a few times and shape it into a ball. Transfer the dough to a well-floured baking sheet. Using your hands, press the dough out into a circle (or whatever shape you can get it) until the dough is 1/4 to 1/2-inch thick.
Grill the pizza. Gather all of your ingredients together so they are within easy reach of your grill. Brush about 1 tablespoon of olive oil onto one side of the pizza dough. Then place the dough, oiled-side down, on your grill. Grill for about 5 minutes, or until bubbles start to appear on the top and the bottom has grill marks. Brush the top of the pizza dough with the remaining tablespoon of olive oil. Then carefully flip it over, using tongs and a little extra help from a spatula or your baking sheet.
Add the toppings to the now face-up, grilled side of the pizza. Start by spreading the goat cheese evenly over the surface (it will soften even further when it touches the warm dough). Then cover with the lobster-corn mixture and the sliced tomatoes. Close the lid and cook for about 5 minute more. Then carefully slide the pizza onto your baking sheet to remove it from the grill.
Let the pizza rest for about 2 minutes before slicing. Top with some fresh basil leaves before serving. Enjoy!
https://www.floatingkitchen.net/grilled-lobster-and-corn-pizza-with-goat-cheese-and-fresh-tomatoes/
Disclosure: This "Easy As Breeze" post is sponsored by Almond Breeze Almondmilk. For more "Easy As Breeze" recipes made with five ingredients or less, visit Almond Breeze on Facebook, Twitter, Instagram and Pinterest.
Chocolate for breakfast. Do I really need to say anything more?
OK, I suppose I could blab a few more sentences here. I wouldn't want you guys to feel deprived of all my "Liz-isms".
And I should definitely make sure to tell you that this Chocolate Almond Coffee Smoothie is my new favorite thing to have for breakfast during the week. It seriously has got it going on in the flavor department. You're going to think you're drinking a milkshake. But instead, you're guiltlessly slurping up a good-for-you smoothie loaded with protein, calcium, omega-3 fatty acids and so much more. And did I already mention it has chocolate in it? Yes? Well, it's a point worth bringing up a second time.
But do you know what this smoothie doesn't have? Dairy or wheat. Nope. Those things just got right up and walked away.
I used Almond Breeze Almondmilk Chocolate as the base for this smoothie. It's my absolute favorite flavor out of the entire Almond Breeze line. Because, well, chocolate. Have I mentioned before how I love chocolate…?
I am affectionately calling this smoothie the "Get Up and Go!" smoothie. Because not only does it have a little caffeinated kick, but it's also made with only FIVE ingredients. Easy peasy. You'll be ready to take on the morning in no time!
Cheers,
Liz
Ingredients
1 tsp. chia seeds
1 tsp. instant espresso powder
1 cup chilled Almond Breeze Almondmilk Chocolate
1 peeled and frozen banana, cut into chunks
1 1/2 tablespoons almond butter
Instructions
Add the chia seeds, instant espresso powder and about 2 tablespoons of the Almond Breeze Almondmilk Chocolate to your blender. Let this sit for about 10 minutes.
Add the banana, almond butter and the remaining Almond Breeze Almondmilk Chocolate. Blend on high until smooth. Pour into a glass and serve immediately.
https://www.floatingkitchen.net/chocolate-almond-coffee-smoothie/