Disclosure: This post is sponsored by Blue Diamond Almonds. Thanks for supporting brands and companies that help keep my kitchen afloat. All opinions are my own.
It's still August. For a whole week in fact.
It's not October. And it most certainly is not December.
Although you wouldn't know that if you've gone shopping lately, browsed Pinterest or turned on your television. Holiday stuff is creeping in at a disturbingly fast pace.
But me? I'm holding onto summer a little bit longer. I'm still drinking fruity cocktails, hanging out in my bathing suit and taking long evening walks to soak in every last ounce of daylight. And here on Floating Kitchen, we're going to be finishing out the season in style as well. I've got recipes for fresh berries, frozen treats and this stunning Almond-Crusted Goat Cheese, Peach and Fig Salad. No pumpkin or peppermint in sight. That's a promise.
This salad just screams summer (which consequently, is exactly what I wanted to do when I saw Halloween candy in the grocery store last week). Loaded with sun-ripened peaches, fresh figs, garden herbs and crisp greens, it reminds me of everything that is good about August.
And of course, there is goat cheese. Because how could there not be goat cheese.
Almond-crusted goat cheese is one of my all-time favorite salad toppers. And I just discovered a way to make it even better by using Salted Caramel Blue Diamond Almonds in the coating mixture. The salty-sweet combo is absolutely KILLER when combined with warm, creamy goat cheese. It's like a little party for your taste buds. And in this particular case, it was a party for my taste buds and my taste buds ONLY. Because I didn't share. I ate all four servings by myself (um…not in one sitting, so don't judge me). And you won't want to share either. Because this salad is as delicious to eat as it is gorgeous to look at.
Cheers,
Liz
Ingredients
For the Goat Cheese
1/3 cup Salted Caramel Blue Diamond Almonds
1/3 cup panko bread crumbs
1/4 tsp. salt
1/4 tsp. black pepper
8 ounces goat cheese (log style, not crumbles)
1 egg, beaten
About 1 tablespoon extra-virgin olive oil

For the Dressing
3 tablespoons extra-virgin olive oil
2 tablespoons balsamic vinegar
1 tablespoon maple syrup
1/4 tsp. salt
1/4 tsp. black pepper

For the Salad
8 cups mixed greens
1 tablespoon mint leaves, torn
1 tablespoon basil leaves, torn
8 fresh figs, halved
2 peaches, halved, pitted and sliced
1/4 cup Salted Caramel Blue Diamond Almonds
Instructions
Make the crusted goat cheese. In the bowl of your food processor with the blade attachment, process the almonds until they are finely chopped. Add the panko bread crumbs, salt and pepper and pulse to combine. Transfer the mixture to a shallow bowl or plate. Slice the goat cheese into eight equal sized pieces. Then using your hands, form each of the goat cheese pieces into a disk. The goat cheese may crumble some at first, but as it warms in your hands it will become easier to mold. Dip each goat cheese round into the beaten egg and then into the almond/panko mixture, being sure to coat all sides. Heat a non-stick skillet over medium-high heat and warm the olive oil. Add the coated goat cheese rounds and cook for about 1-2 minutes. Then gently flip them using a spatula and cook for an additional 1-2 minutes. The coating should be golden brown and the goat cheese should be warm and starting to soften, but still hold it's shape. Carefully remove the goat cheese rounds from the skillet and transfer them to a paper towel-line plate.
Make the dressing. Whisk all of the ingredients together and set aside.
Assemble the salads. In a large bowl toss the mixed greens and herbs with the dressing. Divide evenly between 4 plates or bowls. Then top each salad with two of the crusted goat cheese rounds, 4 fig halves, 1/2 sliced peach and 1 tablespoon almonds. Serve immediately.
https://www.floatingkitchen.net/almond-crusted-goat-cheese-peach-and-fig-salad/
Disclosure: Thank you to the Beef Checkoff for hosting me at their headquarters in Denver, Colorado. I'm proud to say that I'm now more confident cooking with beef! All opinions expressed are entirely my own.
Two weeks ago I traveled to Denver, Colorado with a small group of food bloggers, dieticians and nutritionists to learn about all things beef. The trip was hosted by the Beef Checkoff, an organization funded by cattle farmers and ranchers that is aimed at increasing consumer knowledge about beef production and consumption in America. And let me tell you, the folks at the Beef Checkoff did not disappoint. Because holy cow (pun intended), did I learn A TON on this trip.
As a result, I'm feeling much more confident (and more excited!) about incorporating beef into my diet on a regular basis. So I thought I'd share a few tidbits that I picked up. And of course, I've got a mouthwatering beef recipe to go along with it. So get ready to commence drooling!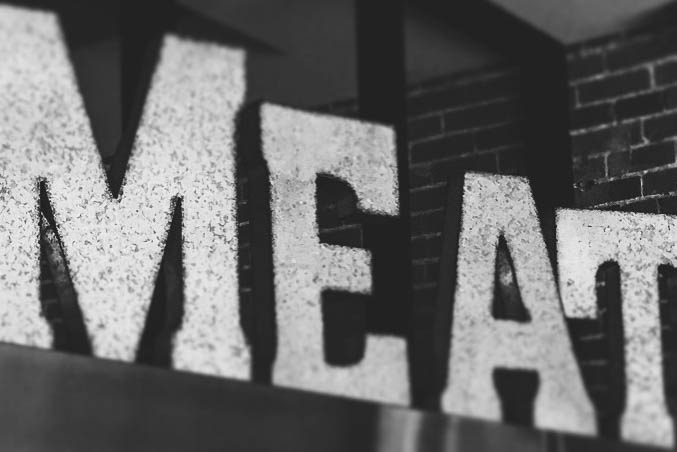 We all know that protein is an important part of our nutrition. And there are a lot of ways in which we can incorporate protein into our diets. But admittedly, I kind of forgot how great beef is as a source of protein. One 3-ounce serving of lean beef provides 25 grams (which is about half) of the Daily Value for protein. Do you know how much cooked quinoa you'd have to eat to achieve that level? 3 cups. And peanut butter? How about 6 tablespoons. That's a lot of eating! And the calories from all those extra servings can add up quickly, which makes a single serving of lean beef look like a pretty smart choice.
I also learned that due to changes in cattle breeding and fat trimming methods over the years, there are now more than 35 cuts of beef that qualify as "lean" (FDA definition of lean = less than 10 grams of total fat, 4.5 grams or less of saturated fat and less than 95 milligrams of cholesterol per 3.5-ounce serving). Which is great news! Because it means that as consumers, we have so many options when it comes to incorporating beef as part of our healthy diets.
But with all the choices of lean beef available, it can be hard to decide which cut(s) to buy when you're at the grocery store staring face to face with the meat case. The names can be confusing (often one cut of meat can go by multiple names) and the best way to prepare different cuts isn't always obvious. That's when the Interactive Butcher Counter comes in handy. You can get names, nutritional information, preferred cooking methods and even links to recipes right from your phone! Make sure to bookmark it and use it next time you're out shopping. I think you'll find it really useful!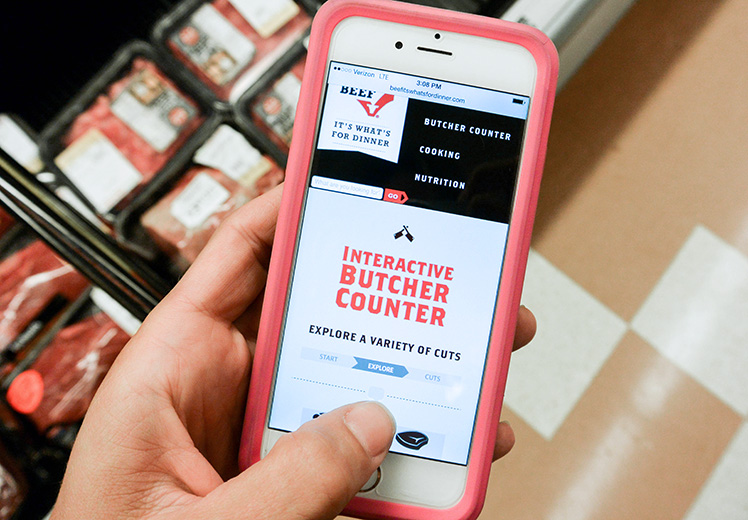 OK, I know you're probably all chomping at the bit, so let's chat briefly about these Grilled Tenderloin and Eggplant Open-Faced Caprese Sandwiches. Which are the epitome of summer right now. Oh and by the way, summer is most certainly NOT over yet. So back away from the pumpkin. Seriously, people. We've still got meat to grill, tomatoes to eat and ice cream to churn. Let's not rush things.
I used tenderloin for this recipe, which is one of my favorite cuts of lean beef. And then I piled it high on top of some grilled bread with grilled eggplant, tomatoes, fresh mozzarella, basil and a drizzle of balsamic vinegar. These babies work great for lunch or dinner. And you can eat them cold or warm. Which makes them kind of a perfect little sandwich, if I do say so myself.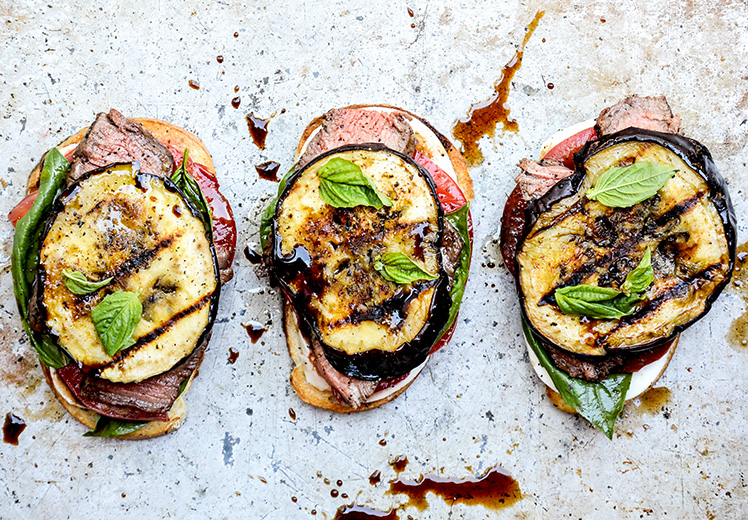 One of the most important things you can do to get a great beef eating experience is to make sure you are cutting the beef against the grain (i.e. cutting perpendicular to the grain, not parallel or with the grain). I know we've all heard that a million times. But it's really important. If you can't tell which way the grain is running (it can be hard if you've got a rub or sauce on the beef), just test a small little corner of the beef before diving right in with your knife!
Cheers,
Liz
Ingredients
For the Tenderloin
1 lb beef tenderloin steaks, about 1-inch thick
1 tsp. salt
1 tsp. brown sugar
1/2 tsp. black pepper
1/2 tsp. ground coffee
1/8 tsp. cayenne pepper
1 1/2 tsp. extra-virgin olive oil

For the Sandwiches
1 medium-large eggplant, cut into 1/2-inch thick slices
8-10 slices of rustic bread
Extra-virgin olive oil
Salt and black pepper
2 large tomatoes, sliced
8-10 slices fresh mozzarella cheese
Fresh basil leaves
Balsamic vinegar
Instructions
Grill the tenderloin. Remove the tenderloin steaks from your refrigerator and place them on your counter top to come to room temperature, about 15 minutes.
Meanwhile, pre-heat your grill to medium. Mix the salt, sugar, black pepper, coffee and cayenne pepper together in a small bowl. Add the olive oil and stir until a paste forms. Then rub the paste into a thin layer all over the sides of the tenderloin steaks.
Place the steaks on the grill and cook for about 10-15 minutes, flipping the steaks once during cooking and checking the internal temperature for your desired level of doneness (145 degrees = medium-rare; 160 degrees = medium). Remove the steaks from the grill and place them on a clean plate. Set aside.
Brush both sides of the eggplant and the bread slices with some of the extra-virgin olive oil and sprinkle with a little salt and pepper. Place on your grill. Cook the eggplant until tender and browned, about 6-8 minutes, flipping once halfway through cooking. Grill the bread until slightly crisp, about 1-2 minutes per side. Remove everything from the grill and set aside.
Thinly slice the tenderloin steaks against the grain.
Assemble the sandwiches. Layer the mozzarella cheese, tomatoes, basil leaves, sliced tenderloin and eggplant onto the slices of grilled bread. Drizzle with a little balsamic vinegar. Serve immediately.
https://www.floatingkitchen.net/grilled-tenderloin-and-eggplant-open-faced-caprese-sandwiches/