Disclosure: Thank you to the American Dairy Association Mideast and the Ohio Dairy Farmers for a MOO-valous trip! All opinions expressed are entirely my own.
A couple of weeks ago I traveled to Ohio to visit with some very fabulous ladies. Of the four legged variety. Often colored black and white. With big tongues, long eyelashes and four udders. Yeah, I'm talking about dairy cows. What did you think I was talking about?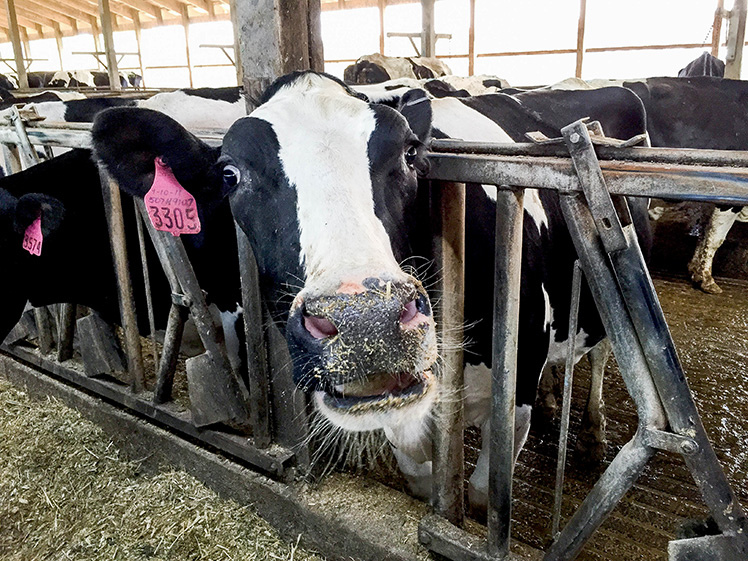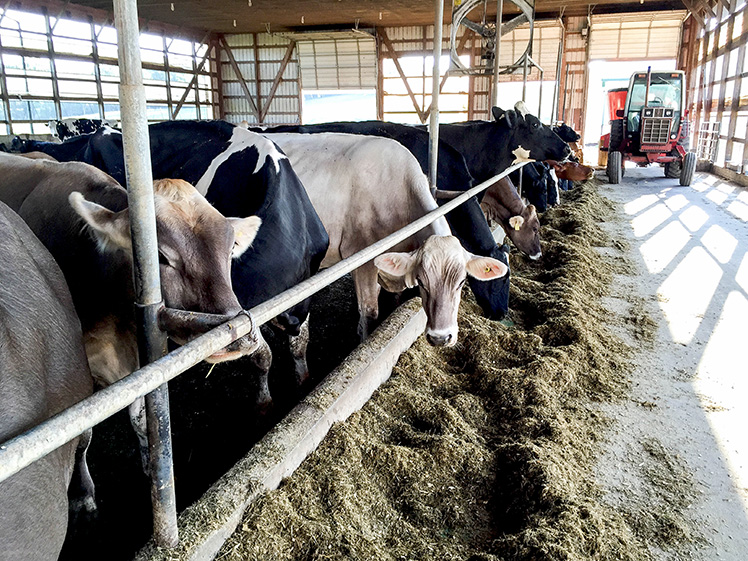 Before we really get going today, I want to pause for a second and thank each and every single one of you for your discretion. Because during my trip I put this photo on Instagram and not one person made an inappropriate comment. Seriously, you all have a lot more self restraint than me. Kudos.
Ok, let's circle back. I was out in Ohio to get the low down on all things dairy. Which included everything from enjoying wine and cheese pairings at the House of Blues, tasting insane grilled cheese sandwiches at Melt Bar and Grilled, traveling out to the Ohio countryside to feast on a traditional Amish lunch, and having a super classy dinner at FirstEnergy Stadium with Joe Thomas of the Cleveland Browns. Who by the way, was happy to gossip with us ladies about The Bachelor/Bachelorette, which made him THAT much cooler in my book. Sorry to put your business out on the street Joe!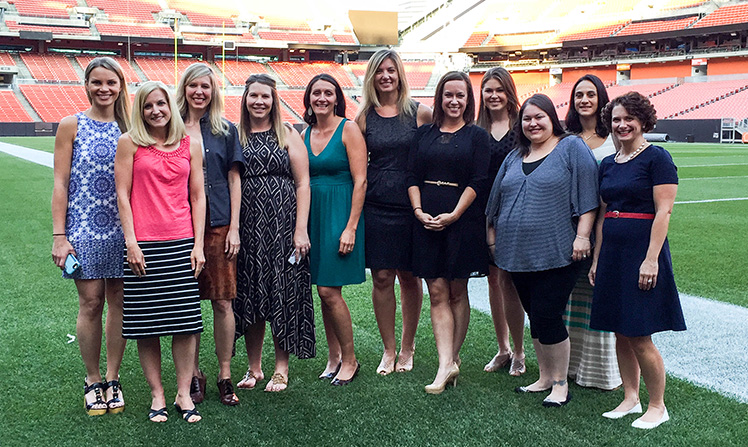 Are you getting the point that there was a lot of eating on this trip? Yeah. It's true. But while the food was certainly incredible, the best part was meeting the people behind the food. Like the amazing folks at the American Dairy Association Mideast, who answered all of our burning questions about dairy and nutrition. And the Ohio Dairy Farmers, who proudly showed us around their farms and talked candidly with us about the practices they have in place to prioritize the health and happiness of their herds, all while ensuring they are producing a safe and delicious product. It was fun to be able to experience some of the day-to-day operations on the farm (I milked my first cow and fed a baby cow a bottle!). And I have a renewed appreciation and respect for all the hard work goes into running a dairy farm. Also, cows are BIG (I was a bit intimidated!) and have big personalities to match!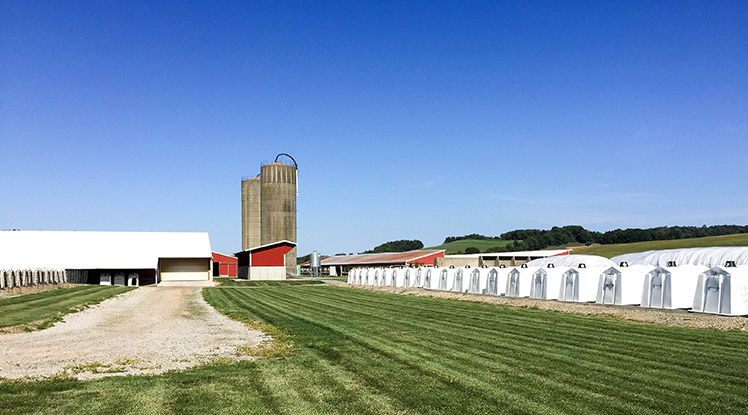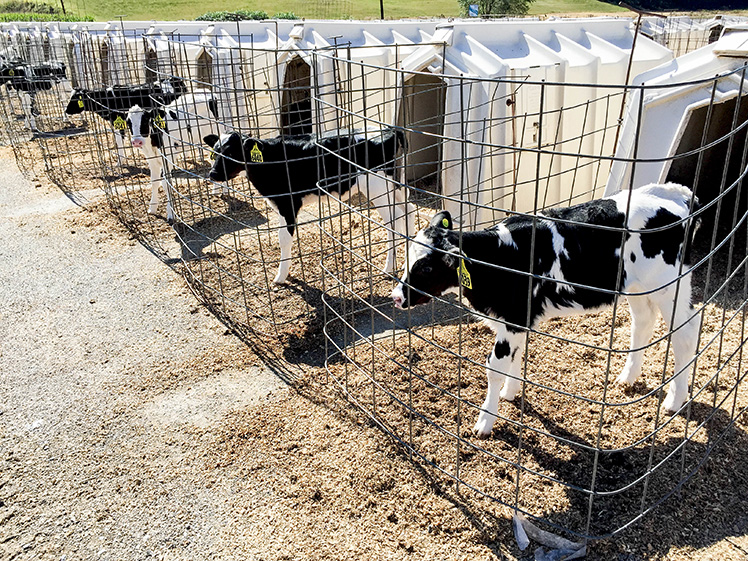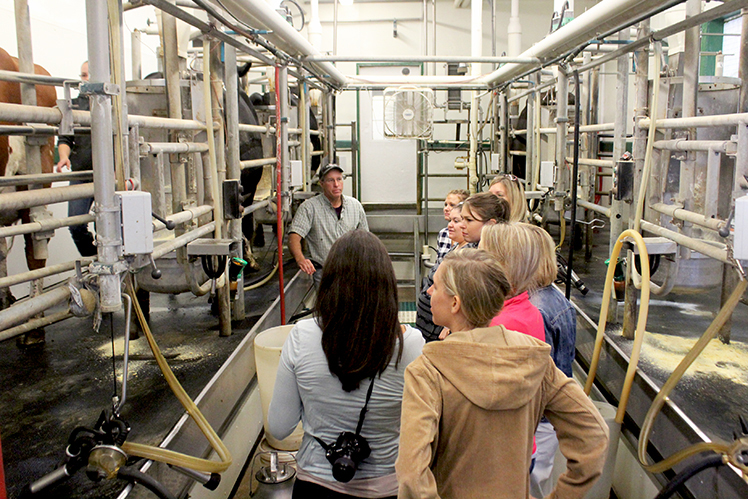 Not only did I eat a lot of cheese on this trip, but I also came home with some. After our behind the scenes tour at Pearl Valley Cheese, they let us do a little shopping in their retail store. You want to see something exciting, just watch 11 food bloggers running around a store filled with award winning cheeses! Of course, I bought several kinds. Can you blame me?
So needless to say, I've been having myself a little cheese party here at home the last couple of weeks. Grilled cheese sandwiches, quesadillas and nachos galore! Happy times!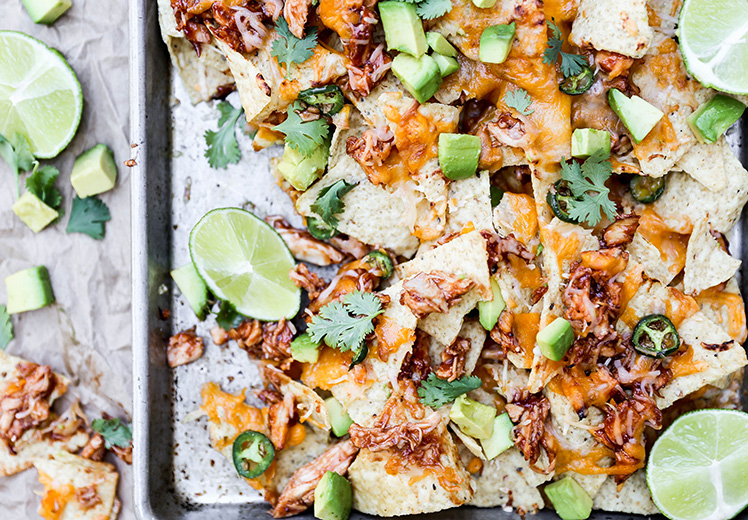 These Barbecue Chicken Nachos are about as easy as it gets thanks to a couple short cuts, including a rotisserie chicken from the grocery store and some store bought barbecue sauce. If you want to go all out and cook your own chicken and make your own barbecue sauce, be my guest. I won't stop you. I just wanted nachos FAST and with minimal prep work.
My Barbecue Chicken Nachos are perfect for game day. Or for binge watching The Bachelor/Bachelorette. You choose. No judgement.
Cheers,
Liz
Ingredients
2 cups shredded chicken
3/4 cups barbecue sauce
12 ounces corn tortilla chips
3 cups shredded cheese (I used a mix of Colby, Cheddar and Swiss)
1-2 jalapeño peppers, thinly sliced
1 avocado, diced
1/4 cup fresh cilantro, roughly chopped
Instructions
Pre-heat your oven to 350 degrees. Lightly spray a large rimmed baking sheet with non-stick cooking spray.
In a medium bowl, toss the shredded chicken with the barbecue sauce until well coated.
Spread about half of the tortilla chips out over your baking sheet. Top with half of the chicken, half of the cheese and half of the sliced jalapeño peppers. Then add the remaining chips and repeat the layers with the remaining ingredients.
Transfer to your pre-heated oven and bake for about 10 minutes, or until the cheese is melted. Remove. Top with the diced avocado and fresh cilantro. Serve immediately.
https://www.floatingkitchen.net/barbecue-chicken-nachos/
Do you ever dream about baked goods?
Well, if not you're about to start. Because this Braided Cinnamon, Apple and Pecan Bread is totally worthy of taking up space in your unconscious mind. And in your conscious mind too. And in your belly. It's that good.
I'm crazy excited about this bread for like a zillion different reasons. But mainly because I thought that it was going to be a total fail. So you can imagine the smile that came across my face when I pulled it out of the oven and saw that it had baked up to golden, puffy perfection. And the happy dance that I did when took my first bite and found the flavors and texture to be spot on.
Yeah. It was a good moment.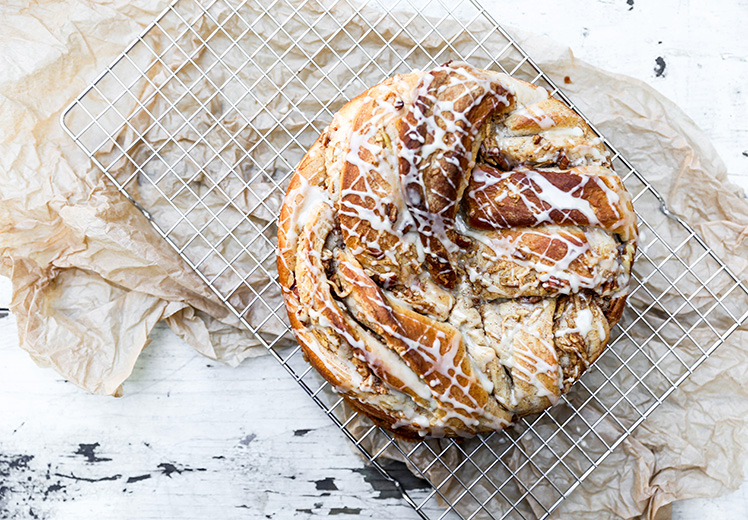 Wondering why I thought this recipe would be a fail? You can blame the shredded apples.
I knew the shredded apples would release some juices, which I tried to counter balance with a bit of cornstarch. But I still had a wet, sloppy mess on my hands. Literally. Like all over my hands. Braiding and shaping the bread was not a smooth process. And as I worked the dough, my hopes dwindled.
BUT the baking fairies must have been watching over me. Because in the end, I couldn't have asked for a better outcome. And I'm so glad that I didn't throw in the towel.
This Braided Cinnamon, Apple and Pecan Bread is totally dreamy. And totally FALL! Make it for a special occasion. Or on a chilly Sunday morning when you need a big dose of "cozy" in your life.
Cheers,
Liz
Recipe adapted from my Braided Cardamom and Chocolate-Hazelnut Bread
Ingredients
For the Dough
3 – 3 1/4 cups all-purpose flour, divided
1/3 cup sugar
1 tsp. salt
1 tsp. ground cinnamon
1 package (2 1/4 tsp.) active dry yeast
1 cup milk, warmed to 120-130 degrees Fahrenheit
1/4 cup (4 tablespoons) very soft unsalted butter
1 egg, lightly beaten

For the Filling
4 tablespoons very soft unsalted butter
1 cup shredded apple (from about 1 medium apple)
1 cup pecans, chopped
1/2 cup sugar
3 tablespoons corn starch
1 tsp. ground cinnamon

For the Glaze
1/2 cup confectioners sugar
2 tablespoons apple cider
Instructions
Make the dough. In the bowl of your stand mixer, whisk together 2 cups of flour, the sugar, salt, cinnamon and yeast. Attach the dough hook attachment to your mixer. Add the warmed milk, butter and beaten egg to the dry ingredients. Beat on medium speed for 1-2 minutes, scraping down the sides of the bowl as necessary. Once the mixture is well combined, start slowly adding in more flour, about 1/4 cup at a time, until the dough is soft, easy to handle and easily leaves the side of the bowl. I used approximately 1 cup of additional flour.
Mix the dough on low-medium speed for about 5 minutes, pulling the dough down off the hook as needed. The dough should be smooth and elastic. Alternatively, you can knead the dough by hand on a lightly floured countertop for about 5 minutes.
Gather up the dough with your hands, shape it into a ball and transfer it to a lightly oiled bowl, turning the dough to coat it with the oil on all sides. Cover the bowl with a thin kitchen towel and let the dough rise in a warm place for 1 to 1 1/2 hours, or until the dough has roughly doubled in size.
Once the dough has risen, gently punch down the dough to deflate it. Remove it from the bowl and transfer it to a floured countertop. Shape it with your hands into a rectangle. Then using a rolling pin, roll the dough out into a 24 X 12-inch rectangle. This will take a little bit of time and effort because the dough is fairly elastic. But keep working at it!
Make the filling. Spread the softened butter evenly over the surface of the dough (the layer will be thin), leaving about a 1/2-inch boarder around the edges. In a small bowl, combine the shredded apple, pecans, sugar, cornstarch and cinnamon. Spread the apple mixture (again, the layer will be thin) over the buttered dough. Beginning at one of the long edges, tightly roll up the dough into a log. Pinch the edges of the dough together to seal it as best you can.
Spray a baking sheet and the ring of a 9- to 10-inch spring form pan with non-stick cooking spray. Set aside.
Using a sharp knife, slice the roll lengthwise, creating two equal sized long halves, but leaving one end still attached by about 3/4-inch at the very end. Slightly rotate the halves outwards so the layers are facing upwards. The dough will be slightly wet at this point, as liquid is being released from the apples in the filling. That's totally normal.
Starting from the end that is still attached, cross the two halves over each other. Continue doing this until you end up with a single twisted/braided rope. Pinch together the end of the rope. Gently slide your rope onto to your greased baking sheet. Starting with one end, spiral the rope into a closed circle. Your going to be placing your spring form pan over/around the dough, so make sure the circle is smaller than the diameter of the pan. The circle doesn't have to be tight (the bread will rise and puff up as it bakes, filling in any gaps), but it shouldn't have a large hole in the center either (i.e. don't make a wreath-shape).
Place the ring of your greased spring form pan over/around the circle. Cover with a thin kitchen towel and let the dough rise in a warm place for 30 minutes.
Meanwhile, pre-heat your oven to 350 degrees. Position an oven rack in the middle position.
Remove the towel from the dough, but leave the spring form pan in place. Transfer the baking sheet to your pre-heated oven. Bake for about 30 minutes, or until the bread is golden brown and puffed. Remove from the oven and set the baking sheet on a wire rack to cool for about 10-15 minutes. Then gently slide the bread off the baking sheet directly onto the wire rack to continue cooling. Use a small knife or spatula to help release the bread from the baking sheet if it's sticking in some places.
Make the glaze. In a small bowl, whisk together the confectioners sugar and apple cider until smooth. Drizzle the glaze over the bread.
Slice and serve. This bread is best when it's still slightly warm. Leftovers can be stored in an airtight container at room temperature for about 2-3 days.
Notes
1. You want the butter to be very soft. Depending on the temperature of your house, you might have to microwave it for a few seconds to further soften it.
https://www.floatingkitchen.net/braided-cinnamon-apple-and-pecan-bread/