It's a party. Of somewhat epic proportions. And you're all invited.
I'm talking about a virtual party of course. One that is dedicated entirely to everyone's favorite Fall food: pumpkin.
Well, it's not my favorite Fall food. But that's OK. I'm still down to celebrate. I'd never pass up a rocking party. Especially when there is so much deliciousness involved.
This #virtualpumpkinparty is the brainchild of my friend Sara from Cake Over Steak. Who consequently is coming to visit me this weekend so we can drink ALL THE bourbons together!!! Yeah!
Sara has organized an impressive list of food bloggers to "attend" her party. Like 70 of us. And we've all brought our A-game with some fantastic savory and sweet pumpkin recipes. You can find the links to all the other bloggers recipes on Sara's site HERE, so make sure to set aside a few hours (no joke) of your day and check them all out. You'll have enough pumpkin recipes to last you a lifetime.
Since no party is complete without a house cocktail, I knew I wanted to mix up a celebratory libation for this event. Pumpkin beer was an obvious ingredient choice. But I wanted to create even more of a pumpkiny flavor for my cocktail. So I added in a little bit of pumpkin purée as well. Once shaken with the other ingredients, the pumpkin purée blends nicely, resulting in a smooth drink with just the perfect punch of pumpkin (say that 3 times fast!).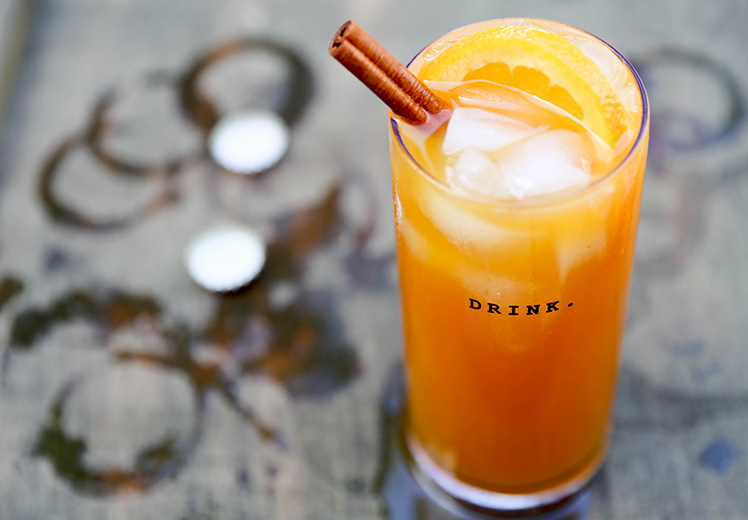 Side note: don't put beer in your shaker and then shake it. I had a serious lapse in judgment and I did this, blowing the top off the shaker and nearly missing my left eyeball. Be smarter than me!!!
Oh and will you just LOOK at the color of this cocktail! I can't get over it. I am totally smitten with all things orange.
My Pumpkin Beertail with Tequila and Spiced Rum is perfect for Halloween, Thanksgiving, football watching or even just kicking back and relaxing after a marathon leaf raking session. I'm sure you'll find plenty of occasions to mix up one of these beertails this season!
Cheers,
Liz
Ingredients
Ice cubes
1/2 cup orange juice
1 ounce (2 tablespoons) tequila
1 ounce (2 tablespoons) spiced rum
1 tablespoon pumpkin purée
1 tsp. maple syrup
1 dash Angostura bitters
Pumpkin beer
Sliced oranges and cinnamon sticks for garnish, if desired
Instructions
In a shaker with ice, vigorously shake the orange juice, tequila, rum, pumpkin purée, maple syrup and bitters. Strain into a tall glass with ice. Top with pumpkin beer.
Garnish with orange slices and cinnamon sticks, if desired. Serve immediately.
Notes
1. If you don't have a cocktail shaker, you can use a mason jar and strain the mixture using a fine mesh strainer.
https://www.floatingkitchen.net/pumpkin-beertail-with-tequila-and-spiced-rum/
Did you hear that we had a few snow flurries flying around New England this Sunday?
If you're friends with even just one New Englander on Facebook, you're probably well aware of this fact. Our pre-mature "snow storm" was a hot topic of conversation on social media. Because New Englanders love to talk about the weather. Which consequently, I'm making a very strong case for here as well. We just can't seem to help ourselves.
We also really like to obsess about the state of Tom Brady's balls. But I refuse to play into those conversations. Seriously. I just don't care. Sorry/not sorry.
Anyway, let's talk about something more upbeat than snow and deflated balls. Let's discuss squash. I know I've said many times how much I adore all varieties of squash. So I apologize if I'm starting to sound a bit like a broken record. But my love for squash knows no boundaries. And now, I've even turned it into my new favorite sandwich topping.
I wasn't sure if putting roasted squash on a pulled pork sandwich would be weird or awesome, but one bite was all I needed to convince myself that it was a pretty genius idea. And just in case I was wrong, I took a few more bites to make sure. I'm just trying to be very thorough here. #itsatoughjob
The softness of the roasted delicata squash provides a really great contrast in texture to the pulled pork and coleslaw. And the sweet, nutty flavors pair perfectly with the little bit of heat and smoke coming from the barbecue sauce. I know after just one taste of my Shredded Pomegranate-Barbecue Pork Sandwiches with Roasted Squash and Coleslaw, you'll be totally hooked. And next thing you know, you'll be putting squash on ALL THE THINGS!
Cheers,
Liz
Ingredients
For the Pork
2 – 2 1/2 lbs bone-less pork roast
1/2 tsp. salt
1/2 tsp. black pepper
1 cup chili sauce
1/4 cup pomegranate juice
2 tablespoons brown sugar
1/4 tsp. liquid smoke

For the Squash
1 delicata squash
1 tablespoon extra-virgin olive oil
1/2 tsp. salt
1/2 tsp. black pepper

For the Coleslaw
About 1/2 cup mayonnaise
3 tablespoons white wine vinegar
1 tablespoon sugar
1/2 tsp. celery seeds
3 cups shredded coleslaw mix

For Serving
6-8 Kaiser or Brioche buns
Instructions
Cook the pork. Place the pork in the insert of your slow cooker. Season with salt and pepper. In a bowl, stir together the chili sauce, pomegranate juice, brown sugar and liquid smoke. Pour this sauce over the pork. Place the lid on your slow cooker. Cook on high for about 6 hours, or on low for about 10 hours. The pork is done when the meat is extremely tender and falls apart easily.
Once the pork is cooked, use two forks to shred it into pieces. I do this right in the insert of my slow cooker. Allow the shredded pork to rest in the accumulated juices from the slow cooker for about 30 minutes.
Meanwhile, roast the squash. Pre-heat your oven to 425 degrees. Cut the delicata squash in half lengthwise. Scrape out and discard the seeds. Trim off and discard any woody ends. Cut the squash into 1/2-inch thick slices. Toss the sliced squash with the olive oil, salt and pepper. Spread the squash out onto a large rimmed baking sheet and transfer it to your pre-heated oven. Roast for 10 minutes. Then using a pair of tongs, flip the squash pieces over. Return them to the oven and continue roasting for another 12-15 minutes, or until the squash is tender and starting to brown in places. Remove from the oven and set aside.
Make the coleslaw. In a bowl, whisk together the mayonnaise, vinegar, sugar and celery seeds. Add the coleslaw and toss to combine.
Assemble the sandwiches. Warm or toast the buns, if desired. Then place a few tablespoons of coleslaw on the bottom half of each bun. Top with some of the pulled pork and a few slices of the roasted squash. Top with the remaining half of the bun. Serve immediately.
https://www.floatingkitchen.net/shredded-pomegranate-barbecue-pork-sandwiches-with-roasted-squash-and-coleslaw/