Trying out new foods is all par for the course in this job.
Which is great. Because it means that I don't get stuck in a food rut very often. And it also means that I get to experience different flavor combinations that I might not have otherwise thought to try.
There is, however, one downside to this job perk. And that is that I sometimes "forget" about certain food items. Pantry staples, which tend to take a back seat to whatever is currently in season or "popular" at the moment, often get overlooked in my kitchen.
Take lentils, for example. Oh how I love these little edible pulses. Yet, there are only two recipes on this whole blog which list them as an ingredient (if you're curious, it's these tacos and this soup). So I thought it was about high time that I fixed that problem.
Also, a bag of black lentils fell out of my cabinet while I was rummaging around and hit me square on the head. It was a nice little reminder to use these beauties in a recipe.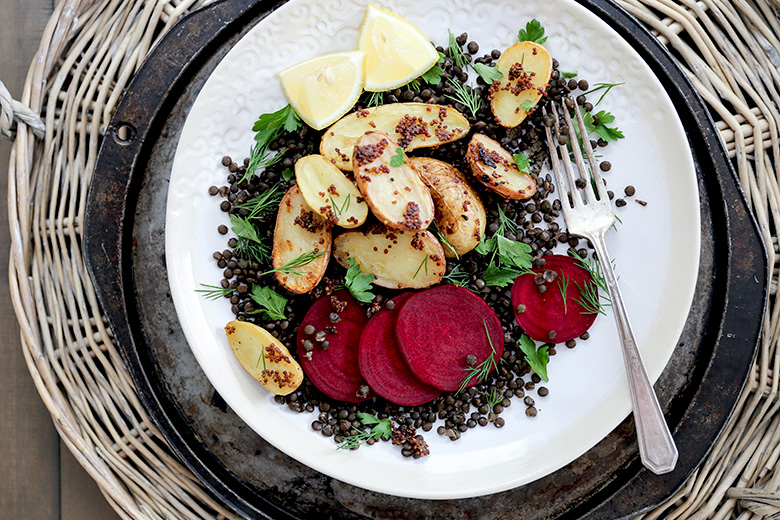 This Lentil and Mustard-Roasted Potato Salad with Beets is simple, nourishing and feels just like the kind of meal that is going to help me navigate through what remains of these cold winter days. It's flavor packed. Crisp and bright. And the leftovers might even be better than they are on day one.
I found that I didn't need any additional dressing on this salad. The whole grain mustard that clings to the roasted potatoes is enough for me. But a drizzle of olive oil and a squeeze of fresh lemon juice would certainly be welcome here. Also, you'll notice that I've kept the beets raw in this recipe. If you haven't tried raw beets, I urge you to give it a go. Their flavor is mild and they have a spectacular little crunch. But if you're unsure, you could certainly roast or boil them before slicing.
Cheers,
Liz
Ingredients
1/2 cup whole grain Dijon mustard
2 tablespoons extra-virgin olive oil
2 tablespoons fresh squeezed lemon juice
1 1/2 lbs fingerling potatoes, cut in half lengthwise
1/2 tsp. salt
1/2 tsp. black pepper
4 cups vegetable broth
1 cup black lentils
1 bay leaf
2 small beets, peeled and thinly sliced
2 tablespoons fresh dill, roughly chopped
2 tablespoons fresh parsley, roughly chopped
Instructions
Roast the potatoes. Pre-heat your oven to 425 degrees. Spray a large rimmed baking sheet with non-stick cooking spray and set aside. In a large bowl, mix together the Dijon mustard, olive oil and lemon juice. Add the potatoes and toss to combine. Spread the potatoes out onto your baking sheet and sprinkle with the salt and pepper. Transfer to your pre-heated oven and roast for about 40 minutes, stirring once halfway through. Remove from the oven and set aside.
Meanwhile, cook the lentils. In a medium pot, bring the vegetable broth to a boil. Stir in the lentils and the bay leaf. Reduce the heat to maintain a simmer and cook the lentils, uncovered, for about 25-30 minutes, stirring occasionally. The lentils should be soft, but still have a little resistance left when you bite into them. Strain the lentils, discarding the remaining liquid and the bay leaf. Set aside.
Assemble the salads. Divide the cooked lentils between serving plates. Top with the roasted potatoes, a few slices of the beets and fresh herbs. Serve and enjoy.
Leftovers can be stored in an airtight container in your refrigerator for 2-3 days.
https://www.floatingkitchen.net/lentil-and-mustard-roasted-potato-salad-with-beets/
This is the only way I can accurately describe how cold it was here on Sunday. Are you ready. OK. Here it is.
Holy shit!!!!!!!!!!!!!!!!!!!!!!!!!!!!!!!!!!!!!!!!!!!!!!!!!!!!!!!!!!!!!!!
Yeah. It was that bad. We had sub-zero temperatures for a good portion of the day and a nice little breeze to really seal the deal. Fun times.
So needless to say, I stayed inside most of the day. You know, because frostbite wasn't on my "to-do" list for this weekend.
But homemade pizza was definitely (and is indefinitely!) on my to-do list.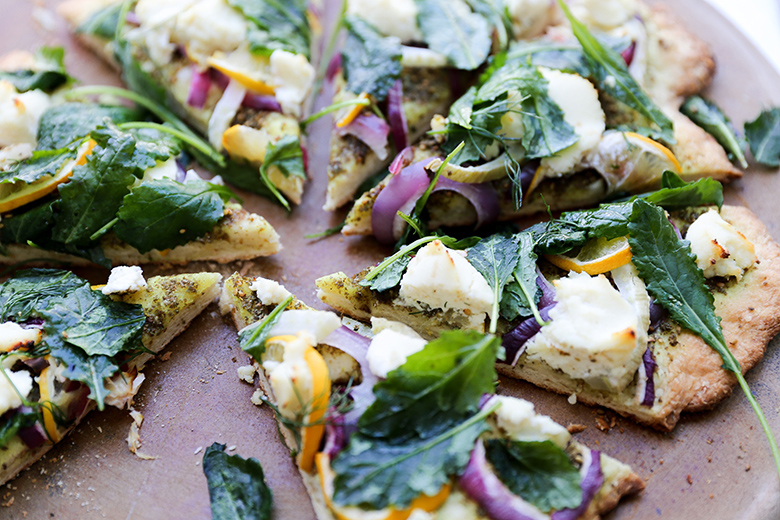 A basic margarita pizza will probably forever be my favorite. But it's fun to play with different flavor combinations every once in a while. I had some za'atar, which is a blend of herbs and spices frequently used in Middle Eastern cooking, that I need to use up. And that became the jumping off point that inspired this Middle Eastern Pizza with Red Onion, Fennel, Lemon, Ricotta and Kale. I love how all these unique pizza toppings come together to create something really fresh and flavorful. And it's nice to take a little break from the more traditional tomato sauce base, too.
The crust recipe is one that I've used before, and it makes an appearance in my grilled lobster pizza. It's a 5-minute, no-knead pizza crust recipe that results in something that isn't quite a flatbread style, but also isn't as chewy and "doughy" as a traditional pizza crust. It's somewhere in the middle. If that doesn't sound like your thing, you can substitute it for your favorite pizza dough recipe.
Cheers,
Liz
Ingredients
For the Pizza Dough
3 cups all-purpose flour, divided
1 package (2 1/4 tsp.) active dry yeast
1 tablespoon sugar
1 tsp. salt
1/2 tsp. za'atar
1 cup water
4 tablespoons extra-virgin olive oil, divided

For the Toppings
2 tablespoons za'atar
About 1/2 cup thinly sliced red onion
About 1/2 cup thinly sliced fennel (reserve a few fronds)
1/2 Meyer lemon, thinly sliced and seeds removed
1 cup ricotta cheese
1 cup loosely packed baby kale leaves (can substitute arugula)
Extra-virgin olive oil and balsamic vinegar
Instructions
Pre-heat your oven to 425 degrees. If you're using a pizza stone, warm it in your oven as the oven pre-heats. If you're using a baking sheet, dust it lightly with cornmeal and set it aside (no need to pre-heat it).
Make the pizza dough. In a large bowl, mix together 1 cup of the flour, the yeast, sugar, salt and za'atar. In a microwave-safe measuring cup, warm the water and 2 tablespoons of the olive oil until the liquid reaches 100-110 degrees Fahrenheit. Then pour this warmed liquid over the dry ingredients, stirring with a wooden spoon until the mixture is smooth. Add the remaining 2 cups of flour and stir until the flour is almost fully incorporated. The dough will be a little shaggy at this point. Dump the dough out onto a floured counter top and use your hands to bring the dough together, kneading it a couple times and shaping it into a ball. Then press the dough out into a circle until the dough is approximately 1/4- to 1/2-inch thick. Transfer the dough to your warmed pizza stone or baking sheet. Brush the surface of the dough with the remaining two tablespoons of olive oil.
Sprinkle the za'atar evenly over the surface of the dough. Top with the sliced red onions, fennel and lemon. Then drop spoonfuls of the ricotta cheese over the toppings. Transfer the pizza to your pre-heated oven and bake for 16-18 minutes, until the crust has started to brown around the edges. Remove the pizza from the oven and set it aside.
In a small bowl, toss the kale and a few reserved fennel fronds with just enough olive oil and balsamic vinegar to lightly coat the leaves. Then add the greens to the top of the pizza. Slice and serve immediately.
https://www.floatingkitchen.net/middle-eastern-pizza-with-red-onion-fennel-lemon-ricotta-and-kale/