Disclosure: This post is sponsored by Blue Diamond Almonds. All opinions are my own. Thank you for supporting companies and brands that support Floating Kitchen.
I know it's not officially Summer yet. But I'm totally in full-on Summer mode. Flip flops, grilling, and drippy ice cream cones are all happening at an alarming rate. And I'm not sorry about it.
But can you really blame me? I live in a seaside town. Summer is kind of our thing. It's pretty much the reason to live here. So I'm more than happy to embrace it early on in the season…even if it's still a little bit chilly outside.
Lately I've been dreaming up desserts that would be perfect for Summer entertaining. To that end, I decided to turn one of my favorite recipes here on Floating Kitchen into something personal and portable. So today I present you with these very adorable individual Grilled Pineapple and Coconut Parfaits.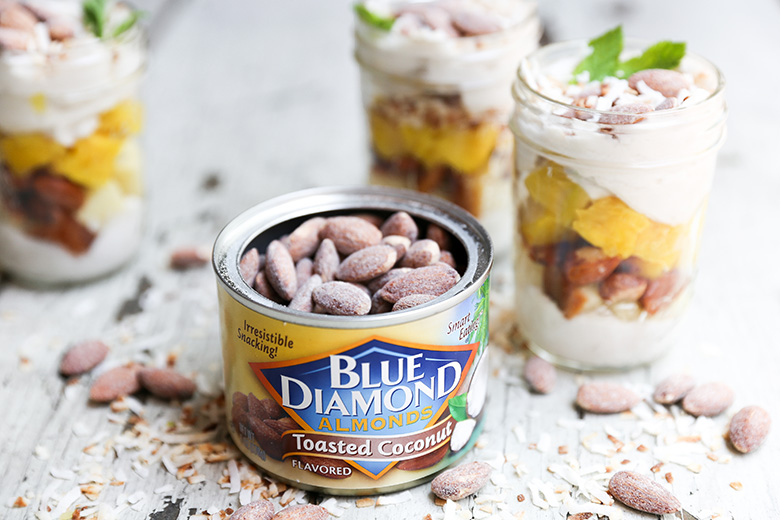 These tropical parfaits are crazy easy to make, especially with the help of some store-bought pound cake. And they are a treat that's light and fresh. And WHOA they are totally bringing it with the coconut flavor. With layers of coconut whipped cream, coconut flakes and Blue Diamond's Toasted Coconut Almonds, there is a whole lot of island-y goodness happening in each and every single jar. This is definitely a recipe for the coconut lover in your life.
Full disclosure: making coconut whipped cream does take a bit of planning, because you need to refrigerate the cans of coconut milk overnight to allow for separation of the solids and liquids. Also, sometimes you get a can that is a "dud" and doesn't separate properly. This has happened to me before and it's very frustrating. So if you don't want to bother with all that, you can certainly make regular whipped cream and add a small amount of coconut extract to give it a tropical boost.
I used 8 ounce mason jars for these parfaits, which make for the perfect single serving size (and bonus points because they have re-sealable lids!). But any kind of glasses you have will work.
Cheers,
Liz
Ingredients
2 (13.5 ounce) cans full fat coconut milk
1-2 tablespoons powdered sugar
1 tsp. vanilla extract
4 slices fresh pineapple, about 1-inch thick
4-5 slices pound cake, cut into cubes
About 3/4 cups Toasted Coconut Blue Diamond Almonds
About 1/3 cup toasted coconut flakes
Fresh mint leaves for garnish, if desired
Instructions
Make the coconut whipped cream. Place both cans of the coconut milk in your refrigerator overnight. The next day, chill your mixing bowl and whisk in your freezer for about 5-10 minutes. Meanwhile, remove the cans of coconut milk from your refrigerator. Do not shake the cans. Remove the lids from the cans and scoop out the firm layer of coconut milk solids, being careful not include any of the liquid portion (you can discard this liquid or reserve it for smoothies). Transfer the coconut milk solids to your chilled mixing bowl. Beat on high until fluffy, about 3-4 minutes. Add the powdered sugar and vanilla extract and beat until incorporated. Transfer the coconut whipped cream to a container and refrigerate it until you're ready to use it.
Meanwhile, grill the pineapple. Pre-heat your grill to medium-high. Add the pineapple slices and cook until they start to develop grill marks, about 2 minutes per side. Transfer to a plate to cool. Once cool enough to handle, cut off and discard the rind. Cut the pineapple flesh into cubes.
Assemble the parfaits. Depending on how long your coconut whipped cream has been sitting in your refrigerator, it may have firmed up slightly. If so, whisk it briefly to soften. Add about 1 tablespoon of the coconut whipped cream to the bottom of your parfait glasses/jars. Top with some of the cubed pound cake and about 1 tablespoon of the almonds. Add some of the cubed pineapple and more coconut whipped cream. Top with additional almonds and a sprinkle of toasted coconut flakes. Garnish with fresh mint leaves, if desired. Serve immediately.
https://www.floatingkitchen.net/grilled-pineapple-and-coconut-parfaits/
It's grilling season, y'all! Woo hoo!
I'm so pumped to finally be firing up the grill. Our Spring weather has been less than ideal lately. We've been plagued with a seemingly never ending string of cold, rainy days. And frankly, it's been a little depressing.
But it looks like things are finally starting to turn around. Which means I'm heading outside and putting anything and everything on the grill.
I feel like I really stepped up my grilling game last year, as I tried to go beyond the usual run-of-the-mill staples like hamburgers and chicken. I grilled salsa, lobster pizza and heck, I even grilled watermelon. I was pretty unstoppable. This year, I'm hoping to push the boundaries even a little bit further.
So when I picked up some beautifully crisp snap peas this past week, I knew I wanted to try grilling them.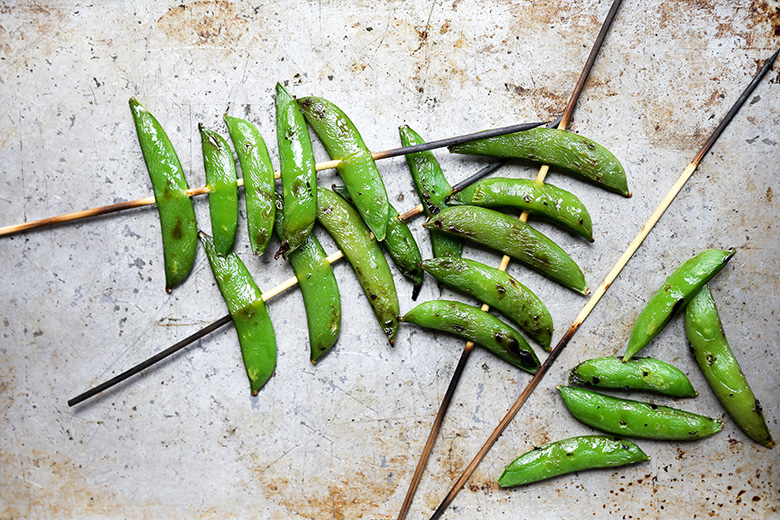 Naturally, I used my grilled snap peas for toast (although as I'm writing this now I can't help but think they would be a great addition to a salad as well). The slightly charred snap peas, combined with a little honey-sweetened whipped ricotta cheese and a sprinkle of za'atar seasoning, make for a wonderfully flavorful savory-sweet snack or light lunch. I'm obsessed. And the presentation is pretty cute too, which I always appreciate.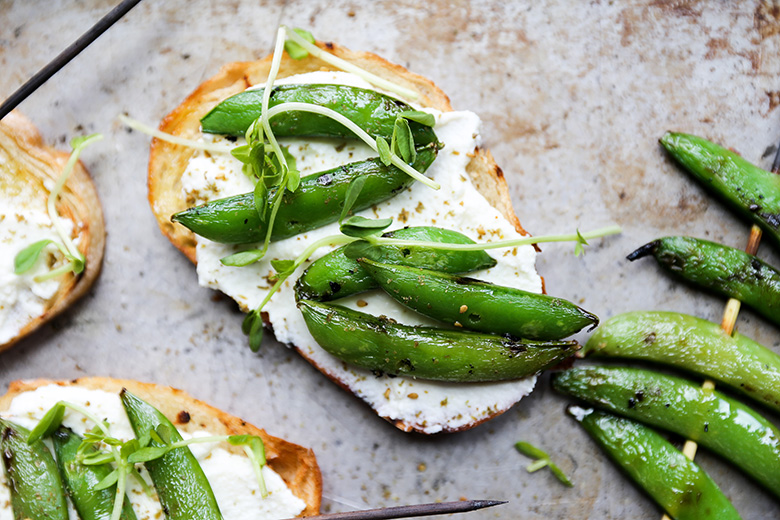 If you try out my Grilled Snap Pea and Whipped Ricotta Toast, snap a picture, post it to social media and tag me so I can see it! Because I like to be nosey!
Oh and my friend Sarah just posted a recipe for snap peas with za'atar seasoning. So go check that out too, if you're digging the flavor combo.
Cheers,
Liz
Ingredients
For the Whipped Ricotta
1 cup full fat ricotta cheese
1 tablespoon heavy cream
1 tablespoon honey
1/4 tsp. salt

For the Toast
About 1/2 lb snap peas
6 slices of bread
A couple tablespoons of extra-virgin olive oil
About 1 tsp. za'atar
Pea sprouts for garnish, if desired
Instructions
Make the whipped ricotta. Add all of the ingredients to a medium bowl. Beat with your hand mixer until well combined and smooth. Set aside.
Meanwhile, pre-heat your grill to medium-high. Carefully thread the snap peas onto skewers and brush them with a thin layer of olive oil. Brush both sides of the bread with olive oil. Add the snap pea skewers and the bread to your grill. Cook both until they start to become charred in a few places, about 1-2 minutes per side. Remove from the grill and set aside on a clean plate.
Assemble the toasts. Spread some of the whipped ricotta onto the grilled bread. Top with the grilled snap peas (you can leave them on the skewers for a fun presentation, or remove them first). Sprinkle with some of the za'atar and garnish with a few pea sprouts. Enjoy immediately.
https://www.floatingkitchen.net/grilled-snap-pea-and-whipped-ricotta-toast/