Disclosure: This post is sponsored by Blue Diamond Almonds. All opinions are my own. Thank you for supporting companies and brands that support Floating Kitchen.
Hi Friends! It's been a while since we've shared this space together. I've missed you all so much. And for my own self esteem, I'm going to tell myself that you've missed me too.
I guess I haven't been feeling particularly motivated to create new recipes lately. Part of that is due to the fact that it's as hot as Hades outside. All I want to do is sit down with a big spoon and half a watermelon in my lap. And I'm pretty sure nobody needs a recipe for that.
Also, I've just been feeling generally "blue" these past couple of weeks. And I find it hard to be creative when I've got a case of the "blahs". But I think I've finally started to turn the corner towards a happier mental state. Last weekend I traveled to Minnesota to spend some time with the most awesome boss ladies that I know, and that definitely helped to lift my spirits. I'll write more about our weekend together later on this month, but in the meantime, if you want to see what kinds of trouble we got ourselves into, you can take a peak at the hashtag #bossbabefestMSP on the Instagram machine.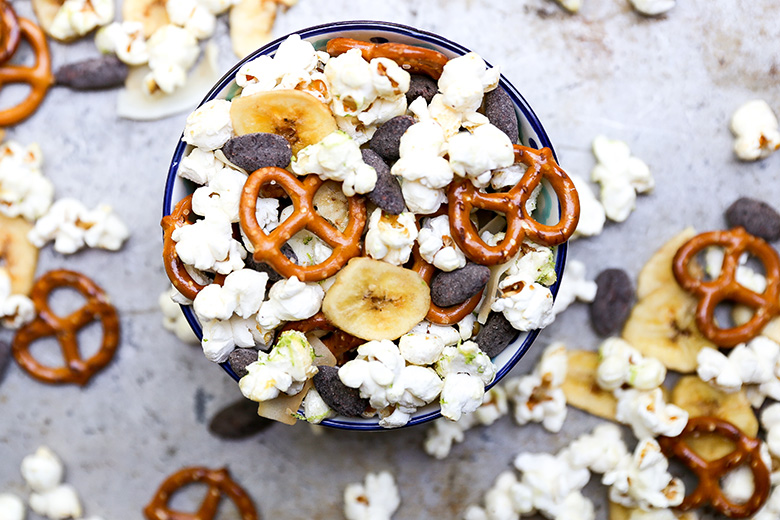 The day before I jetted off to the Midwest, I made up a big batch of this Tropical Popcorn Snack Mix to take along with me. Because traveling is hard and stressful enough as it is. I don't need to throw feelings of extreme hunger into the mix. And the stuff that's available to eat at most airports generally isn't the healthiest. My motto: never leave home without food and water.
Making your own snack mix at home is a serious must-do. Because not only do you have the power to control the overall levels of salt, fat and sugar in your recipe. But you also get to make sure you've got all your favorite ingredients represented. Personally, I find that store-bought snack mixes never have enough chocolate for my taste. So I made sure to throw in enough Blue Diamond Dark Chocolate Oven Roasted Almonds to satisfy my cravings. Oh and don't skip the lime zest here. It totally makes this Tropical Popcorn Snack Mix pop!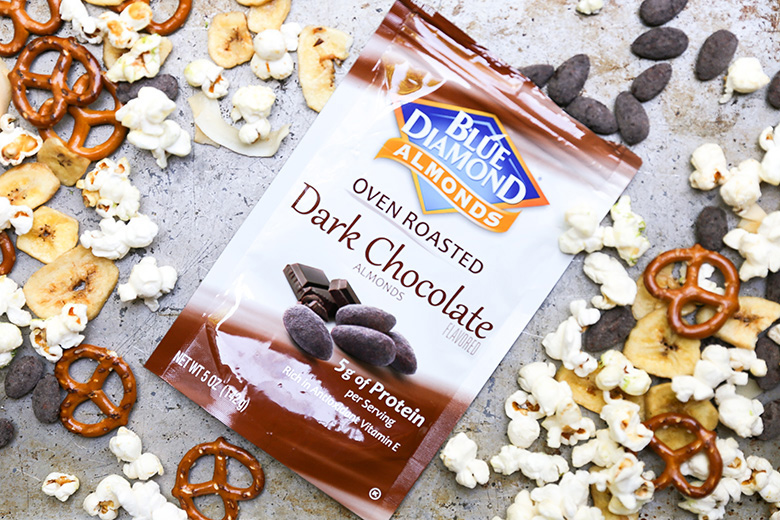 Blue Diamond Almonds is the Official Snack Nut of USA Swimming. And I'm guessing the USA Swimming Team would never leave home without healthy snacks. Because you can't be your best self when you're hangry!
Cheers,
Liz
Disclosure: This post is sponsored by Blue Diamond Almonds. Blue Diamond Almonds understands what it takes to be the best. That's why we're proud to be an official sponsor of USA Swimming. Visit www.LaneToGreatness.com for a chance to win $5,000 to fuel your dreams of greatness (whatever they may be), get Blue Diamond Almonds coupons and recipes, and more!
Ingredients
2 tablespoons coconut oil
1/2 cup yellow corn kernels
2 tablespoons granulated sugar
1/2 tsp. salt
Zest from 1 lime
2 cups pretzel twists
2 cups dried banana chips
1 cup baked coconut chips
1 (5 ounce) package Dark Chocolate Blue Diamond Almonds
Instructions
Heat the coconut oil in a large pot over medium-high heat. Add 3-4 corn kernels, cover the pot and listen for them to pop. Once they have popped, quickly and carefully add the remaining 1/2 cup of corn kernels to the pot and sprinkle the tops with the granulated sugar. Immediately cover the pot and reduce the heat to medium-low. Shake the pot back and forth over the heat, making sure to hold down the lid, continuing to do so until the popping has slowed down considerably. Remove the pot from the heat.
Carefully remove the lid from the pot and transfer the popcorn into a large bowl. Add the salt and the lime zest, tossing the popcorn as you sprinkle it in so it gets evenly distributed.
Once the popcorn has mostly cooled, stir in the pretzel twists, banana chips, coconut chips and almonds. Serve and enjoy.
This popcorn snack mix is best when enjoyed the day that it's made, but it can be stored in an airtight container at room temperature for up to two days.
https://www.floatingkitchen.net/tropical-popcorn-snack-mix/
Despite the oppressive weather this weekend, I temporarily lifted my "no oven" embargo to bake up a batch of these Blackberry-Chocolate Chunk Muffins.
And let me tell you, it was totally worth it. I may have gotten miserably hot and sweaty from cranking my oven up to 375 degrees. But a dozen moist, fluffy muffins bursting with fresh blackberries and chunks of dark chocolate is a force to be reckoned with. I just couldn't say "no".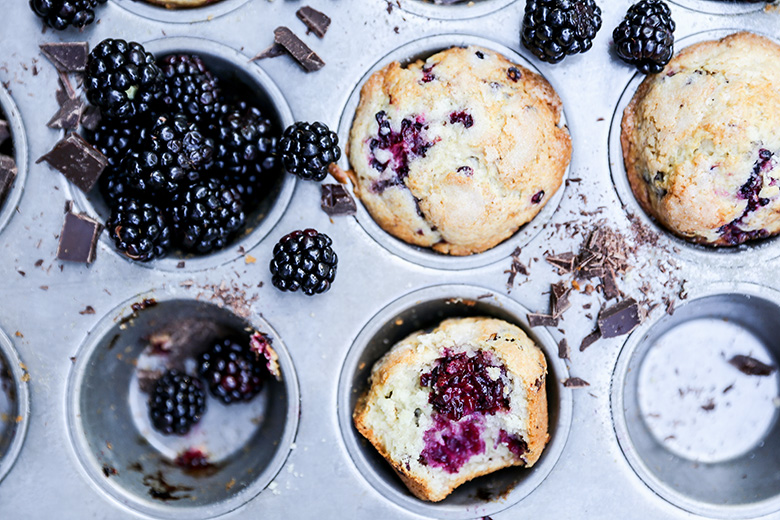 I've been on a serious muffin kick lately ever since I made these Blueberry-Basil Muffins. To be honest, I had kind of forgotten about how much I liked homemade muffins. But they are leaps and bounds above those typical dense, softball-sized muffins that you find in coffee shops. And once you zero in on a base recipe that you love, homemade muffins are endlessly customizable. I've been making versions of the recipe from this book for a couple of years of now, often swapping out or adding ingredients. And whatever I seem to do to them, they always come out great.
Also, muffins are basically as close as you can get to enjoying cake for breakfast without actually eating a slice of cake. And I'm very down with that.
Cheers,
Liz
Ingredients
1/2 cup (8 tablespoons) unsalted butter, melted and cooled
1/2 cup milk, room temperature
2 eggs
1 tsp. grated orange zest
2 cups all-purpose flour
3/4 cups plus 1 tablespoon sugar, divided
2 tsp. baking powder
1 tsp. salt
1 1/2 cups fresh blackberries
1/2 cup chopped dark chocolate
Instructions
Pre-heat your oven to 375 degrees. Line a standard 12-cup muffin tin with liners or coat with non-stick cooking spray. Set aside.
Make the muffin batter. In the bowl of your stand mixer with the paddle attachment, beat the butter, milk, eggs, orange zest on medium speed until well combined, about 2-3 minutes. With your mixer on low, slowly add in the flour, 3/4 cups of the sugar, baking powder and salt, beating until the dry ingredients are just incorporated. Fold in the blackberries and chopped chocolate.
Scoop the muffin batter into your prepared muffin tin, dividing the batter evenly between the 12 cups. Sprinkle the remaining tablespoon of sugar over the tops of the muffins.
Transfer the muffin tin to your pre-heated oven and bake for 25-28 minutes. The tops of the muffins should be slightly brown, and a toothpick inserted into the center should come out clean. Remove from the oven and allow the muffins to cool in their tin for about 10 minutes. Then remove the muffins from their tin and transfer them to a wire rack to continue cooling.
Once fully cooled, the muffins can be stored in an airtight container at room temperature for up to 2 days.
https://www.floatingkitchen.net/blackberry-chocolate-chunk-muffins/