The inspiration for this blueberry explosion of a smoothie bowl started with a blogging retreat to Minneapolis, Minnesota. And it ended in between the seemingly endless rows of blueberry bushes at Turkey Hill Farm in Haverhill, Massachusetts.
Each experience was highly rewarding in it's own way. Friendships were nurtured. Food was gathered. But the outcome was the same: my body, mind and heart were full.
Also, I was very sweaty. Don't let the cold winters of Minnesota fool you – that place is HOT in the Summertime. Damn. Picking blueberries under the blazing mid-day sun was no match for the weather Minneapolis served up that weekend.
Food blogging is an interesting career. For a job that is so tightly tied to a daily social media routine, it's surprisingly isolating. We work alone most of the time, in the confines of our kitchens. It can feel empowering. But it can also feel lonely. So to have the opportunity to travel across the country several times a year to gather with some of the other people with whom I share this virtual space with is like hitting the re-fresh button on my soul.
Our #BossBabeFestMSP was organized by Amanda from Heartbeet Kitchen and Sherrie from With Food + Love. Ten of us came together in Minneapolis for a long weekend of eating, drinking, laughing, crying, smiling, hugging, exploring, learning and most importantly, just being. Being ourselves. Without walls. And without judgments.
If you're not familiar with some of the creative beauties in this photo below, I urge you to get familiar with them. You will, for sure, be inspired.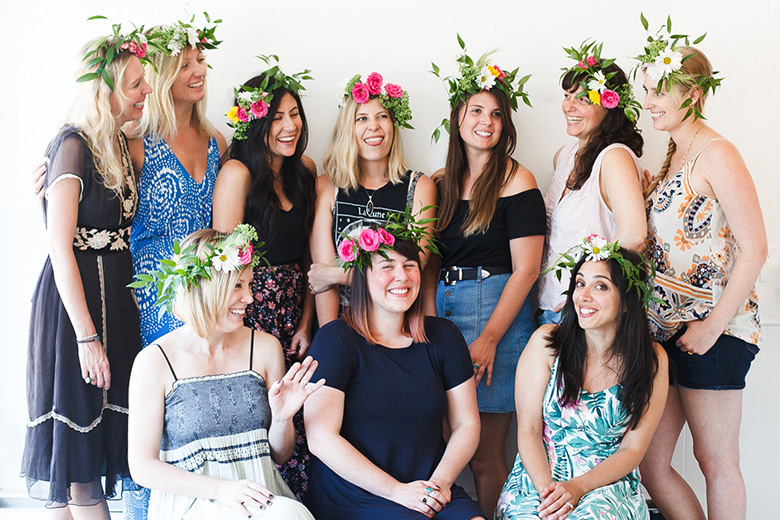 Top row: Amanda (Heartbeet Kitchen), me, Kristan (The Broken Bread), Renee (Will Frolic for Food), Shelly (Vegetarian Ventures), Alanna (The Bojon Gourmet), Sarah (Snixy Kitchen).
Bottom Row: Jayme (Holly & Flora), Sherrie (With Food + Love), Emilie (The Clever Carrot).
Vital Proteins was our official sponsor for the retreat, and it's really with their support that we were able to make this event a reality. Throughout the weekend, we incorporated their collagen supplements into everything from hummus to smoothies. And I've used their Collagen Beauty Greens to boost this Blueberry-Avocado Smoothie Bowl.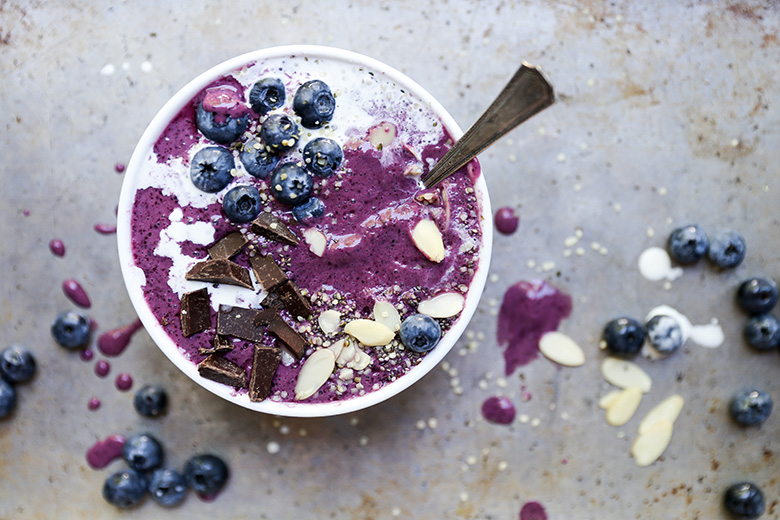 In my humble opinion, the best thing about smoothie bowls is ALL THE TOPPINGS. You can certainly customize them to your liking, but I urge you not to skip the chunks of dark chocolate in this version. The combination of chocolate and blueberries is to die for.
Below the recipe I've added a few photos and words about our weekend. I actually didn't taken as many photos as I thought I did/would. I guess I got caught up in the moment of it all!
Cheers,
Liz
Ingredients
For the Smoothie
1 cup blueberries
1/2 avocado
1/2 cup almond milk (I used unsweetened)
1 tablespoon Vital Proteins Collagen Beauty Greens
1 tsp. agave nectar
1/4 tsp. vanilla extract
3-4 ice cubes

For Topping
Fresh blueberries
Chopped dark chocolate
Sliced almonds
Chia seeds
Shelled hemp seeds
Instructions
Add all of the smoothie ingredients to your blender. Blend on high until smooth. Pour into a bowl. Sprinkle with the toppings of your choice, if desired. Enjoy immediately.
https://www.floatingkitchen.net/blueberry-avocado-smoothie-bowl/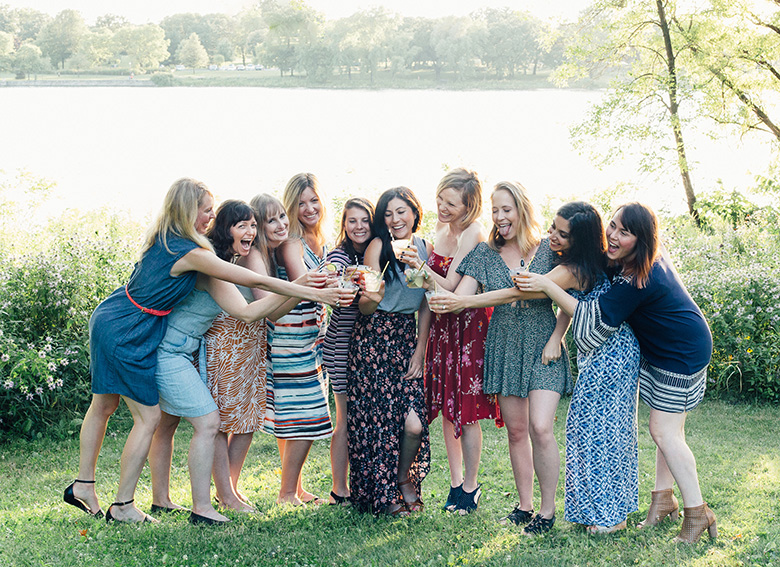 #BossBabeFestMSP Retreat re-cap:
I was the last to arrive on Thursday afternoon (airplane travel never goes smoothly for me). But there was an army of smiling faces and an array of snacks waiting for me, including the most beautiful deviled eggs made with pasture-raised Vital Farms eggs. And some blushingly pink champagne cocktails. Cheers to that!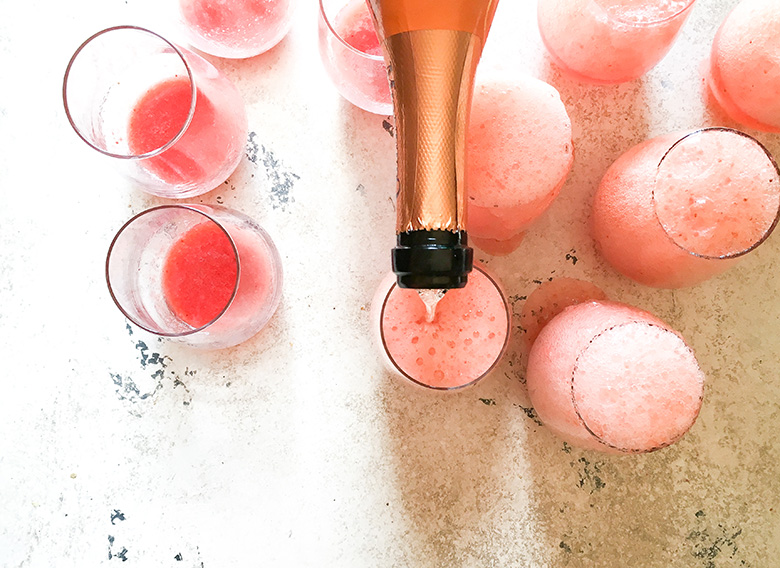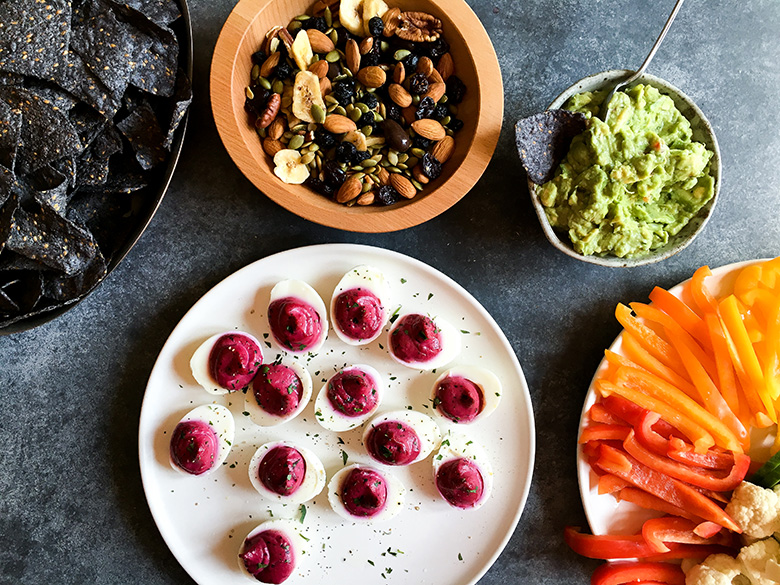 That evening we enjoyed a private cocktail making session from Erik Eastman of Easy & Oskey. We sipped (and photographed) our seasonally inspired drinks on the roof-top before heading downstairs to have a fabulous 5-course meal at St. Dinette. The entire meal was vegetarian, gluten-free and absolutely mind-blowing. Power to the plants, people.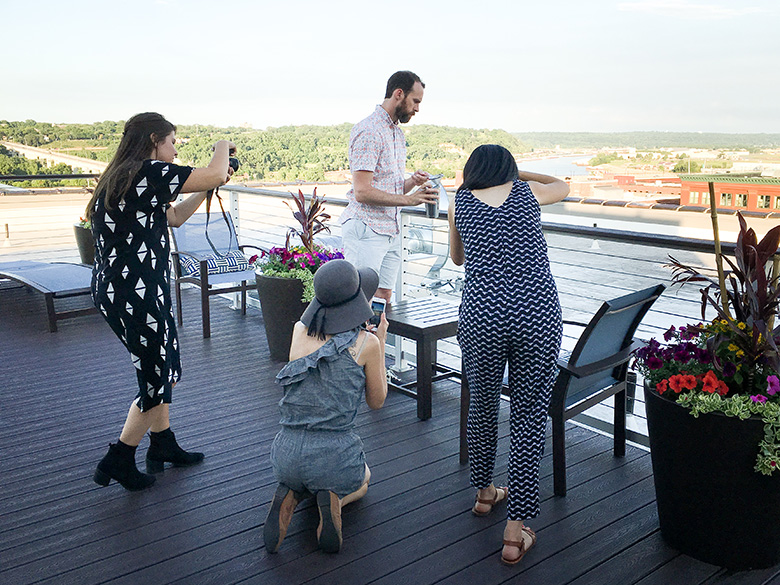 On Friday, General Mills graciously sponsored a visit to their national headquarters. We learned about their goal of removing artificial dyes from all their cereals. And how they are addressing various environmental issues, such as water usage. Then – and this is the best part – they let us loose in their test kitchen and challenged us to create a recipe using one of their cereals. Jayme and I paired up and, of course, we made a cocktail. We infused some milk with Golden Grahams cereal and then mixed that with a little rum, vanilla, coffee and some crushed Golden Grahams for garnish. It was pretty gosh darn good, if I do say so myself.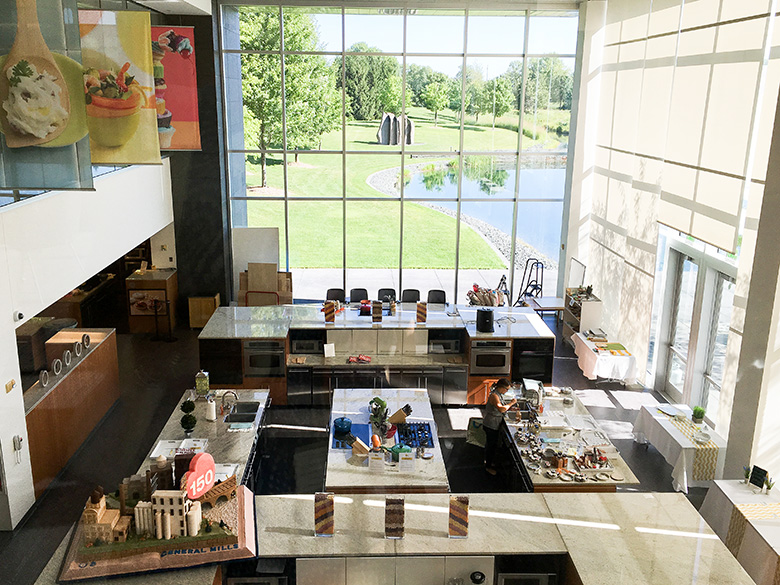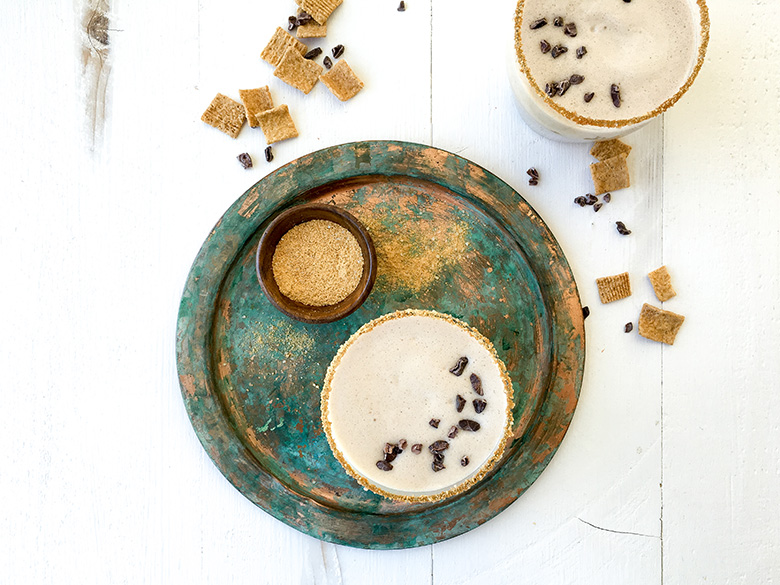 After we filled our bellies with pizza from Pizzeria Lola, we headed to Willful Goods for flower crown making. You guys. Talk about feeling like a princess. It's impossible not to feel giddy when you have a beautiful crown of flowers encircling your head. And what a joy it was to create something that wasn't food related. It stretches the imagination.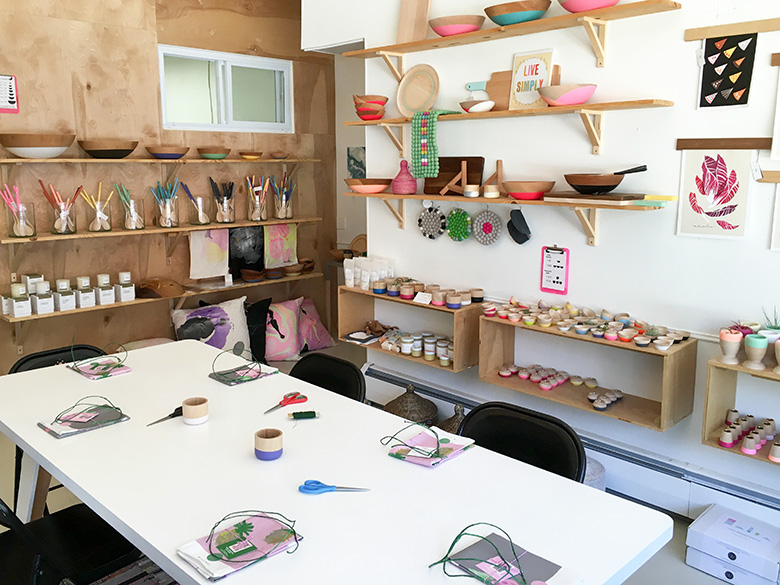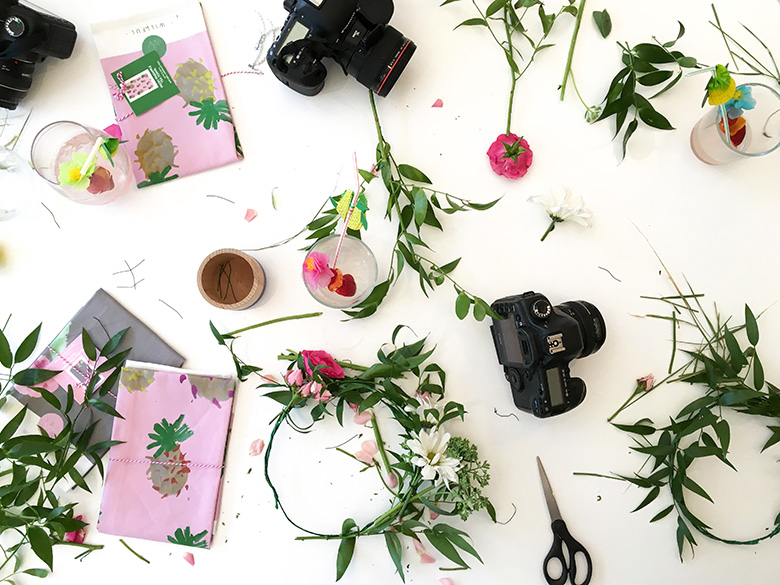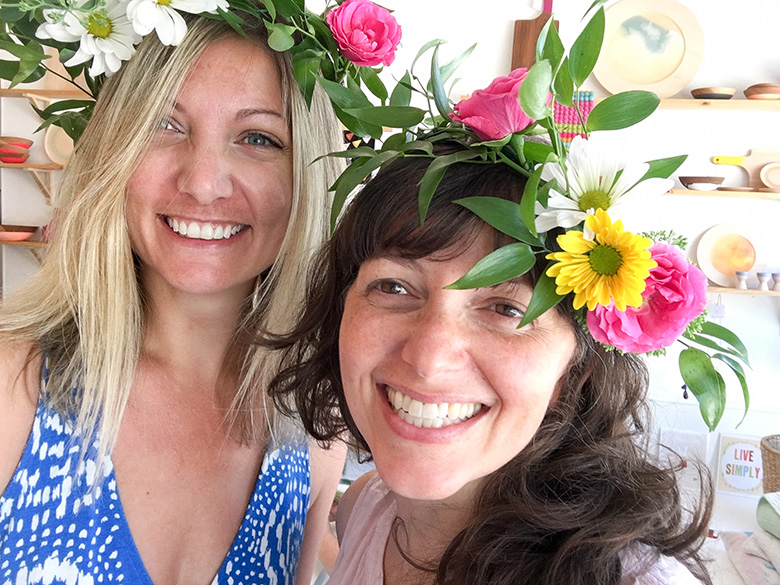 That evening Sherrie and Amanda prepped ingredients for vegetable grain bowls, complete with Bob's Red Mill quinoa and sorghum. We ate our rainbow creations outside, overlooking the lake, and talked shop. It was these moments of "downtown" that were my favorite parts of the trip.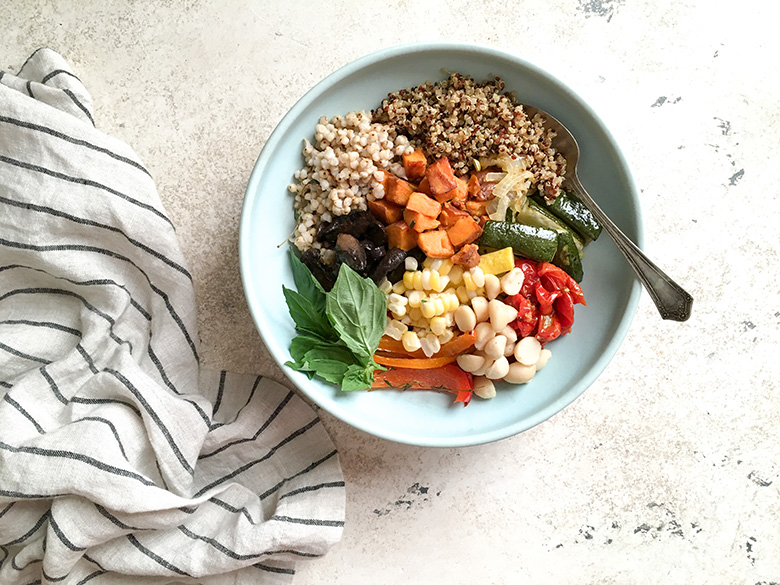 The next morning, we prepared smoothie bowls and toast, using ingredients from Udi's Gluten Free, Rodelle Vanilla and NOW Foods. We had to put a time limit on how long we allowed ourselves to photograph our breakfast, because we could have easily spent half the day doing just that. #foodbloggerproblems.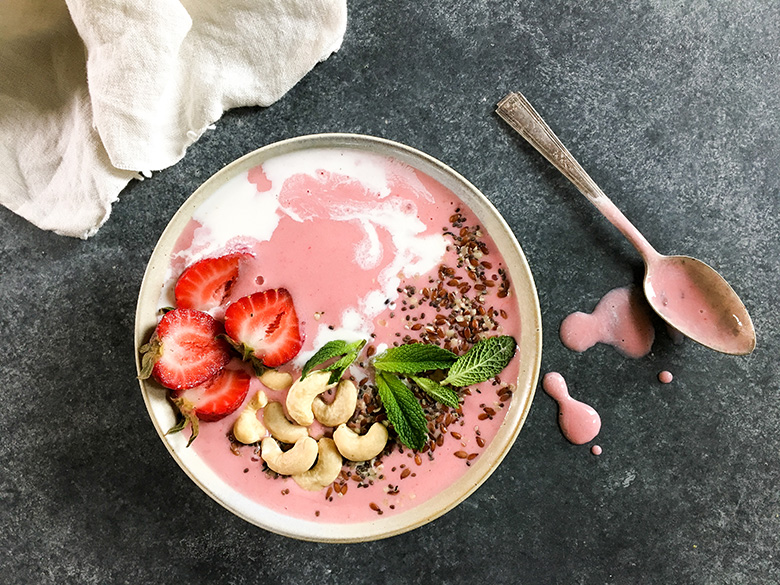 We spent most of Saturday afternoon talking about blog business and photography. Sarah is a wizard with Adobe Photoshop and Lightroom, and she taught me a few tricks that have seriously changed my life. The evening kicked off with a mocktail hour sponsored by La Croix. The light just sparkled that evening, as it streamed in through the windows and scattered across our dinning room table.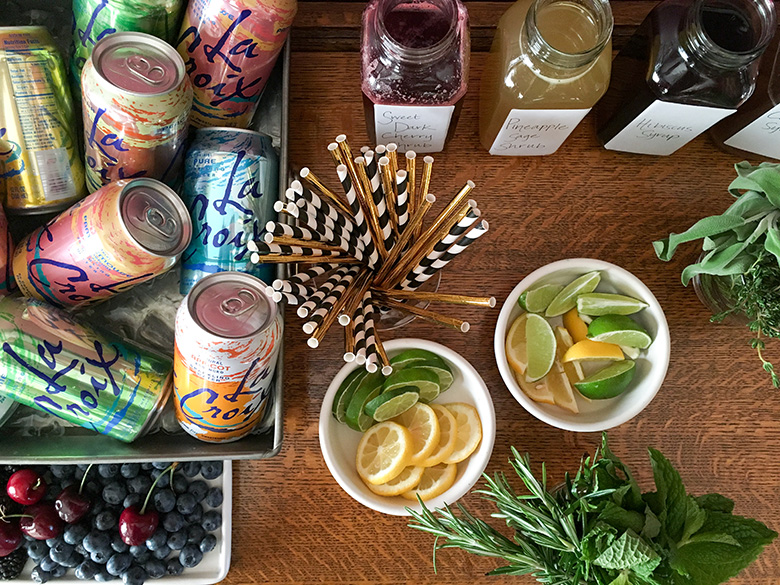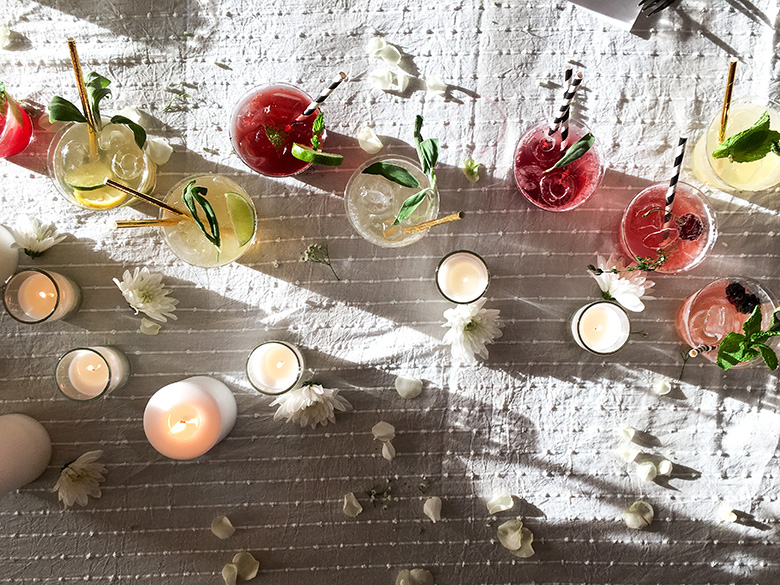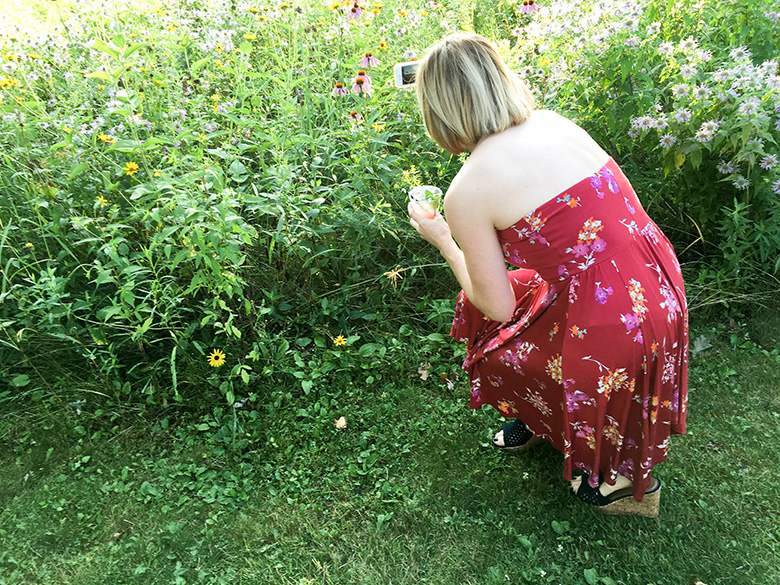 For dinner, we enjoyed a 5-course farm-to-table meal from Create Caters. There were fits of laughter, a few tears and some intense real-talk in between all the artfully crafted dishes that were being served to us, which included the best pavlova I've ever had in my life. So far, I haven't seen a single photograph of this meal. I think we were all too busy enjoying the moment (and enjoying each other) to be bothered with our cameras and phones. And in the end, I think that was really the whole point of the trip.
The next morning we said our tearful goodbyes (happy tears!) and went our separate ways. The trip left me feeling rejuvenated. Which was what I needed at that exact moment. Thank you to Amanda, Sherrie and all our sponsors for making this weekend happen. Love you all. XOXO.
It's hard to pick a favorite Summer fruit or vegetable. Each week it seems like I have a new obsession.
I started off the season by eating my weight in cherries (and I have the stained cutting board to prove it). Then I quickly moved on to plowing through buckets of blueberries and shucking enough local corn to make my fingers sore. Now I'm all about the heirloom tomatoes. Their jewel tones and sometimes silly, oddball shapes make me smile. And at the moment, their flavor is superior to just about everything else at the farmer's market.
Heirloom tomatoes are like the prize at the end of the Summer. They're our reward for sweating through the hazy, hot and humid days of June and July. And I, for one, have my eye on the prize.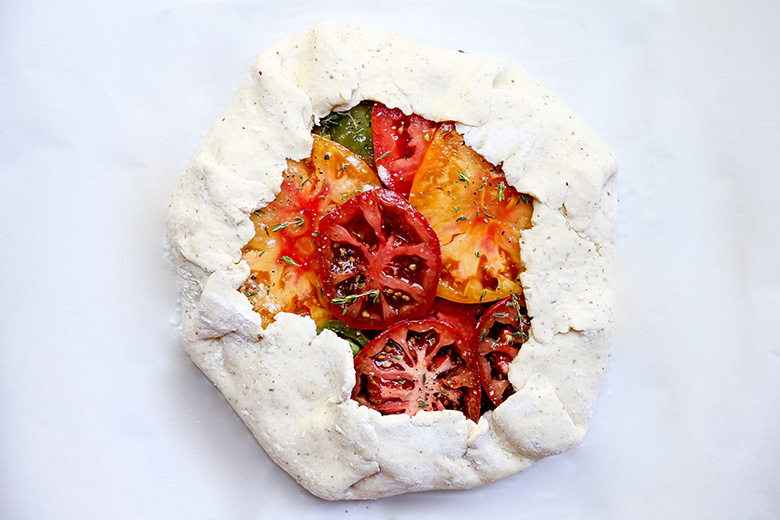 This Heirloom Tomato and Hazelnut Galette puts these Summer beauties front and center. Both literally and figuratively. I definitely recommend trying to get your hands on a mix of different varieties, because this will give you the greatest visual impact. But if you can only find a single variety, that's perfectly fine. Heirloom tomatoes come in a wide range of sizes. I used 3-4 medium sized heirloom tomatoes for this recipe, but you may need more or less depending on their size. You'll want enough slices to create two layers that loosely overlap each other.
Galettes are suppose to be rustic. It's normal for them to turn out a little lopsided. And maybe even crack on one side. It's all part of their charm. And it's why I love them so much. I've never been the best at constructing beautifully crafted baked goods. Freeform is certainly more my style.
There is one unexpected ingredient here: hazelnut butter. I got the idea for idea for combining hazelnuts/hazelnut butter with tomatoes from a salad I had a Saint Dinette. It might sound like an odd combination. But it works really well. You can find hazelnut butter with the other natural nut butters in your grocery store. Be sure to purchase a plain, unsweetened variety (not chocolate flavored!). Or you can easily make your own if you have high powered blender or food processor. And for a third option, you could swap out the hazelnut flour/butter for something of the almond variety.
Cheers,
Liz
Recipe for the dough adapted from Smitten Kitchen
Ingredients
For the Dough
1 cup plus 2 tablespoons all-purpose flour
1/4 cup hazelnut flour
1/4 tsp. salt
1/2 cup (8 tablespoons) unsalted butter, cut into pieces and chilled
1/4 cup Greek yogurt
1/4 cup cold water
2 tsp. lemon juice

For the Filling
4 ounces mascarpone cheese, softened at room temperature
2 tablespoons hazelnut butter
1/2 tsp. salt, divided
1/2 tsp. black pepper, divided
3-4 heirloom tomatoes, thinly sliced
1 tablespoon fresh thyme leaves
Fresh basil for garnish, if desired

For the Egg Wash
1 egg yolk
2 tsp. water
Instructions
Make the dough. In your food processor with the blade attachment, pulse together the flours and salt. Add the butter and pulse until pea-sized crumbs are formed. In a small bowl, stir together the yogurt, water and lemon juice. Then add this mixture to your food processor and pulse until the dough comes together into a loose ball. Turn the dough out onto a floured work surface and use your hands to shape it into a disk. Wrap the dough disk in plastic wrap and refrigerate it until well chilled, at least 1 hour or up to 2 days.
Pre-heat your oven to 400 degrees. Line a large rimmed baking sheet with parchment paper. Set aside.
In a bowl, mix together the mascarpone cheese, hazelnut butter and 1/4 tsp. each of the salt and pepper. Set aside.
Assemble the galette. On a well floured work surface, roll out the chilled dough so it's approximately 12-inches in diameter. It doesn't have to be perfectly round. Transfer the dough to your parchment paper-line baking sheet. If the dough tears in a few places, just patch it together with your fingers. Spread the mascarpone-hazelnut mixture out into a thin layer over the center of the dough, leaving a 2-inch boarder around the edges. Then loosely layer the tomato slices on top. You'll want to create two layers that are overlapping, but not tightly packed. Sprinkle the tops of the tomatoes with the thyme leaves and the remaining salt and pepper. Fold the edges of the dough over the filling, pressing it together lightly so it adheres. In a small bowl, beat together the egg yolk and the water. Then brush this egg wash over the surface of the dough.
Transfer the galette to your pre-heated oven and bake for 40 minutes, rotating the baking sheet once half way through the baking time. The crust should be browned and the center bubbling. Remove the baking sheet from your oven and place it on a wire rack to cool slightly. Allow the galette to rest for about 10 minutes before slicing and serving. Top with a few fresh basil leaves before serving, if desired.
https://www.floatingkitchen.net/heirloom-tomato-and-hazelnut-galette/