You guys! I've been eating so much squash lately, that I'm kind of afraid I might start to turn some bizarre shade of orange.
But as my friend Sherrie said to me earlier in the week "some people pay good money to be that color". So I guess that is the upside to my dilemma.
I blame my obscene levels of squash consumption on my Mother. Because I asked her to bring me a couple delicata squash from the farm the other day, and she brought me twelve. So I've been on a steady diet of squash ever since.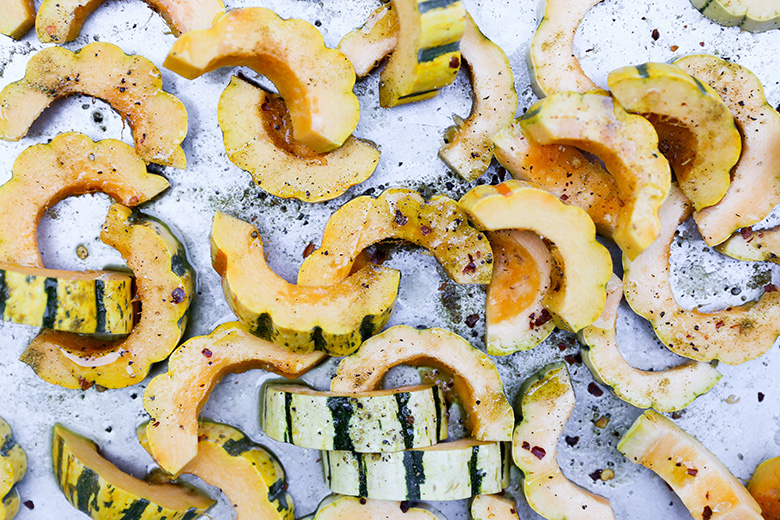 Delicata squash has been a favorite of mine for a while now. It has a mild nutty, sweet flavor. It cooks up relatively quickly (at least compared to some other squashes). And you can eat the skin once it's been cooked. Which is awesome because I'm lazy and I don't like to peel things. So there you go.
I've used roasted delicata squash "half-moons" as a sandwich topping before, and I wanted to re-visit that idea here. But this time, focusing on a purely vegetarian option. So I slathered warmed sandwich-sized pita breads with fresh guacamole. Then topped them with black beans, pumpkin seeds, roasted squash and a few sprigs of fresh cilantro. Then I proceeded to shove three in my face. They were that good.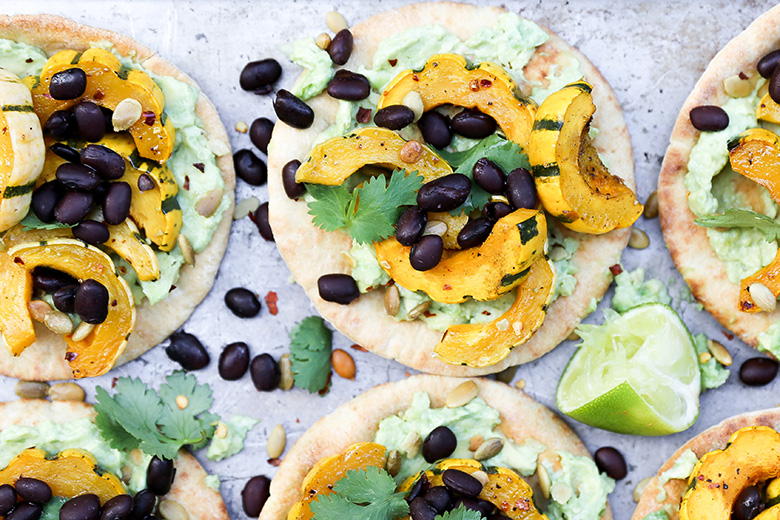 These Roasted Delicata Squash Pita Tostadas with Black Beans and Guacamole come together very quickly, which makes them a great choice for lunch or an easy weeknight dinner. Try them out and then come back here and tell me about how much you loved them!
Oh and do you want to know what my secret ingredient is for making the guacamole so incredibly yummy? It's goat cheese. I simply mix a couple tablespoons of softened goat cheese in with the avocado to give my guacamole a wonderful creamy texture. Here I used a honey-flavored goat cheese from Laura Chenel's that I'm currently obsessed with. But you could certainly used any plain or herbed goat cheese that you love.
If you wanted to make this recipe gluten free, swap out the pita bread for corn tortillas and have yourself a little Fall taco situation. Sounds delightful to me.
Cheers,
Liz
Ingredients
For the Delicata Squash
2 delicata squash
1 tablespoon extra-virgin olive oil
1/2 tsp. salt
1/2 tsp. black pepper
1/4 tsp. cumin
1/4 tsp. red pepper flakes

For the Guacamole
1 avocado
2 tablespoons goat cheese, softened at room temperature
Juice from 1/2 lime
1/4 tsp. salt

For the Tostadas
6 sandwich size pita breads (5- to 6-inches in diameter)
About 1/2 cup black beans, rinsed and drained
About 1/4 cup shelled pumpkin seeds
2 tablespoons fresh cilantro, roughly chopped
Instructions
Pre-heat your oven to 400 degrees.
Trim the ends off the delicate squash and then slice them in half lengthwise. Scoop out and discard the seeds. Then slice the squash into 1/2-inch thick "half-moon" slices. Add the squash to a large rimmed baking sheet and drizzle with the olive oil, tossing gently to coat. Then sprinkle with the salt, black pepper, cumin and red pepper flakes. Transfer the baking sheet to your pre-heated oven and roast the squash for 18-20 minutes, gently stirring once halfway through cooking time. Remove from the oven and cover to keep warm.
Meanwhile, place the pita breads on a second rimmed baking sheet and warm them in your oven for about 10 minutes, or until the edges turn slightly crispy.
To make the guacamole, slice the avocado in half and remove and discard the pit. Scoop out the flesh into a clean bowl. Add the goat cheese, lime juice and salt. Then mash everything together with a fork until well combined.
To assemble the tostadas, spread the guacamole in a thin layer over the warmed pita breads. Top with 4-5 slices of the roasted delicata squash, a heaping tablespoon of black beans, a sprinkling of pumpkin seeds and some fresh cilantro. Serve immediately.
https://www.floatingkitchen.net/roasted-delicata-squash-pita-tostadas-with-black-beans-and-guacamole/
Disclosure: I'm so happy to be able to give you all a peek into Oh She Glows Every Day by Angela Liddon. Thanks for letting me share this beautiful cookbook with you!
I was traveling for work last week, and about half way through the trip all I could think about was coming home and making up a big batch of this soup. Because even though exploring new restaurants and trying out new food items is one of the best reasons to travel (in my humble opinion), I do have my breaking point when it comes to eating out. Restaurant food is often much heavier than what I typically cook at home. And the portion sizes can be overwhelming as well. So usually after a few days of hitting up the restaurant scene, I start craving healthy, home cooked meals like nobody's business.
The recipe for this bright, flavor-packed Creamy Thai Carrot Sweet Potato Soup with Roasted Tamari Almonds is straight out of Angela Liddon's new cookbook, Oh She Glows Every Day. You've probably seen it or heard about it by now. Because it's taken the blogosphere by storm since it's release earlier this month (kind of like her first cookbook, The Oh She Glows Cookbook, did back in 2014!).
Psst! I'm giving away a copy to one lucky reader! Keep scrolling to enter!
Oh She Glows Every Day is a collection of over 100 plant-based recipes that will appeal to vegetarians and non-vegetarians alike. Angela's recipes are casual and straight-forward, but never boring. That's because Angela has a knack for adding one or two unexpected ingredients to many of her dishes, which not only keeps things interesting, but also totally makes you want to stop and say "hmmm…why didn't I think of that?". For example, this soup contains a 1/4 cup of almond butter, which gives it a great creamy texture. And her homemade basil pesto sauce (SO GOOD!) uses hemp hearts to boost protein and omega-3 fatty acids. The whole book is sprinkled with little twists like these. It's seriously genius.
Oh and the photography (taken by the talented Ashley from Edible Perspective) is insanely gorgeous as well. I could just sit and stare at the images in this cookbook all day long!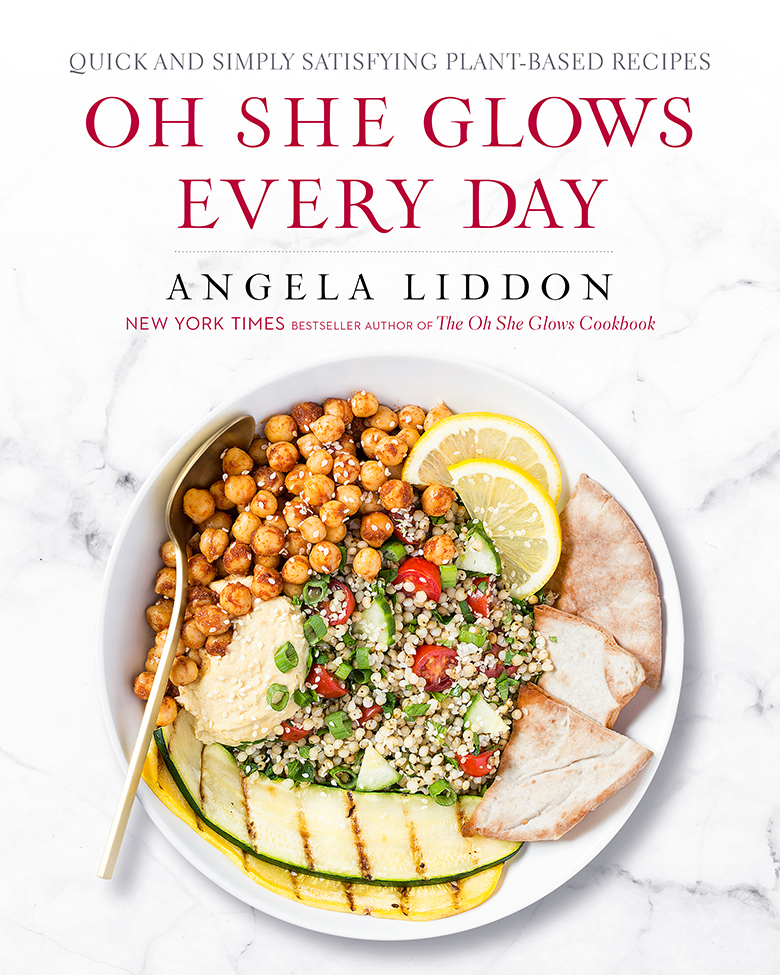 I'm excited to be able to give away a copy of Oh She Glows Every Day to one lucky reader. Hooray! All you have to do is leave me a comment below, telling me your favorite Fall vegetable. The giveaway will be open until October 3, 2016. After which I will randomly select a winner and notify them by email. The winner will have 48 hours to respond to me with their shipping address (United States shipping addresses only, please!), or I will select an alternate winner. Good luck! Update: This giveaway has ended and a winner has been chosen. Thanks to all those who participated!
Cheers,
Liz
Reprinted with minor adaptations from Oh She Glows Every Day by arrangement with Avery Books, a member of Penguin Group (USA) LLC, A Penguin Random House Company. Copyright © 2016, Glo Bakery Corporation.
Ingredients
For the Soup
1 tablespoon coconut oil
2 cups diced sweet onion
2 cloves garlic, peeled and mined
1 tablespoon peeled and minced fresh ginger
2 tablespoons red curry paste
4 cups low-sodium vegetable broth
1/4 cup raw almond butter (can substitute peanut butter)
3 cups peeled and diced carrots
3 cups peeled and diced sweet potatoes
1/2 tsp. sea salt
1/4 tsp. black pepper
1/4 tsp. cayenne pepper

For Garnish
Lime wedges
Fresh cilantro
Red pepper flakes
Coconut milk

For the Tamari Almonds
1/2 cup raw almonds, finely chopped
1 tablespoon tamari
Instructions
In a large heavy-bottom pot, melt the coconut oil over medium heat. Add the onions, garlic and ginger and cook, stirring frequently, for 5-6 minutes or until the onion is translucent. Stir in the curry paste.
In a small bowl, whisk together a small amount of the vegetable broth with the almond butter to help smooth it out. Then add this mixture, along with the remaining vegetable broth, to the pot. Stir in the carrots, sweet potatoes, salt, black pepper and cayenne pepper. Bring the soup to a low boil and then reduce the heat to maintain a simmer. Simmer the soup, covered, for 15-20 minutes, or until the carrots and potatoes are fork tender.
Meanwhile, make the tamari almonds. Pre-heat your oven to 325 degrees. Line a baking sheet with parchment paper. Toss the chopped almonds and tamari together in a small bowl until the almonds are well coated. Then spread the almonds out in a single layer over the parchment paper. Transfer the baking sheet to your pre-heated oven and roast the almonds for 9-11 minutes, until lightly golden and the tamari has dried up. Remove from the oven and set aside to cool.
Once the vegetables are tender, remove the pot from the heat and allow the soup to cool slightly. Then using your immersion blender, blend the soup until it's smooth. Alternatively, you can purée the soup in your blender, making sure to be careful when transferring and blending hot liquids, and working in small batches as necessary.
Re-warm the puréed soup over low-medium heat. Taste and adjust the salt and pepper. You can also thin the soup out to your desired consistency with a little more vegetable broth.
To serve, ladle the warm soup into bowls. Top with the tamari almonds. You can also add a squeeze of fresh lime juice, cilantro, red pepper flakes and a drizzle of coconut milk, if desired.
Leftovers can be stored in an airtight container in your refrigerator for about 5 days.
https://www.floatingkitchen.net/creamy-thai-carrot-sweet-potato-soup-with-roasted-tamari-almonds/