Hi Friends! Happy Monday! I've got an awesome Fall-themed celebratory cocktail recipe to share with you all today. It wasn't the recipe that I had originally planned to post. In fact, I had something much more sensible in the queue (a vegan potato salad). But then I decided to say "the heck with it" and went with the giggle juice instead. I figured we'd all be happier if I did. Am I right?
Life lesson 127: cocktails always trump potato salads.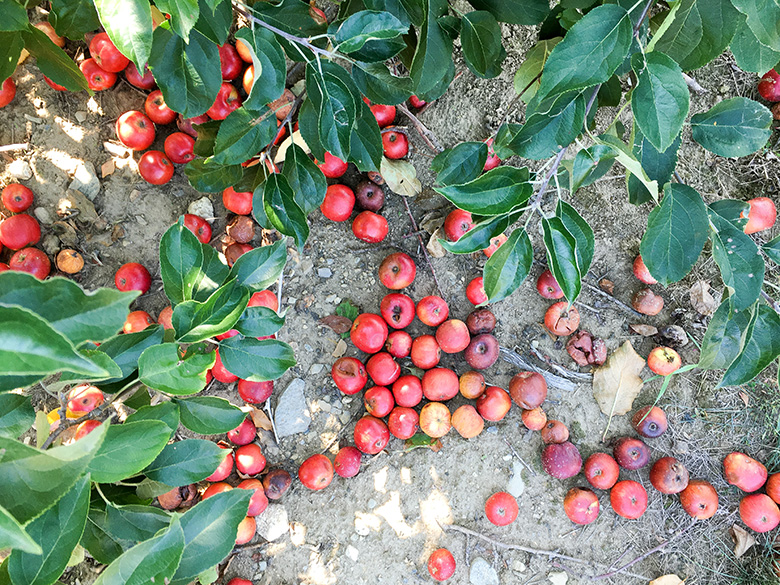 We haven't even officially entered Fall yet, but I'm already getting to work on my Fall bucket list. Which always includes at least two obligatory trips to a local apple orchard for apple picking. It's a quintessential New England activity that always puts a smile on my face. And did I mention that there are fresh donuts involved? Well, there are. That alone is reason enough to head out to the farms. Especially since they are apparently calorie free! Who knew?!?!
Oh and the fresh pressed apple cider (or "liquid gold", as I like to call it) is to die for as well. It's my favorite Fall beverage. And it just so happens to go exceedingly well with some of my go-to brown liquors, like bourbon and amaretto. I buy it by the gallons (I'm talking about the apple cider here, not the brown liquors) and then proceed to complain when it doesn't all fit in my refrigerator. First world problems.
So true to form, I picked up some fresh apple cider from Cider Hill Farm last week and got straight to work on creating the recipe for these Apple Cider, Bourbon and Amaretto Cocktails with Brûléed Oranges. The drink part itself is very straightforward. There are no hard-to-find ingredients required or fussy techniques. In fact, all you really have to do is shake, pour and sip!
Given the relative ease of the drink portion of this cocktail, I thought it would be a fun opportunity to make up some brûléed orange slices for garnish, an idea that I saw in the New York Times cooking section a while back and have been wanting to re-create since then. They really only take an extra 5 minutes of work to prepare. And I think they add a fabulous touch to this cocktail, both with respect to taste and presentation.
Pro tip: look for oranges that are just slightly smaller in diameter than your glasses for maximum visual impact.
So what are some of your favorite Fall sippers (alcoholic or non-alcoholic)? And any other local apple orchards that I need to visit this season? Tell me!
Cheers,
Liz
Ingredients
For the Oranges
1 small orange, thinly sliced
1-2 tsp. sugar

For the Cinnamon-Sugar Rim
1 tablespoon sugar
1/2 tsp. ground cinnamon
1/8 tsp. salt

For the Cocktails
Apple Cider
Orange Juice
Bourbon
Amaretto
Angostura bitters
Ice
Instructions
To make the brûléed oranges, sprinkle one side of the orange slices with sugar. Heat a dry skillet over medium-high heat. Once the skillet is hot, add the orange slices sugar-side down and cook until lightly caramelized, about 1-2 minutes. Remove the orange slices from the skillet and place them on a plate with the brûléed-side facing up. Set aside.
Stir together all of the ingredients for the cinnamon-sugar rim and place the mixture on a small plate. Wet the rim of your glasses with some of the apple cider, then invert the glasses over the cinnamon-sugar mixture, pressing down to coat. Add a few ice cubes to the glasses and set aside.
To make one cocktail, add 3/4 cups apple cider, 1/4 cup orange juice, 1 1/2 ounces (= 1 shot) bourbon, 3/4 ounces ( = 1/2 shot) amaretto and 2-3 dashes of bitters to a cocktail shaker with ice. Shake well. Strain into one of your prepared glasses. Float a brûléed orange slice on top. Enjoy immediately.
https://www.floatingkitchen.net/apple-cider-bourbon-and-amaretto-cocktails-with-bruleed-oranges/
During the Summer months, I pretty much leave my oven dial set squarely in the "OFF" position. I occasionally break the rules to bake up a batch of perfectly moist muffins. Or if there is some emotional crisis that calls for chocolate therapy, then a pan of fudgy brownies is a fair trade for a little brow sweat. But other than that, it's kind of not worth the risk of turning my kitchen into Satan's den.
Which is why I was starting to get just a teeny tiny bit excited about Fall baking. I even had big plans for this past weekend: blondies, sticky buns and cookies were all on the menu. But then it ended up being crazy hot and humid here. So my oven dial stayed put. Which is kind of a shame. But probably better for my waistline in the long run, if I'm being completely honest with myself.
However, I did manage to sneak in this Pear and Blackberry Almond Cake last week when we had a cooler day. And I'm super excited to share the recipe with you guys today.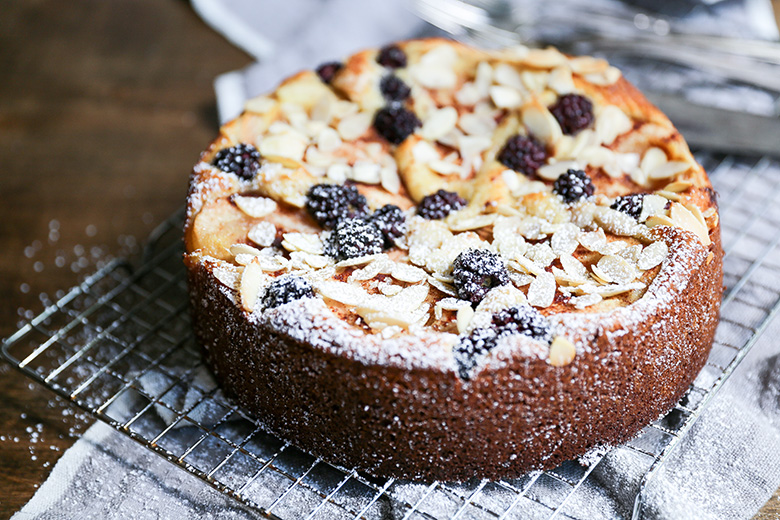 I find that pears are so underused in the Fall. Everyone is in some kind of pumpkin-induced delirium. Which causes pears (and even apples) to get overlooked. So I always try to give them a little bit of loving when I get the chance. These pear and ginger scones and this sweet potato and pear soup are two of my personal favorites from last year, if you're at all interested.
This cake is the perfect way to highlight seasonal pears and blackberries. And it feels kind of like a transitional cake. Not too heavy, not too light. With notes of both Summer and Fall flavors. You could serve this cake for brunch. Or add a scoop of vanilla ice cream for dessert. I don't think you can really go wrong here. I definitely had a slice or two for breakfast!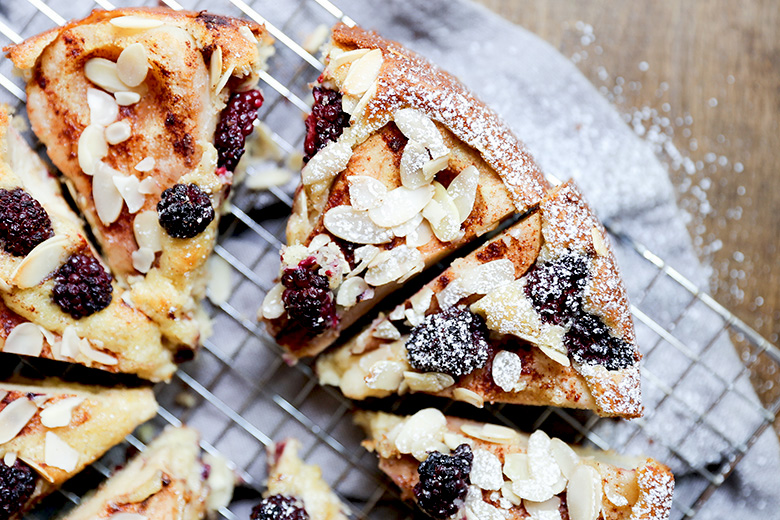 Make sure to buy pears that are ripe, but still firm. If they are overly ripe, they will release a lot of juice and the cake directly underneath the pears will turn out a bit on the gummy side. And that's no bueno.
I'm sharing my Pear and Blackberry Almond Cake as part of our monthly #eatseasonal round-up organized by Becky from Vintage Mixer. Check out Becky's September produce guide for the low down on what's in season this month (there is A LOT!). And see what some of my blogging friends made this month to celebrate September's bounty of fruits and vegetables. The links are below!
Cheers,
Liz
Recipe adapted from my Rhubarb-Almond Cake
Ingredients
1 cup plus 1 tsp. sugar, divided
1/2 cup (8 tablespoons) unsalted butter, softened at room temperature
2 eggs
1 cup Greek yogurt
1 tablespoon lemon zest
3/4 tsp. vanilla extract
1/4 tsp. almond extract
1 1/2 cups all-purpose flour
1/2 cup almond meal
1 tsp. ground cinnamon, divided
1 tsp. baking powder
1/2 tsp. baking soda
1/4 tsp. salt
3 pears, peeled, halved and cored (make sure they are ripe but still firm)
3/4 cups blackberries
1/3 cup sliced almonds
Powdered sugar for serving, if desired
Instructions
Pre-heat your oven to 350 degrees. Line the bottom of a 10-inch springform pan with a round of parchment paper. Then generously coat the parchment paper and the sides of the springform pan with non-stick cooking spray. Set aside.
In the bowl of your stand mixer with the paddle attachment, beat 1 cup of the sugar and the butter on medium speed until light and creamy, about 2-3 minutes. Add the eggs in one at a time, mixing after each addition. Then beat in the yogurt, lemon zest and the extracts.
In a medium bowl, combine the flours, 1/2 tsp. of the cinnamon, the baking powder, baking soda and salt. Add these dry ingredients to the cake batter, adding in about one-third at a time, mixing on low speed until no more white streaks remain.
Spread the cake batter into your prepared springform pan, making sure the top is even. The batter will be thick and a bit tacky. Arrange the pears, cut side up, on top of the batter, pressing them down slightly into the batter. Sprinkle the pears with the remaining 1 tsp. of sugar and 1/2 tsp. of cinnamon. Top with the blackberries and sliced almonds.
Transfer the cake to your pre-heated oven and bake for about 50 minutes, or until a toothpick inserted into the middle comes out clean. Remove the cake form the oven and set it on a wire rack to cool. Once cooled, run a knife around the outer edge of the cake and release the sides of the springform pan. Cut the cake into slices and serve with a dusting of powder sugar, if desired.
The cake is best served the day it's made, but it can be stored at room temperature in an airtight container for up to 1 day.
https://www.floatingkitchen.net/pear-and-blackberry-almond-cake/
September Eat Seasonal Recipes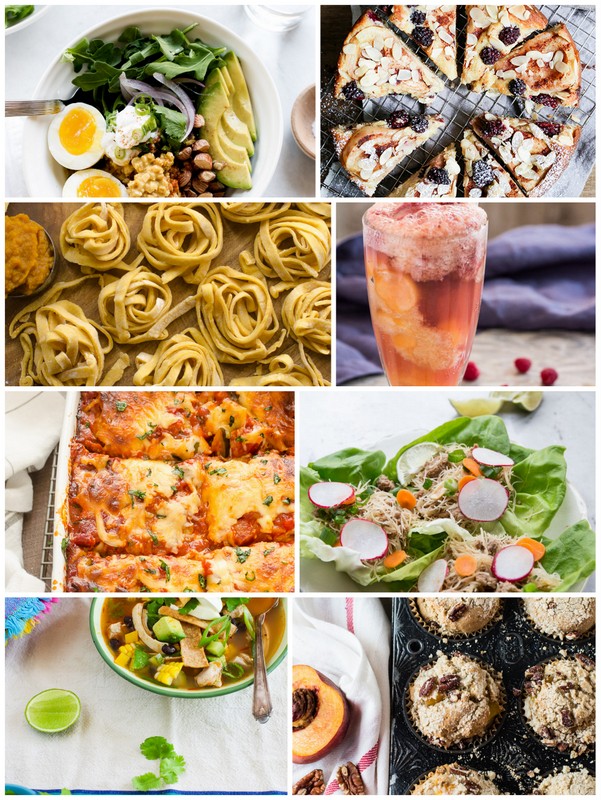 Coconut Curry Cauliflower Rice Bowls by Kitchen Confidante
Homemade Pumpkin Pasta by Bless this Mess
Melon and Raspberry Soda Float by Letty's Kitchen
Ratatouille Lasagna by Flavor the Moments
Asian Chicken Lettuce Wraps with Carrots and Radishes by Vintage Mixer
Harvest Tortilla Soup by Simple Bites
Peach Muffins with Pecan Streusel by Cafe Johnsonia
Pear and Fig Tarts with Goat Cheese and Honey by Food for My Family
Double Chocolate Zucchini Bread by Foodie Crush