If you're a pumpkin lover, then today is your special day. Because it's the second annual Virtual Pumpkin Party hosted by Sara from Cake Over Steak. Which means that dozens and dozens of brand spanking new savory and sweet pumpkin recipes from some of your favorite food bloggers will be hitting the internet. It's kind of epic.
Me? I've never really been bitten by the pumpkin bug. In fact, I'm sometimes even audibly opposed to the whole idea. Part of this is for social/cultural reasons. I just can't stand the pumpkin mania that descends upon us every August. It's too soon. August is for eating watermelon until your hands and face are sticky. And for enjoying fruity cocktails in the sun until you feel that warm glow both inside and out. August is not meant for pumpkin. So I find myself shunning pumpkin, maybe more harshly than it deserves. Because in my own weird way, it's how I rebel against the early adopters.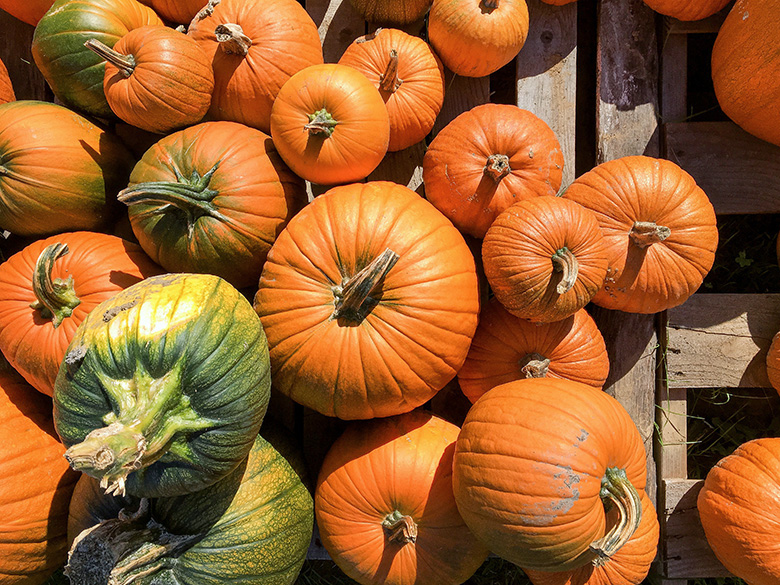 Also, I've come to realize that I'm just not a super huge fan of either the canned stuff or the overpowering flavor that can come from pre-made pumpkin spice mixes. Sure, I've used them in the past with success. And I probably will again in the future. There is no denying their convenience. But maybe going forward, they won't be my main source for pumpkin inspiration.
So to try to learn to love pumpkin (or at least to not so fiercely oppose it), I'm setting my focus on the fresh stuff. Real pumpkins. Grown locally and harvested in season. And you know what? I may be turning over a new leaf.
For last years #virtualpumpkinparty, I crafted this festive Pumpkin Beertail with Tequila and Spiced Rum (have you seen the color of this baby?). So this year, I decided to go the savory route. I picked up some fresh pumpkins from the local farm stand (the ones for cooking will be labeled "sugar pumpkins" or "pie pumpkins") and got to work at creating this easy Chicken and Pumpkin Chili. It's super hearty, filled with big chunks of pumpkin, shredded chicken and both white and black beans. And it's loaded with warming spices like ginger and cumin. Oh and don't skip the corn tortilla chips for serving. They are absolutely necessary, in my humble opinion.
To make my life easier, I used shredded chicken that I removed from one of those grocery store rotisserie chickens. It's one of my favorite kitchen shortcuts, and I have no shame in admitting that. But you can cook your own chicken at home and use that instead, if you prefer.
Dismantling a whole pumpkin can be a bit intimidating. And I'm certainly no expert at this task. I cut mine into wedges, scooped out and discarded the seeds. Then removed the skin with a standard vegetable peeler before dicing the flesh into cubes. If you have a better way of handling things, please let me know! Oh and if you're opposed to pumpkin (or simply can't find any fresh ones), you can substitute in an equal amount of peeled and cubed butternut squash or sweet potato.
To check out all the other bloggers pumpkin recipes, visit Sara's blog HERE for the full list. And here is last years list, if you need even more inspiration!
Cheers,
Liz
Recipe adapted from Gluten Free Goddess
Ingredients
For the Chili
2 tablespoons extra-virgin olive oil
1/2 red onion, peeled and chopped
4 garlic cloves, peeled and minced
1 jalapeño pepper, diced
2 cups peeled and cubed (cut into about 1-inch pieces) fresh pumpkin
2 tsp. ground ginger
2 tsp. dried oregano
1 tsp. ground cumin
1 tsp. ground chili powder
1/2 tsp. ground coriander
1/2 tsp. salt
4 cups chicken broth
2 (15-ounce) cans white beans, rinsed and drained
1 cup black beans, rinsed and drained
3 cups cooked and shredded chicken
1 tablespoon agave nectar
Juice from 1 lime

For Topping
Corn tortilla chips
Fresh cilantro
Instructions
Warm the olive oil in a large heavy-bottom pot over medium-high heat. Add the red onion and cook, stirring frequently, until slightly softened, about 3 minutes. Add the minced garlic and diced jalapeño pepper and cook, stirring frequently, until fragrant, about 1-2 minutes. Add the cubed pumpkin and all the spices, stirring to coat the vegetables in the spices.
Stir in the chicken broth and beans. Cover the pot and bring the chili to a boil. Then turn down the heat to maintain a simmer. Cook the chili, covered, for about 15-20 minutes, or until the pumpkin is tender. Stir in the shredded chicken, agave and lime juice and cook until the chicken is warmed through.
To serve, ladle the chili into bowls. Top with crushed tortilla chips and fresh cilantro, if desired.
Leftovers can be stored in an airtight container in your refrigerator for 2-3 days.
https://www.floatingkitchen.net/chicken-and-pumpkin-chili/
Disclosure: I'm so happy to be able to give you all a peek into Alternative Baker by Alanna Taylor-Tobin. Thanks for letting me share this beautiful cookbook with you!
Little known fact about me: I spent almost 2 years cooking and baking exclusively gluten-free.
This was back in my California days. And it wasn't for my own benefit. But for a man that I was with at the time. I was determined to be the "good girlfriend" and make him all the things that he had enjoyed in his younger years, but had to forgo since excluding gluten from his diet. So with the help of the internet and the local hippie-dippy market (which at the time was the best place to find gluten-free products), I armed myself with a pantry full of alternative flours and got to work. I spent endless hours in the kitchen. And we indulged ourselves in all my creations.
But those days are very far away now. That man is gone. And with his exit, so went the dozen bags of flours that had taken up residency in my kitchen. I returned to my usual baking ways (albeit for the occasional use of almond or hazelnut flour in a recipe). And eventually, all the other parts of my life returned to normal as well.
Truth be told, I did enjoy my walk on the gluten-free side of life. Sure, gluten-free baking can intimidating at times. But it can also open up a brand new world of flavors and textures. And recently, I've found myself kind of missing that. So with a copy of Alanna Taylor-Tobin's new cookbook, Alternative Baker, firmly in my hands, I'm taking the plunge again.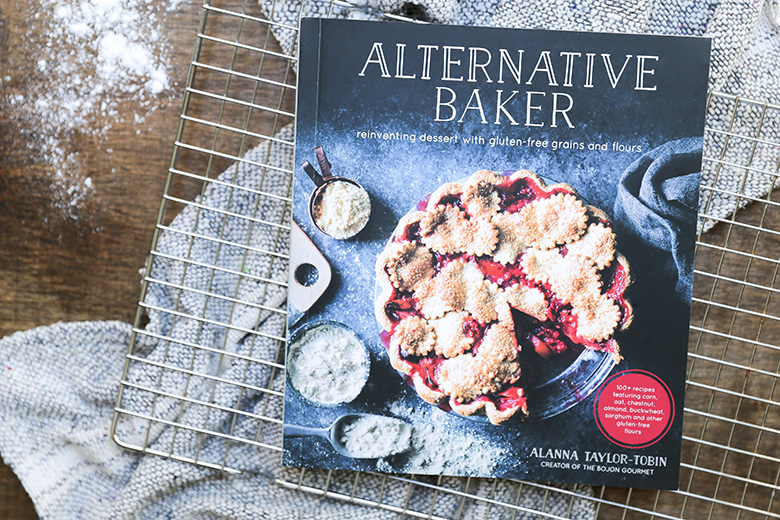 Alanna is one of the sweetest blogging friends that I have. She is soft-spoken, silly, genuine and humble. And I knew I would love her before I even met her in person. Oh and let's not forget to mention how amazingly talented she is in the kitchen and behind the camera. Like, I want to cry when I look at her beautiful cookbook and blog. It's just too lovely to even process sometimes.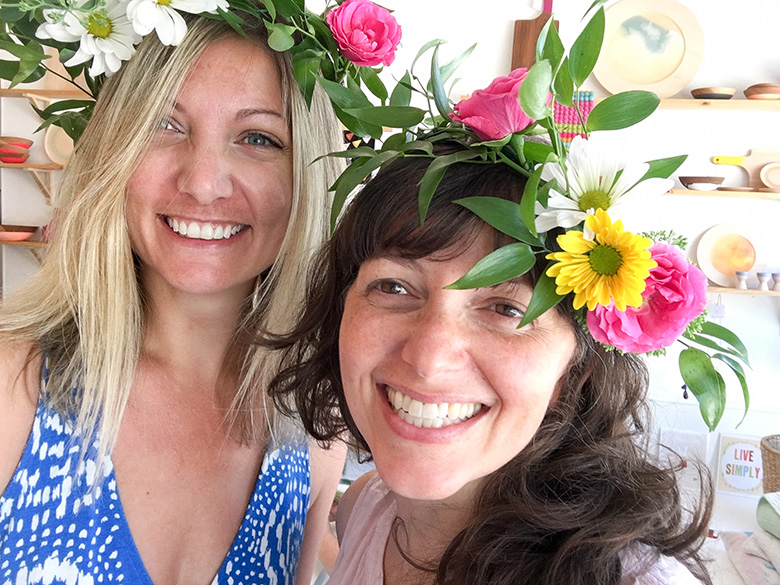 I knew right away when I spotted her recipe for this Chocolate Cranberry Pecan Tart that it would be the first thing I would make from Alternative Baker. I'm a big fan of pecan pie, but sometimes it can be too cloyingly sweet, even for me. Alanna's recipe, however, hits just the right balance of tart and sweet. With enough chocolate to keep any chocoholic very satisfied. The gluten-free tart dough comes together easily enough. And Alanna gives lots of tips and tricks so you'll be sure to nail it on your first attempt. This is definitely one dessert to put on your Holiday baking list!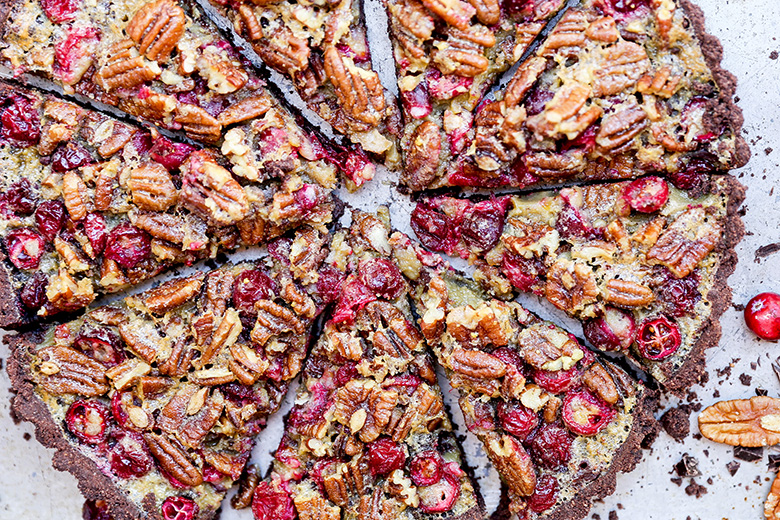 Check out Alanna's adorable trailer of her cookbook on over on her blog. And pick up a copy of Alternative Baker today!
Cheers,
Liz
Reprinted with minimal adaptations from Alternative Baker. Copyright © 2016, Alanna Taylor-Tobin.
Ingredients
For the Tart Dough
1/2 cup cocoa powder
1/2 cup almond flour
1/2 cup sweet white rice flour
2 tablespoons tapioca flour
1/4 cup granulated sugar
1/4 plus 1/8 tsp. salt
5 tablespoons unsalted butter, cut into 1/2-inch cubes and chilled
1 tsp. vanilla extract

For the Filling
1 cup raw pecan halves
2 tablespoons sweet white rice flour
1/4 cup plus 2 tablespoons packed dark brown sugar
1/4 tsp. salt
2 large eggs
1/4 cup maple syrup
1 tsp. vanilla extract
4 tablespoons unsalted butter, melted
1/2 cup roughly chopped dark chocolate
1 cup fresh cranberries, halved
Instructions
Prepare the tart dough. Position a rack in the center of your oven and pre-heat it to 375 degrees. Place a 9-inch round tart pan with a removable bottom on a rimmed baking sheet and set it aside.
In the bowl of your stand mixer with the paddle attachment, mix together the cocoa powder, almond flour, rice flour, tapioca flour, sugar and salt until well combined. Scatter the butter pieces over the top and drizzle with the vanilla extract. Then turn your mixer to medium-low and run it until the dough comes together in clumps and the butter is worked through, about 3-5 minutes.
Dump the crumbs into your tart pan and use your hands to press the dough evenly into the pan, starting with the sides and then moving to the bottom, keeping the edges square. The dough will be about 1/4-inch thick. Prick the bottom of the dough all over with the tines of a fork. Then transfer the pan to your freezer to chill the dough until firm, about 15-30 minutes.
Once chilled, transfer the pan to your pre-heated oven and bake until the crust is firm to the touch, about 18-22 minutes. Remove the pan the from the oven and while the crust is still hot, use the back of a spoon to press down firmly but gently on the bottom and sides of the crust to help it hold together. Set aside.
Prepare the filling. Lower your oven temperature to 325 degrees and position a rack in the lower third of the oven.
Spread the pecans out onto a small rimmed baking sheet and toast them in your pre-heated oven until fragrant, about 10-12 minutes. Remove the pecans from the oven and set them aside to cool. Once cool enough to handle, use your fingers to break the pecan halves up into smaller pieces.
In a large bowl, whisk together the rice flour, brown sugar and salt. Add the eggs and whisk until smooth. Then whisk in the maple syrup and vanilla extract, being careful not to over work the filling. Whisk in the melted butter. Fold in the toasted pecans.
Sprinkle the chopped chocolate over the bottom of your prepared crust. Top with the cranberry halves. Then pour the filling over top, distributing it evenly. Transfer the tart to your pre-heated oven and bake until the sides are gently puffed and the center is still slightly wobbly, about 20-30 minutes.
Remove the tart from the oven and let it cool completely on a wire rack before slicing and serving.
The tart is best when enjoyed the day of baking. Leftovers can be stored in an airtight container in your refrigerator for 3-4 days.
https://www.floatingkitchen.net/chocolate-cranberry-pecan-tart-gluten-free/