This post was originally published here on January 26, 2015. I've since updated the photographs and text. Because let's be honest, the photographs weren't that great before!
This is the kind of salad I want to eat every damn day. Forever and ever. Until I'm old and cranky (crankier?) and my teeth are falling out. And then at that point, I'll just toss the entire thing into my blender and turn it into a smoothie bowl.
But seriously, I've been eating this Roasted Vegetable Power Bowl (or some very similar version of it) everyday for lunch for the past couple of weeks. It's one of those salads that doesn't really feel like a salad. It's substantial and hearty. And it won't leave you feeling deprived. In fact, the only reason you'll be left wanting more is because it's so gosh darn delicious. Second helpings are highly encouraged.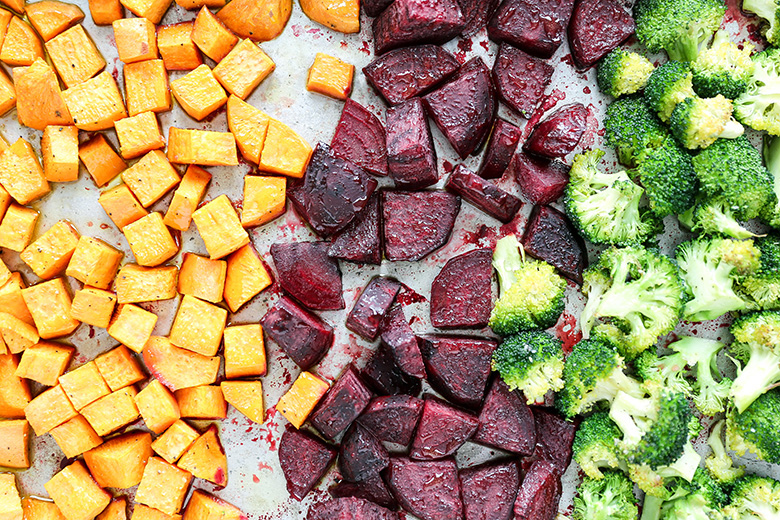 I've written the recipe out below so it makes two servings. But what I actually do in real life is roast up a whole mess of vegetables at the beginning of the week, cook up a big pot of quinoa and make a big jar of the tahini dressing. Then I can assemble one of these bowls at a moments notice anytime throughout the week. Because when hunger strikes, you want to be ready and willing to strike back.
Sometimes I switch out the sweet potatoes for butternut squash. Or substitute cauliflower for the broccoli. You can also use brown rice as a base instead of the quinoa. Oh and a few slices of avocado never hurt anyone. Basically, it's a choose your own adventure kind of situation. You can build these bowl in any which way to suit your tastes preferences (and to accommodate whatever you might have lingering in your crisper drawer!).
I try to keep the vegetables somewhat separated on the baking sheet so the color of the beets doesn't bleed into everything. But it's not really necessary. Unless of course you want to snap a dope photo and Instagram that shit. Then by all means, be a little fussy with those vegetables.
Cheers,
Liz
Ingredients
For the Salad
1 medium sweet potato, peeled and cut into 1-inch cubes
2 small beets, trimmed, peeled and cut into 1-inch cubes
2 cups broccoli florets
Extra-virgin olive oil
Salt
Black pepper
2 cups mixed greens
1 cup cooked quinoa
1/4 cup almonds
1 tablespoon fresh cilantro

For the Dressing
2 tablespoons extra-virgin olive oil
1 tablespoon fresh squeezed lemon juice
1 tablespoon tahini paste
1 tsp. maple syrup
Instructions
Pre-heat your oven to 400 degrees.
In a medium bowl, toss the cubed sweet potato with 1-2 tsp. of olive oil and a pinch of salt and pepper. Transfer to one side of a large rimmed baking sheet. In the same bowl, now season the cubed beets with olive oil, salt and pepper. Add these to the same rimmed baking sheet, but keep them separate from the sweet potatoes so the color of the beets doesn't bleed into the sweet potatoes. Transfer the baking sheet to your pre-heated over and roast for 10 minutes.
Add the broccoli florets to the same bowl and season with olive oil, salt and pepper in the same manner as you did for the sweet potatoes and beets. After 10 minutes, add the broccoli florets to the baking sheet with the sweet potatoes and beets (keeping them spaced away from the beets) and then return your baking sheet to your oven for another 10 minutes. Remove the vegetables from the oven and set aside.
While the vegetables are roasting, make the dressing. In a small bowl stir together all of the ingredients until smooth. You can add a tablespoon of water to thin the dressing, if you prefer.
To assemble the bowls, divide the lettuce evenly between two bowls. Then top with the roasted vegetables, cooked quinoa, almonds and cilantro, dividing all the ingredients evenly between the two bowls. Drizzle with the dressing. Serve immediately.
https://www.floatingkitchen.net/roasted-vegetable-power-bowl/
This post was originally published here on January 14, 2015. I've since updated the photos and text to showcase just how delicious these scones really are! Enjoy!
I've discovered a socially acceptable way to enjoy cake for breakfast. It's called "Blood Orange Scones with Hazelnuts, Thyme and White Chocolate Drizzle".
Are you with me? I'm guessing you are. Because we're all friends here. And friends encourage friends to eat cake disguised as sophisticated scones before noontime. Right?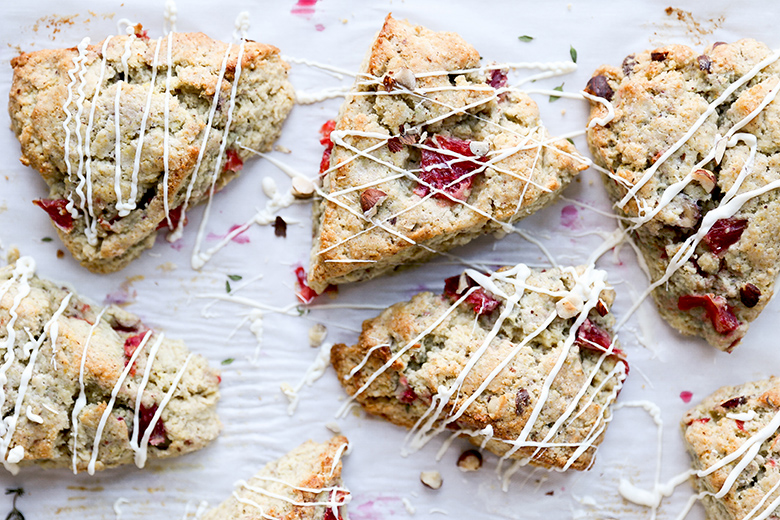 I'm still on a big Winter citrus kick right now. And I'm particularly crushing on blood oranges. I mean, their color alone is enough to make any girl swoon. If they weren't so delicious, I could probably just stare at them all day long.
So I decided to try and incorporate them into this cream scone recipe that I've been using for a while now. I was a little worried that I would just end up with a gummy, shaggy mess because of all the juices from the blood oranges. But (thankfully!) that didn't happen. Instead, I found myself in possession of the most moist (had to say it!), cake-like scones I've ever eaten. There isn't anything dry and crumbly about these babies!
Can we talk about segmenting oranges for a second? I hate it. Probably because I'm not very good at it. And I don't like doing things that I'm not very good at. Sorry. I'm a brat.
If you're a master at segmenting oranges, then I applaud you (also teach me your ways!). But you really don't have to be for this recipe. Because you actually want to break down the segments even further so they are about 1/2-inch in size or smaller before attempting to fold them into the dough. This helps the orange pieces spread out more evenly throughout the dough, while preventing too many juices from accumulating in one place.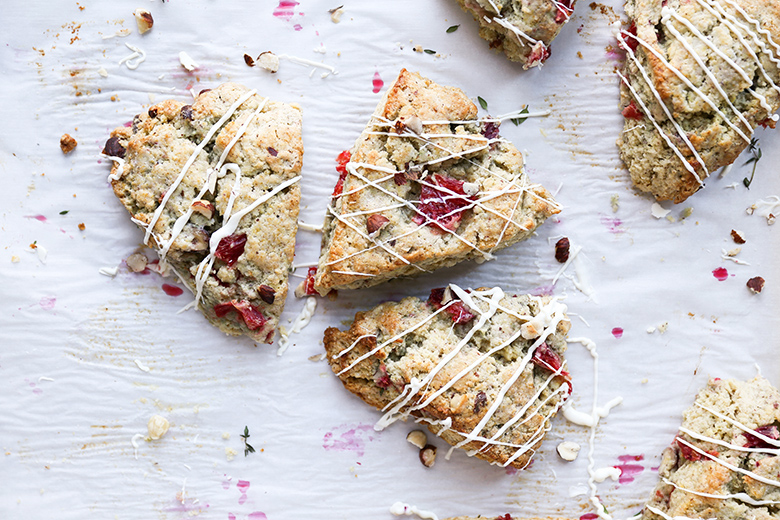 Blood oranges can typically be found until March (although sometimes longer if you're lucky!). So don't delay too long on picking some up from your grocery store. Because I know you're not going to want to wait until next year to try baking up these scones!
Cheers,
Liz
Ingredients
For the Scones
2 cups all-purpose flour
1/2 cup hazelnut flour
1/2 cup sugar
1 tsp. baking powder
1/2 tsp. baking soda
1/2 tsp. salt
1/2 cup (8 tablespoons) cold butter, cut into pieces
2/3 cusp, plus 1 tablespoon, heavy whipping cream, divided
1/4 tsp. vanilla extract
1 egg
1 tablespoon fresh thyme leaves
1 tablespoon blood orange zest
1/2 cup blood orange segments, broken down into 1/2-inch pieces
1/3 cup hazelnuts, chopped

For the White Chocolate Drizzle
4 ounces white chocolate, chopped
1 tsp. coconut oil
Instructions
Pre-heat your oven to 425 degrees. Line a large baking sheet with parchment paper and set it aside.
In the bowl of your food processor with the blade attachment, combine the flours, sugar, baking powder, baking soda and salt. Add the cold butter and pulse until you have a coarse crumb.
In a small bowl, beat together 2/3 cups of the heavy cream with the vanilla extract and egg. Add this liquid mixture to your food processor along with the thyme and blood orange zest. Pulse until the dough has just come together.
Turn the dough out onto a well floured counter top and use your hands (flouring them will make the dough easier to handle) to fold in the blood orange segments and the hazelnuts, being careful not to over work the dough. The dough will be slightly wet.
Continue using your hands to shape the dough into a round disk. Then cut the disk it into eight wedges. Transfer the wedges to your prepared baking sheet, leaving 1-2 inches between them. Brush the tops of the wedges with the remaining tablespoon of heavy cream. Transfer the baking sheet to your pre-heated oven and bake the scones for 13-15 minutes. They should be golden brown around the edges. Remove the scones from the oven and allow them to cool on their baking sheet for 10-15 minutes before transferring them to a wire rack to continue cooling.
Once the scones have cooled, make the white chocolate drizzle. In a small heavy bottom saucepan (or in a double boiler) set over medium heat, melt the white chocolate with the coconut oil, stirring frequently. Once smooth, drizzle the melted white chocolate over the scones.
These scones are best when eaten the day they are made, but they will keep for 1-2 days in an airtight container at room temperature. Allow the white chocolate to set before transferring them to a storage container.
Notes
1. You can make your own hazelnut flour by grinding hazelnuts to a course meal in your food processor. You could also substitute almond flour for the hazelnut flour.
https://www.floatingkitchen.net/blood-orange-scones-with-hazelnuts-thyme-and-white-chocolate-drizzle/