Disclosure: I'm honored to have received an advanced copy of Lily Diamond's debut cookbook, KALE & CARAMEL: Recipes for Body, Heart and Table. I hope you all enjoy this little sneak peak!
Today's recipe is a little bit different from what you might typically find here. That's because today's recipe isn't specifically intended for eating (although I'd be lying if I said I didn't eat some of it!). Instead, today's recipe is meant to help soothe and nourish your skin. It's an effortlessly fabulous three ingredient Blackberry Basil Healing Mask that will help you "get your glow on". And it's a concoction straight from Lily Diamond's debut cookbook, KALE & CARAMEL: Recipes for Body, Heart and Table.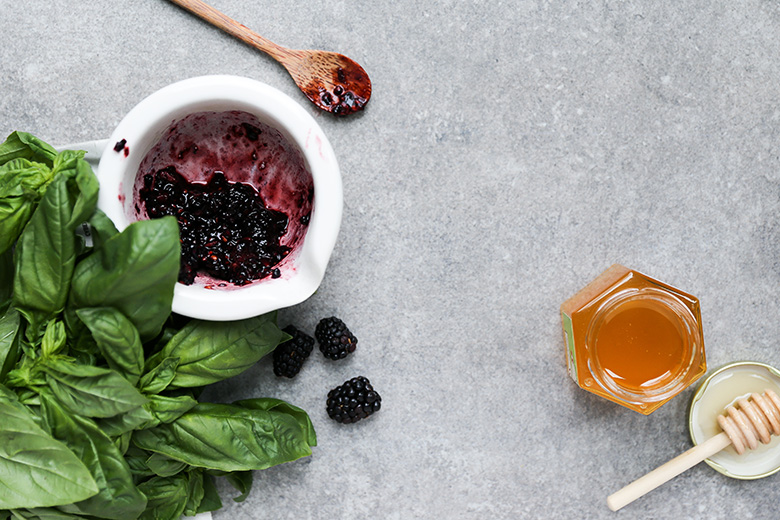 It's truly an honor to have a copy of Lily's cookbook in my possession. And I'm thrilled to be able to give you all a little sneak peak into it's pages here today. Although, I worry that my words won't be able to do it justice. My writing feels clunky and awkward in all the places where Lily's writing excels. Admittedly, I am no poet. Whereas Lily Diamond, most certainly is.
Lily is real and authentic in a way that the majority of people don't dare allow themselves to be for a public audience. Each week she pours her whole self into the virtual pages of her blog. And now, that journey has transcended onto the actual pages of her cookbook. From her childhood in Maui, to her Mother's death, to navigating the sometimes hilarious world of online dating, Lily's storytelling will make you feel all the things. Joy, heartbreak, frustration and every emotion in between. It's all there in a deeply personal way that I find mildly addicting to read.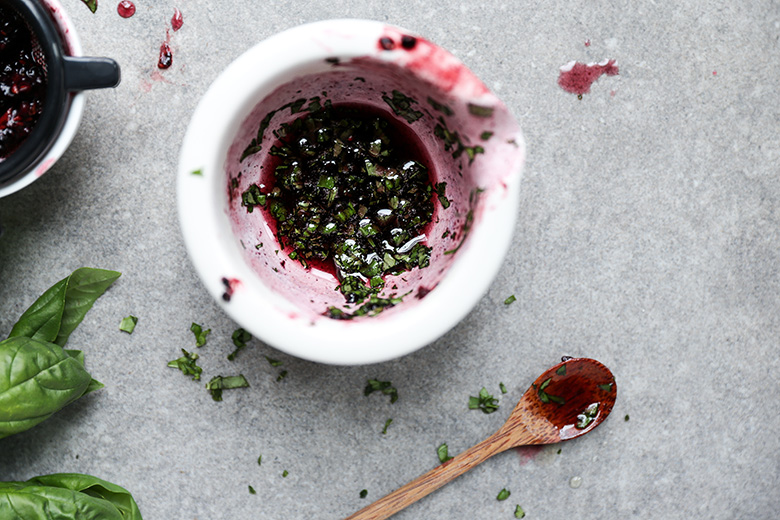 KALE & CARAMEL: Recipes for Body, Heart and Table is unique from the other cookbooks in my collection. The recipes are designed to engage and awaken all five of your senses. And they are meant to be nourishing in a way that goes way beyond basic calorie consumption. This isn't just eating. This is living.
The chapters in this book are organized by either one of two things: herbs or flowers. And friends, I simply cannot overstate just how lovely I think that is. Fresh herbs and edible flowers have been a staple in my kitchen for years now. And I'm so excited to finally have a cookbook dedicated to showcasing those ingredients. Herbs and flowers are often treated (or mistreated) solely as a garnish. But I think they deserve to be in the spotlight. And Lily proudly gives them all the attention they deserve.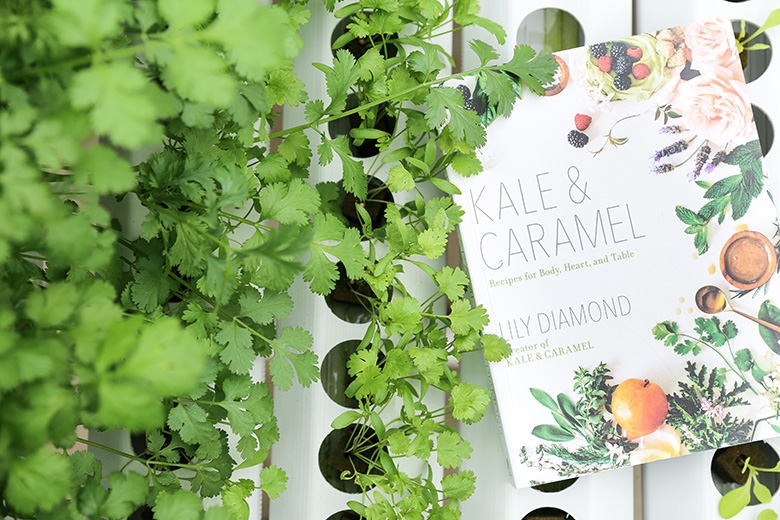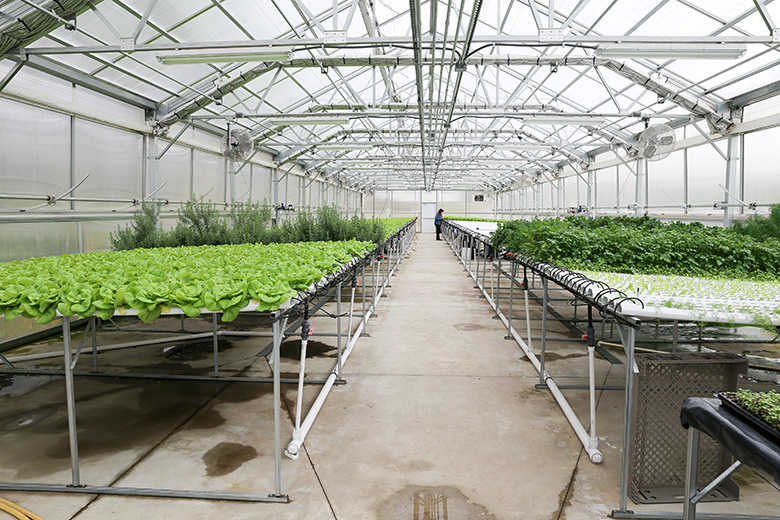 There are eight chapters which focus on herbs, ALL of which we have in abundance on our family farm (pictures from our hydroponic greenhouse above). Which means this cookbook is going to be my Summer project. I can't wait to cook my way through those chapters. And I'm really looking forward to learning to use some of those herbs in ways which I hadn't really considered before, like in this Blackberry Basil Healing Mask. Admittedly, I haven't always been kind to my skin over the years. But as I age, I realize more and more everyday that needs to change.
I'm giving away one copy of KALE & CARAMEL: Recipes for Body, Heart and Table over on Instagram right now. Just click this link and go enter! You have until April 26, 2017. Good luck!
Cheers,
Liz
This recipe has been reprinted with permission. Copyright © 2017 by Lily Diamond from KALE & CARAMEL: Recipes for Body, Heart, and Table published by Atria Books, a division of Simon & Schuster, Inc.
Ingredients
5-6 blackberries
3 tablespoons raw, unfiltered honey
5 basil leaves, minced
Instructions
In a small bowl, crush the blackberries until they release their juices. Strain through a fine mesh strainer, pushing down on the solids with the back of a spoon to help get out as much of the juice as possible, collecting it into a clean bowl. Discard the solids.
Add the honey and basil to the blackberry juice, stirring until fully incorporated. The mixture can be stored in an airtight container in your refrigerator for up to 1 week.
To use, spread about 1 1/2 teaspoons onto clean skin and let sit for 5-10 minutes. Then wash off completely.
https://www.floatingkitchen.net/blackberry-basil-healing-mask/
This post was originally published here on August 7, 2013. I've updated the photos and text because trust me, they needed it! Enjoy!
Did you know that you can eat beets raw? This was something that I only discovered a couple of years ago. Until that point, I had always boiled or roasted them into submission. And in the years before that, I wouldn't even have touched a beet with a 10 foot pole.
It's funny how things change.
Now I love beets any way you cook them. And even in ways when you don't cook them.
This Raw Beet and Dill Salad is a favorite of mine. The raw beets are just so damn crunchy. It's irresistible. And they still have that characteristic earthy, sweet taste that I've grown to love. The dill makes this dish extra fresh. And the mustard-vinegar dressing provides the perfect level of tang.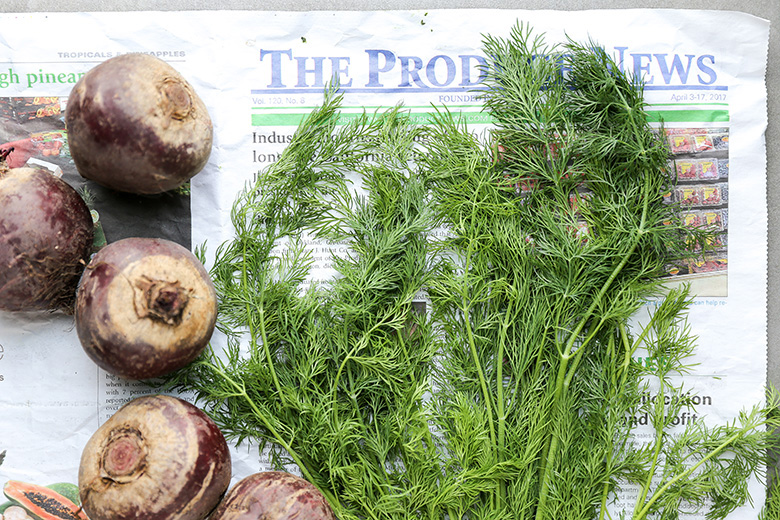 Also, see that photo above? That's how much dill my Mom gave me when I told her I need a couple of sprigs for a recipe. Classic Mom. Always going overboard!
The whole recipe uses only eight ingredients, most of which are pantry staples. And it's a great way to prepare beets in the Summer months when it's WAY to hot to turn on your oven. I typically enjoy this salad straight out of the bowl. But it would also be good as a slaw for topping tacos or sandwiches.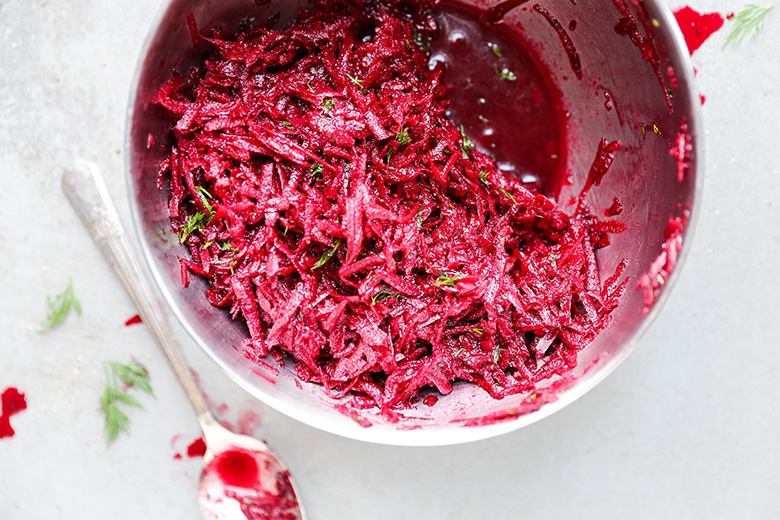 Grating beets is an inherently messy task. There isn't any way around it. You'll likely get splatters over your kitchen countertops and clothes. And you may even end up with pink hands, too. But here are some tips I've learned over the years to help minimize the damage. First and foremost, you could certainly use your food processor with the shredder attachment to grate the beets. That usually results in the least amount of mess. But honestly, I think the size and texture of the shreds is better when I use my trusty box grater. So to that end, I place my box grater on a big plate right in my kitchen sink. Most of the splatters will stay confined within the walls of the sink. And then you can easily just rinse them away with water. Wear gloves if you don't want pink hands. And lastly, try golden beets instead of red beets, which will eliminate the threat of red juices all together!
Cheers,
Liz
Ingredients
2-3 tablespoons dill, roughly chopped
1 tablespoon extra-virgin olive oil
1 tablespoon Dijon mustard
1 tablespoon champagne vinegar (can substitute red wine vinegar or apple cider vinegar)
1 tsp. sugar
1/4 tsp. salt
1/4 tsp. pepper
3 cups grated beets (from about 4 to 5 medium sized beets)
Instructions
In a small bowl, whisk together the dill and the next six ingredients until well combined.
Add this dressing to the grated beets, tossing until the beets are evenly coated.
You can serve this salad immediately. Or chill it in your refrigerator for several hours before serving. Leftovers can be stored in your refrigerator in an airtight container for up to 2 days.
https://www.floatingkitchen.net/raw-beet-and-dill-salad/