This post was originally published here on May 8, 2015. I've updated the photos and text to showcase just how delicious these miniature scones really are! Enjoy!
I have a mega soft spot in my heart for fresh rhubarb. I can't resist those slender stalks and crimson hues. In fact, just take a peak inside my refrigerator at any point between the months of April and June, and you'll consistently find rhubarb lining the shelves.
I'm hoping to get into some more savory applications for rhubarb this Spring, but in the meantime, I'm happy to be incorporating it into all sorts of baked goods. It's tart bite makes it ideal for everything from cakes to pies to scones. And rhubarb is even good in cocktails, as I happily discovered last year.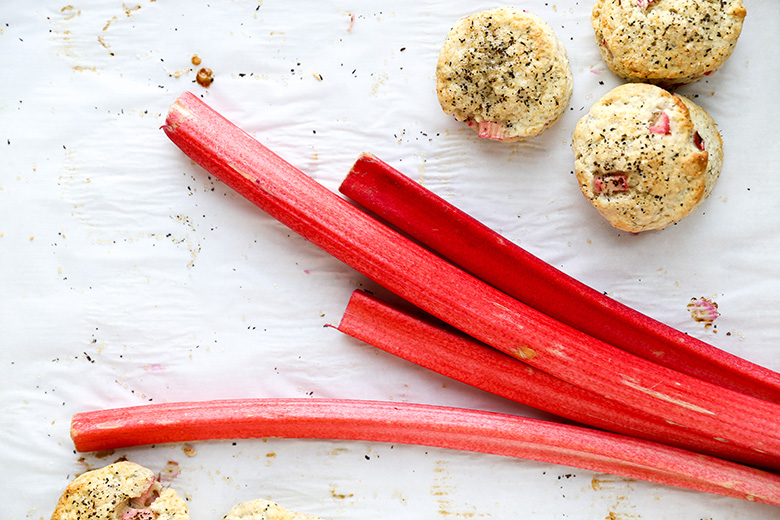 Also, anyone else totally digging Springtime baking right now? It seems so light and easy. Pretty much the exact opposite of how I feel about Christmas baking, which usually leaves me in a sweaty puddle of anxiety and self loathing (how many Santa cookies did I really just eat?). I can't fully explain it. All I know is that I want to fit in as much baking as possible before it becomes way too hot to use my oven.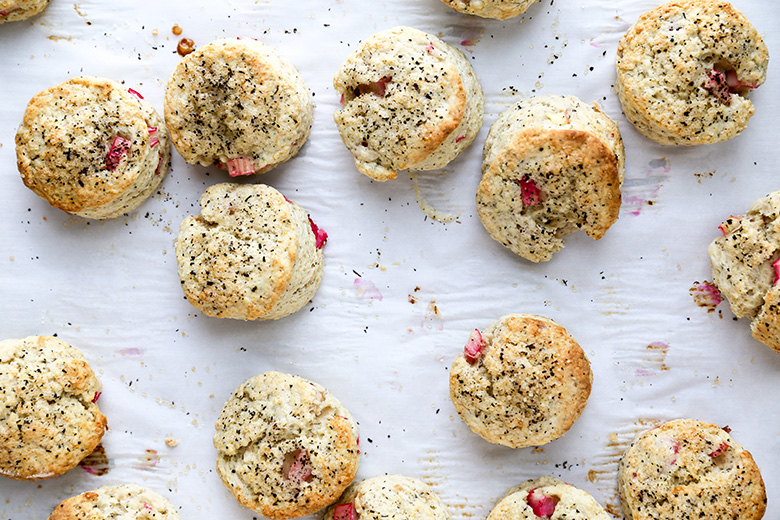 These Mini Rhubarb and Jasmine Tea Cream Scones have brunch written all over them. They would be perfect for Easter or Mother's Day. I love that they are miniature, because that means either (a) eating one won't fill you up so you can comfortably enjoy the rest of your meal, or (b) you can eat three of them! Both scenarios have happened to me. And both are likely to occur again in the future. This is real life.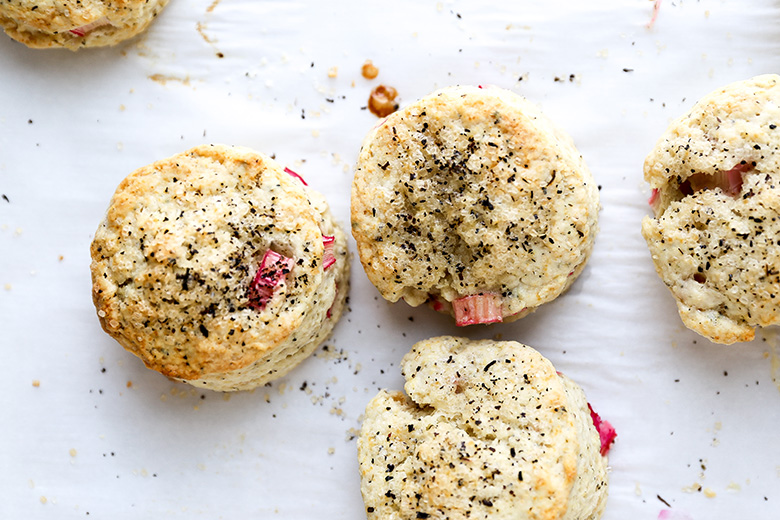 The tea is a fun addition that makes these scones feel extra "Springy" to me. I stir some into the dough. Then sprinkle the rest on top before baking. I used jasmine tea for this recipe, but chamomile or other varieties would work equally well. Loose leaf tea is probably your best option. But if you can't find it, you can purchase tea bags and simply tear them open to access the tea leaves inside.
Make sure to keep the rhubarb pieces small-ish for this recipe. Because these scones are miniature, they cook up relatively fast. And you don't want to be left with any overly firm pieces of rhubarb. I try to keep the pieces about a 1/2-inch in size (like the size of an almond).
Cheers,
Liz
Recipe adapted from Joy the Baker
Ingredients
3 cups all-purpose flour
1/3 cup granulated sugar
1 tablespoon plus 1/2 tsp. jasmine tea leaves, divided
1 tablespoon baking powder
1 tsp. salt
About 1 1/2 cups heavy cream, plus more for brushing the tops
1 tsp. vanilla extract
1 cup chopped rhubarb (keep the pieces about 1/2-inch in size)
1/4 cup turbinado sugar
Instructions
Pre-heat your oven to 425 degrees. Line a baking sheet with parchment paper and set it aside.
In a large bowl, whisk together the flour, granulated sugar, baking powder, salt and 1 tablespoon of the jasmine tea leaves.
Measure out 1 1/3 cups of heavy cream. Mix in the vanilla extract. Slowly add the cream mixture to the dry ingredients, stirring with a wooden spoon as you pour in the cream. Gently stir in the rhubarb. Add more cream if necessary, one tablespoon at a time, so the dough is moist and holds together loosely (it will be a bit shaggy).
Dump the dough out onto a lightly floured surface and use your hands to form it into a disk about 3/4-inches thick. Using a small round biscuit or cookie cutter (I used a 2-inch cookie cutter), cut out small circles from the dough disk. Transfer the circles to your baking sheet, placing them about 1-inch apart. Gently re-shape the scraps and continue cutting out circles until all the dough has been used.
Brush the top of each circle with heavy cream. In a small bowl, mix together the turbinado sugar with the remaining 1/2 tsp. of jasmine tea leaves. Sprinkle the sugar mixture over top of the circles.
Transfer to your pre-heated oven and bake for 15-18 minutes, or until golden brown on top. Remove from the oven and set aside to cool slightly.
Scones are best when served while still slightly warm. Once fully cooled, they can be stored in an airtight container for 1-2 days at room temperature.
https://www.floatingkitchen.net/mini-rhubarb-and-jasmine-tea-cream-scones/
I am SO excited about today's savory waffle recipe. In my eyes, it's a real winner for brinner!
That was a terrible rhyme. I'm sorry.
But more importantly, I want to know if you're excited about it. Because when I put a teaser photo up on Facebook last week, a lot of people were like "what have you done to waffles?" or "waffles are vehicles for maple syrup, not vegetables.", etc.
This was not the response I was expecting to get. I definitely thought savory waffles were kind of a thing now. Am I wrong?
So tell me. Are you into the idea of  savory waffles? Or not? Be honest (but polite, please!). Your input will help me to plan out my future cooking endeavors. Thanks in advance!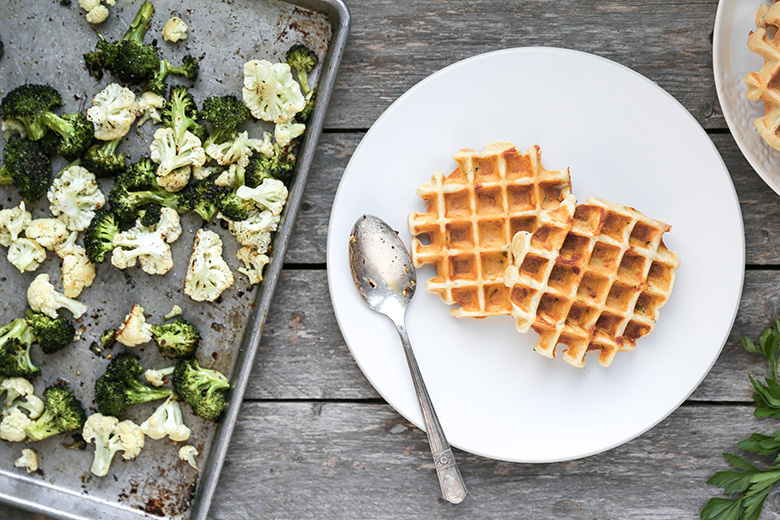 For now, we're going to proceed with today's recipe for Savory Waffles with Roasted Broccoli and Cauliflower as initially planned. So if you're grossed out by the idea of a savory waffle, then I guess just look away for the time being. Sorry about that.
I don't do breakfast for dinner (= brinner) very often, but when I do I typically go savory (I like to reserve my sweet tooth for things like ice cream and chocolate mousse!). And these savory sour cream waffles with cheddar cheese, scallions and fresh parsley really hit the spot. I topped mine with a mixture of roasted broccoli and cauliflower (both in season right now), but asparagus would also be an excellent choice. And if you wanted to add an egg, a dollop of ricotta cheese or a few shakes of hot sauce, those would all be good options as well. The waffle is really just a blank canvas for your favorite toppings!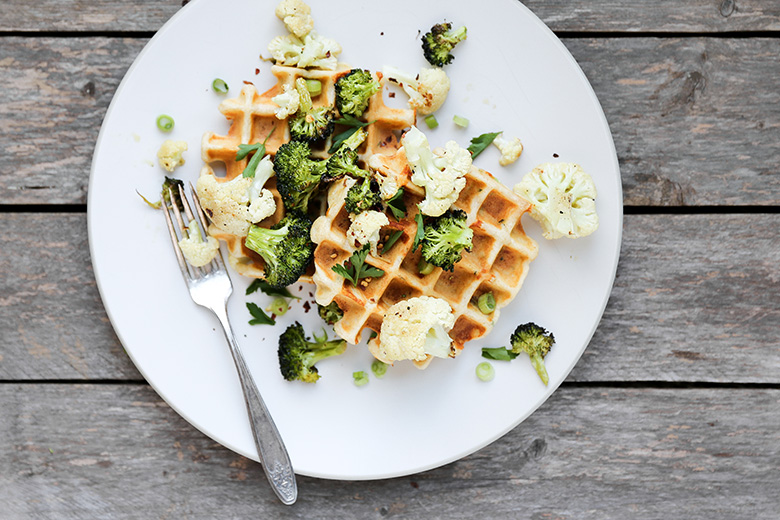 For me, two waffles topped with about 1 1/2 cups of the roasted vegetables is a perfect serving size for dinner. But you could certainly add a side salad (or additional vegetables) if you're feeling extra hungry. Since I'm a single lady, I inevitably end up with leftover waffles. But lucky for me, they freeze beautifully. All you have to do is place them in a single layer on a baking sheet in your freezer to freeze. Once the waffles are frozen, transfer them to a zip-closure bag for longer storage. Then when a craving strikes, just pop one in the toaster or your oven to thaw. Easy peasy!
This whole meal comes together in under 30 minutes, which makes it perfect for this months addition of 30 Minute Thursday. Hooray! For more quick and easy dinner ideas, scroll down below and check out the recipes that some of my blogging friends whipped up this month. I know you'll find lots of inspiration for those busy weeknights!
Cheers,
Liz
Recipe adapted from my Peaches and Cream Waffles
Ingredients
For the Vegetables
3 cups broccoli florets
3 cups cauliflower florets
2 tablespoons extra-virgin olive oil
1/2 tsp. salt
1/2 tsp. black pepper
1/4 tsp. red pepper flakes
1 tablespoon fresh squeezed lemon juice

For the Waffles
1 cup all-purpose flour
1/4 cup whole wheat flour
2 tsp. baking powder
1/4 tsp. salt
2 eggs
1/2 cup sour cream
1/2 cup plus 1 tablespoon whole milk
6 tablespoons melted butter, cooled to room temperature
1/4 cup shredded cheddar cheese
2 scallions, white and light green parts thinly sliced
2 tablespoons fresh parsley, chopped
Instructions
Pre-heat your oven to 400 degrees. Toss the broccoli and cauliflower florets together on a large rimmed baking sheet with the olive oil, salt, black pepper and red pepper flakes. Transfer to your pre-heated oven and roast for 20 minutes, stirring once halfway through. Remove the baking sheet from the oven and sprinkle the lemon juice over the roasted vegetables. Cover to keep warm and set aside.
Meanwhile, pre-heat your waffle iron on the medium-high setting. Spray the cooking surfaces with non-stick cooking spray.
In a large bowl, whisk together the flours, baking powder and salt. Then add in the eggs, sour cream and milk, whisking until mostly incorporated. Next drizzle in the melted butter, whisking until all the ingredients are fully combined. Fold in the cheddar cheese, scallions and parsley. Scoop the batter into your pre-heated waffle iron (I used 1/3 cup of batter in each 4-inch well of my waffle maker) and close the lid. Cook for 3-4 minutes, until the waffles are crisp and golden browned. You may have to adjust the amount of batter and the cooking time, depending on the size of your waffle iron. Carefully remove the waffles and set them on a wire rack. Cover to keep warm.
To serve, top waffles with some of the roasted broccoli and cauliflower mixture. Sprinkle with additional sliced scallions and chopped parsley, if desired. Enjoy immediately.
Notes
1. If you don't have whole wheat flour on hand, you can use all-purpose flour.
https://www.floatingkitchen.net/savory-waffles-with-roasted-broccoli-and-cauliflower/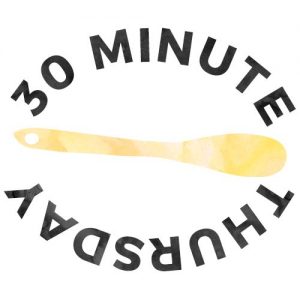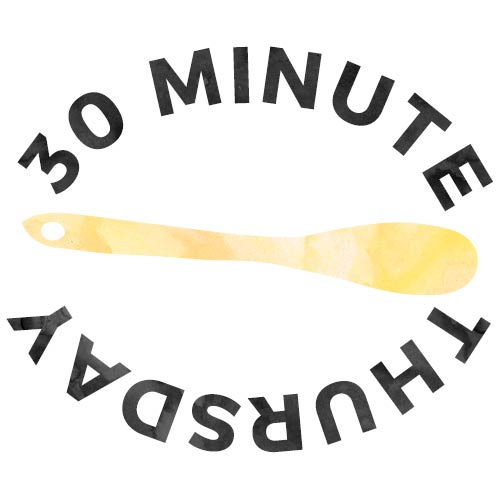 One Pot Teriyaki Chicken and Rice from The Recipe Rebel
30 Minute Pad Thai from Bake.Eat.Repeat.
Arugula and Prosciutto Puff Pastry Pizza from Pumpkin 'N Spice
30 Minute Shrimp Scampi from My Kitchen Craze
Crispy Black Bean and Sweet Potato Tacos from She Likes Food
20 Minute Healthy Taco Salad from Kristine's Kitchen
30 Minute Skillet Pasta Primavera from Flavor the Moments