This post was originally published here on October 31, 2014. I've since updated the photographs and text. I hope you try it out!
I'm cautiously placing a single foot into Fall.
Summer isn't completely dead yet. And I'm still blissfully rocking flip flops and white shorts, totally un-phased by my obvious fashion blunders. But I'd be lying if I didn't admit that I'm detecting a subtle change in the air these days. Fall is most definitely coming. And I'm going be ready for her when she arrives. Complete with snacks.
Yes, snacks. All events (and even non-events) require snacks. And the arrival of Fall is certainly an event (or non-event) worthy of snackage. So to prepare for this occasion, I took everyone's favorite Summer snack (i.e. chips and salsa) and gave it a Fall face-lift by adding in one of my favorite Fall fruits: apples.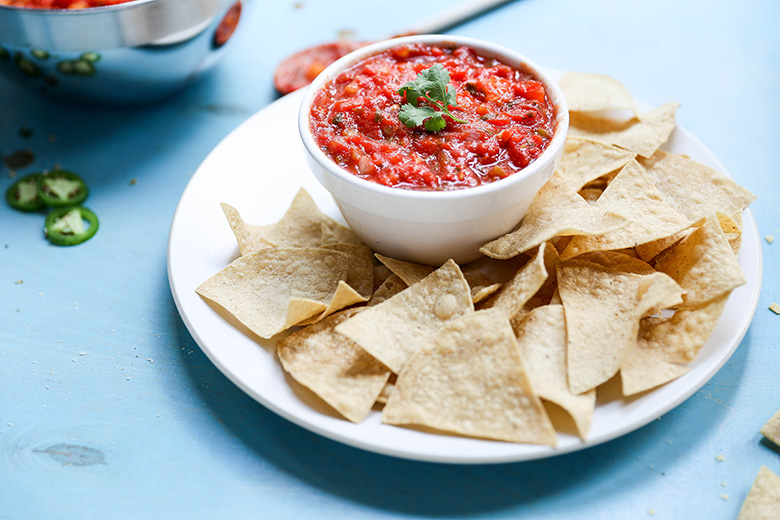 This Spicy Apple-Tomato Salsa has just the right mix of Summer and Fall flavors. And it's got a very nice kick to it as well (but feel free to dial back on the amount of jalapeño peppers for less heat)! It's what I like to call "transition-salsa". And I'm going to be eating it non-stop for the next two months. It's perfect for parties, game day or basically anytime when you're craving chips and salsa (=always).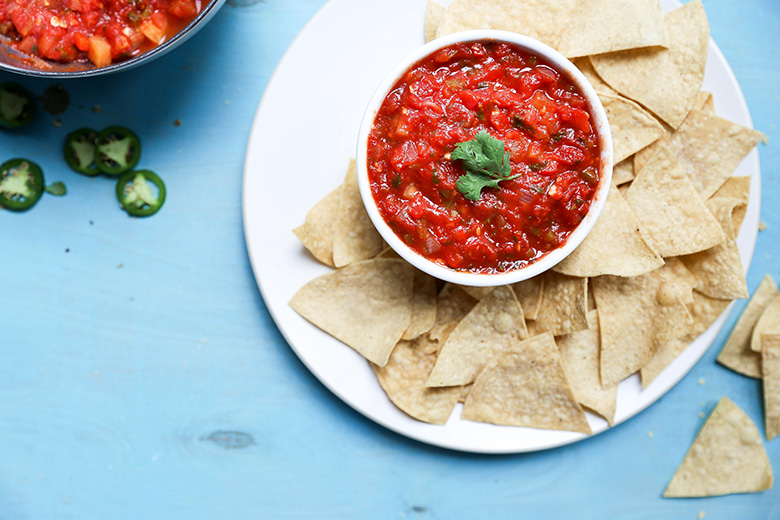 While I'm sitting over here awaiting the arrival of Fall, I've got three blogging friends who are awaiting the arrival of something MUCH bigger in their lives: babies! Ashley from The Recipe Rebel, Denise from Sweet Peas and Saffron and Kristine from Kristine's Kitchen are all expecting little ones soon. And today, we're having a virtual baby shower for them to celebrate. Yahoo!
All three ladies are already seasoned Moms. And I'm excited for them that their families are continuing to grow!
Be sure to check out all the links below to see what dishes everyone "brought" to the baby shower today. I know you'll find some serious inspiration for Fall cooking and baking!
Cheers,
Liz
Ingredients
1 (15-ounce) can petite diced tomatoes
1 (15-ounce) can crushed tomatoes
1 large apple, peeled, cored and diced
1 cup diced yellow onion
1/2 cup diced red pepper
2-3 jalapeño peppers, minced
2 garlic cloves, peeled and minced
2 tablespoons apple cider vinegar
1 tablespoon sugar
1/2 tsp. salt
1/2 cup cilantro, roughly chopped
Instructions
In a medium saucepan, combine all the ingredients except for the cilantro over medium heat. Bring to a simmer and cook, stirring occasionally, for about 8 minutes. Then stir in the cilantro and cook for an additional 2 minutes. Remove the saucepan from the heat. Transfer the salsa to a clean container and allow it to cool to room temperature. Then refrigerate to chill.
Serve with your favorite tortilla chips.
The salsa can be stored in an airtight container in your refrigerator for 3-4 days.
https://www.floatingkitchen.net/spicy-apple-tomato-salsa/
Roasted Butternut Squash Falafel Bites by She Likes Food
Maple Walnut Twice Bake Sweet Potatoes by Savory Nothings
Buttermilk Pumpkin Donuts by A Latte Food
Easy Pumpkin Danish by Pumpkin N' Spice
Mini Pumpkin Cheesecakes by Live Well Bake Often
Pumpkin Pie Crumb Bars by Bakerita
Mini Apple Crisps by Life Made Sweeter
Pumpkin Spice Latte Bread Pudding by Whole and Heavenly Oven
Cinnamon Apple Brie Crostini by Flying on Jess Fuel
Apple Pie Bars by Bake.Eat.Repeat
Honey Apple Butter Greek Yogurt Dip by My Sequined Life
Butternut Squash Hummus with Spiced Pepitas by Flavor the Moments
Question: why is Taco Tuesday such a widespread event, but Taco Thursday isn't?
Seriously. Why is this? As far as I can tell, both days should be equally acceptable days to consume tacos. They both start with the letter "T", thus satisfying the important requirement that the food we're eating must start with the same first letter of that of the day it's being consumed. And HELLO, the more days that we get to enjoy tacos, the better. Right?!?!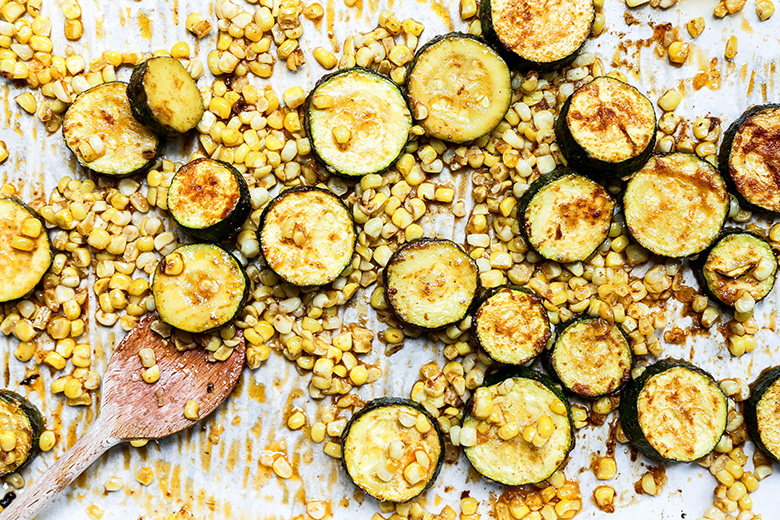 This all seems fairly straightforward to me. So as far as I'm concerned, today is Taco Thursday. And to celebrate, I'm sharing the recipe for these crazy easy Chipotle Zucchini and Corn Tacos.
It's also 30 Minute Thursday, meaning that these babies can be made in just about 30 minutes. Which makes them ideal for a low stress weeknight dinner, even on the busiest of work/school nights.
Oh and did I mention that you only need one baking sheet and one bowl for this recipe? Yeah. That's a pretty sweet bonus, if you ask me.
For more quick and easy recipes, check out the links below!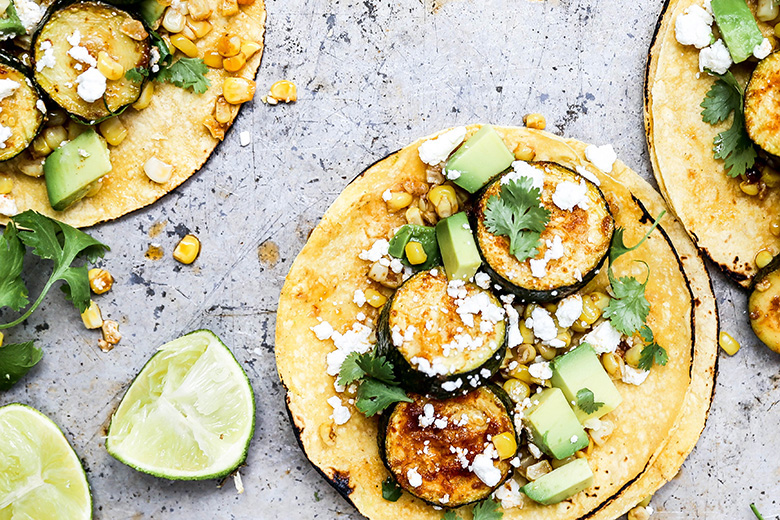 The filling for these tacos is pretty simple (but definitely not short on flavor!). And I narrowed down the toppings to just a few of my favorite things, like avocado, crumbled goat cheese and cilantro. But feel free to get crazier with the toppings if you want. Or maybe add some black beans if you want a more "stick to your ribs" version of this recipe. Whatever you do, just make sure you get out there and celebrate Taco Thursday!
Cheers,
Liz
Ingredients
For the Filling
2 medium zucchini, sliced into rounds
2 1/2 tablespoons extra-virgin olive oil, divided
2 tablespoons adobo sauce (from a can of chipotle peppers in adobo sauce)
1 tsp. salt, divided
1/4 tsp. ground cumin
2 ears fresh corn, husks and silks removed

For Serving
Corn tortillas, warmed or grilled
Diced avocado
Crumbled feta or goat cheese
Fresh cilantro
Lime wedges
Instructions
Pre-heat your oven to 400 degrees. Line a rimmed baking sheet with parchment paper and set it aside.
In a medium bowl, toss together the zucchini slices, 2 tablespoons of the olive oil, the adobo sauce, 1/2 tsp. of the salt and the cumin until the zucchini is well coated. Spread the zucchini slices out into a single layer on the parchment paper-lined baking sheet. Then transfer them to your pre-heated oven to roast for 15 minutes.
Meanwhile, slice the kernels off the corn cobs and add them to the same bowl you used to toss the zucchini. Add the remaining 1/2 tablespoon of olive oil and 1/2 tsp. salt, tossing to combine. After the zucchini has roasted for 15 minutes, carefully remove the baking sheet from the oven and add the corn kernels, tossing to combine and flipping the zucchini over to the second side. Place the baking sheet back in your oven to roast for an additional 10 minutes. Then remove and cover to keep warm.
To assemble the tacos, fill each tortilla with a spoonful of the roasted zucchini and corn. Then top with diced avocado, cheese, cilantro and a squeeze of fresh lime juice. Enjoy immediately.
https://www.floatingkitchen.net/chipotle-zucchini-and-corn-tacos/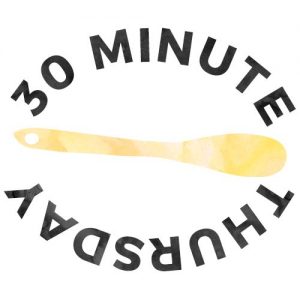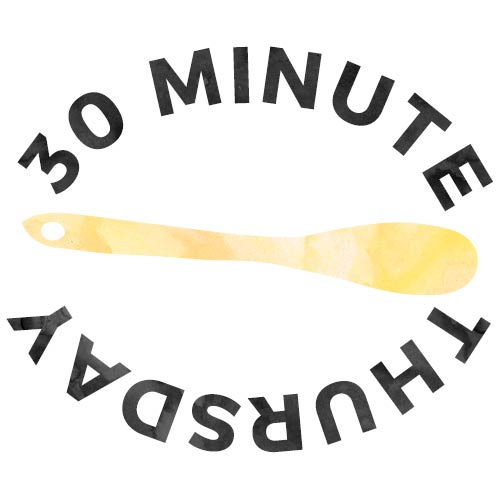 Chicken and Spinach Pesto Quesadillas from Pumpkin 'N Spice
One Pot Baked Ziti from The Recipe Rebel
One Pot Chicken, Broccoli and Rice Casserole from Kristine's Kitchen
One Pot Italian Sausage Pasta from Savory Nothings
Peanut Chicken Stir Fry from Bake.Eat.Repeat.
SaveSave
SaveSave
SaveSave
SaveSave
SaveSaveSaveSave