This post was originally published here on December 12, 2013. I've since updated the photographs and text. I hope you try it out!
Talking about the weather always makes me feel old. Because it just seems like something that older people love to do. But jeez, we've had some wild weather here in New England this month. And I can't help but talk about it.
This January, we've experienced some of the most extreme weather I've seen in a long time. First, there was the bomb cyclone/blizzard, which buried us in snow and resulted in major coastal flooding and power outages across the region. Then we had a stretch of frigid temperatures, with the thermometer barely reaching above zero degrees for almost a whole week. And then magically, it was 50-60 degrees. And rainy. Like really rainy. Cue more coastal flooding. And now, we're back to living in the frozen tundra.
That's a lot of weather for two weeks. And frankly, I feel exhausted by the whole situation.
The only thing I seem to be able to do to soothe myself is to make an endless supply of comfort food.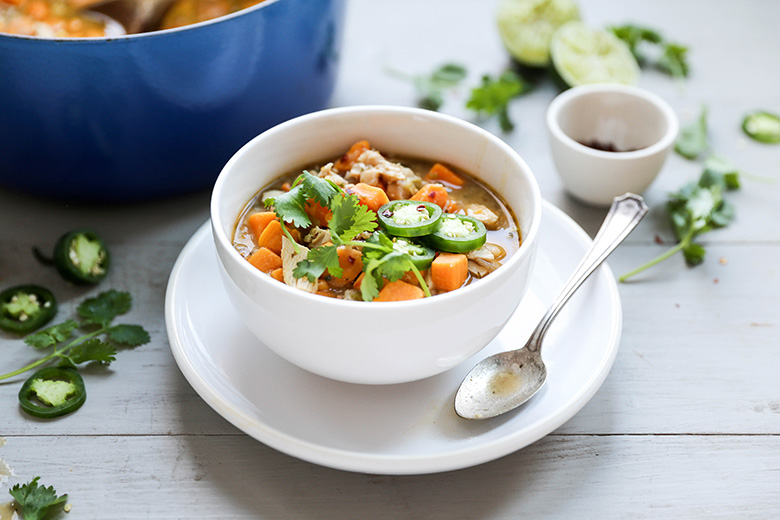 This White Bean Chili with Chicken and Sweet Potatoes has been a go-to Winter recipe of mine for many years now. I just love how quick and easy it is to make (it only takes about 40 minutes from start to finish). But it tastes like it's been simmering for hours. I use one of those rotisserie chickens from the grocery store (a favorite kitchen shortcut of mine, especially for soups), because the meat is always so tender and delicious. And then I load up the pot with fresh ginger, garlic, jalapeño peppers, cilantro and other spices for a major flavor explosion. Two cans of white beans, and a couple of sweet potatoes, make this chili stick-to-your-ribs good.
It's the perfect recipe for when you're experiencing some extreme weather. Or, you know, for when you're experiencing some extreme hunger pangs. Either way, I guarantee it will fill up your belly with warm, comforting deliciousness.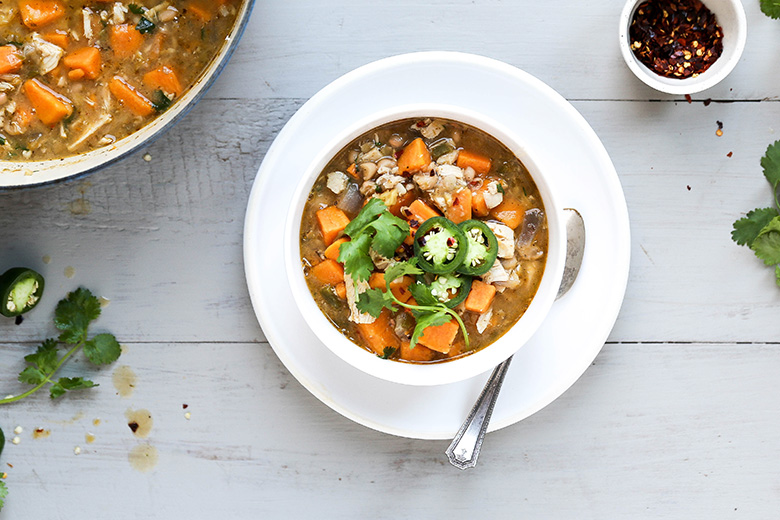 As it's written, the recipe for this White Bean Chili with Chicken and Sweet Potatoes is both dairy free and gluten free. But a sprinkle of cheese on top, or a slice of crusty bread on the side, is a good idea, if you're able to tolerate those things.
Cheers,
Liz
Recipe slightly adapted from Gluten Free Goddess
Ingredients
For the Soup
2 tablespoons extra-virgin olive oil
1 medium red onion, peeled and chopped
2 jalapeño peppers, minced
2-inch piece fresh ginger, peeled and minced
4 garlic cloves, peeled and minced
2 medium sweet potatoes, peeled and cubed
2 tsp. dried oregano
1 tsp. ground cumin
1 tsp. chili powder
1/2 tsp. salt
1/4 tsp. red pepper flakes
2 (15-ounce) cans white beans, rinsed and drained
4 cups low-sodium chicken broth
4 cups cooked and shredded chicken
1/4 cup fresh cilantro, roughly chopped
Juice from 1 lime

For Topping
Fresh cilantro, roughly chopped
Sliced jalapeño peppers
Red pepper flakes
Instructions
In a large heavy-bottom pot, heat the olive oil over medium-high heat. Add the chopped red onion and sauté for 2-3 minutes, stirring frequently. Add the jalapeño peppers, ginger and garlic and sauté another 1-2 minutes, until fragrant. Then add the sweet potatoes, oregano, cumin, chili powder, salt and red pepper flakes, stirring to coat the vegetables in the spices. Stir in the white beans and chicken broth.
Cover the pot with a lid and bring the chili to a boil. Then turn down the heat to maintain a simmer and cook, covered, for about 25-30 minutes, or until the sweet potatoes are tender. Stir in the shredded chicken, cilantro and lime juice and cook until the chicken is warmed through, about 5 minutes.
To serve, ladle the hot chili into bowls and top with additional cilantro, jalapeño peppers and red pepper flakes, if desired. Enjoy immediately.
Leftovers can be stored in an airtight container in the refrigerator for 2-3 days.
https://www.floatingkitchen.net/white-bean-chili-with-chicken-and-sweet-potatoes/
SaveSave
SaveSave
SaveSaveSaveSave
SaveSave
SaveSave
SaveSave
SaveSave
SaveSave
SaveSave
SaveSave
Hi Friends! I'm back after a bit of a blogging break.
So first things first, Happy New Year!!!
How's your 2018 turning out so far? Are you excited, scared, lukewarm? Did you set any new intentions or goals for yourself?
I always like the fresh start that a new year provides. And while I don't make resolutions, per se, I do enjoy letting my thoughts center and solidify more deeply on what I hope to accomplish in the next cycle.
This year, I've got some big changes coming up on Floating Kitchen. The most immediate and noticeable change that will be happening is a complete website redesign. I'm working with Purr Design on a shiny new logo and custom website (both of which are much needed and long overdue at this point), and we expect to launch sometime mid-February. I'm excited to give the blog a facelift. And to be able to provide YOU with a more user-friendly experience!
The second major thing that's happening is a move and a new business spin-off. I'm not ready to reveal too many specifics yet, but let's just say that Floating Kitchen will eventually be an actual place that you can come and visit. I hate to keep you hanging with the lack of details, but I promise to share more about this new project as soon as I'm able too. In the meantime, be sure to keep up with my Instagram stories, because I'm going to be posting some sneak peaks here and there over the course of the next few months. Maybe you'll catch a glimpse of what's to come!
But enough about all this stuff. Let's talk about this Roasted Beet and Radicchio Salad with Wild Rice and Tangerines.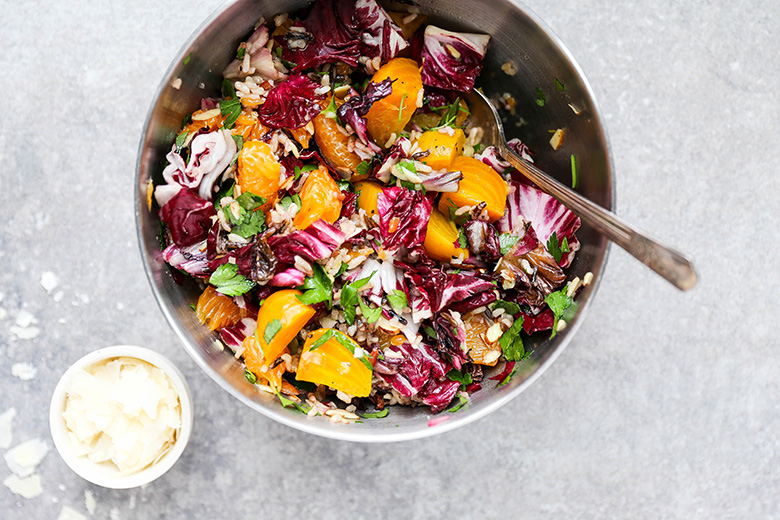 Isn't it a total looker? Yeah, I think so too. Packed with some of my favorite ingredients (I'm obsessed with golden beets these days!), all the colors of the rainbow and a variety of tastes and textures, it's a salad that doesn't feel like a salad. So whether you're trying to stick to a dieting resolution, or you just like beautiful, delicious and nourishing food, this recipe is for you.
Wild rice is one of those grains that I tend to forget about. I typically reach for quinoa (or just omit the grains all together). But in the recent weeks, I've discovered a new love and appreciation for wild rice. It has a hearty "chew". And it helps to make my salads feel more substantial, which is something I think is important during the cold weather months. No one wants a sad plate of limp greens in the middle of January. So stand with me and just say "NO!" to wimpy salads!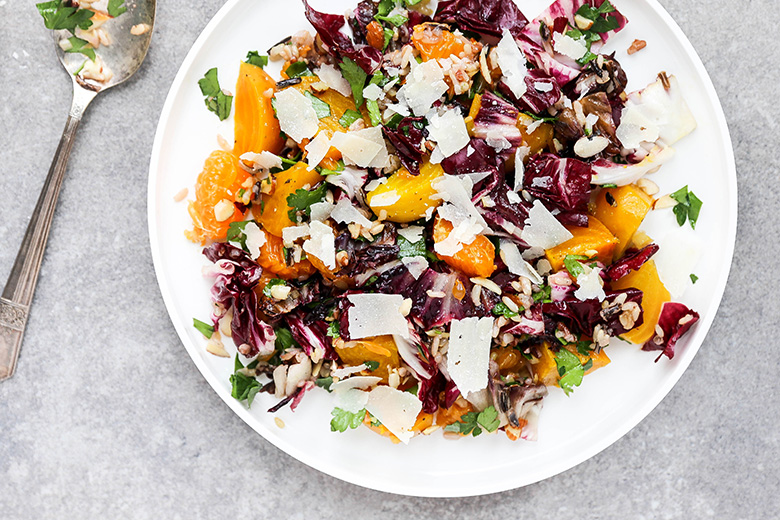 Radicchio is another ingredient that I don't use very often, so I took a few cues from this genius recipe on Food52 and roasted half of it, while keeping the other half raw. It cuts down on some of the bitterness of the radicchio, but still allows for a few fresh, crunchy bites. Definitely a technique worth trying out!
If you're looking for more way to use January produce, check out the links below to see what recipes some of my blogging friends have created this month. And join us in eating seasonally by sharing your #eatseasonal recipes on social media!
Cheers,
Liz
Ingredients
For the Salad
1 lb golden beets (medium sized), peeled and trimmed
1 tablespoon extra-virgin olive oil
1/2 tsp. salt
1/2 tsp. black pepper
1 head radicchio, chopped
1 cup cooked wild rice
1/2 cup fresh parsley, chopped
1/3 cup sliced almonds
2 tangerines, peeled and segmented
Thinly shaved pecorino cheese

For the Dressing
1/4 cup extra-virgin olive oil
1/4 cup fresh squeezed tangerine juice
2 tablespoons peeled and minced shallots
1/4 tsp. salt
1/4 tsp. black pepper
Instructions
Pre-heat your oven to 425 degrees.
Tear off a large piece of aluminum foil and fold it in half to double it. Add the beets to the aluminum foil, then drizzle them with the olive oil and sprinkle with the salt and black pepper. Fold up the edges of the aluminum foil to create a packet for the beets, then place this packet directly on the oven rack in your pre-heated oven. Roast the beets until they can be easily pierced with a small paring knife, about 50-60 minutes. Carefully remove the packet from your oven and let the beets cool slightly. Slice the cooled beets into wedges. Set aside.
Meanwhile, make the dressing by whisking together all the ingredients until well combined. Set aside.
Toss about half of the chopped radicchio with 1 tablespoon of the dressing. Spread this out onto a rimmed baking sheet and roast in your pre-heated oven for 5 minutes. Remove and set aside.
Add the remaining radicchio, wild rice, parsley, almonds and tangerines to a large bowl. Drizzle with the remaining dressing and toss gently to combine. Then fold in the roasted radicchio and beets.
Divide the salad between plates/bowls. Top with some shaved pecorino cheese. Serve immediately.
https://www.floatingkitchen.net/roasted-beet-and-radicchio-salad-with-wild-rice-and-tangerines/
January Eat Seasonal Recipes
Flavor the Moments — Roasted Butternut Squash Fajitas with Pomegranate Guacamole
Letty's Kitchen — Vegetarian Greek Egg Lemon Soup with Orzo
Joy Food Sunshine — Roasted Sweet Potato and Black Bean Vegetable Tacos
Healthy Seasonal Recipes — Roasted Garlic Cheddar Soup