Let's get sauced!
Nope. Not that kind of sauced.
Well, go ahead if you want. I won't stop you. This is a judgment free blog-zone. I'll wait while you go fetch a cocktail…
Ok, now that we are all settled in with our drink, let's talk grilling. And how I'm the happiest girl in the whole wide world because the snow has melted away and I can see my grill again. Hallelujah.
I kicked off grilling season with these lamb skewers a couple weeks ago. And now I'm hitting the sauce hard. The barbecue sauce that is. So of course I have to make my own. Store bought barbecue sauce can be pretty good. But now that I'll be grilling ALL THE TIME, it's worth having the homemade stuff in my fridge so I'm ready to go at a moments notice.
Making barbecue sauce at home is crazy easy. You just need one large skillet or pan and about 15 minutes of time. You can also completely customize the spice level and have fun with different flavor profiles.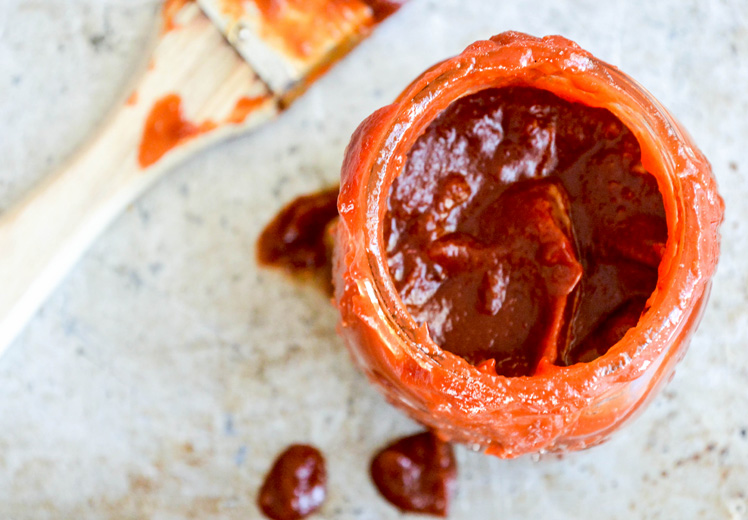 So now I really want to make a joke about liking my barbecue sauce how I like my men: spicy, sweet, etc. But I'll refrain. Because my mother reads this blog (Hi Mom!).
Let's continue. This Maple-Bourbon Apricot Barbecue Sauce has a lot going on. It has a deep smoky flavor from the chipotle peppers in adobo and a dash of liquid smoke (that stuff is magic!). And just a hint of sweetness from the maple syrup and apricot preserves. I would say the spice level here is medium at best, so feel free to whisk in a little more paprika, or some cayenne pepper, if you want more heat. Oh and since everything is better with bourbon, I added some. And there ain't nothing wrong with that.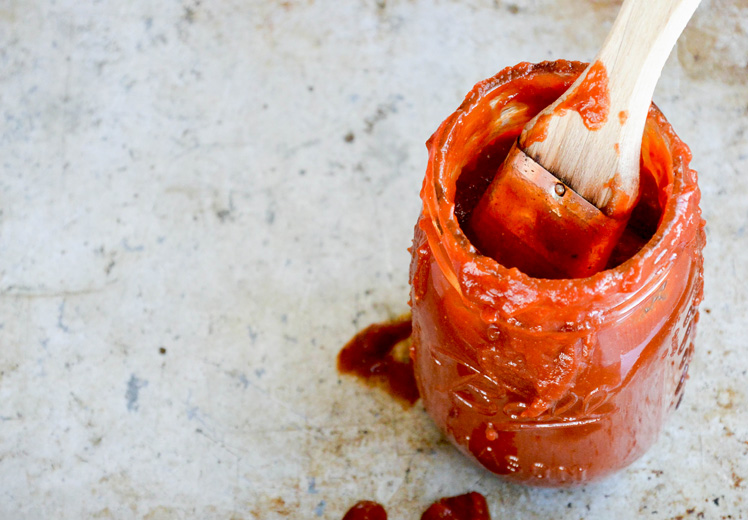 This recipe makes about 3 cups of barbecue sauce, which will last for at least a couple weeks in your refrigerator. So you'll get a lot of mileage out of a single batch, either for your own personal use or consider giving a jar to someone as a gift. Wouldn't you be super cool if you showed up at a cookout with a jar of this stuff? Yeah you would!
Cheers,
Liz
Ingredients
1 (15 ounce) can tomato sauce
1 (6 ounce) can tomato paste
1/3 cup apricot preserves
1/2 cup apple cider vinegar
1/4 cup maple syrup
2 tablespoons molasses
2 tablespoons Worcestershire sauce
2 tablespoons chipotle peppers in adobo sauce
1 tsp. liquid smoke
1 1/2 tsp. paprika
1 tsp. mustard powder
1 tsp. garlic powder
1/2 tsp. salt
2 tablespoons bourbon
Instructions
In a very large skillet or pot, whisk together all of the ingredients, except for the bourbon, over medium heat. Let the mixture simmer for about 10 minutes, stirring occasionally. Whisk in the bourbon and let the mixture simmer for an additional 3-5 minutes. Remove from the heat.
Let the sauce cool, then transfer it to seal-able containers (mason jars work great here). Store in the refrigerator. The sauce will keep for several weeks.
https://www.floatingkitchen.net/maple-bourbon-apricot-barbecue-sauce/
I've got another edible gift idea for you today friends. Because Christmas is right around the corner! Are you ready?
Hopefully you're doing better than me. I haven't bought a single thing yet. Zero. Zip. Zilch. Nada. I plan on waiting to the last possible minute when the panic really sets in. That's totally healthy and normal behavior, right?
But I'm not completely empty handed because I have been whipping up lots of edible gifts in my kitchen. Mostly they seem to involve sugar, chocolate or booze. Not that I'm complaining. In fact, if you were planning on giving me something with the words "sugary", "ooey", "gooey", "chocolately" or "boozy" in the title, please don't hesitate. Keep 'em coming. I also accept gifts with the word "Anthropologie" in the title. Just saying.
OK, let's get back on track. With all these sweet treats coming out of my kitchen, I thought it would be a nice change of pace to make an edible gift that was more on the savory side of things. And Preserved Lemons turned out to be exactly the antidote that I needed for my sugar-induced coma.
Preserved Lemons are probably most well know for their use in Middle Eastern recipes. The peel is traditionally the part that's most desirable, providing an intense and pleasing lemon flavor (without causing you to pucker!) to a variety of dishes. They can be added to pastas, stews, grain salads, seafood and meat dishes. It's a versatile ingredient that would be appreciated by anybody in your life who loves to cook, especially considering that Preserved Lemons can sometimes be difficult to find and they can be relatively expensive.
One jar of homemade Preserved Lemons will enable the lucky recipient to create dozens of dishes. All with minimal cost and time investment on your part. That's a win all around.
I'll be posting some recipes using Preserved Lemons over the next couple weeks. So be sure to check back!
Cheers,
Liz
Recipe from Real Simple Magazine
Ingredients
3 lemons
4 cups water
1/2 cup sugar
1/3 cup kosher salt
Instructions
Wash the lemons. Place them in a medium saucepan with the water and bring to a boil. Boil the lemons for 12-15 minutes, then remove the pan from the heat. Using a pair of tongs, carefully remove the lemons from the water and place them on a cutting board to cool slightly.
While the lemons are cooling, combine 3 cups of the hot cooking liquid with the sugar and kosher salt, stirring until everything is dissolved.
Once the lemons are cool enough to handle, slice them into quarters. Be very carefully, as the inside of the lemons will still be hot and they can squirt a little when you slice into them.
Pack the sliced lemons into a quart-sized re-sealable glass jar. Pour the cooking liquid mixture over the lemons, completely covering them. Seal and refrigerate for at least 2 weeks before using.
The preserved lemons will keep for up to 3 months with proper refrigeration.
To use, remove the desired number of lemon slices from the jar and briefly rinse them under water to remove excess salt and sugar. The peel is normally the desired part of the preserved lemon, and it's the part most commonly used in dishes that call for preserved lemons. Although the flesh is used in some cases.
https://www.floatingkitchen.net/preserved-lemons/