I hate to sound cliché, but WHERE DID 2014 GO? It's almost hard to believe we are once again at the end of another year. But also not so hard to believe, because SCIENCE and all that jazz about the Earth orbiting around the sun. That's good stuff.
I thought it would be fun to share some of my highlights. So here we go:
I quit a job, I got another job, then I quit that job.
I chose myself.
I attended my first ever food blogging conference. Six weeks later I attended my second.
I moved across the country, trading my lake view for an ocean view.
I stayed at the hotel where they filmed Dirty Dancing.
I visited 16 states and 2 provinces.
I got re-acquainted with old friends. I made many new friends.
I met David Lebovitz (whoa!) and Joy the Baker (bonkers awesome!).
This little blog grew and grew and grew. And keeps growing every single day (Thank YOU ALL!).
I took 9,290 photographs (wow!).
And I published 135 recipes (double wow!).
Now lets talk about a few of those recipes. Like last year, I tried to pick out my Five Favorites from the year. Which isn't an easy task. Because if I don't love something, I don't publish it here. So whittling 135 recipes down to five is like trying to pick out your favorite child. Not that I know anything about that. I'm just trying to be relatable. My mom says I should try and be more relatable…
Here are the standouts:
1. Spicy Grilled Shrimp with Coconut-Lime Rice and Peach Salsa. The perfect summertime meal. This dish packs tons of flavor and just the right amount of heat.
2. Flourless Brownie + Espresso-Caramel Buttermilk Ice Cream Sandwiches. Because you can never go wrong with this combination.
3. Crusted Goat Cheese Caprese Stacks. A twist on a classic with a stunning presentation.
4. Squash and Apple Soup with Fried Sage and Halloumi. An uncomplicated fall soup jazzed up with yummy toppings.
5. Braided Cardamom and Chocolate-Hazelnut Bread. So much more than just a pretty face.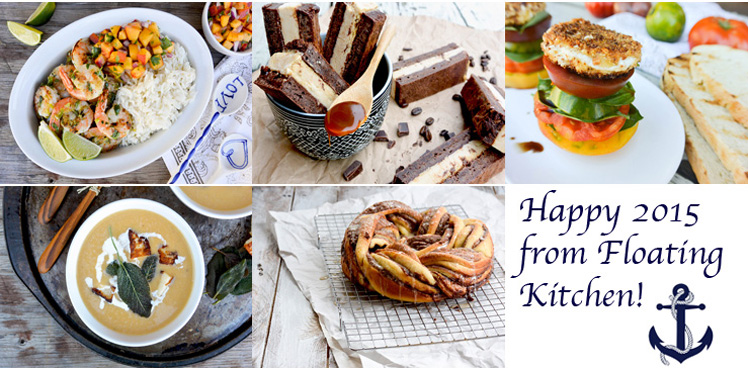 What were your highlights in 2014, food or otherwise? I'd love to hear them!
Looking forward to spending another delicious year with you. Thanks for making 2014 so great! I appreciate each and everyone of you!
Cheers,
Liz