You guys! I've been eating so much squash lately, that I'm kind of afraid I might start to turn some bizarre shade of orange.
But as my friend Sherrie said to me earlier in the week "some people pay good money to be that color". So I guess that is the upside to my dilemma.
I blame my obscene levels of squash consumption on my Mother. Because I asked her to bring me a couple delicata squash from the farm the other day, and she brought me twelve. So I've been on a steady diet of squash ever since.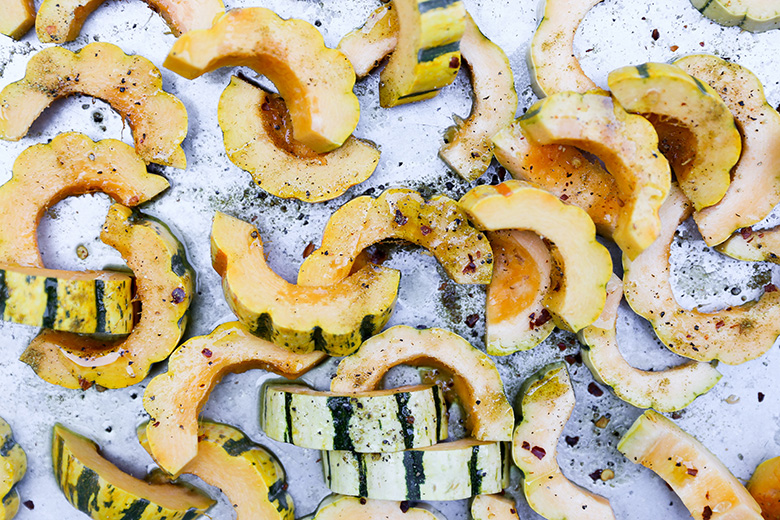 Delicata squash has been a favorite of mine for a while now. It has a mild nutty, sweet flavor. It cooks up relatively quickly (at least compared to some other squashes). And you can eat the skin once it's been cooked. Which is awesome because I'm lazy and I don't like to peel things. So there you go.
I've used roasted delicata squash "half-moons" as a sandwich topping before, and I wanted to re-visit that idea here. But this time, focusing on a purely vegetarian option. So I slathered warmed sandwich-sized pita breads with fresh guacamole. Then topped them with black beans, pumpkin seeds, roasted squash and a few sprigs of fresh cilantro. Then I proceeded to shove three in my face. They were that good.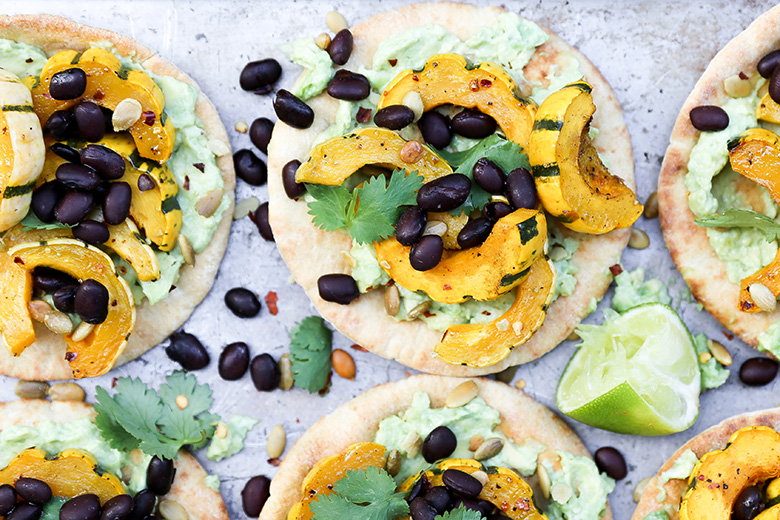 These Roasted Delicata Squash Pita Tostadas with Black Beans and Guacamole come together very quickly, which makes them a great choice for lunch or an easy weeknight dinner. Try them out and then come back here and tell me about how much you loved them!
Oh and do you want to know what my secret ingredient is for making the guacamole so incredibly yummy? It's goat cheese. I simply mix a couple tablespoons of softened goat cheese in with the avocado to give my guacamole a wonderful creamy texture. Here I used a honey-flavored goat cheese from Laura Chenel's that I'm currently obsessed with. But you could certainly used any plain or herbed goat cheese that you love.
If you wanted to make this recipe gluten free, swap out the pita bread for corn tortillas and have yourself a little Fall taco situation. Sounds delightful to me.
Cheers,
Liz
Roasted Delicata Squash Pita Tostadas with Black Beans and Guacamole
Ingredients
For the Delicata Squash
2 delicata squash
1 tablespoon extra-virgin olive oil
1/2 tsp. salt
1/2 tsp. black pepper
1/4 tsp. cumin
1/4 tsp. red pepper flakes

For the Guacamole
1 avocado
2 tablespoons goat cheese, softened at room temperature
Juice from 1/2 lime
1/4 tsp. salt

For the Tostadas
6 sandwich size pita breads (5- to 6-inches in diameter)
About 1/2 cup black beans, rinsed and drained
About 1/4 cup shelled pumpkin seeds
2 tablespoons fresh cilantro, roughly chopped
Instructions
Pre-heat your oven to 400 degrees.
Trim the ends off the delicate squash and then slice them in half lengthwise. Scoop out and discard the seeds. Then slice the squash into 1/2-inch thick "half-moon" slices. Add the squash to a large rimmed baking sheet and drizzle with the olive oil, tossing gently to coat. Then sprinkle with the salt, black pepper, cumin and red pepper flakes. Transfer the baking sheet to your pre-heated oven and roast the squash for 18-20 minutes, gently stirring once halfway through cooking time. Remove from the oven and cover to keep warm.
Meanwhile, place the pita breads on a second rimmed baking sheet and warm them in your oven for about 10 minutes, or until the edges turn slightly crispy.
To make the guacamole, slice the avocado in half and remove and discard the pit. Scoop out the flesh into a clean bowl. Add the goat cheese, lime juice and salt. Then mash everything together with a fork until well combined.
To assemble the tostadas, spread the guacamole in a thin layer over the warmed pita breads. Top with 4-5 slices of the roasted delicata squash, a heaping tablespoon of black beans, a sprinkling of pumpkin seeds and some fresh cilantro. Serve immediately.
http://www.floatingkitchen.net/roasted-delicata-squash-pita-tostadas-with-black-beans-and-guacamole/
It's hard to pick a favorite Summer fruit or vegetable. Each week it seems like I have a new obsession.
I started off the season by eating my weight in cherries (and I have the stained cutting board to prove it). Then I quickly moved on to plowing through buckets of blueberries and shucking enough local corn to make my fingers sore. Now I'm all about the heirloom tomatoes. Their jewel tones and sometimes silly, oddball shapes make me smile. And at the moment, their flavor is superior to just about everything else at the farmer's market.
Heirloom tomatoes are like the prize at the end of the Summer. They're our reward for sweating through the hazy, hot and humid days of June and July. And I, for one, have my eye on the prize.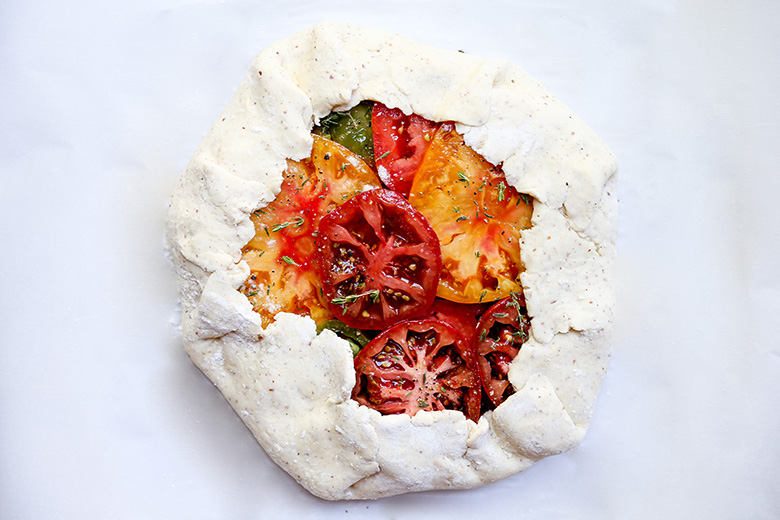 This Heirloom Tomato and Hazelnut Galette puts these Summer beauties front and center. Both literally and figuratively. I definitely recommend trying to get your hands on a mix of different varieties, because this will give you the greatest visual impact. But if you can only find a single variety, that's perfectly fine. Heirloom tomatoes come in a wide range of sizes. I used 3-4 medium sized heirloom tomatoes for this recipe, but you may need more or less depending on their size. You'll want enough slices to create two layers that loosely overlap each other.
Galettes are suppose to be rustic. It's normal for them to turn out a little lopsided. And maybe even crack on one side. It's all part of their charm. And it's why I love them so much. I've never been the best at constructing beautifully crafted baked goods. Freeform is certainly more my style.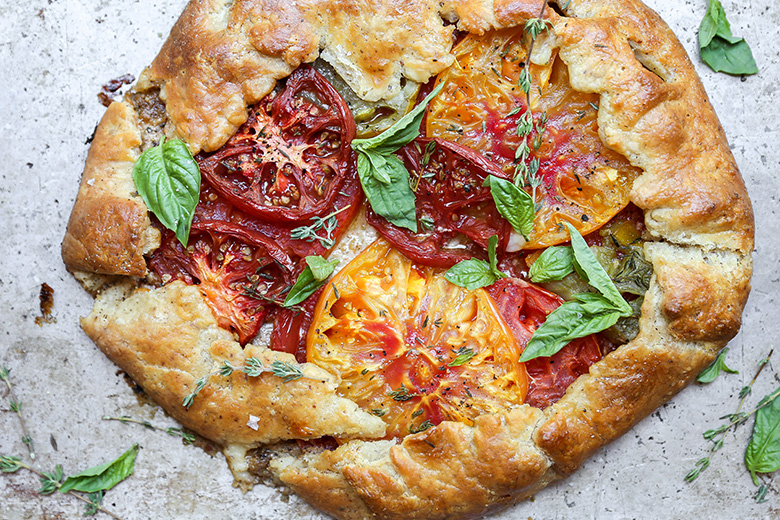 There is one unexpected ingredient here: hazelnut butter. I got the idea for idea for combining hazelnuts/hazelnut butter with tomatoes from a salad I had a Saint Dinette. It might sound like an odd combination. But it works really well. You can find hazelnut butter with the other natural nut butters in your grocery store. Be sure to purchase a plain, unsweetened variety (not chocolate flavored!). Or you can easily make your own if you have high powered blender or food processor. And for a third option, you could swap out the hazelnut flour/butter for something of the almond variety.
Cheers,
Liz
Recipe for the dough adapted from Smitten Kitchen
Heirloom Tomato and Hazelnut Galette
Ingredients
For the Dough
1 cup plus 2 tablespoons all-purpose flour
1/4 cup hazelnut flour
1/4 tsp. salt
1/2 cup (8 tablespoons) unsalted butter, cut into pieces and chilled
1/4 cup Greek yogurt
1/4 cup cold water
2 tsp. lemon juice

For the Filling
4 ounces mascarpone cheese, softened at room temperature
2 tablespoons hazelnut butter
1/2 tsp. salt, divided
1/2 tsp. black pepper, divided
3-4 heirloom tomatoes, thinly sliced
1 tablespoon fresh thyme leaves
Fresh basil for garnish, if desired

For the Egg Wash
1 egg yolk
2 tsp. water
Instructions
Make the dough. In your food processor with the blade attachment, pulse together the flours and salt. Add the butter and pulse until pea-sized crumbs are formed. In a small bowl, stir together the yogurt, water and lemon juice. Then add this mixture to your food processor and pulse until the dough comes together into a loose ball. Turn the dough out onto a floured work surface and use your hands to shape it into a disk. Wrap the dough disk in plastic wrap and refrigerate it until well chilled, at least 1 hour or up to 2 days.
Pre-heat your oven to 400 degrees. Line a large rimmed baking sheet with parchment paper. Set aside.
In a bowl, mix together the mascarpone cheese, hazelnut butter and 1/4 tsp. each of the salt and pepper. Set aside.
Assemble the galette. On a well floured work surface, roll out the chilled dough so it's approximately 12-inches in diameter. It doesn't have to be perfectly round. Transfer the dough to your parchment paper-line baking sheet. If the dough tears in a few places, just patch it together with your fingers. Spread the mascarpone-hazelnut mixture out into a thin layer over the center of the dough, leaving a 2-inch boarder around the edges. Then loosely layer the tomato slices on top. You'll want to create two layers that are overlapping, but not tightly packed. Sprinkle the tops of the tomatoes with the thyme leaves and the remaining salt and pepper. Fold the edges of the dough over the filling, pressing it together lightly so it adheres. In a small bowl, beat together the egg yolk and the water. Then brush this egg wash over the surface of the dough.
Transfer the galette to your pre-heated oven and bake for 40 minutes, rotating the baking sheet once half way through the baking time. The crust should be browned and the center bubbling. Remove the baking sheet from your oven and place it on a wire rack to cool slightly. Allow the galette to rest for about 10 minutes before slicing and serving. Top with a few fresh basil leaves before serving, if desired.
http://www.floatingkitchen.net/heirloom-tomato-and-hazelnut-galette/