Disclosure: I'm so grateful to have received a copy of Megan Keno's debut cookbook, Cast Iron Gourmet: 77 Amazing Recipes with Less Fuss and Fewer Dishes. I hope you all enjoy this little sneak peak!
In typical New England fashion, we went from Summer to Fall in a matter of 24 hours. One day it was 90 degrees. And then the next day it was a cool, crisp 60 degrees. I proclaimed "I'm freezing!" more than once during that first chilly day. And I even had to resort to pulling on a pair of socks at one point!
Although, I still refuse to turn on the heat in my house. That has to wait.
The abrupt shift in seasons was a bit of a shock to the system. But I'm more than happy to embrace the change. Because with it comes all the cozy, comforting foods that I've been missing out on these past several months.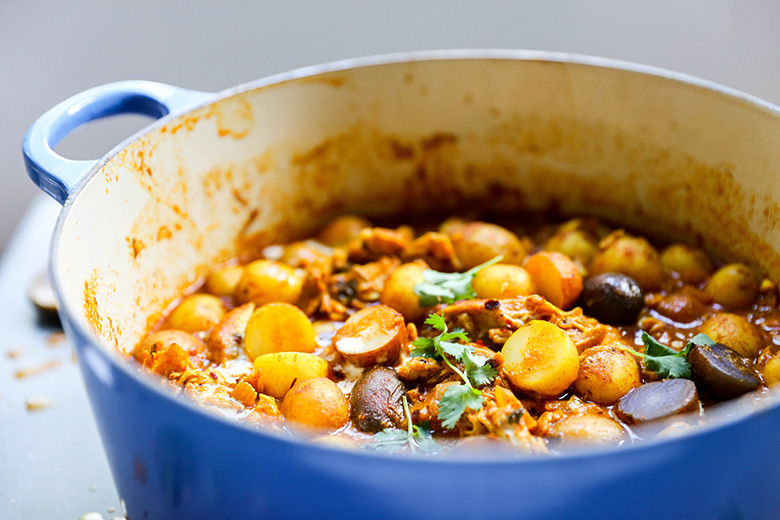 The recipe for this Indian Chicken and Potato Stew with Garam Masala Tomato Sauce is straight from Megan Keno's debut cookbook, Cast Iron Gourmet: 77 Amazing Recipes with Less Fuss and Fewer Dishes. As soon as I spotted the gorgeous photograph for this stew (page 39, in case you want to be in the know!), I knew instantly it would be the first recipe I'd make from Megan's cookbook. So I bided my time until the air stream shifted, and then it was GO GO GO! I pulled out my trusty coated cast iron Dutch oven. And within minutes, my house was filled with the most delicious scents of ginger, garlic, cumin and more. I was in heaven.
This hearty, flavorful stew was exactly what I needed this past weekend to warm my bones. And it's a recipe that you ABSOLUTELY need in your life, too. It's delicious served exactly how Megan instructs. But it would be fabulous over rice, if you needed to stretch it out further to feed to crowd. And the leftovers are out of this world good. It's one of those dishes that gets better with time.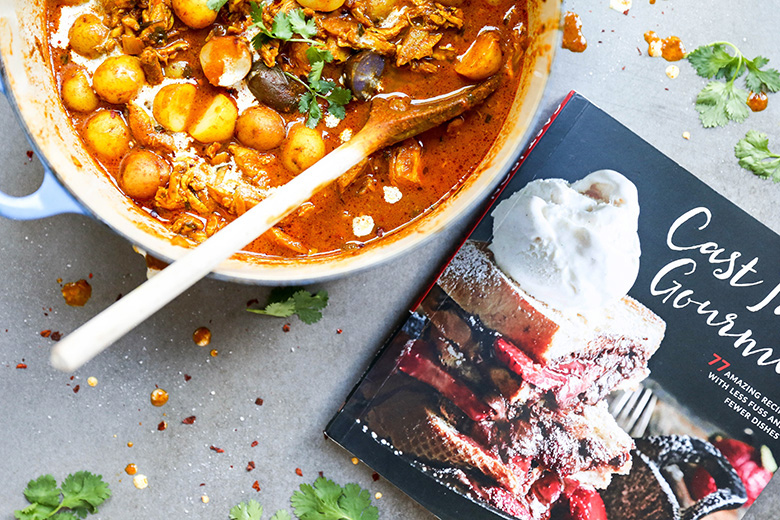 Megan and I have been friends for several years now. We first meet on the internet via our blogs (if you're not following her over at Country Cleaver, go do it now!). But it wasn't until we moved 3000 miles away from each other (go figure!) that we finally had the chance to meet face-to-face at a blogging retreat. In person, Megan is every bit as genuine, selfless and witty as she is on her blog. There are absolutely zero pretenses about Megan, which is something that I really adore about her. Because really, how many people can you say that about? If I'm being completely honest, I wouldn't even describe myself in that way…
Simply put, Megan is a gem. And I'm happy to call her my friend.
And I'm SO happy to have her wonderful cookbook adorning the shelves of my kitchen. Her cookbook, Cast Iron Gourmet: 77 Amazing Recipes with Less Fuss and Fewer Dishes, is a natural extension of her blog, Country Cleaver. It's filled with all the best comfort foods (the women has a chapter in her book called "Artisanal Carbs"!). And it will make you re-think how you use your beloved cast iron. It's a must-have for any home cook. So go buy it now!
But heck, don't just take my word for it. Make this fabulous Indian Chicken and Potato Stew with Garam Masala Tomato Sauce and see for yourself what I'm talking about!
Cheers,
Liz
This recipe has been reprinted with permission from Megan Keno
Ingredients
3 tablespoons vegetable oil
2 lbs boneless, skinless chicken breasts
Salt
Black pepper
1 small yellow onion, peeled and chopped
4 garlic cloves, peeled and minced
2 tablespoons finely grated fresh ginger
2 tablespoons tomato paste
2 tsp. garam masala
2 tsp. ground cumin
2 tsp. ground turmeric
1/4 cup fresh cilantro, finely chopped
3-3 1/2 cups low-sodium chicken broth
1 (8-ounce) can tomato sauce
1/2 cup heavy cream or plain yogurt
1 lb tri-colored baby potatoes, cut in half if large
Instructions
Warm the vegetable oil in a large, heavy bottom pot over medium-high heat. Season the chicken breasts liberally with salt and black pepper. Then place them in the oil to cook until golden brown on all sides, about 8-10 minutes (the chicken will naturally release from the pan once it's browned). Work in batches if necessary. Once all the chicken is browned, transfer it to a clean plate and set it aside.
Lower the temperature on your stove to medium-low. Add the onion, garlic and ginger to the same pot you used to brown the chicken and cook, stirring occasionally, until the onion is very soft and golden brown, about 5-7 minutes. Add the tomato paste, garam masala, cumin, turmeric and cilantro and cook, stirring constantly, for 2-3 minutes. Then stir in 3 cups of the chicken broth, the tomato sauce and the heavy cream/yogurt.
Add the browned chicken breasts back to the pot and adjust the heat to maintain a simmer. Cover the pan, leaving the lid cracked slightly so the stew can vent, and simmer for about 1 hour.
After an hour, remove the chicken and use two forks to shred it into smaller pieces. Return the shredded chicken to the pot and add in the baby potatoes. Continue to simmer the stew for another 45 minutes, or until the potatoes are fork tender. If the stew is getting too thick, you can add in the remaining chicken broth.
Serve the hot stew with a dash of red pepper flakes, chopped fresh cilantro and a drizzle of heavy cream, if desired.
Leftovers can be stored in an airtight container in your refrigerator for 2-3 days.
https://www.floatingkitchen.net/indian-chicken-and-potato-stew-with-garam-masala-tomato-sauce/
SaveSave
SaveSave
SaveSave
SaveSaveSaveSave
This post was originally published here on October 1, 2014. I've since updated the photographs and text to better showcase just how delicious this Fall favorite really is!
This delightfully orange soup doesn't have a single drop of pumpkin in it. And that's totally fine by me.
I know pumpkin-mania is in full swing right now. But I've always been a butternut squash kind of girl. It's my favorite Fall/Winter vegetable. And I'd choose it any day over pumpkin, even preferring squash pie over pumpkin pie.
My preference for butternut squash goes way back. In fact, you might even say it's deeply rooted and steeped in family tradition. As my grandfather's favorite crop to grow on our farm (we even named his Cadillac the "butternut mobile" because he used to drive around with so much butternut squash in the back seats!), butternut squash was a staple in my house growing up. We hardly even gave pumpkin a passing glance.
So FYI – you can expect to see more recipes here using butternut squash than pumpkin. I hope you're cool with that.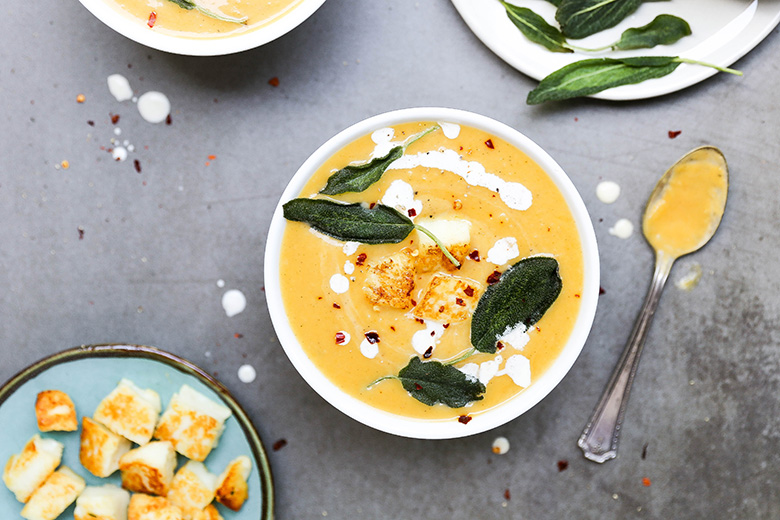 This Butternut Squash and Apple Soup with Fried Sage and Halloumi is one of those blissfully uncomplicated dishes that you'll find yourself repeating over and over again. Just toss all the ingredients for the soup base into a big pot and let it rip. Easy peasy.
The apple provides an additional level of sweetness that pairs exceptionally well with the butternut squash. I just love adding apples to all kinds of dishes this time of year. Both butternut squash and apples can so easily transition between savory and sweet dishes. The possibilities are kind of endless.
I have a rule about puréed soups: they should never be naked. So I fried up some sage leaves (aren't they the prettiest!?!?) and cubed Halloumi cheese to be used as toppings. Halloumi is a fabulous salty, mild cheese that can withstand the heat (it's perfect for grilling, too!), and if you haven't tried it yet, you should change that ASAP.
If you try out this recipe for Butternut Squash and Apple Soup with Fried Sage and Halloumi, let me know! And what other soups are you craving this time of year? I typically make at least one big pot of soup each week, and I'd love to hear about some of your favorites!
Cheers,
Liz
Recipe adapted from Foodess
Ingredients
For the Soup
2 tablespoons unsalted butter
2 cups chopped yellow onion
4 cups peeled and cubed butternut squash
1 large apple, peeled, cored and chopped
4 cups vegetable stock
1 tablespoon chopped fresh sage leaves
1/4 tsp. black pepper
1/8 tsp. allspice
1/3 cup heavy cream

For the Toppings
3-4 tablespoons extra-virgin olive oil
16-18 fresh sage leaves
8 ounces Halloumi cheese, cut into 1-inch cubes
1-2 tablespoons heavy cream
Instructions
In a large heavy bottom pot, melt the butter over medium heat. Add the chopped onions and cook, stirring frequently, for about 5 minutes. Add the remaining ingredients except for the heavy cream. Bring the soup to a boil. Then turn down the heat to maintain a simmer. Simmer, covered, for about 30-35 minutes or until the butternut squash is very tender. Remove the pot from the heat and set it aside to cool briefly.
Purée the soup using an immersion blender until it's smooth. You can also use a regular blender, making sure to work in batches and being cautious while transferring hot liquids. Return the puréed soup to it's original pot and re-warm it over low heat. Stir in the heavy cream. Taste and add salt and additional black pepper, if desired. Keep the soup warm while you make the toppings.
In a skillet over medium-high heat, warm enough olive oil to coat the bottom of the skillet. It doesn't have to be very deep. Once the oil is hot, add the sage leaves and fry them for about 20 seconds per side, just until they are starting to crisp slightly. Don't allow them to turn dark brown. Place the fried sage leaves on a paper towel-lined plate to drain. Now add the cubed Halloumi cheese to the hot oil, working in batches if necessary. Fry the cheese about 20-30 seconds per side, until golden brown. Place the fried Halloumi cheese on a paper towel-lined plate to drain.
To serve, ladle the warm soup into bowls. Top with a few fried sage leaves, fried Halloumi cheese cubes and a drizzle of heavy cream.
Once cooled, the soup can be stored in an airtight container in your refrigerator for 2-3 days.
https://www.floatingkitchen.net/squash-and-apple-soup-with-fried-sage-and-halloumi/
SaveSave
SaveSave
SaveSave
SaveSave
SaveSave
SaveSave
SaveSave