This post was originally published here February 12, 2014. I've since updated the text and photographs. This easy, creamy soup is one of the most popular recipes here on Floating Kitchen. If you haven't tried it yet, you should!
We're just a few days away from the start of the month of May and I'm still talking about cozy soup recipes. I never would have imagined that to be the case. But here we are. And to quote myself from my previous post "I'm just going to roll with it".
I've been making more than my fair share of soup recipes these past two months. They really are the best type of comfort food. And I like that most are easy to customize. Also, I can generally stretch out the leftovers for an extra day or two, if necessary. Which is specially important these days when I'm limiting my trips to the grocery store as much as possible.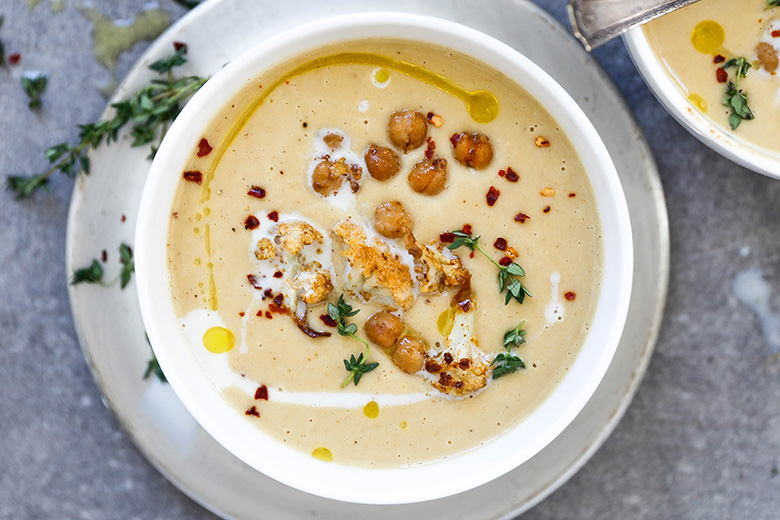 And based on what I'm seeing online, you all have been making a lot of soups, too. In fact, record numbers of you have been making this Roasted Cauliflower and Chickpea Soup from my archives. And for the first time in many years, the recipe for this Roasted Cauliflower and Chickpea Soup has surpassed my recipe for the perfect filet mignon for most popular post on Floating Kitchen. And if that's not the biggest mood of this whole social distancing/quarantine/shelter-in-place, then I don't know what is.
Because I want to be like all the cool kids, I decided I WANTED to make my Roasted Cauliflower and Chickpea Soup again, too. And damn. I forgot how good it was! And I see why everyone is making it. It's quick, easy and the ingredient list is almost entirely made up of pantry staples and long-lasting produce. And it's silky smooth texture is like a warm, soothing hug.
Remember hugs???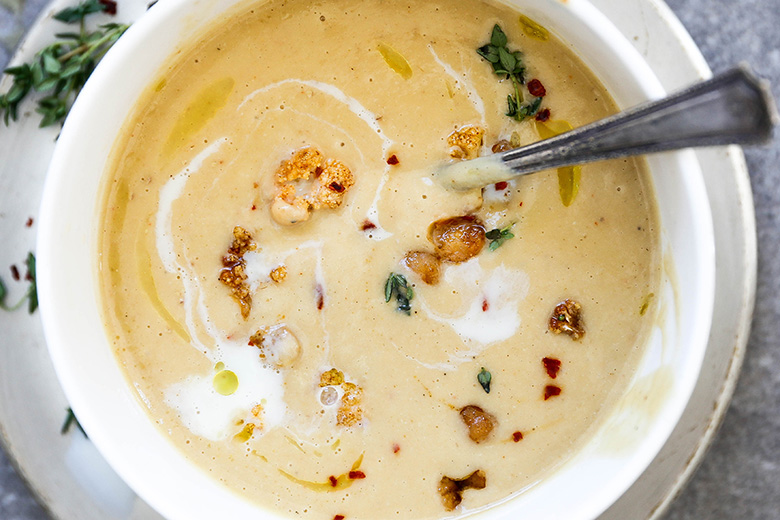 I've updated the photographs for this post. But the recipe hasn't changed. So if you've been making it faithfully for years, have no fear. I would, however, like to answer a couple common questions.
(1) Yes, you can easily make this vegan and I have many times. You can use any non-dairy substitute for the heavy cream. I particularly like coconut milk, because I find it's texture most closely resembles heavy cream. But you can also use soy milk, almond milk, etc.
(2) Yes, you can freeze this soup. I recommend freezing it right after puréeing it in step 4. Don't continue to step 5. You can add the heavy cream when you thaw and re-warm the soup.
(3) Yes, the toppings are a bit "extra". But I have a rule that puréed soups shouldn't be naked. The toppings are worth it!
(4) Yes, you can use russet potatoes if that's all you have. The soup will be slightly less silky, but it will still be delicious.
I'm so thrilled to see how many of you are enjoying this Roasted Cauliflower and Chickpea Soup. If you make it, I would love to hear about it!
Cheers,
Liz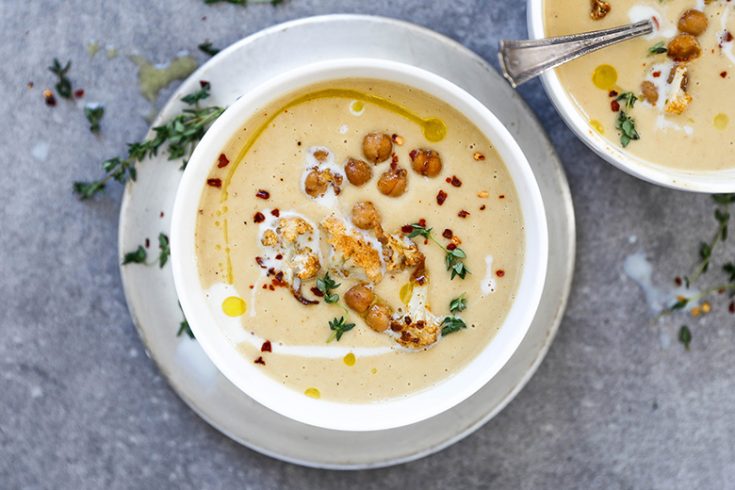 Roasted Cauliflower and Chickpea Soup
Yield: Serves 4-6
Prep Time: 10 minutes
Cook Time: 35 minutes
Total Time: 45 minutes
Ingredients
For the Soup:
1 head of cauliflower, cut into florets (about 4-5 cups total)
1 (15-ounce) can chickpeas, rinsed and drained
5 garlic cloves, peeled
1 tsp. ground cumin
1/2 tsp. salt
1/8 tsp. paprika
4 tablespoons extra-virgin olive oil, divided
2 medium Yukon gold potatoes, peeled and cubed (about 2 1/2 cups total)
1/4 tsp. black pepper
4 cups vegetable broth
1 cup water
1/2 cup heavy cream
For Topping:
Red pepper flakes
Fresh thyme leaves
Extra-virgin olive oil
Heavy cream
Instructions
Pre-heat your oven to 400 degrees.
On a large rimmed baking sheet, toss the cauliflower, chickpeas and garlic with the cumin, salt, paprika and 3 tablespoons of the olive oil. Transfer to your pre-heated oven and roast for 30 minutes, stirring once halfway through the cooking time. Remove and set aside.
Meanwhile, heat the remaining tablespoon of olive oil in a large pot over medium heat. Add the cubed potatoes and black pepper. Cook for about 2 minutes, stirring frequently. Add the vegetable broth and water and bring the liquid to a boil. Once boiling, adjust the heat to maintain a simmer and cook, uncovered, until the potatoes are very soft, about 15-20 minutes.
Remove the pot from the heat. Stir in the roasted cauliflower mixture, reserving about 1/2 cup for garnish. Allow the soup to cool slightly, then carefully purée the soup using an immersion blender, blender or food processor with the blade attachment. Work in batches as necessary and be careful when transferring hot liquids.
Return the puréed soup to your pot and re-warm it over low-medium heat. Stir in the heavy cream. Taste and adjust for salt and pepper, if necessary.
To serve, ladle the warm soup into bowls. Top with some of the reserved roasted cauliflower mixture and a sprinkle of red pepper flakes and fresh thyme leaves. Drizzle with olive oil and heavy cream. Serve immediately.
Leftovers can be stored in an airtight container in your refrigerator for 2-3 days.