We're all doing a lot of cooking these days. And even for those of us who enjoy the process, it can be overwhelming. What should I make? When is the next time that I feel like I can safely and comfortably make a trip to the grocery store? And what will be available when I get there?
And can I really wash any more dishes???
These are all very real questions for me. And probably for you, too.
My "solution" to all of this has been to cook and eat very simply. Yes, I've tackled a few distractibaking projects. But the bulk of my meals have been humble. I'm uneasy in the grocery stores, so I'm avoiding them as much as possible (I managed to make it 3 weeks between my last two trips!). And I'm being hypervigilant about food waste from my kitchen. So instead of cooking elaborate meals, I'm digging deep into my pantry and freezer and I'm trying to make what I have work for me.
Which leads me to the recipe for these Brothy Greens and Beans with Lemon.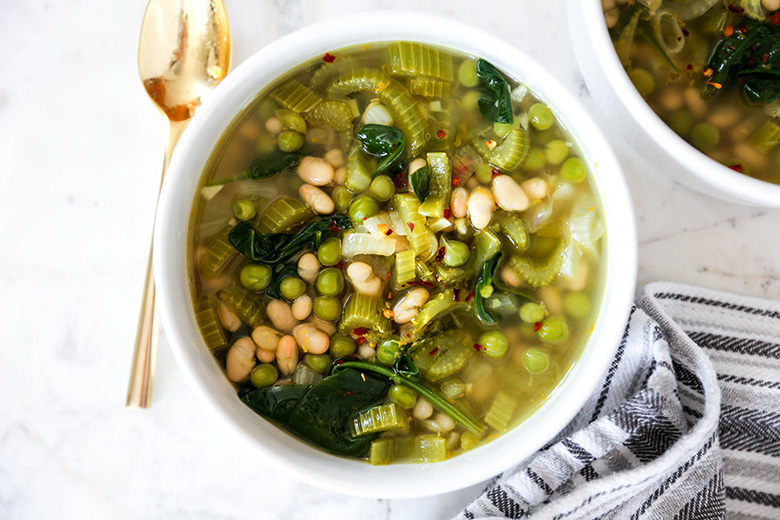 This recipe was unexpectedly magical. Born from a mix of what I had on hand (with plenty of substitution options outlined below), it's comforting, healing, bright and fresh. Which is basically everything that I'm looking for in a meal right now. You can make the whole thing in 20-ish minutes. And you only need a single medium-sized saucepan. Which really feels like the biggest win of all. Because my gosh, there are so many freaking dirty dishes. I can't anymore.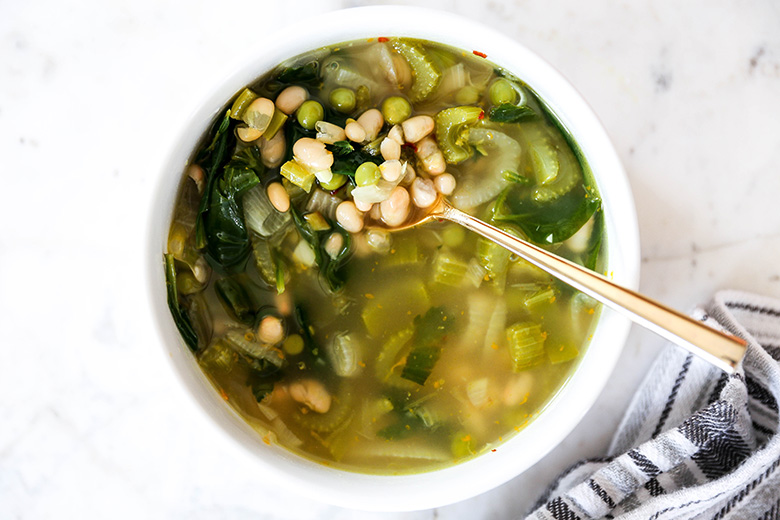 As promised, here are some notes on recipe substitutions. I hope it's helpful!
(1) You can use any oniony-type vegetable (leeks, scallions, onions) in place of the shallot.
(2) You can use any type of white bean or a can of chickpeas.
(3) If you don't have fresh thyme, just skip it or use a couple pinches of dried thyme.
(4) Frozen spinach is a great substitute for fresh spinach. You could also toss in a handful of baby kale, collard greens or swiss chard.
(5) This soup is meant to be brothy. But if you want more bulk, you can add some cooked small pasta shapes (elbows, ditalini, orecchiette, etc.) in at the end.
Cheers,
Liz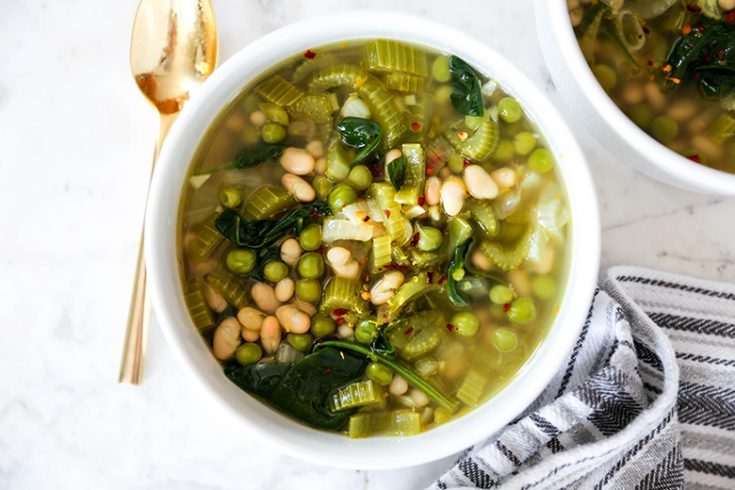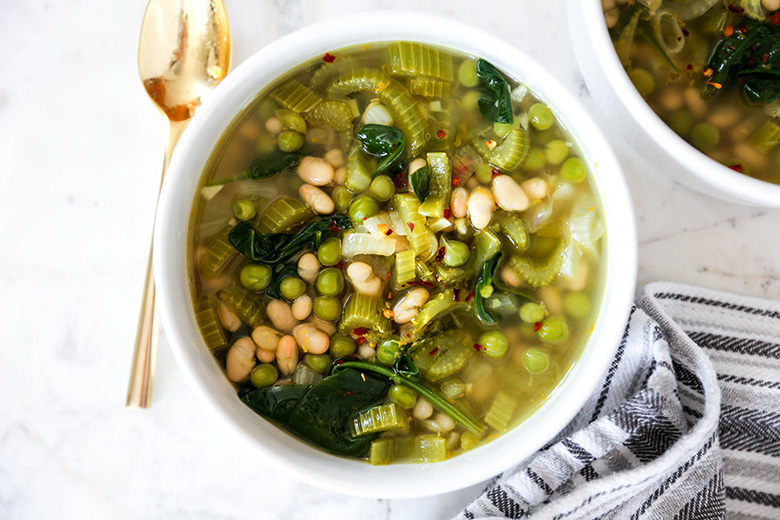 Brothy Greens and Beans with Lemon
Yield: Serves 3-4
Prep Time: 5 minutes
Cook Time: 20 minutes
Total Time: 25 minutes
Ingredients
2 tablespoons extra-virgin olive oil
3 celery stalks, sliced (reserve the leafy tops)
1 shallot, peeled and sliced
2 garlic cloves, peeled and minced
1 tsp. fresh thyme leaves
1/2 tsp. salt
1/4 tsp. black pepper
4 cups vegetable broth
1 (15-ounce) can white beans (I used navy beans), rinsed and drained
1 cup frozen peas, thawed
1 cup fresh spinach
1 lemon, zest and juice
Red pepper flakes, for garnish
Instructions
Warm the olive oil in a heavy bottom saucepan over medium heat. Add the sliced celery and shallots and cook, stirring occasionally, until well softened, about 8-10 minutes. Stir in the garlic, thyme, salt and black pepper and cook for another 2 minutes.
Add the vegetable broth and white beans and bring the soup to a boil. Cook for 5 minutes. Then stir in the peas, spinach, lemon zest and juice and any reserved leafy greens from the celery stalks. Cook for an additional 5 minutes. Remove the saucepan from the heat.
Ladle into bowls and serve hot with a pinch of red pepper flakes, if desired.