This post was originally published here April 4, 2014. I've since updated the text and photographs. I hope you try out this easy, no-stir risotto recipe!
I couldn't resist re-sharing this One-Pot Baked Spring Vegetable Risotto recipe with you today. Because it checks off all the boxes that we need right now.
Easy: check.
Comforting: check.
Uses pantry staples: check
Incorporates long-lasting vegetables (both fresh and frozen): check
Possible substitutions: check
There are no sad stay-at-home dinner vibes here! This vegetarian risotto is amazing. I've even served it for dinner parties…back when we had dinner parties.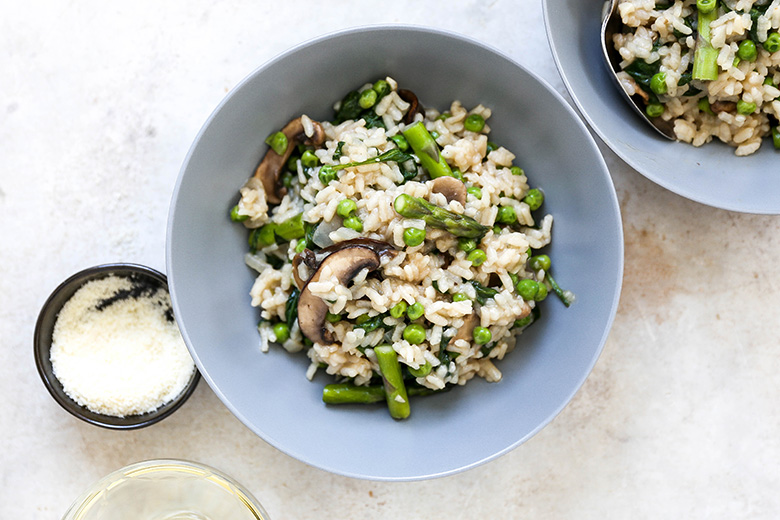 The first thing you'll probably notice about this recipe is that the risotto is baked. YES! Which means a lot less time standing at the stove stirring. And more time available to prep whatever else you'd like to serve alongside it. Are risotto aficionados going to turn their noses up at the idea of a baked risotto? Maybe. But we're going to ignore them. Because this method STILL results in creamy, dreamy risotto. So as far as I'm concerned, no harm, no foul.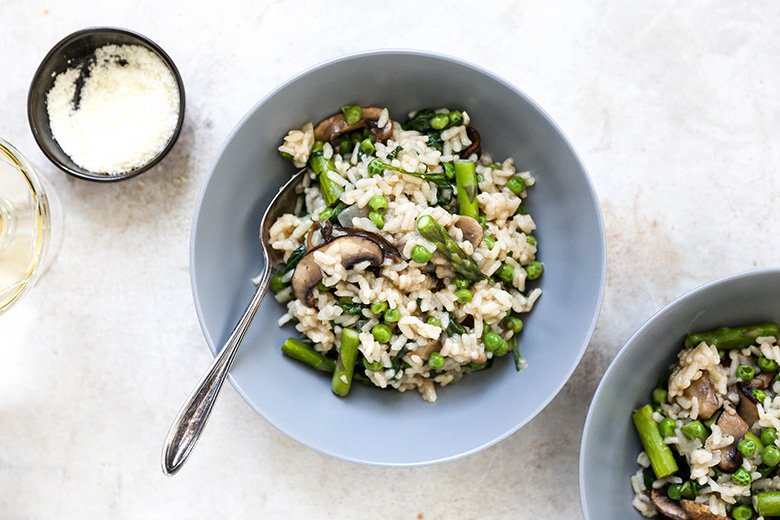 I think the types of questions on most everyone's mind right now are about ingredient substitutions. Because some items can be hard to find. And limited trips to the grocery stores means certain fresh ingredients can be problematic, too. So I've done my best to address any issues up front. Here's what you need to know.
(1) Whole, unwashed mushrooms (verses buying ones that are pre-sliced) will last 6-8 days in your refrigerator.
(2) The asparagus will have the shortest shelf-life, lasting about 4-5 days in your refrigerator. If you can't find asparagus, you can use green beans.
(3) You can use finely diced white/yellow onion (about 1/4-1/3 cup) in place of the shallot.
(4) Any white wine you already have open will work.
(5) You can use chicken broth instead of vegetable broth. Of course, the risotto will no longer be vegetarian if you do that. But the overall taste won't be significantly altered.
(6) Frozen spinach is a great substitute for fresh spinach. Just thaw and drain it before adding it to the risotto.
I hope this information is helpful. And I hope you get the chance to try out my One-Pot Baked Spring Vegetable Risotto. If you do, let me know!
Cheers,
Liz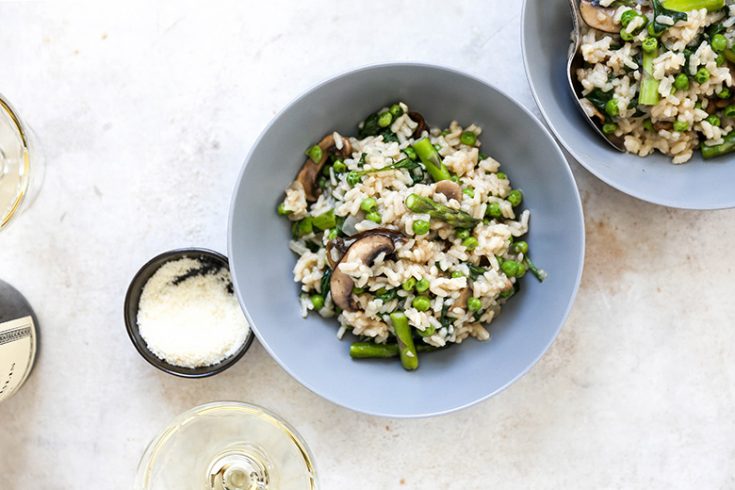 One-Pot Baked Spring Vegetable Risotto
Yield: Serves about 4
Prep Time: 10 minutes
Cook Time: 45 minutes
Total Time: 55 minutes
Ingredients
3 tablespoon butter, divided
8 ounces button mushroom, cleaned and sliced
1 cup chopped asparagus (keep the pieces about 1-inch long)
1 shallot, peeled and diced
3 garlic cloves, peeled and mined
1/2 tsp. salt
1/4 tsp. black pepper
1/2 cup white wine
1 cup Arborio rice
3 cups vegetable broth
1 cup frozen peas, thawed
2 cups loosely packed fresh spinach, roughly chopped
1/3 cup grated Parmesan cheese, plus more for serving
Instructions
Pre-heat your oven to 425 degrees.
In a medium oven-proof pot with a tight-fitting lid, melt 2 tablespoons of the butter over medium-high heat. Add the sliced mushrooms and cook, stirring frequently, until the mushrooms are softened and browned, about 5-6 minutes. Add the chopped asparagus and cook for an additional 3-4 minutes, until the asparagus is crisp tender. Transfer the mushrooms and asparagus to a small bowl and set aside.
Return the pot to your stovetop and melt the remaining tablespoon of butter. Add the diced shallot and cook, stirring frequently, until softened, about 2-3 minutes. Add the garlic, salt and pepper and cook until the garlic is fragrant, about 1-2 minutes.
Add the wine and increase the heat to high. Cook, scraping the bottom of the pot to loosen any browned bits, until the wine is almost evaporated, about 2-3 minutes. Stir in the rice, letting it cook for 1 minute. Then stir in the vegetable broth.
Cover and bring to a boil. Once boiling, transfer the pot to your pre-heated oven. Bake the risotto for 22-25 minutes.
Remove the pot from the oven and carefully remove the lid (there will be steam released). There will be a thin layer of liquid remaining on the surface of the risotto. Add the peas, chopped spinach, Parmesan cheese and the reserved mushrooms and asparagus. Stir well to combine. Cover and let the risotto sit for 5 minutes.
Stir again before transferring to serving dishes. Top with additional Parmesan cheese, if desired.